NCAA
3 Dozen Upsets In Week 12 Of The NCAA Season!
3 Dozen Upsets In Week 12 Of The NCAA Season!
All the upsets from week 12 of the 2022-23 NCAA D1 college wrestling season.
Jan 23, 2023
by Andrew Spey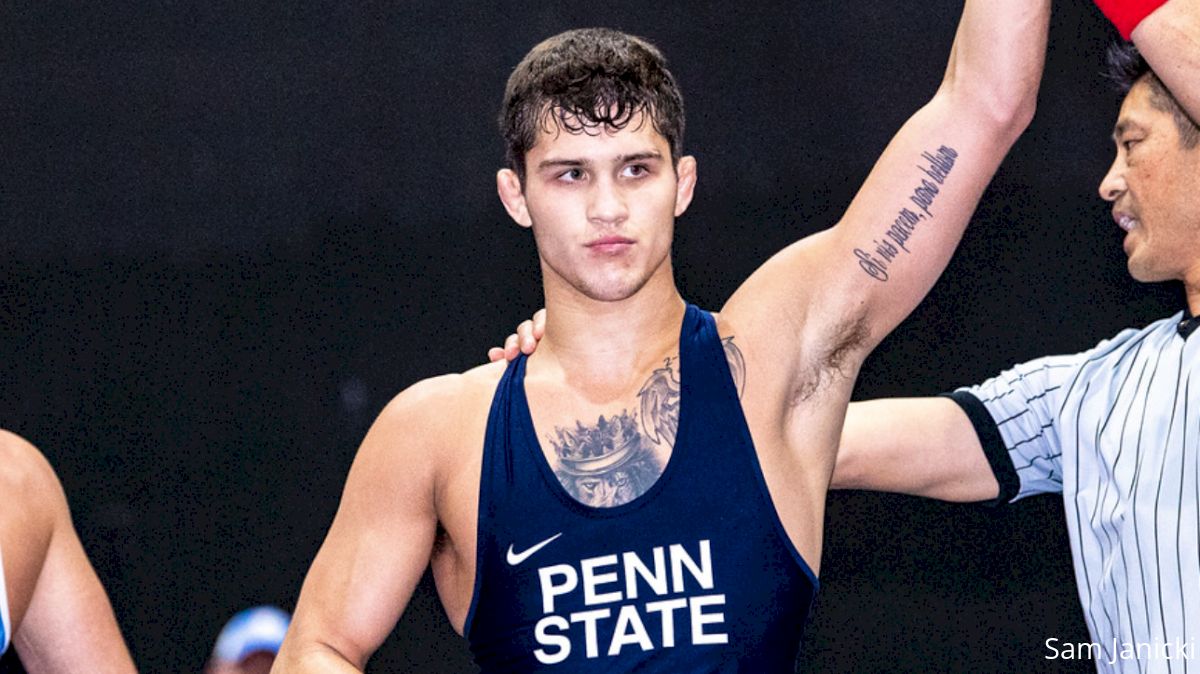 All the upsets that we could find from week 12 of the 2022-23 NCAA D1 wrestling season.
While many of the upsets may not look like upsets with the benefit of hindsight at the end of the season, for now, according to the rankings, these are all upsets.
And only one upset at 197 this week. Can you believe it!?!
We have a new top heavyweight after Michigan NCAA finalist Mason Parris got the better of #1 Greg Kerkvliet in a one-takedown match on Friday night.
One of the wildest results to reverberated across the wrestling community last week. This pin nearly put Wisconsin on a path to victory, but the Hawkeyes managed to avoid the upset in the dual via tiebreaking criteria.
157lbs: #21 Levi Haines, Penn State over #6 Will Lewan, Michigan
The first of two titanic upsets from Nittany Lion freshmen in their dual versus the Wolverines.
165lbs: #18 Alex Facundo, Penn State over #5 Cameron Amine, Michigan
The second of the aforementioned upsets my Penn State super frosh. Facundo and Haines are going to be 'problems' in March.
Model has had some ups and downs this season, but he had one of his biggest 'ups' this weekend with a win over Coleman, who has over 20 D1 wins this season.
The match that essentially won the dual for the Hokies over their ACC rivals Wolfpack. Some are calling it the 'Dual of the Year' already.
165lbs: #24 Maxx Mayfield, Northwestern over #12 Dan Braunagel, Illinois
One of the key wins the 'Cats needed to beat the Illini in the Big Ten 'Melee in the Land of Lincoln' which is the unofficial title for the 'Illinois vs Northwestern' rivalry that I just made up.
125lbs: Diego Sotelo, Harvard over #13 Brett Ungar, Cornell
125lbs: Gary Steen, Penn State over #24 Tristan Lujan, Michigan State
125lbs: Kase Mauger, Utah Valley over HM Tanner Jordan, South Dakota State
125lbs:Richard Figueroa, Arizona State over HM Nico Provo, Stanford
125lbs: #10 Matt Ramos, Purdue over #4 Patrick McKee, Minnesota
125lbs: HM Jarrett Trombley, NC State over #20 Eddie Ventresca, Virginia Tech
133lbs: Domenic Zaccone, Campbell over #21 Chance Rich, CSU Bakersfield
141lbs: Ty Smith, Utah Valley over #9 Clay Carlson, South Dakota State
141lbs: Joe Olivieri, Rutgers over #22 Cole Mattin, Michigan
141lbs: #19 Parker Filius, Purdue over #11 Jakob Bergeland, Minnesota
141lbs: HM Joseph Zargo, Wisconsin over #19 Parker Filius, Purdue
141lbs: HM Malyke Hines, Lehigh over #21 Josh Koderhandt, Navy
149lbs: Anthony Cheloni, Northern Illinois over HM Alec Hagan, Ohio
157lbs: HM Cael Swensen, South Dakota State over #15 Jacob Wright, Wyoming
157lbs: Anthony Gibson, Northern Illinois over HM Peyten Kellar, Ohio
157lbs: #18 Brayton Lee, Minnesota over #16 Derek Gilcher, Indiana
165lbs: Baylor Fernandes, Northern Colorado over #21 Wyatt Sheets, Oklahoma State
157lbs: Dazjon Casto, Pittsburgh over HM Jake Keating, Virginia
157lbs: HM Cesar Alvan, Columbia over #20 Anthony Artalona, Penn
165lbs: Matthew Singleton, NC State over #22 Connor Brady, Virginia Tech
165lbs: HM Holden Heller, Pittsburgh over #14 Justin McCoy, Virginia
165lbs: Frank Almaguer, California Baptist over HM Giano Petrucelli, Air Force
174lbs: Scott Joll, West Virginia over #21 Darrien Roberts, Oklahoma
174lbs: Cael Valencia, Arizona State over #23 Tyler Eischens, Stanford
174lbs: Logan Messer, George Mason over HM Jared McGill, Edinboro
184lbs: #22 Neil Antrassian, Virginia over #18 Reece Heller, Pittsburgh
285lbs: Ben Goldin, Penn over HM Nathan Taylor, Lehigh
285lbs: Chase Trussell, Utah Valley over HM Juan Mora, North Dakota State
285lbs: Hayden Copass, Purdue over HM Garrett Joles, Minnesota
285lbs: HM Konner Doucet, Oklahoma State over #20 Michael Wolfgram, West Virginia