The EIWA Dual Of The Week 2022-23
NCAA Week 12 Roundup: Live Wrestling On TV
NCAA Week 12 Roundup: Live Wrestling On TV
Recapping all the biggest stories from the twelth week of the 2022-23 NCAA D1 college wrestling season.
Jan 23, 2023
by Andrew Spey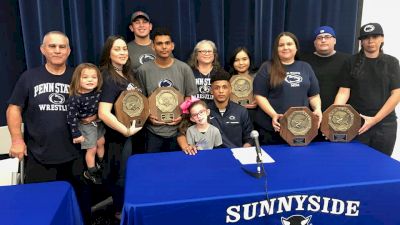 Hello friends and greetings from the Turkish Airlines lounge at Dulles International Airport! I'm taking the long way home from Blacksburg, Virginia where last Friday I just may have witnessed, dare I say, the dual of the year?
Last Week's Roundup | Box Scores
We've got a lot to cover from week 12 of the 2022-23 NCAA D1 season, so let's get to it before someone figures out I'm not supposed to be here and I get kicked out of this airport oasis.
The Smothered, Covered, Chunked & Diced Dual of the Century, of the Week, presented by Waffle House
Virginia Tech vs NC State in the 'This Rivalry Needs a Nickname' Rivalry
This week's Dual of the Century of the Week isn't actually sponsored by Waffle House but I wanted to pay homage to the ubiquitous diner of the south due to two ACC programs located south of the Mason-Dixon line wrestling in one of the most entertaining duals in recent memory.
I was fortunate to enjoy some Hokie hospitality and was onsite to grab some interviews with the coaches and wrestlers, and to call the play-by-play matside. You can listen to a replay of the commentary (though I don't honestly think any of you reallty want to do that) and watch the interviews (which I honestly think you WOULD enjoy) here.
As for the dual itself, Virginia Tech set a program record with 5,943 souls in attendance, all of whom were treated to a close, back-and-forth contest, featuring four overtime matches, and a winner that wasn't decided until heavyweight.
What a win 😤

No. 8 @HokiesWrestling downs No. 5 NC State 16-14 in front of a record crowd (5,943) in Cassell. pic.twitter.com/l7hXNA8HvL

— HokieSports (@hokiesports) January 21, 2023
The four overtime bouts were all won by NC State. Jarrett Trombley beat #22 Eddie Ventresca at 125 to set the tone for the dual. True freshman Matty Singleton beat #22 Conor Brady at 165. #3 Trent Hidlay gave up the first takedown to fellow top-ten rival #6 Hunter Bolen before coming back to win at 184, evening the career collegiate series between these two brawlers at 3-3. Finally, #12 Owen Trephan beat #17 Hunter Catka to close out the dual.
Though Catka for sure wanted that win for many reasons, ACC Tournament seeding not the least of them, all the Hokie big man had to do was avoid getting teched or pinned for Virginia Tech to secure the team win.
Catka did, and the Hokies reversed the result of last year's dual between these two ACC titans. The heroics for Virginia Tech also came at 157 and 197.
At 157, #7 Bryce Andonian, whose only official action this season was two matches last week at the Purple Raider Open -- after which he medically forfeited from the tournament -- got cleared by the doctors and decided about an hour before the dual started that he would take the mat. The results of his bout with #8 Ed Scott were nothing short of spectacular.
😱 OH MY @AndonianB! 😱#NCAAWrestling x 🎥 @HokiesWrestling pic.twitter.com/hXeLbxtOY0

— NCAA Wrestling (@NCAAWrestling) January 21, 2023
I am not exaggerating when I say I've never seen two top-ten wrestlers battling it out like that in a tight dual between two top-ten rivals. They scored 34 total points!
Scott gave as good as he received but Bryce the Berzerker would not be denied, and nearly six thousand Hokie fans in the Cassell Coliseum were all wildly entertained.
Then at 197, #22 Andy Smith, a local from nearby Christiansburg High School, all but sealed the deal for Virginia Tech, eking out a takedown in the final 20 seconds of regulation to defeat #7 Isaac Trumble. That win put the Hokies up by 5 with just one bout to go.
SAY IT WITH US: "LET'S GO!"#Team100 #Hokies #ALLINALLTHETIME 🦃 pic.twitter.com/kauFU6FI4W

— Virginia Tech Wrestling (@HokiesWrestling) January 21, 2023
Kudos to the Wolfpack for traveling to hostile territory (and withstanding a constant barrage of invective from the student section that was placed directly behind their bench) and wrestling their guts out on national television. ACC Friday Night Duals started their broadcast season with an epic showdown and hopefully won over a few new wrestling fans in the process.
Other Big Duals On National Television
Penn State and Iowa Distance Themselves From Their Big Ten Challengers
Iowa stomped Nebraska 34-6 and Penn State thumped Michigan 30-8 on the Big Ten Network, also on Friday.
The Hawkeyes were led by -- who else? -- Spencer Lee, who pinned #3 Liam Cronin in under a minute.
Pure Domination.@LeeSpencerlee36 x #Hawkeyes pic.twitter.com/q7HGK1Cf4P

— Iowa Hawkeye Wrestling (@Hawks_Wrestling) January 21, 2023
The Hawkeyes also got pins from #10 Max Murin at 149 and #3 Tony Cassioppi at 285. Additionally, #1 Real Woods defeated #4 Brock Hardy in a crucial bout for postseason seeding purposes.
The Huskers got wins from two of their big dogs, #1 Peyton Robb and #2 Mikey Labriola, but besides those matches it was all Black and Gold in Carver-Hawkeye.
Leading into Iowa's dual on primetime on the Big Ten Network was Penn State's home dual, also on primetime on the Big Ten Network. The Nittany Lions hosted Michigan in front of 15,000 or so fans in the Bryce Jordan Center.
Last night...
So...
Much...
Fun...
Let's do it again sometime 😃#PSUwr pic.twitter.com/HAVLh0vwpG

— Penn State WRESTLING (@pennstateWREST) January 21, 2023
Penn State dominated where you'd expect them to, but also got big wins from true freshman Levi Haines over #6 Will Lewan at 157, and redshirt freshman Alex Facundo over #5 Cam Amine at 165. Two more freshman title contenders for Penn State? A scary proposition for the rest of the NCAA.
But we're not surprised anymore, right? After I don't even know how many times Cael has produced such athletes? It still never stops being impressive, but it's also nothing new in Happy Valley.
Michigan was buoyed by wins from Jack Medley at 125, and a key win for #2 Mason Parris over #1 Greg Kerkvliet at heavyweight.
.@Parris58 emerges victorious in the #1 vs #2 heavyweight battle in Happy Valley! 🔥

A big 3rd period takedown puts him at 8 ranked victories on the season. @umichwrestling x @B1GWrestling pic.twitter.com/uEe2xpbOD0

— Michigan On BTN (@MichiganOnBTN) January 21, 2023
But back to the Hawkeyes, who weren't done with their weekend yet! They followed up their nationally televised primetime dual on Friday with a nationally televised primetime dual on Sunday!
Spencer Lee racked up another pin, this time over #8 Eric Barnett, as his quest for a third Hodge and fourth NCAA title continues. Iowa kept the momentum going with wins from #12 Brody Teske and #2 Real Woods at 133 and 141. However, things got dicier for Iowa after that, as Wisconsin would get wins from #2 Austin Gomez and #6 DJ Hamiti at 149 and 165. Wisconsin also got a huge lift from Tyler Dow at 184, when he pinned #8 Abe Assad in the first period.
Upset at 184! 😤

Tyler Dow over No. 8 Assad. pic.twitter.com/JhGLfx45TX

— Wisconsin On BTN (@WisconsinOnBTN) January 22, 2023
#10 Jacob Warner didn't start so a win by Wisconsin's Braxton Amos over Hawkeye freshman Kolby Franklin put the Badger up by three with one match to go. The Hawkeyes would ultimately prevail, but only thru tiebreaking criteria that gave them the 19-18 victory by dint of most match points scored after a decision win by #3 Tony Cassioppi over #11 Trent Hillger.
All four of the aforementioned duals were broadcast on cable which hopefully helped grow wrestling's audience. More wrestling fans are good for everyone involved in the sport!
Around The Horn of Plenty
A veritable feast of wrestling results covering all the conferences
Big Ten
Don't look now, but Carson Kharchla is back in the lineup for the Buckeyes. The redshirt sophomore picked up a win over Maryland's John Martin Best in his first action since the Cliff Keen Las Vegas Invitational back in the first week of December. The final team score was a 38-6 bludgeoning by the Buckeyes over the Terps.
Rutgers picked up a big win over Michigan State, 16-15. The Scarlet Knights got ranked wins from Dean Peterson and Joe Heilman at 125 and 133, while the Spartans got ranked wins of their own from Chase Saldate and Layne Malczewski at 157 and 184.
And in the Big Ten battle for Illinois, the Wildcats of Northwestern beat the Fighting Illini 18-17 on criteria. Maxx Mayfield's clutch win over #12 Danny Braunagel at 165 was the difference for the 'Cats.
MAC
Buffalo stayed perfect in the MAC thanks to a 22-13 win over Kent State.
Bulls Stay Perfect in the MAC with 22-13 Win over Kent State#UBhornsUP https://t.co/L0Y7AS9Fyt

— UB BULLS Wrestling (@UB_Wrestling) January 22, 2023
EIWA
The Campbell Camels hosted the second annual Chippewa Challenge, a quad-meet between Campbell, Central Michigan, CSU Bakersfield and American. The Chippewa is the mascot for Central Michigan, and the connection there is that all three head coaches of the other programs, Luke Smith at CSUB, Jason Borrelli at American, and Scott Sentes at Campbell, all wrestled for Tom Borelli, the longtime head coach at CMU (currently in his 32nd season!), who is also Jason's dad.
2023 Chippewa Challenge pic.twitter.com/RNEKOnAPBB

— SJanicki Photo (@SJanickiPhoto) January 22, 2023
Chentral Michigan won it last year. This year, however, would belong to the prodigal son, as Jason Borelli's American Eagles swept the duals, defeating CMU 18-17, CSUB 16-15, and Campbell 19-18. Three duals all by a point! That's about as close as a trophy-winning run can get!
Elsewhere, the Columbia Lions headlined the EIWA Dual of the Week, as they defeated Ivy League rival Princeton 27-13. Over the course of the last, oh, 30 years or so, the Ivy League has earned EIWA titles from Cornell and UPenn. Princeton has been challenging lately, but Columbia is making a case for being the next member of the Ancient Eight to take an Eastern title.
Columbia is not quite a favorite to hoist an EIWA team trophy just yet, but soundly beating Princeton is a big step in the right direction. The Tigers got wins from #3 Quincy Monday and #2 Pat Glory (wrestling up at 133), as well as #24 Luke Stout and Travis Stefanik. But Columbia took the other six bouts, two of them by pinfall (courtesy of Matt Kazimir and Aaron Ayzerov) to come out on top.
Lions on Top 😤 pic.twitter.com/IDhA2NSV74

— Columbia Wrestling (@CULionsWR) January 21, 2023
Columbia wasn't able to keep their momentum going into their Sunday dual with UPenn, however, as the Quakers re-established the old hierarchy with a 25-9 drubbing of the Lions.
Keeping up with all things Ivy, traditional league bullies Cornell rattled off two more wins, beating Harvard 27-12 and Brown 35-6. Helping boost the Big Red over their rivals was the return of #9 Jonathan Loew, who picked up two pins in his first action on the mat since defaulting out of the CKLV back on December 2nd.
ACC
It's Friday Night Duals for all six ACC programs from here on out. Though small in number, the ACC is mighty in depth, and outside of the Big Ten, there's a good argument that it's pound-for-pound best wrestling conference in America.
We already covered the VT vs NCSU dual, but elsewhere in the ACC: UNC beat Duke, and Pitt defeated UVA. Also: the ACC is great at having short or easy-to-abbreviate team names.
Pac-12
It's party time in San Luis Obispo as the Mustangs of Cal Poly defeated the Sun Devils of Arizona State 19-18. Cal Poly squeaked by thanks to a run from the upperweights that saw the Mustangs win every bout from 157 to 184. Cal Poly then got the dual clincher at heavyweight when Trevor Tinker majored David Palosika, 10-2. The Sun Devils were wrestling without #6 Cohlton Schultz at 285, though to be fair, the Mustangs did without #6 Bernie Truax at 197. Richie Figueroa also started at 125 for Arizona State, with Brandon Courtney taking that dual off. Figueroa defeated a very tough Antonio Lorenzo 6-5.
Later last weekend, the Sun Devils were able to bounce back and defeated traditional Pac-12 rival Stanford by the score of 25-14.
Big 12
Oklahoma State picked up two more intraconference wins this weekend, 24-10 over Northern Colorado and 28-7 over West Virginia. All the usual suspects got wins for the Cowboys except for Wyatt Sheets, who fell to #8 Peyton Hall of WVU at 165, and Carter Young, who was defeated by the Bears' talismanic 141-pounder, #1 Andrew Alirez.
The Cowboys also had Zach Blankenship in at 125 instead of Trevor Mastrogiovanni, though Coach Smith said that was due to health reasons, and not performance.
SoCon
The Camels came oh-so-close to winning the Chippewa Challenge, as mentioned in the EIWA blurb. Campbell had convincing wins over CSU Bakersfield and Central Michigan. They fell to American by a single point and missed out on claiming the 2nd annual Chippewa Challenge Cup.
Elsewhere in the Southern Conference, App State routed VMI 37-0, and Chattanooga trounced Davidson 39-3.
That's all for this week, and just in time as my flight is about to take off. Or is it? Seeing as some of my best work is accomplished inside airport terminals, I won't sweat another delay. Just more time on the laptop delivering more wrestling news to you, the smartest and most knowledgeable wrestling fans in the world! See you next time, friends!