The EIWA Dual Of The Week 2022-23
NCAA Week 11 Roundup: The Many Duals That Ruled
NCAA Week 11 Roundup: The Many Duals That Ruled
Recapping all the biggest stories from the eleventh week of the 2022-23 NCAA D1 college wrestling season.
Jan 16, 2023
by Andrew Spey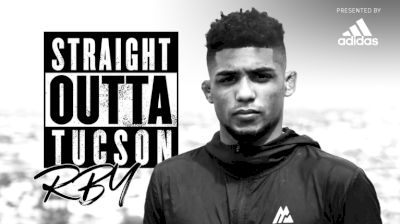 Welcome to another edition of the D1 Roundup, the blog the pros read.
We've got a stunning array of duals to cover, so let's get to it before someone classifies this blog as top secret and it never sees the light of day!
Last Week's Roundup | Box Scores | D1 Rankings
The Phil Simms #11 Dual of the Century of the Week
It's week 11, therefore, the Dual of the Century of the Week is sponsored by my personal favorite number 11. Fun fact: Simms was also the inspiration for the name of a character in Game of Thrones!
Oregon State Rumbles Past Princeton, 21-9
I acquiesce to being found guilty of home-blog bias once again. Sue me!
But to me, a nice competitive dual in prime time between two excellent college teams that clocks in at around two hours and change is the perfect form of entertainment. And Oregon State and Princeton delivered just that.
The Tigers could boast of two NCAA finalists in their lineup with Pat Glory and Quincy Monday at 125 and 165, respectively, but the Beavers had too much horsepower, winning every other bout but those two weights and 285.
Glory particularly impressed at 125. In this candid interview, he explains the difficulties he's had maintaining weight this season. But there were no signs of difficulty on the mat last Friday, as Glory defeated All-American Brandon Kaylor convincingly.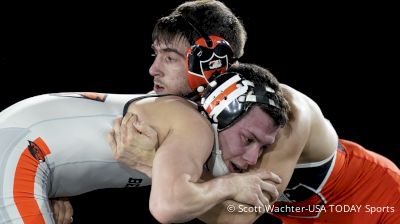 Unlock this video, live events, and more with a subscription!
Get Started
Already a subscriber? Log In
Monday had a scotch more trouble with nationally ranked #18 Matthew Olguin, who hit an inside trip in the final seconds of the regulation to send the bout into overtime, where Monday ultimately prevailed.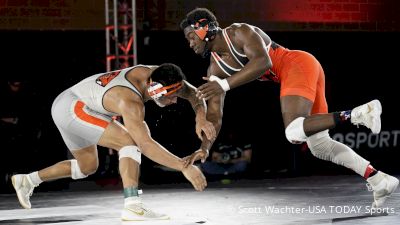 Unlock this video, live events, and more with a subscription!
Get Started
Already a subscriber? Log In
Another bout I would recommend is 197-pounds between Harvey and Stout. Tanner Harvey is a local Oregonian and transfer from American University, and Luke Stout was a highly recruited native from the talent-rich WPIAL high school conference in Western Pennsylvania. The two titanic light heavies battled it out in a close match, which became just one more piece of evidence for 197 being one of the premier collegiate weight classes this season.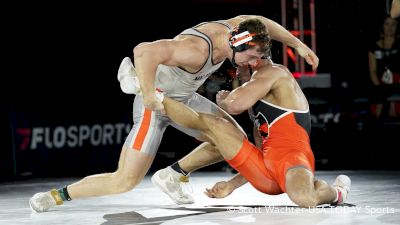 Unlock this video, live events, and more with a subscription!
Get Started
Already a subscriber? Log In
Overall, it was hard not to be impressed by what Chris Pendleton's Beavers, who hustled through every second of the dual.
It's always fun when two orange and black teams from opposite sides of the country meet in Texas for a wrestling competition, and last Friday was certainly no exception.
The EIWA Dual of the Week
Lehigh vs Cornell: The Eastern Blue Blood Classic
It was the 100th meeting between storied EIWA programs Lehigh and Cornell, who are also respectively the two most successful wrestling programs in the Patriot and Ivy Leagues, in which their non-wrestling teams compete.
The Mountain Hawks and Big Red have won 21 of the last 21 EIWA titles. The last Eastern team title won by a team other than Lehigh and Cornell was UPenn in 1999. That's before most of the wrestlers who will compete in this year's championships were born!
Lehigh followed up the Quakers' title with a five-peat, followed by an astonishing eleven-peat by Cornell, which was then bookended by a four-peat from Lehigh. Then last year Cornell reclaimed the crown, their 25th title in program history. That's good for second all-time in EIWA annals, as Lehigh still holds the record for most titles with 37.
Anyhow, the dual happened.
Cornell came out on top of a back-and-forth slugfest in Ithaca. Brett Ungar gets the 'man of the meet' award for beating Jaret Lane of Lehigh at 125 in sudden victory, which turned out to be the difference in the 18-15 dual.
Both teams won five bouts, so the Big Red also needed bonus points, which they got from their talismanic senior Yianni Diakomihalis. It was also Yianni's 100th win of his career. Yianni's official career record is now 100-2. Pretty good!
Yianni Diakomihalis wins his 100th match in a Cornell singlet with a dominant 16-1 win over Drew Munch to put @BigRedWrestling in the lead against #20 Lehigh. #YellCornell

Watch live on ESPN+ - https://t.co/EdU6H07Lha pic.twitter.com/V5cy71NnnI

— Cornell Video (@CornellVideo) January 14, 2023
Don't Be A Virginia Fool, Watch The Virginia Duals
That is a tagline I just made up for marketing next year's VA Duals. I offer it up to the tournament organizers gratis.
Eight D1 teams participated in the 43rd annual Virginia Duals, an event that has long been a feature in the Hampton Roads area of the Commonwealth. As it typically does, the grappling jamboree featured multiple leaves of collegiate and high school wrestling from around the country, though there were a preponderance of teams from Virginia.
This year's top tier collegiate competition was a round robin of sorts, with no official winner, though unofficially I would rank the eight teams something like this, based on their dual meet results:
1. South Dakota State (4-0)
2. Maryland (3-1)
3. Oklahoma (3-1)
4. Virginia (3-1)
5. Campbell (2-2)
6. Navy (0-3)
6. Kent State (0-3)
8. Ohio (0-4)
The Jackrabbits showed out as the only team to go undefeated, though they did not get a shot at any of the next three programs on the list.
Maryland is the unofficial runner-up thanks to head-to-head wins over Oklahoma and Virginia, while Oklahoma gets the edge on Virginia due to having a win over Campbell, whereas all of Virginia's victories came over opponents who were winless at the event.
For more results, go check out the box scores, which is kind of like this blog except without all the stupid copy.
Around the Horn of Plenty
A bountiful feast of wrestling news and results!
EIWA
Columbia hosted Oklahoma State at the end of the Cowboys' east coast road trip. The Cowboys will gallop back to Stillwater with the victory but not before the Lions collected a few impressive individual wins. Nick Babin defeated #12 Trevor Mastrogiovanni at 125, Matt Kazimir beat #19 Carter Young at 141, and Joshua Ogunsanya defeated All-American #20 Wyatt Sheets at 165.
Also on a road swing were the Princeton Tigers, who bounced back from their rough dual against Oregon State to defeat the #6 ranked Arizona State Sun Devils 24-12. Pat Glory continued to show he's got no problem managing the scale when he notched his second big win of the weekend, defeating #6 Brandon Courtney, 8-3.
In news off the mat, Bekzod Abdurakhmonov joins the Harvard coaching staff, where his brother, Muzzafar, has been coaching for over a decade. Bekzod wrestled collegiately at Clarion, where he placed third at the NCAAs in 2012.
🗣 "He's proven to be one of the best wrestlers in the world and still has more to accomplish. He'll be a tremendous asset to our program."- Coach Weiss

We are happy to announce that Bekzod Abdurakhmonov will be joining the coaching staff!
📖:https://t.co/IbvPtx8QuK#GoCrimson pic.twitter.com/1R8zMjxqBM

— Harvard Wrestling (@HarvardWrestlin) January 12, 2023
Wrestling internationally for his native Uzbekistan, Abdurakhmonov earned bronze medals at the 2014 and 2018 World Championships at 70 and 74kg respectively. He also placed fifth at the 2016 Olympics at 74kg, beating Jordan Burroughs in the repechage. Bekzod placed fifth two more times at World Championships, at 74kg in 2017 and again just last summer in Belgrade at 79kg.
SoCon
Davidson hosted Bellarmine in the Duke Family Performance Center.
𝕿𝖍𝖊 𝖘𝖙𝖆𝖌𝖊 𝖎𝖘 𝖘𝖊𝖙... pic.twitter.com/5ekTEV6bQf

— Davidson Wrestling (@DavidsonWRES) January 12, 2023
Bellarmine got the victory by the score of 27-12. I was going to write that this was Bellarmine's first D1 victory, but then I looked up their record and it turns out they also beat Queens and Lindenwood this year, so definitely not their first D1 win. Then I thought maybe it was their first SoCon win but nope, they beat Presbyterian the last two seasons. And just FYI they also beat SIUE last season.
So yeah, Bellarmine, they've won a bunch of D1 matches before. Don't make the same mistake I made and forget that. Let me be an example for you of what not to do!
Elsewhere in the Southern Conference, Campbell went 2-2 at VA Duals. Anthony Molton took out #10 Joey Prata of Oklahoma and #24 Jake Ferri of Kent State, though he also fell to the honorably mentioned Braxton Brown of Maryland and Tanner Jordan of South Dakota State. Still, on balance, a very nice weekend!
Big 12
NDSU's Michael Caliendo knocked off #2 Shane Griffith of Stanford as the Bison rumbled to their 600th dual meet win in program history out in Northern California.
With tonight's victory over Stanford, NDSU Wrestling picks up dual win #600 in program history! #TakeCharge pic.twitter.com/U4hh88QGJp

— NDSU Wrestling (@NDSUwrestling) January 13, 2023
Returning our focus to the Hampton Coliseum, Keegan Moore wrestled at 184 for the first time this season for the Sooners. Might that portend the yanking of recent transfer Stephen Buchanan's redshirt so that the former Wyoming Cowboy and two-time All-American might step into the lineup at 197? It didn't happen this weekend, but perhaps it will before the postseason.
Up at elevation in Laramie, Wyoming, the Cowboys' 2022 UWW U20 Freestyle World Champ Jore Volk got a win over #12 Noah Surtin of Missouri. The Tigers took the dual though, 28-10, winning 7 of the 10 bouts.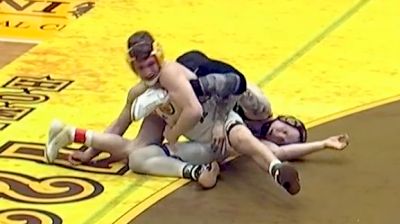 Unlock this video, live events, and more with a subscription!
Get Started
Already a subscriber? Log In
This weekend also saw defending champ Keegan O'Toole wrestle his first matches of the new year. The third-year Tiger notched a tech-fall and a pin in his first action since last December.
Iowa State continues to excel, thrashing the Wolverines of Utah Valley 31-9. Unfortunately, it was revealed that the Cyclones will have to do without the services of Kysen Terukina for the rest of the year. His teammate and fellow Hawaiin Corey Cabanban was not in the lineup either, nor was Ramazan Attasauov, though that did not seem to slow down the team much.
A bright spot for the Mean Green Wolverines however was #11 Demetrius Romero, who beat #12 Lance Runyon of Northern Iowa and Carter Schmidt of ISU.
Random sidebar but South Dakota State has a lineup that is 50% either Cade or Tanner. Without checking I'm pretty sure that sets a new D1 record.
Speaking of the Jackrabbits, SDSU also finished a very excellent facility upgrade.
Home, sweet home 🏠

First practice in the new facility ✅ #GetJacked pic.twitter.com/uUy742whVs

— Jackrabbit Wrestling (@GoJacksWrestle) January 11, 2023
Without doing any additional research, I know that Illinois and Iowa still have upgrades in the works. Who else am I missing? We all love a good facility upgrade, please let me share those construction pics and architectural drawings if you got em!
Big Ten
Iowa wrestled their 300th dual meet in Carver-Hawkeye Arena. A lot of winning was done under that Sarnafil EnergySmart Roof 60 mil S327 mechanically attached membrane.
The dual between the Hawkeyes and the Wildcats of Northwestern started at 133, so Spencer Lee vs Michael DeAugustino would be the closer. In the final bout of the meet, Lee would run his season-long winning streak to eight and his first-period pin streak to four, as DeAugustino was rudely welcomed back to the mat for the first time since injury defaulting at the CKLV.
That man 𝙙𝙞𝙛𝙛𝙚𝙧𝙚𝙣𝙩. 🥵 @LeeSpencerlee36 demonstrating the gap with a pin on #3 DeAugustino.@Hawks_Wrestling x @B1GWrestling pic.twitter.com/Ei6mT4xifd

— Big Ten Network (@BigTenNetwork) January 14, 2023
Michigan and Michigan State had their annual Big Ten Battle for the Oven Mitt. The crowd in East Lansing (and it was a very decent crowd) were delighted by upsets from Rayvon Foley over Dylan Ragusin and Chase Saldate over Will Lewan, but that would not be enough for Sparty, as the Wolverine won nearly every other dual and earned the rivalry dub.
In sudden victory! 👏 @ChaseSaldate picks up the ranked win over #8 Will Lewan. @MSU_Wrestling x @B1GWrestling pic.twitter.com/TEKBkiOYIp

— Michigan State on BTN (@MichiganStOnBTN) January 14, 2023
Saldate had himself quite a weekend, following up his win over Lewan with another ranked win over Brayton Lee.
Also having a weekend? #8 Liam Cronin of Nebraska, who beat #3 Patrick McKee and #4 Michael DeAugustino in consecutive matches. The Husker super-senior is now 13-2 on the season.
But back to the Maize and Blue, as the Wolverines then traveled east a bit, back home to Ann Arbor, to host Wisconsin. Jack Medley and Cam Amine won marquee bouts over #5 Eric Barnett and #5 DJ Hamiti at 125 and 165 respectively. As such, Big Blue swept their weekend duals.
Coming up clutch. 💪 @CameronAmine #GoBlue pic.twitter.com/PL9RUkluLh

— Michigan Wrestling (@umichwrestling) January 15, 2023
And our last item in a weekend replete with Big Ten notables: Nebraska beat Northwestern 22-15. However, the Wildcats did get a first-period pinfall from Lucas Davison at heavyweight over Cale Davidson, demonstrating the superfluousness of the second D in Cale's last name.
Oh and actually for real last item: Kyle Burwick is wrestling again! It's been a whole saga. Long story short, he transferred from Wisconsin to Nebraska, wasn't sure if he would be eligible to wrestle this year because of rules, but now he is wrestling. There's more to it but you'll have to read up on that elsewhere, this roundup is long enough as is!
ACC
A few weeks ago we saw the triumphant return of Mikey Carr to the Illinois lineup. This week, it was Brian Courtney returning to the mat to let everyone know that the reports of his retirement were greatly exaggerated.
Courtney defeated Navy's Josh Koderhandt and Ohio's Kyran Hagan at the Virginia Duals. Courtney had stepped away from competition and was teaching middle school science before he heard the clarion call of collegiate wrestling. He was also apparently NCAA All-American and former UFC middleweight belt holder Chris Weidman's daughter's teacher? Small world indeed!
Small world. Happens to be my daughters teacher too ! https://t.co/I7MKuOnfmH

— Chris Weidman (@chrisweidman) January 13, 2023
Virginia Tech also notched a 23-11 victory over App State in Boone, NC. Hokie true freshman Caleb Henson picked up yet another big time win, beating two-time All-American #7 John Millner. Henson also has wins over Jaden Abas and Sammy Sasso this season.
Pac-12
Oregon State had the best performance this weekend from the western-most wrestling conference. We already covered their win over Princeton. The Beavers followed their victory in Austin, Texas with a win in Little Rock, Arkansas, beating the Trojans 35-3 in their Pac-12 opener.
Little Rock had a more successful time earlier on Friday, when they hosted and swept Lindenwood 49-0.
MAC
And lastly, this week in MACtion, Rider beat Bloomsburg, Central Michigan beat Northern Illinois and SIUE, and Cleveland State beat Edinboro.
That's all for this week. Next week, tune in to the audio broadcast of the great ACC rivalry of Virginia Tech vs NC State, which will be called by your very own humble blogger. Thanks for reading, see you next time!