2022 FloWrestling Who's Number One
Who's Number One College Fan Guide & Recruiting Watch
Who's Number One College Fan Guide & Recruiting Watch
Find out where all the committed Who's Number One wrestlers will be competing in college and where the uncommitted group might be looking.
Sep 7, 2022
by David Bray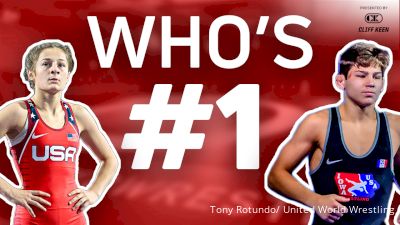 Who's Number One gives college wrestling fans a glimpse of what they can look forward to in just a few years on the NCAA stage. we've seen matchups between NCAA finalists like Jason Nolf vs Joey McKenna in 2013, Nick Suriano vs Daton Fix and Zahid Valencia vs Myles Martin in 2014, and Nick Lee vs Sammy Sasso in 2016. The athletes at Who's Number One will make their mark in college wrestling. Get ready for Friday's action by seeing who's already committed, and read about the uncommitted recruits who your team might snag.
Already Committed
Over half of the young men in Who's Number One this year are seniors who have already made their college decisions. Iowa, Illinois, Michigan, and Penn State each have a pair of commits while Arizona State, Cornell, Little Rock, Ohio State, and Oklahoma State all have one.
Arizona State
160 lbs - #2 Nicco Ruiz, 2023
Cornell
152 lbs - #1 Meyer Shapiro, 2023
Iowa
120 lbs - #1 Nate Jesuroga, 2023
138 lbs - #1 Ryder Block, 2023
Illinois
132 lbs - #1 Kannon Webster, 2023
160 lbs - #4 Braeden Scoles, 2023
Little Rock
138 lbs - #2 Nasir Bailey, 2023
Michigan
132 lbs - #2 Sergio Lemley, 2023
145 lbs - #2 Beau Mantanona, 2023
Ohio State
170 lbs - #2 Rocco Welsh, 2023
Oklahoma State
182 lbs - #1 Brayden Thompson, 2023
Penn State
145 lbs - #1 Tyler Kasak, 2023
170 lbs - #1 Josh Barr, 2023
Uncommitted
Of the nine remaining uncommitted wrestlers, only one senior is still available. Four class of 2024 recruits have already started the recruiting process, and four underclassmen still have plenty of time to decide.
It's worth mentioning that every wrestler on this list would be a big score for just about every program. Here's an update on recruiting for these massive recruits.
Class of 2023
126 lbs - #1 Marc-Anthony McGowan
McGowan sits at #11 on the 2023 Big Board for a reason. He's a Cadet World champ who's currently the top-ranked 126-pounder in the country. Last summer, JD Rader suggested that the Penn might have their eyes on McGowan. He would be an incredible pickup for the Quakers or for any number of other squads. As one of the top remaining recruits in the class, all eyes will be on McGowan's social media accounts until he makes his decision.
Class of 2024
126 lbs - #2 Ben Davino
Back in July, Davino caught up with JD Rader to give insights into the first few weeks of his recruiting process. He's keeping his options open and is particularly interested in finding coaches whose goals align with him. Since that time, Davino has added a Fargo stop sign to his trophy case and his stock has only risen. Davino's Who's Number One camp included frequent training with Illinois commit Kannon Webster. Coach Poeta and company would be wise to keep Davino in-state.
160 lbs - #1 Angelo Ferrari
Ferrari isn't sure where he'll end up, but he's very open to the recruiting process. The 160-pounder envisions himself at 184 lbs or 197 lbs in college and is exploring all college options. His brothers, AJ and Anthony, are also currently without college homes, and while their futures could impact his decision, he also says that his family supports him in doing what makes the most sense for himself. In July, Angelo mentioned Oklahoma, Minnesota, North Carolina, Arizona State, and Rutgers as possible landing spots and emphasized that every option remains on the table.
160 lbs - #3 Joseph Sealey
After two weeks of recruiting, Joe Sealey was excited about all of his prospects but wanted to put off thinking much about college until after he focused on the U17 World Championships. That focus paid off as Sealey brought home World gold and dominated along the way. Expect Sealey's recruiting to pick up now that school's in session. With an Iowa-style pace and a Penn State proclivity for varied offensive attacks, expect every team in the country to take their best crack at Sealey.
182 lbs - #2 Zack Ryder
When Ryder's recruiting process started, he was surprised at how many coaches were interested in talking with him. He's surely gotten used to that now after adding a U17 World bronze medal to his resume in July. Cornell is both in New York, Ryder's home state, and in need of restocking its upper-weight shelves within the next couple of years. The Big Red might take a run at Ryder who's still exploring all options.
Class of 2025
106 lbs - #1 Christian Castillo
Arizona State welcomed Valiant Prep grads Kaleb Larkin and Emilio Ysaguirre into the room this fall, and they may want to keep that pipeline open with Castillo and his classmates. The sophomore has plenty of time to decide what he'll do next, but Zeke Jones and company would love to keep his magnificent mullet in Arizona.
113 lbs - #1 Anthony Knox
Knox is one of the more recognizable names in high school wrestling, and he's just a sophomore. Princeton and Rutgers may try to play their New Jersey cards to nab Knox. He'll have his pick of just about any program when the time comes.
152 lbs - #2 LaDarion Lockett
Lockett lives in Stillwater and won an Ironman title in an Oklahoma State headgear. The Cowboys will ride hard for Lockett, but they'll likely have to fend off a lot of other programs to keep him close to home.
Class of 2026
120 lbs - #1 Jax Forrest
Only one freshman is competing in Who's Number One, and that's U17 World silver medalist Jax Forrest. It's too early to speculate about where he'll land, but his unorthodox style is sure to catch the eye of many college wrestling fans as he looks to move his winning streak against Nate Jesuroga to 3 matches.