Which 2023 Prospect Should Your Team's Coach Be Calling On June 15th?
Which 2023 Prospect Should Your Team's Coach Be Calling On June 15th?
What prospect from the rising Class of 2022 should your favorite college team's coach be calling on June 15th?
Jun 11, 2021
by JD Rader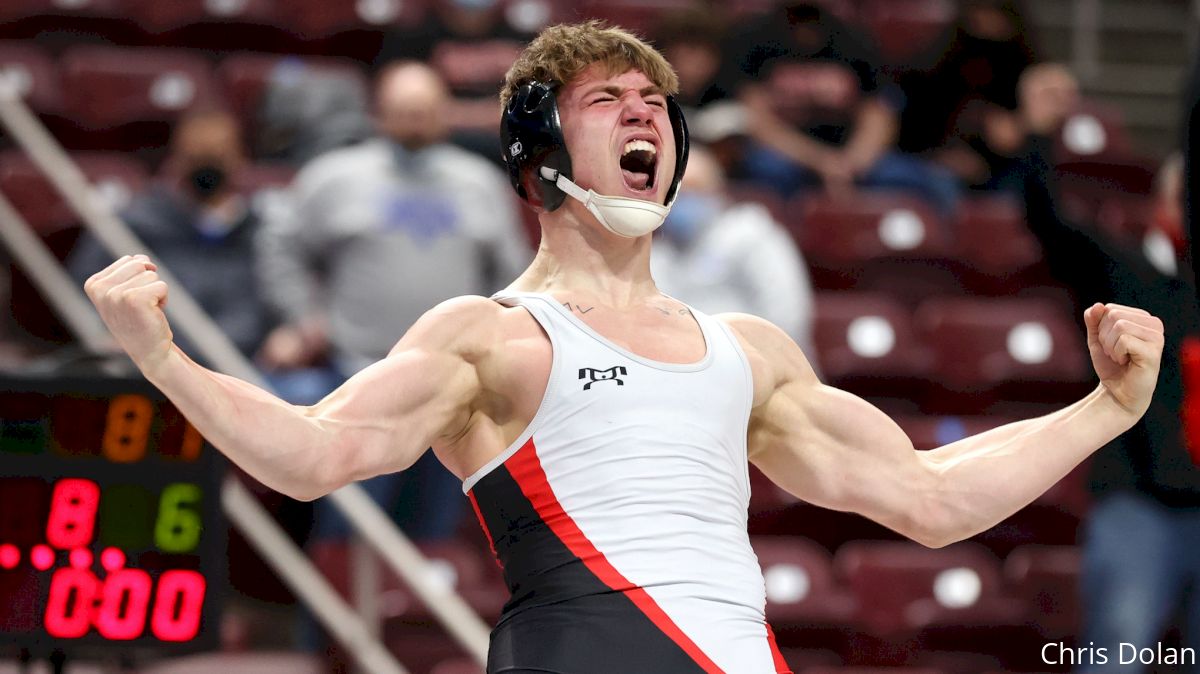 Unlock this article, live events, and more with a subscription!
Get Started
Already a subscriber? Log In
Recruiting for college coaches is a 365 day a year job, but a couple of dates in particular stick out. One of those being June 15th, the first day that coaches can legally begin contacting rising juniors. Three top-100 recruits have already verbally committed: #1 Cody Chittum to Minnesota and #2 Christian Carroll and #21 Kannon Webster to Illinois. Don't worry Gopher and Illini fans, I've still got you covered. There are many great programs and recruits that didn't get recognition in this article, however. This isn't because those programs aren't good options for top recruits or kids worthy of recognition, but rather to keep this article to a consumable length.
Clearly, coaches should be reaching out to as many recruits as possible and recruits should field calls from as many coaches as possible. However, for the sake of this article, only one recruit will be focused on per school. The main purpose of this article is to create conversation and discussion as well as give college fans an introduction to some of the top crop of kids coming up through the high school ranks.
These rankings come directly from the newly updated class of 2023 big board.
Iowa: #16 Ben Kueter
An Iowa City native, Ben Kueter isn't just an in-state recruit for the Hawkeyes, but right in their backyard. He grew up a Hawkeye fan and now has a legitimate shot at becoming one. Already at 195/220 as a sophomore, Kueter could grow into a full-sized heavyweight by the time he graduates or possibly stay at 197. After winning the 3A 195 lbs title this year and then defeating Lance Runyon at freestyle state, Kueter has solidified himself as the top big man prospect in the state.
Gabe Arnold projects as a 174/184 in college, two weights Penn State currently have quite a bit of money tied up in by underclassmen, but that's never stopped them before. Arnold is National Prep champion with wins over Cael Valencia and James Rowley. If Arnold is good enough to get in the lineup, which I believe he will be, Cael and co. will get creative and find a way.
Listen to Gabe Arnold discuss the recruiting process below.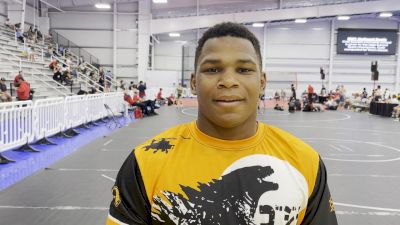 Unlock this video, live events, and more with a subscription!
Get Started
Already a subscriber? Log In
This is an obvious one for John Smith. The Cowboys let a Stillwater hammer get away from them this year in Carter Young, and I doubt they plan on letting that happen again. Competing for Stillwater High, Cael Hughes is already a 2X state champ and a Fargo champ. More recently, he took 4th at Cadet World Team Trials at 55 kg, or 121 lbs.
Vinny Kilkeary is an electric 113 pounder who I believe will grow into a solid lightweight prospect. He won a Pennsylvania state title as a freshman in 2020 with a headlock in overtime. I seem to recall another Greater Latrobe grad having success as a Buckeye lightweight not too long ago.
Watch Vinny Kilkeary win a Pennsylvania state title as a freshman below.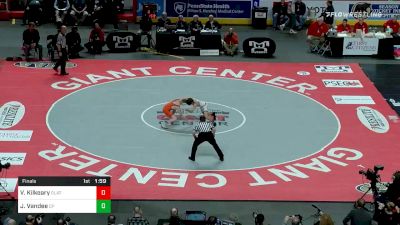 Unlock this video, live events, and more with a subscription!
Get Started
Already a subscriber? Log In
Cornell: #8 Jim Mullen
To be honest, I think Big Jim Mullen ends up playing football in college. However, maybe a paid-for Ivy League education could be enticing enough to pull him away from the football field. Mullen just doubled up and made both the 2021 Cadet Freestyle and Greco World Teams at heavyweight.
Rocco Welsh is extremely physical for his age and very good. As a sophomore, he's already a 2X state finalist in Pennsylvania's big class. The Waynesburg native went from 126 as a freshman to 152 as a sophomore, so who knows just how big he'll get by college or if that was his big spurt and now he's done. 157 or 184, he'll be a good pick-up for whatever team he chooses.
Michigan: #7 Meyer Shapiro
Maryland's Meyer Shapiro made some solid gains from his freshman to sophomore year both on the scale and the mat. After finishing 2nd at National Preps at 126 as a freshman, Shapiro made the Cadet World Team at 65 kg (143.3 lbs) his sophomore year. Get Shapiro in a room working out every day with Chance Lamer and he will continue to get a lot better.
Back to the in-state angle here. It could be tough to keep Gavin Nelson, who isn't short and isn't fat, at the college weight of 197. He just made the Cadet World Team at 92 kg (202.8 lbs), but I think you at least try if you're the Gophers. They'll have Gable Steveson for 1-2 more years and Bennett Tabor coming in from the class of 2021. But if they can pull it off, that's a strong 1-2 homegrown closing combo.
Missouri: #28 Braeden Scoles
Missouri fans have got to be loving the rise of the Askren Wrestling Academy. If the Tigers can get Braeden Scoles, there is a scenario where the Tigers roll out Keegan O'Toole, Peyton Mocco, and Scoles in some way, shape, or from 165-184. All of which are products of AWA.
It seems more likely the Southeast Polk lightweight hammer Nate Jesuroga end up at a blueblood (Iowa, Penn State, Oklahoma State), but that doesn't mean Iowa State shouldn't try. A Sebolt Academy kid, Jesuroga is big on Iowa style tough wrestling. Who better to help facilitate that than Brent Metcalf? If I'm Iowa State, I start making calls to his older brother, Joel, yesterday.
Watch Nate Jesuroga make the 2021 Cadet World Team below.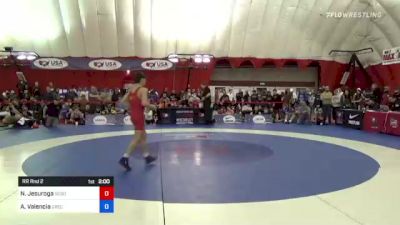 Unlock this video, live events, and more with a subscription!
Get Started
Already a subscriber? Log In
Pennsylvania: #9 Marc-Anthony McGowan
From what I hear, Marc-Anthony McGowan is smart and wisely wants to utilize these smarts to get an Ivy League education. Cornell just brought in more lightweights than they can possibly handle for the foreseeable future and with McGowan's relationship with Pennsylvania RTC head coach Brandon Slay, Penn could be an early favorite to land this Cadet World champion.
Texas native Mike Dellagatta is thriving in New Jersey. He's already a 2X placer in the single-class state for St. Joseph Regional. After wrestling at 160 this season, I think Dellagatta could potentially grow all the way into a 184 in college, a weight the Sun Devils could use help at.
Josh Barr is another 160 pounder who I believe will grow into a solid upper-weight college prospect. The sophomore is already two-for-two on state titles and just took third at Cadet World Team Trials. With Davison, MI only being about a five-hour drive from Evanston, IL, Northwestern could be a perfect fit for Barr if he can meet the academic requirements.
Nebraska: #14 Brayden Thompson
Brayden Thompson is coming off of a Junior World Team Trials where he beat Peyton Craft, Tyler Stoltzfus, and Jacob Nolan. The Huskers already have Lenny Pinto and Nathan Haas at 174/184 for the next handful of years. However, if Thompson can grow into a 197, that could be a deadly three-piece combo for the several years they overlap in Lincoln.
Watch Brayden Thompson tech fall Peyton Craft at 2021 UWW Juniors below.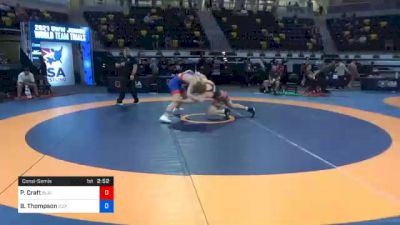 Unlock this video, live events, and more with a subscription!
Get Started
Already a subscriber? Log In
Rutgers: #32 Simon Ruiz
Rutgers is as good as anyone at in-state recruiting, and Simon Ruiz is one they won't want to let get away. After taking third as a freshman at 132 and second as a sophomore at 145, Ruiz's ceiling is extremely high.
The highest Colorado kid on the Big Board and second-highest heavyweight, I'm sure quite a few coaches will come calling Matthew Moore's phone on June 15th. If Coleman Scott and Tony Ramos can get him out east, it would be a big-time big man pick up.
Illinois: #23 Sergio Lemley
Illinois has already gotten verbals from #2 Christian Carroll and #21 Kannon Webster. If they can somehow snag Illinois native Sergio Lemley as well, new Illini head coach Mike Poeta is looking at a possible top-five recruiting class.
Purdue: #13 Vincent Robinson
Illinois stole Christian Carroll out of Indiana, so it would only be fair if Purdue picks off the top ranking Illinois recruit. Vincent Robinson made the state finals as a 120 lbs freshman in 2020 and was denied the opportunity to win his first state title this year with Illinois not having a season, but he did go 4-0 at Elite 8 Duals in November.
Hunter Mason is as hard-working as they come, and that hard work paid off. The Tennessee native went from #45 a year ago to #11 with big wins over Jordan Titus, Meyer Shapiro, Ryder Block, Jack Gioffre, and more.
Watch Hunter Mason take out #10 Jack Gioffre at 2021 NHSCA National Duals below.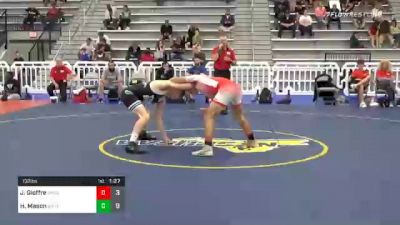 Unlock this video, live events, and more with a subscription!
Get Started
Already a subscriber? Log In
Wisconsin: #19 Tate Naaktgeboren
With Andrew McNally and Chris Weiler both in their last year of eligibility, the Badgers should be looking for some upperweights. They picked up DJ Hamiti from the class of 2021, but he seems like a 165 at least for the first few years. An Iowa state champion and Folkstyle Nationals champion at 170, Tate Naaktgeboren could really help the Badgers out.
Chris Pendelton has wasted no time making Corvallis a wrestling town. They brought in a huge class this year and already signed Gabe Wisenhunt, one of the biggest Oregon recruits in the class of 2022. If Pendelton can add not just the top in-state commit, but one of the top 197 prospects in the class of 2023, watch out PAC 12 and NCAA wrestling.