Big 12
Early Lineup Look: 2022-23 Northern Iowa Panthers
Early Lineup Look: 2022-23 Northern Iowa Panthers
A complete breakdown of the Northern Iowa Panthers for the upcoming 2022-23 NCAA season.
Aug 8, 2022
by Kyle Klingman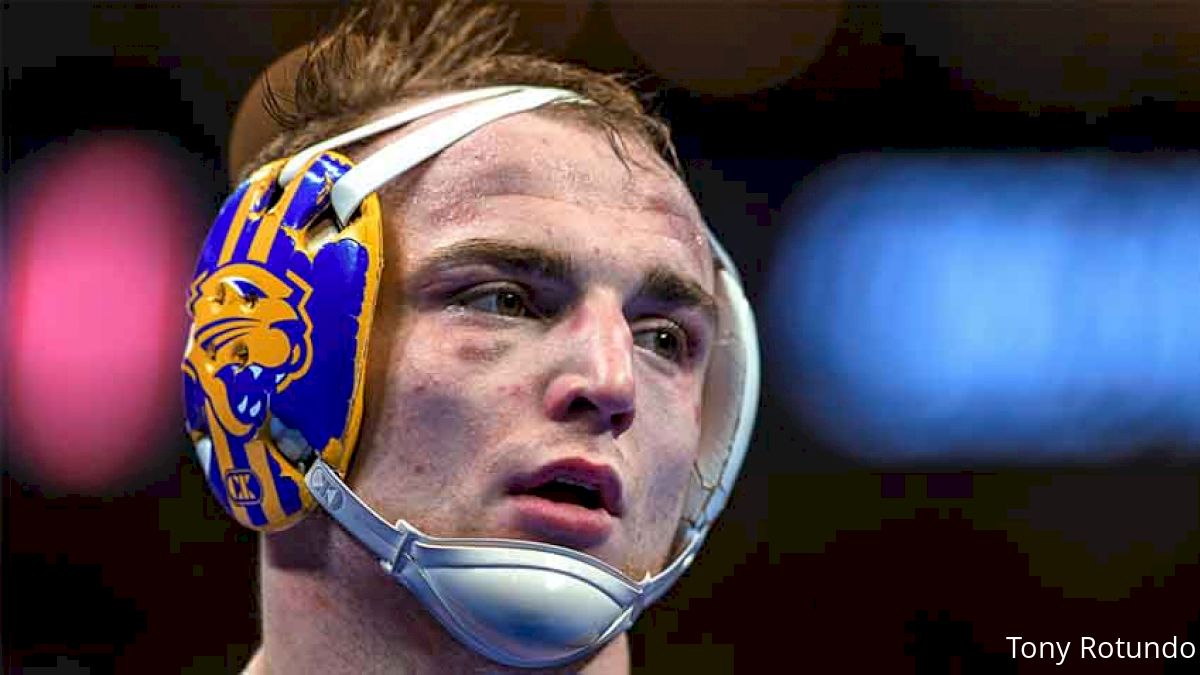 Overview
Head coach: Doug Schwab (13th season)
Assistants: Lee Roper, Randy Pugh, Brett Robbins
2022 NCAA tournament finish: T-20
2022 NCAA tournament record: 17-15
2022 NCAA tournament points: 28.5
2022 Big 12 tournament finish: 5th
2022 dual record: 7-7 (6-3 in Big 12)
Returning national qualifiers: 7 (Kyle Biscoglia, Colin Realbuto, Derek Holschlag, Austin Yant, Lance Runyon, Parker Keckeisen, Tyrell Gordon)
Returning All-Americans: 1 (Parker Keckeisen, 184, 3rd in 2021 and 2022)
Last NCAA champion: Drew Foster (2019)
Highest NCAA team finish: 1st (1950)
Highest NCAA team finish under Schwab: 13th (2019)
Most national placers in a season under Schwab: 3 (2014)
Other early lineup looks: Penn State, Iowa, Iowa State, Arizona State, Ohio State, Oklahoma State, Cornell, Michigan, Michigan State, Nebraska, Northwestern, Missouri
Summary
Northern Iowa returns seven national qualifiers from last season, including two-time third-place finisher Parker Keckeisen at 184 pounds. Two-time national qualifier Brody Teske entered the transfer portal so Schwab will likely have a new body in the line-up at 125 pounds.
The Panthers are known for facing tough competition during the season, which is reflected in last year's 7-7 dual record. They had big road wins against Oklahoma State (19-15) and Oklahoma (17-15) but suffered losses to Missouri (25-16), Virginia Tech (39-3) Penn State (29-9), Cornell (29-7), Iowa State (16-15), and Wisconsin (24-10). The team will look similar to last year with a few fresh faces sprinkled into the line-up. Schwab prides himself on recruiting in-state talent, so look for another season filled with home-grown starters.
Northern Iowa's 2022-23 Projected Starting Lineup
125: Kyle Gollhofer
133: Kyle Biscoglia (NQ)
141: Cael Happel
149: Colin Realbuto (NQ)
157: Derek Holschlag (NQ)
165: Austin Yant (NQ)
174: Lance Runyon (NQ)
184: Parker Keckeisen (AA)
197: John Gunderson
285: Tyrell Gordon (NQ)
125: Kyle Golhoffer, SO
2022 record: 3-6
Don't let Gollhofer's 3-6 record fool you. All six of his losses were by three points or less and he even filled in three times for duals when Brody Teske was sidelined. The Cartersville, Georgia, native appears to be the option here unless Teske returns to Northern Iowa or if Cory Land, a 2021 U17 Greco World silver medalist, competes as a true freshman.
Scwhab on Golhoffer: "I think people forgot about (Gollhofer). He's stayed healthy this year and had a really good spring and summer. He has all the pieces to be a contender at 125. He was ready every time last year. That shows me a lot about him."
133: Kyle Biscoglia, JR
2022: record: 21-10
2022 NCAA tournament record: 1-2
Biscoglia made his first appearance at the NCAA Championships in 2022 after reaching the finals of the Big 12 Championships where he faced three-time national finalist Daton Fix of Oklahoma State. His unique and stingy style makes him a difficult match-up for most of his opponents. Biscoglia is competitive in most of his matches and will be a key piece of Schwab's line-up throughout the season.
Don't count out Julien Farber. He placed seventh at U23 Freestyle Nationals after posting a 16-7 record last season, including a fourth-place finish at Matmen Open. Farber and Biscoglia split matches against each other last season so this weight could be up for grabs.
Schwab on Biscoglia: "Both those guys have had a good spring and summer. We're in really good hands with these guys and they're going to make each other better. We have multiple guys who can step up and score a whole bunch of points."
Unlock this video, live events, and more with a subscription!
Get Started
Already a subscriber? Log In
Kyle Biscoglia secured a fall during the West Virginia dual with his favorite move: the ball and chain
141: Cael Happel, SO
2022 record: 17-10
Happel did not qualify for the NCAA Championships last season but he got to be an alternate, which should fuel Happel's fire. He actually went to the national tournament and made weight in case a wrestler could not compete.
The Lisbon, Iowa, native started well but had a four-match losing streak to end the season, including an 0-2 record at the Big 12 Championships. Happel had Iowa State's Ian Parker on the ropes during the dual but fell 9-5 when he gave up near fall points in the closing seconds. The Panthers will need Happel to turn the corner for the team to make a breakthrough.
Schwab on Happel: "Happel is strong and you saw some great wrestling out of him. He can get through guys. I feel like he's added to his arsenal this year. You can't take away the experience he had at nationals where he got to be in the back room and watch his teammates compete. I know that left a mark on him in a good way. I'm excited to see how he responds and grows."
149: Colin Realbuto, JR
2022 record: 18-12
2022 NCAA tournament record: 2-2 (R16)
Realbuto began his career at Brown before transferring to Northern Iowa for the 2021 season. A third-place finish at the Big 12 Championships earned him an automatic bid to the NCAA Championships where dropped a 5-4 match to Penn State's Beau Bartlett in the opening round. He rebounded with two wins on the back side before losing to Appalachian State's John Millner — a two-time All-American. Realbuto lost four of his first five matches to start the season but proved to be a consistent starter throughout the season by avenging losses incurred throughout the year.
His older brother, Brian, was a three-time All-American and a national finalist in 2015 for Cornell University. Colin has dual citizenship and wrestled at the 2022 Senior and U23 World Championships for Italy.
Schwab on Realbuto: "He's a little brother. What I mean by that is he got his ass kicked a whole bunch. You have to fight and scrap for everything, which makes them gritty and tough. I'm a little brother so I can feel that a little bit. As a little brother, you have some things they didn't have, either. I think you can use that to make yourself better. (Colin) is gritty and tough and makes guys earn everything."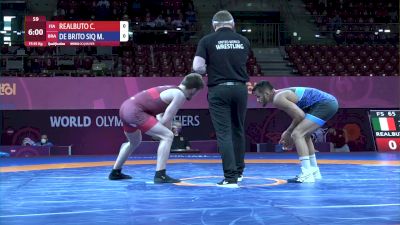 Unlock this video, live events, and more with a subscription!
Get Started
Already a subscriber? Log In
Colin Realbuto wrestled at the 2021 World Olympic Games Qualifier for Italy.
157: Derek Holschlag, SR
2022 record: 21-14
2022 NCAA tournament record 1-2
Holschlag is a super senior who is down to his final year of competition after receiving an extra COVID year of eligibility — and Schwab wants him to take advantage. His older brother, Jacob, was an All-American for the Panthers in 2018 and Derek wants to add his name to the list in 2023.
Derek is resilient — he wrestled six matches at the 2022 Big 12 Championships and placed sixth — but he will have to close the gap on the top-tier competition if he expects to reach the national podium. He faced many of the top wrestlers but was unable to turn the corner against All-Americans in the weight. Winning multiple matches at the NCAA Championships could make the difference between a top 10 finish or a staying with the pack.
Schwab on Holschlag: "Talk about gritty. Derek fights for everything. He trains that way and lives that way. I've seen the growth in him as a competitor and how to hold positions and how to wrestle through things. He understands wrestling so much better."
165: Austin Yant, SR
2022 record: 19-8
2022 NCAA tournament record: 2-2
Yant continues to be a consistent force — even if doesn't score in bunches. He only earned double-digit points in two matches last season but he fights hard in every position, which is a reflection of Schwab's coaching style. The Waverly, Iowa, native has a real shot at reaching the podium this year but it will take a flawless national tournament to make it happen in a loaded 165-pound field.
Schwab on Yant: "For him, it's just being able to trust his offense a little more. That's what he's worked on this spring and summer. He can score and he's making it hard on guys to get away. He's been a leader for us in how he trains and lives. He's maximizing every fiber of his being and he's helping bring other guys along."
174: Lance Runyon, SO
2022 record: 11-5
2022 NCAA tournament record: 2-2 (R16)
Northern Iowa was fortunate to have Runyon in the line-up since it wasn't a promising to start the season. The former Southeast Polk star battled major shoulder problems and didn't compete until a January 22 dual against North Dakota State. His pin over Oklahoma State's Dustin Plott a few days later fueled Northern Iowa's biggest win of the season.
Runyon has all the tools to move up the ladder but staying healthy will be the key for the remainder of his career. If he can do that, UNI has a consistent national force at 174 pounds for the next three seasons.
Schwab on Runyon: "(Lance) was in the room encouraging guys even when he was injured. That built hunger in him but he also learned some things and it brought him closer to his team. The skills are there but his mind got stronger last season. You saw pieces of what he can do last year. I'm excited to see this guy 100 percent healthy."
184: Parker Keckeisen, SO
2022 record: 30-2
2022 NCAA tournament record: 6-1 (3rd)
Keckeisen has the best start in program history since Northern Iowa was competing for national titles during the 1940s and 50s. Back-to-back third place finishes at the NCAA Championships and back-to-back Big 12 titles consistently place him at the elite national level. Keckeisen scored 14.5 of UNI's 28.5 points at last year's national tournament.
The 2022 season was a reflection of all Keckeisen can do. His only loss at the national tournament was in the quarterfinals to Cal Poly's Bernie Truax, which he later avenged in the consolation finals. A 3-2 setback to Penn State's Aaron Brooks — a two-time NCAA champion — was his only other loss of the season.
Poised. Creative. Tough. Gritty. All these words accurately describe Keckeisen. Winning a national title is a real possibility for the Glendale, Wisconsin, native.
Schwab on Keckeisen: "I've been around some guys who have worked a whole lot and he's up that list. He leads the way in how he lives and how he trains. He wears his heart on his dang sleeve. He loves his teammates and he wants to win as a team. He believes in this place and we believe in him. If you don't like how that guy competes then you're not a wrestling fan."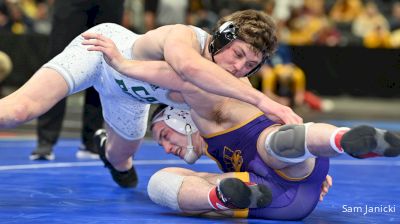 Unlock this video, live events, and more with a subscription!
Get Started
Already a subscriber? Log In
Parker Keckeisen defeated Cal Poly's Bernie Truax for third place at the 2022 NCAA Championships
197: John Gunderson, SO
2022 record: 10-9
Gunderson gets the nod since he started at the end of the season but junior Noah Glaser could be the guy — especially since he started the first half of the season until an injury sidelined him. It will likely be a battle between these two while high school star Wyatt Voelker stays in redshirt. Glaser had a 4-1 win over Gunderson at the UNI Open so the spot could be his. Gunderson went 0-2 at the Big 12 Championships so Northern Iowa will need consistency here to compete with the best teams in the conference.
Schwab on Gunderson: "Noah got hurt last year and that was the big reason we had to bring John out (of redshirt). (Noah) hurt his knee and he's bigger and stronger. I always tell our guys that you're not redshirting until the Big 12s. I'll never say never on Wyatt (competing) but he has to make an impact on our team and hopefully they can have an impact at the national tournament. Gunderson is getting bigger and stronger right now but we were pushed to have to do that. We're going to have a guy ready to score points — I'm just not sure who that's going to be."
285: Tyrell Gordon, JR
2022 record: 11-17
2022 NCAA tournament record: 1-2
Gordon was tasked with the unenviable task of facing Minnesota's Gable Steveson during his second match of the NCAA Championships. A 25-10 loss should surprise no one since Gordon moved up from 197 pounds last year. Gaining weight and gaining confidence is what it will take for the Waterloo native this season. He has the tools. He just has to use them during matches. Incoming freshman Chet Buss could also contend for the spot.
Schwab on Gordon: "(Tyrell) has done a great job this spring and summer building his body. His body looks totally different and he's done a great job of preparing himself. It's an adjustment going from 197 to heavyweight and feeling those bigger bodies and how to move them. I know he's going to be more comfortable and prepared and ready."
Where Will The Panthers Finish At The NCAAs?
Northern Iowa hasn't tasted a top 10 finish since 1992 — so crossing that threshold would be a big step for the program. It will take two or three additional wrestlers to join Keckeisen on the podium for that to happen. Biscoglia, Yant, and Runyon are capable, but winning tough matches on the backside will ultimately make the difference.
History offers clues about where the team will finish this season. Northern Iowa has placed 18th, 24th, 13th, 19th, and 20th over the last five national tournaments, and the only time the program has had three place winners under Schwab was in 2014.
The Panthers can place in the top 10 if they have their best season in recent memory and it might take using a couple of incoming freshmen to make that happen. If not, expect them to land in the 17 to 20 range in 2023.