2022-2023 Early NCAA Lineup Looks
Early Lineup Look: 2022-2023 Northwestern Wildcats
Early Lineup Look: 2022-2023 Northwestern Wildcats
A breakdown of what Northwestern's starting lineup could look like this season.
Aug 1, 2022
by JD Rader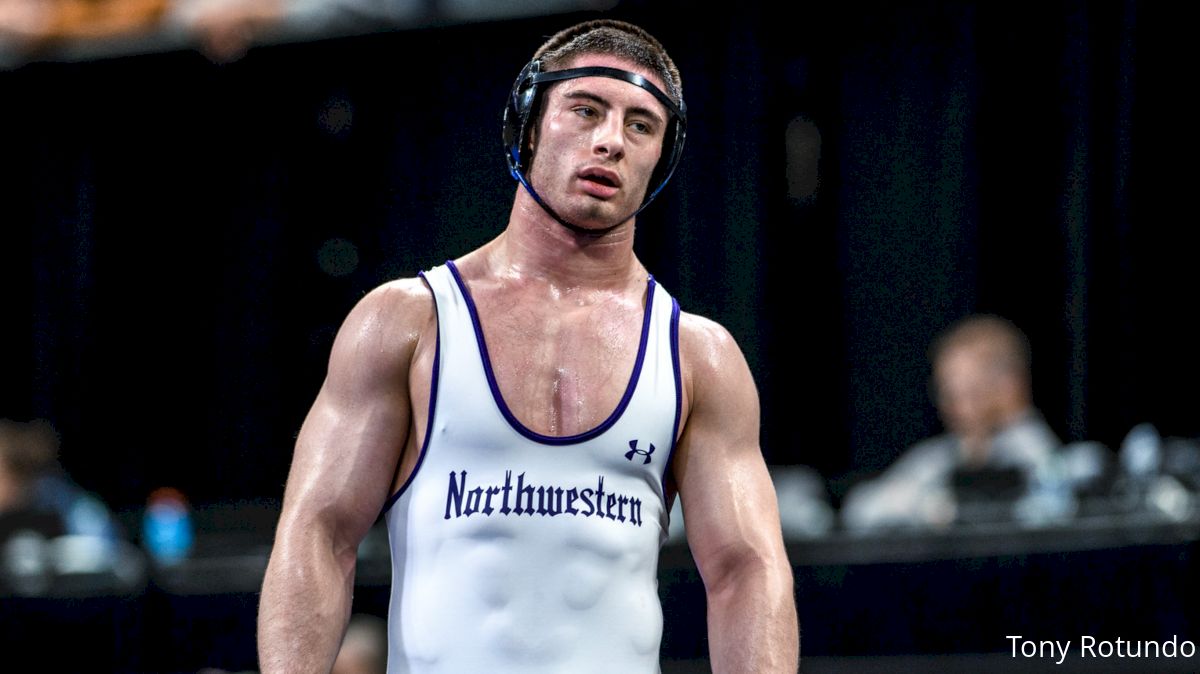 Coach Matt Storniolo put together one of the best seasons in program history last year. For just the third time in Northwestern history, and the first since 1970, all 10 wrestlers qualified for the national championship. Their 6th place finish in Detroit was the fourth highest in program history. It's going to be hard to top that, especially with the loss of national champion Ryan Deakin, but four other All-Americans returning, the Wildcats are poised for another good season.
Other early lineup looks: Penn State, Iowa, Arizona State, Ohio State, Oklahoma State, Cornell, Michigan, Michigan State, Nebraska
2022-23 Northwestern Wildcat Lineup
125: Michael DeAugustino
133: Chris Cannon
141: Frankie Tal-Shahar
149: Yahya Thomas
157: Trevor Chumbley
165: David Ferrante
174: Troy Fisher
184: Joseph Martin
197: Andrew Davison
285: Lucas Davison
125: Michael DeAugustino, SR
Michael DeAugustion made big gains last off-season that earned him a good podium finish at the NCAA tournament in March. After making the round of 12 as a sophomore, DeAugustino found himself halfway up the podium in 2022 with a 4th place finish. It was an electric 10-6 win over Arizona State's Brandon Courtney got that DeAugustino to the 3rd place match at NCAAs.
Watch the highlights from DeAugustino's exciting NCAA consi semi-final below.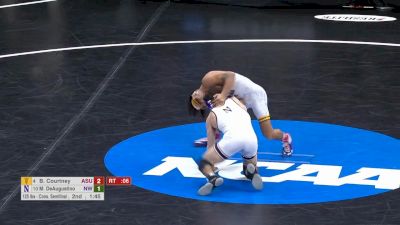 Unlock this video, live events, and more with a subscription!
Get Started
Already a subscriber? Log In
Other Options: Matt Vinci
133: Chris Cannon, JR
Chris Cannon proved his 7th place NCAA finish in 2021 wasn't a fluke by doing it again in 2022. The New Jersey native is now 51-13 as a Wildcat including going 19-2 as a redshirt freshman in 2019-2020. With four of six wrestlers who outplaced him last year, plus talks of Vito Arujau and Patrick Glory moving up to 133, Cannon won't have an easy time climbing up the 133 ladder.
Other Options: move up Matt Vinci
141: Frankie Tal-Shahar, JR
You want to talk about a turnaround? Frankie Tal-Shahar went from 1-5 as a true freshman in 2021 to a national qualifier with a winning record in 2022. Now, all five of his losses were to Big Ten competition, so no slouches. Still quite the turnaround, however. With a lot of the top talent at 141 leaving this past season, Tal-Shahar could potentially make a push to All-American if he can have another productive summer and season. I named the Florida native as an AA threat in my pre-season 141 lbs preview. To get a better picture of some of the competition Tal Shahar will be facing, take a look HERE.
Other Options: Joel Vandervere, Justin Benjamin
149: Yahya Thomas, SR
Yahya Thomas has been a rock in the middle of the Northwestern lineup for the past three seasons. Qualifying for the national tournament all three years, his best finish came in 2021 when he took 3rd place. Receiving a tough draw, Thomas lost to Tariq Wilson in last year's bloodround. Thomas got back on track this off-season, winning the U23 World Team Trials. You can watch him represent Team USA at the World Championships on October 21st and 22nd.
Listen to Yahya Thomas talk about making the U23 World Team below.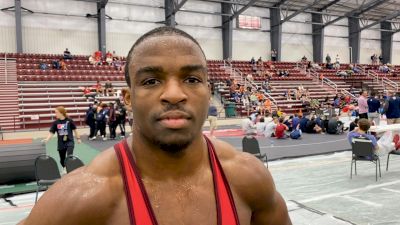 Other Options: Joel Vandervere, DJ Huff
157: Trevor Chumbley, JR
Ryan Deakin is leaving a national championship-sized hole at 157 lbs. Attempting to fill that hole will most likely be Trevor Chumbley. Chumbley wrestled in five duals for the Wildcats last year while Deakin was resting, going 3-2. Last year was Chumbley's first season at 157 lbs. He had competed the previous two years at 149 lbs where he went 26-8 while competing in open tournaments and extra matches.
Another potential option is Maxx Mayfield. Mayfield wrestled in six duals for the Wildcats his true freshman year in 2021, going 2-4. I'm not sure whether due to injury or other circumstances, but Mayfield did not wrestle a match last season.
Other Options: Maxx Mayflield, Aiden Vandenbush
165: David Ferrante, JR
David Ferrante is another Northwestern wrestler who was thrown into the Big Ten fire as a freshman two years ago but showed progression last season in year two. Ferrante is still going to need to progress a lot more if he wants to be a real threat in the Big Ten at 165 lbs. The highlight of Ferrante's sophomore campaign was probably his 12-2 demolition of Minnesota's Cael Carlson at the conference tournament.
Other Options: Erich Byelick
174: Troy Fisher, JR
Of all the sophomore turnarounds I've mentioned in this article so far, none have been as extreme as Troy Fisher. Fisher went from 1-10 as a freshman in 2021 to 17-10 and a national qualifier in 2022. Despite going 0-2 at NCAAs, Fisher's 2022 season was good enough to get him ranked #19 in our way too early 2022-2023 rankings.
Watch Troy Fisher take out Gerrit Nijenjuis at the 2021 CKLV below.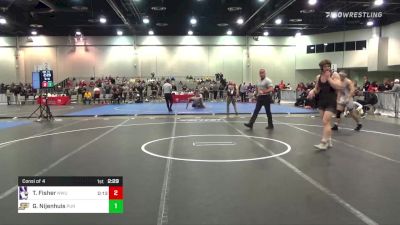 Unlock this video, live events, and more with a subscription!
Get Started
Already a subscriber? Log In
Other Options: Ankhaa Enkhmandakh
184: Joseph Martin, FR
Starter Jack Jessen had a rough go last season. Despite his 3-11 record, he did qualify for the national tournament but went 0-2 to bring his season record to a final 3-13. In the past two seasons, his record stands at 4-20. I wouldn't be surprised if true freshman Joseph Martin gets the start. A 2022 California state champion at 182 lbs, Martin is the #57 overall recruit in the class of 2022. Obviously, there is a good chance that Martin redshirts, but if I'm a Wildcat fan, I'm hoping Martin gets the nod.
Other Options: Jack Jessen
197: Andrew Davison, SR
Andrew Davison transferred to Northwestern from Michigan last season after four years at Michigan and went 12-12 and was a national qualifier. With the extra year of eligibility, Davison will be back for his sixth year of college wrestling. The Wildcats will have a decent option down the road in redshirt freshman Evan Bates, but I think senior Andrew Davison will be the best option this year.
Other Options: Evan Bates, Brendan Devine
285: Lucas Davison, SR
Bringing it home for Northwestern will be one of my favorites, Lucas Davison. The brother of Andrew, Lucas moved up to heavyweight last year and had success doing so. After going 22-6 during the regular season, Davison finished in 6th place at NCAAs. His three losses in Detroit came to Gable Steveson, Mason Parris, and Jordan Wood. Wood is for sure gone, Gable might be gone, and Parris will be back. Davison has a very high probability of making it back on the podium again this year.
Other Options: Jack Heyob