2022-2023 Early NCAA Lineup Looks
Way Too Early Lineup Look: 2022-23 Michigan State Spartans
Way Too Early Lineup Look: 2022-23 Michigan State Spartans
Coming off their best winning percentage in 27 years and a top-15 ranking, the Spartans return most of their starting lineup, including 7 NCAA qualifiers.
Apr 25, 2022
by Mark Spezia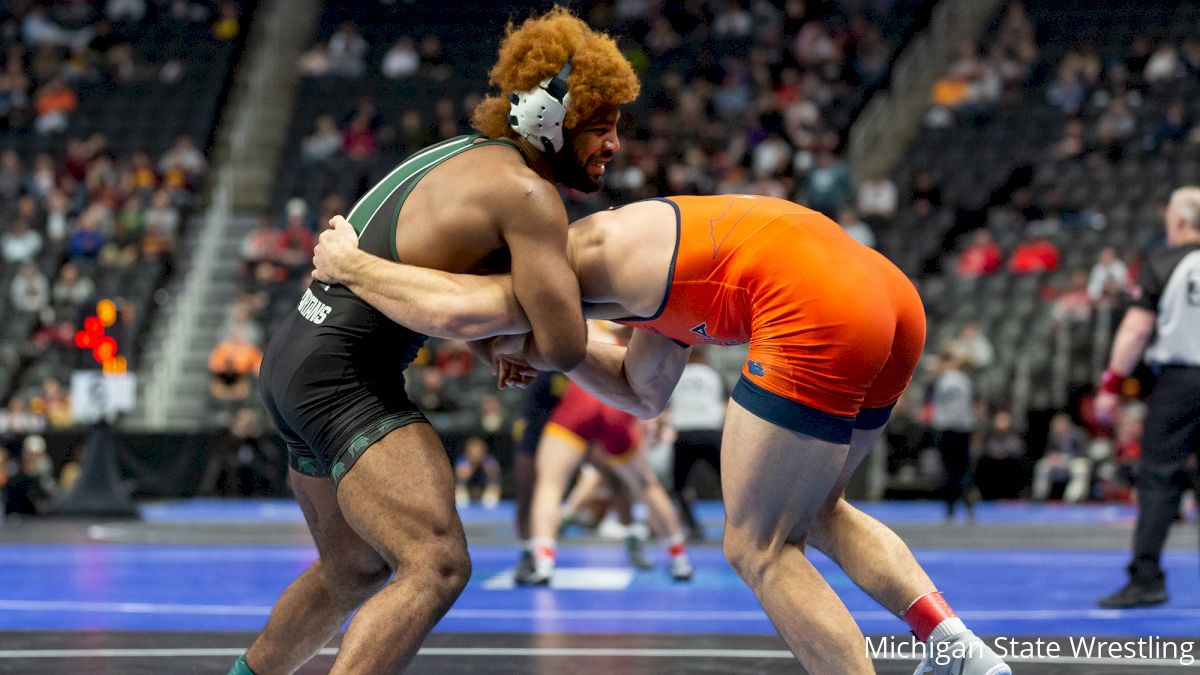 Unlock this article, live events, and more with a subscription!
Get Started
Already a subscriber? Log In
While Michigan State appeared headed for better showings than 12th place at the Big Ten Tournament and going scoreless at the NCAA Championships, the dual meet portion of the Spartans' season was arguably its most successful this century.
In fact, Michigan State finished 10-4 in duals, their best winning percentage (.714) since a .778 mark (14-4) in 1995. The Spartans went 4-4 in Big Ten duals, their first .500 or better showing since 2005.
Michigan State was 15th in the final National Wrestling Coaches Association poll, its highest final ranking since reaching No. 7 in 2003. Michigan State knocked off No. 14 Rutgers, No. 16 Purdue and No. 21 Central Michigan along the way.
The Spartans' chances of posting an even better duals mark and making far more postseason noise next year appear good with the return of seven NCAA qualifiers and all but two starters.
2022-23 Michigan State Projected Starting Lineup:
125: Tristan Lujan, SO
133: Rayvon Foley, SR
141: Jordan Hamdan, SO
149: Peyton Omania, SO
157: Chase Saldate, SO
165: Caleb Fish, SO
174: Lucas Daley, FR
184: Layne Malczewski, SR
197: Cameron Caffey, SR
285: Ryan Vasbinder, SR
125: TRISTAN LUJAN, SO
In his first season as a starter, Lujan finished 13-13 and was 11th in the Big Ten Tournament.
His best wins came against 2022 NCAA qualifier Antonio Lorenzo (Cal Poly) and 2020 NCAA qualifier Reece Witcraft (Oklahoma State).
133: RAYVON FOLEY, SR
The four-time NCAA qualifier and 2019 All-American finished 29-6, including 12 bonus-point victories. Foley was sixth at the Big Ten Tournament and went 1-2 at the NCAA Championships.
Foley, 10th in the Insanely Early Rankings, bested two-time All-American Chris Cannon (Northwestern) last season. He is ranked sixth. Foley also knocked off No. 5 Dylan Ragusin (Michigan), No. 8 Matt Ramos (Purdue), No. 14 Josh Koderhandt (Navy), No. 18 Ramazan Attasauov (Iowa State) and No. 21 Joey Olivieri (Rutgers).
He has also beaten All-Americans Ronnie Bresser Oregon State), Sean Russell (Minnesota), Drew Hildebrandt (Central Michigan), Killian Cardinale (West Virginia), Courtney Brandon (Arizona State), Michael DeAugustino (Northwestern) and Mike McGee (Arizona State), who is ranked third at 133.
Others Foley has bested are Dylan Shawver (Rutgers) and Malik Heinselman (Ohio State). Shawver is 20th at 133 while Malik Heinselman is ranked 14th at 125.
Foley will have one more chance to become the Spartans' first two-time All-American since three-timer Franklin Gomez (2008-10).
His career mark is 103-29.
141: JORDAN HAMDAN, SO
Hamdan started at 133 in 2021 and was an NCAA qualifier. He succeeds three-year starter Matt Santos at this weight after backing him up last season.
Hamdan went 9-9 and has a 16-17 career mark. His biggest win thus far came in his first college match on Nov. 2, 2019 when Hamdan decisioned future two-time All-American Lucas Byrd (Illinois), who is ranked fourth at 133.
Hamdan has also bested two-time NCAA qualifier Colin Valdiviez (Northwestern) and one-time qualifier Boo Dryden (Nebraska).
149: PEYTON OMANIA, SO
After an 8-13 record last season and a 12-21 mark through two years, Omania is hoping for an improved win percentage next season. He was an NCAA qualifier in 2021.
Omania's most noteworthy wins to date have come against three-time NCAA qualifiers Mike Van Brill (Rutgers) and Kanen Storr (Michigan) and two-time qualifier Kody Komara (Kent State).
157: CHASE SALDATE, SO
The two-time NCAA qualifier finished 26-10 last season, including 15 bonus-point wins. He was eighth in the Big Ten.
Saldate, 22nd in the Insanely Early Rankings, beat two-time All-American Brock Mauller (Missouri) last season. Mauller is currently ranked No. 11 at 149. Saldate also bested No. 16 Johnny Lovett (Central Michigan).
Saldate has beaten 15th-ranked Kendall Coleman (Purdue) and No. 20 Garrett Model (Wisconsin) as well. His career record is 34-17.
165: CALEB FISH, SO
Suceeding two-time NCAA qualifier Jake Tucker at this weight, Fish finished 22-14, qualified for the NCAA Championships and placed eighth in the Big Ten.
His most significant win last season came against All-American and four-time NCAA qualifier Zach Hartman (Bucknell). Fish went 6-1 as a true freshman, including a win over two-time NCAA qualifier Bailee O'Reilly (Minnesota), who is No. 21 in the Insanely Early Rankings at 174 pounds. Fish is not ranked.
174: LUCAS DALEY, FR
After going 15-10 during his redshirt season, Daley will likely step into the starting role at this weight.
Among those he beat last season was Michigan's Jaden Bullock, a two-time Virginia state champion and Fargo All-American, who started part of the 2020-21 season at 184 pounds. Daley also defeated Buffalo's Bryson Alsteen, who started for the Bulls in 2020-21.
184: LAYNE MALCZEWSKI, SR
The three-time NCAA qualifier was 23-10 last season, including a stellar 16 bonus-point wins. Malczewski is No. 22 in the Insanely Early Rankings.
His most noteworthy wins last season came against 11th-ranked NCAA qualifier Kyle Cochran (Maryland) and No. 13 John Poznanski (Rutgers), a two-time NCAA qualifier and 2021 All-American.
Malczewski has also beaten four-time NCAA qualifiers Max Lyon (Purdue) and Joey Gunther (Illinois). His career record is 57-28.
197: CAMERON CAFFEY, SR
The four-time NCAA qualifier hopes to finally become an All-American on the mat next season. He was a first-team NWCA All-American in 2020.
Caffey seemed poised for an NCAA podium finish, but after winning his first match at the Big Ten Championships, Caffey went 3-5 in his final eight matches of the season. Still, he finished with a 29-9 record, including 11 bonus-point wins, and placed sixth in the Big Ten.
Caffey was named the Spartans Most Outstanding Wrestler for the third straight year at the season-ending awards banquet. He also became the first Spartan to post an undefeated dual record (14-0) since three-time All-American Franklin Gomez in 2007-08.
Caffey, No. 12 in the Insanely Early Rankings, recorded several signature wins last season, but none bigger than in the Spartans' dual against Penn State. Caffey handed Max Dean his only defeat of the season, 3-2. Dean rebounded to win the Big Ten and NCAA titles. The three-time All-American is ranked No. 2.
Caffey also knocked off All-American and five-time NCAA qualifier Greg Bulsak (Rutgers) as well as three-time NCAA qualifiers Thomas Penola (Purdue), ranked 10th, and Tanner Sloan (South Dakota State), who is ranked 14th. Other wins came against 18th-ranked Andrew Davison (Northwestern), No. 20 Braxton Amos (Wisconsin) and No. 22 Evan Brockman (Utah Valley).
There are plenty more noteworthy victories on Caffey's resume from prior seasons, including against Ohio State All-Americans Gavin Hoffman and Ethan Smith. Hoffman is ranked No. 7 at 197 and Smith is No. 6 at 174.
Other All-Americans Caffey has beaten are Michael Beard (Penn State), Taylor Venz (Nebraska), a five-time NCAA qualifier, and Jonathan Loew (Cornell). Loew is ranked No. 8 at 184.
Other currently-ranked wrestlers Caffey has knocked off are North Dakota State's Owen Pentz (15th at 197), Illinois' Zac Braunagel (ninth, 184), Iowa's Abe Assad (17th, 184) and Wyoming's Tate Samuelson (19th, 184), a four-time NCAA qualifier. Braunagel is a three-time qualifier.
Caffey will bring a 110-31 career record into next season.
285: RYAN VASBINDER, SR
After posting a 15-7 record during his redshirt season, the 2021 Division 2 national champion will likely earn the starting role at this weight.
Overall, Vasbinder was a two-time All-American during his three seasons at McKendree University, posting a 105-27 record, 42-1 his final two years. Vasbinder went 10-4 against Division 1 competition while wrestling Division 2, including a win over three-year Arizona State starter Cade Balshay.
Last season, he knocked off four-year Illinois starter Matt Wroblewski.