2022-2023 Early NCAA Lineup Looks
Way Too Early Lineup Look: 2022-2023 Penn State Nittany Lions
Way Too Early Lineup Look: 2022-2023 Penn State Nittany Lions
A breakdown of what Penn State's lineup could look like next season.
Mar 31, 2022
by JD Rader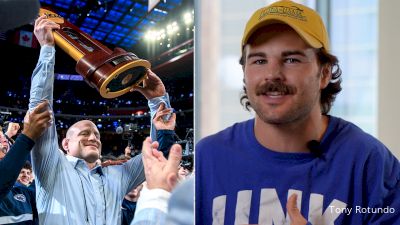 Unlock this video, live events, and more with a subscription!
Get Started
Already a subscriber? Log In
Unlock this article, live events, and more with a subscription!
Get Started
Already a subscriber? Log In
I have fortunate news for Penn State fans and unfortunate news for their haters: the champs aren't going anywhere. The Nittany Lions have now won nine of the last 11 contested NCAA Championships, and with returning the core closing four of their lineup, it would take some major shake-ups to prevent them from making it 10 of 12.
2022-23 Penn State Projected Lineup
125: Robbie Howard
133: Roman Bravo-Young
141: Beau Bartlett
149: Shayne Van Ness
157: Tony Negron/Terrell Barraclough/Joe Lee
165: Alex Facundo
174: Carter Starocci
184: Aaron Brooks
197: Max Dean
285: Greg Kerkvliet
125: Robbie Howard, SO
Robbie Howard wrestled as a true freshman for the Nittany Lions last year going just 7-6, but making the round of 16 at NCAAs. He sat out this season after undergoing surgery during the off season, leading to the arrival of Drew Hildebrandt.
It's unclear exactly how severe Howard's injury was and where he's at in the recovery process, but it seems like a safe bet he will come back just as strong, if not better after another year under the tutelage of Cael Sanderson. His biggest wins as a true freshman came over Dylan Ragusin and Malik Heinselman. Coming out of high school, Howard was the #7 overall recruit, a 2X New Jersey state champion, and a 3X Cadet World Team member. Could we see him try and make a Junior Team this summer?
Watch Howard defeat Malik Heinselman at the 2021 NCAA Championships below.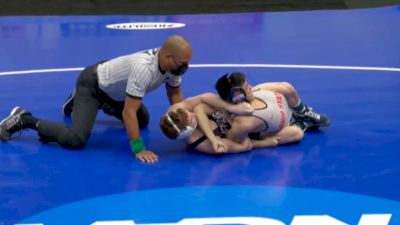 Unlock this video, live events, and more with a subscription!
Get Started
Already a subscriber? Log In
133: Roman Bravo-Young, SR
One of the biggest questions for not just Nittany Lion fans but all fans of NCAA wrestling heading into next season: will Roman Bravo-Young return for a fifth year? RBY previously stated that 2022 would be his last season of collegiate wrestling, but has since backtracked a bit.
If I were making Vegas lines for the three options listed above, I would put the odds in favor of PSU for 1 more. I've heard Cael can be a very convincing man. As the defending back-to-back 133 lbs national champion, Roman would also clearly be a heavy favorite to win his third title. He'll most likely once again have to beat Oklahoma State's World silver medalist and 3X NCAA finalist Daton Fix. However, after beating Fix once again in this year's NCAA final, he proved that 2021 wasn't an outlier performance, but now the expectation.
Also, be on the lookout for a Roman Bravo-Young FloFilm this summer…
If RBY does in fact go the freestyle or MMA route next year, I would expect Penn State to hit the portal. If they're unable to get to pick up a suitable replacement, either Howard of Gary Steen moves up to 133 lbs.
141: Beau Bartlett, JR
I think there is a good chance Penn State looks to get a transfer to fill the hole Nick Lee is leaving at this weight. However, as that can be near impossible to predict, let's try and play around with what they've got.
It has been talked about for the past two years, even by Cael Sanderson himself, how Beau Bartlett is undersized for 149 lbs. For the first half of the 2021 season, Bartlett was at 141 lbs, which ultimately lead to him not qualifying for NCAAs as he didn't have enough data at 149 to get an at large bid. This season went better for Bartlett as he qualified for the national championships before receiving a rough draw which lead to him going 1-2, losing to Sammy Sasso and Yahya Thomas.
I, along with many others, think Barlett's ideal college weight is probably 141. However, after spending a full season there, maybe he has grown a bit and wants to continue at 149. The departure of Nick Lee allows him to make that decision, a freedom he hasn't had the past two seasons.
Watch the highlights from Beau Bartlett's NCAA victory below.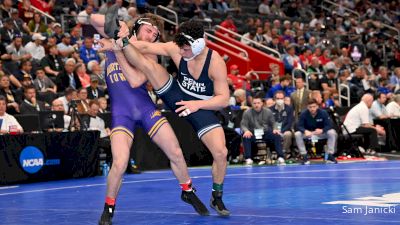 Unlock this video, live events, and more with a subscription!
Get Started
Already a subscriber? Log In
149: Shayne Van Ness, FR
I'm selfishly hoping we get to see the debut of the #2 overall recruit in the class of 2021 in a Penn State singlet next season. In high school, Van Ness was a Super 32, Ironman, and National Prep champion while competing for powerhouse Blair Academy. In addition to his accomplishments, Van Ness' style, pace, and personality have led most fans to believe he will succeed at the college level.
Van Ness only competed once as a redshirt this season, winning his first two matches at the Clarion Open by bonus points before injury defaulting out. If PSU does get a transfer at 141, forcing Bartlett to stay up at 149, we could see a prep powerhouse wrestle-off for the starting spot in Blair vs Wyoming Seminary. With only two college matches, there are still a lot of question marks surrounding Van Ness. There is no doubt expectations are high, however.
157: Tony Negron, SR/Terrell Barraclough, SO/Joe Lee, JR
Before picking up Brady Berge in the transfer portal, Penn State used a combination of Tony Negron, Terrell Barraclough and Joe Lee as starters at 157. I would assume the strategy will be the same next year. All three of these guys are pretty much on the same level: fringe NCAA qualifiers not yet really contending for AA status.
Penn State's biggest recruit coming in next year, Levi Haines, could potentially be a factor here. I don't think Penn State will need Haines in order to win the NCAA team title, so would be a little surprised if he goes right away, but there's a very high probably that he is a better option then the three listed above. We know Cael isn't afraid to start true freshmen.
165: Alex Facundo, FR
Speaking of big-time recruits, here lies Alex Facundo. A 4X Michigan state champion and 2X Cadet World medalist, Facundo was #5 on the 2021 Big Board. Facundo didn't quite have the redshirt season he was hoping for this year, but he still went 12-3 in the three opens he competed in. Although he defeated teammate Matt Lee, his losses came to John Martin Best, Caleb Fish, and Thomas Bullard. Facundo will need to show improvement to rise to the standard Penn State has set.
Watch Facundo pick up the best win of his redshirt year over NCAA qualifier Evan Barczak.
Unlock this video, live events, and more with a subscription!
Get Started
Already a subscriber? Log In
174: Carter Starocci, SO
Now we're getting to the meat and bones of Penn State's lineup. No more questions. Carter Starocci is expected to come back and do what he's done the past two seasons: win an individual national title. Now, Starocci's 2022 finals opponent, Mekhi Lewis, might have other plans. Let us not forget just how close that match was. Coming down to the final overtime, Starocci won on just a couple of seconds of riding time.
Watch Carter Starocci win his second NCAA title in exciting fashion below.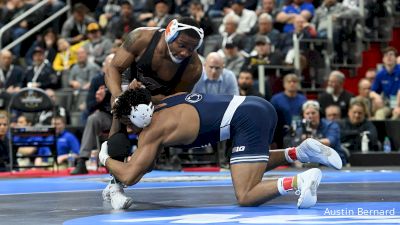 Unlock this video, live events, and more with a subscription!
Get Started
Already a subscriber? Log In
184: Aaron Brooks, SR
Unlike Starocci, Aaron Brook's finals opponent will not be returning. Brooks' very close 2021 final with Trent Hidlay is probably worth mentioning, however. With the departure of Myles Amine, Brooks is a clear favorite to win his 3rd NCAA title. While he has separated himself from the pack, it's not by much at this point. Hidlay, Parker Keckeisen, and Bernie Truax are very good.
Watch Aaron Brooks and Trent Hidlay's overtime NCAA semifinal below.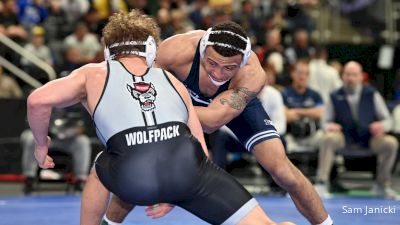 Unlock this video, live events, and more with a subscription!
Get Started
Already a subscriber? Log In
197: Max Dean, SR
Max Dean came to Happy Valley and did what he was supposed to do: win an individual and team NCAA title. Now six years removed from high school graduation, he could sail off into the sunset, but I don't see that happening. I'm sure Dean wants to run it back. There's a major obstacle waiting for him next year in AJ Ferrari, however. I'm not predicting it, but it would be very Penn State to improve Dean enough to beat AJ Ferrari. Who you got?
285: Greg Kerkvliet, JR
Greg Kerkvliet showed major improvements last offseason. He went from getting majored by Mason Parris and Tony Cassioppi to beating Parris three times and outplacing Cassioppi. That kind of improvement level doesn't seem sustainable another year, but with Gable Steveson out, the heavyweight crown is kind of up for grabs.