2022-2023 Early NCAA Lineup Looks
Way Too Early Lineup Look: 2022-2023 Cornell Big Red
Way Too Early Lineup Look: 2022-2023 Cornell Big Red
A breakdown of what Cornell's lineup could look like next season.
Jun 24, 2022
by JD Rader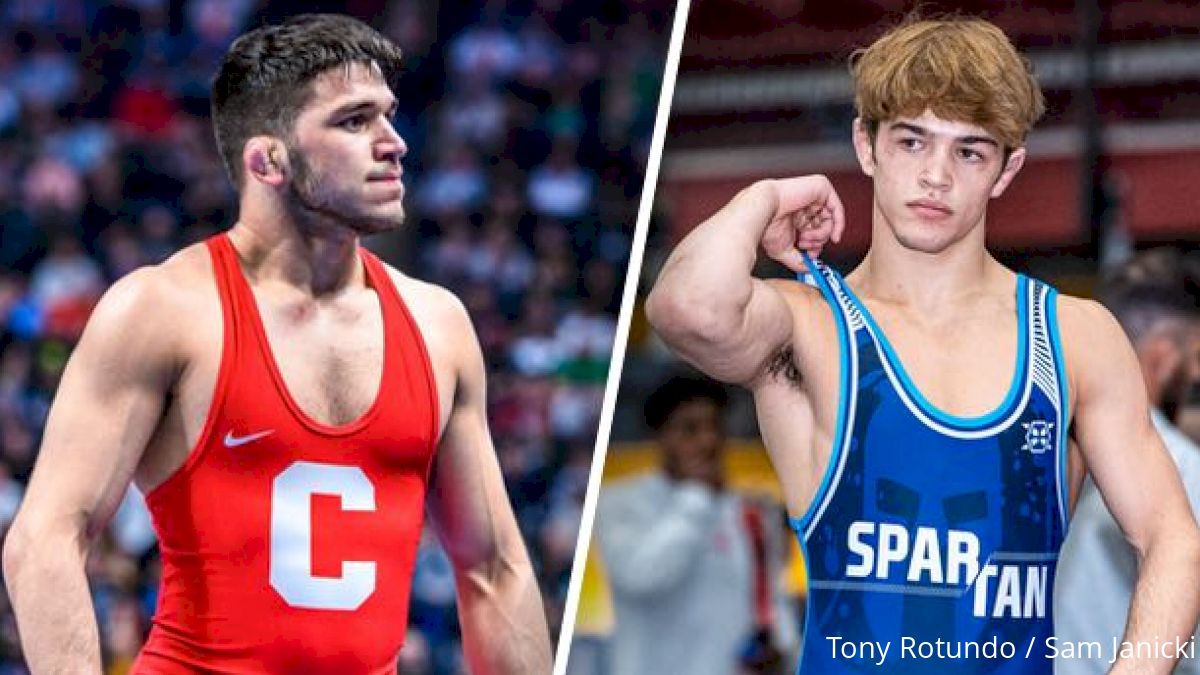 Unlock this article, live events, and more with a subscription!
Get Started
Already a subscriber? Log In
With 54.5 points in Detroit, Cornell finished in 7th place at NCAAs in 2022. One spot behind Northwestern and one ahead of Virginia Tech. The Big Red will have some questions in the leight half of their lineup, but I would be very surprised if we didn't see the same closing five at 165-285. Below is a look at my best guess at what the starting lineup will be followed by a weight-by-weight breakdown.
2022-23 Cornell Projected Lineup
125: Vito Arujau
133: JJ Wilson
141: Vince Cornella
149: Yianni Diakomihalis
157: Colton Yapoujian
165: Julian Ramirez
174: Chris Foca
184: Jonathan Loew
197: Jacob Cardenas
285: Lewis Fernandes
125: Vito Arujau, SR
It is often speculated that Vito Arujau will move up to 133 lbs. It's no secret that he's a decent-sized 125-pounder. In fact, he competed his "redshirt" year at 133 lbs. However, given his World and Olympic aspirations at 57 kg and the fact that Daton Fix and Roman Bravo-Young are coming back next year, I don't think we see it. If he does, freshman Brett Ungar or sophomore Greg Diakomihalis will most likely be the guy.
Vito will come into the season ranked #3 at 125 lbs behind Spencer Lee and Patrick Glory. Glory got the better of Arujau at the NCAA tournament, winning 13-5, but Arujau has shown he is more than capable of winning that match. In fact, just two weeks prior, Arujau handled Glory 19-6. Glory holds the series advantage, 3-2, in one of the odder college rivalries I've seen.
Watch Vito Arujau and Patrick Glory's 2022 EIWA final below.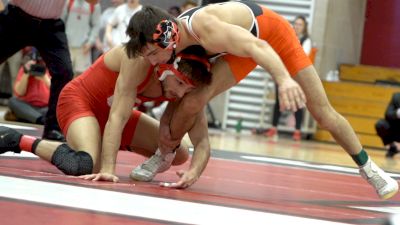 Unlock this video, live events, and more with a subscription!
Get Started
Already a subscriber? Log In
Spencer Lee is a different animal. While it's probably a safe bet Lee will be back to form next season after successful ACL surgery, there are still some questions surrounding what he'll look like at this time. If Lee isn't firing on all cylinders and Vito is wrestling his best, that's a very intriguing match.
Other Options: Brett Ungar, Greg Diakomihalis
133: JJ Wilson, SR
National qualifier Dom LaJoie was the guy last year, but his graduation leaves a bit of a hole for the Big Red. JJ Wilson ended up as the 141 starter last season. However, considering he started out the season at 133, my guess is that was more out of necessity than preference. After going 2-2 at the Jonathan Kaloust Bearcat Open, Wilson moved up and 5-8 including 1-2 at EIWAs. Not exactly an eye-catching record, but if he can still make it down to 133, I think he's the best option.
The other option at 133 would be 2022 U23 Greco-Roman World Team member Phillip Moomey. However, Moomey had a rough season last year going 0-7. And in 2020, Wilson beat Moomey 6-2 at the Cornell Open.
Other Options: Phillip Moomey
141: Vince Cornella, FR
The #28 overall recruit coming out of 2021, there was a decent amount of hype around Vince Cornella. The Colorado native had a decent redshirt year this past season going 23-8 with a win over teammate Josh Saunders. However, the off-season is where he turned heads. Cornella beat Ryan Jack, Tagen Jamison, Kaleb Larkin, Matt Bianchi, and Carter Young twice en route to making the Junior World Team. With all the improvements he's already made in year one, the ceiling is the roof for Cornella.
Watch Vince Cornella make the 2022 Junior World Team over Carter Young below.
Unlock this video, live events, and more with a subscription!
Get Started
Already a subscriber? Log In
Other Options: Josh Saunders, Cole Handlovic
149: Yianni Diakomihalis, SR
Yianni Diakomiahlis will be trying to come the fourth or fifth (depending on if he wrestles before or after Spencer Lee) 4X champion in NCAA wrestling history. And with just one loss on his record, he'll be one of the best to ever do it. While 6 of the 7 other All-Americans return next year, Yianni will be as heavy a favorite as anyone. Finalist Ridge Lovett gave him the best match of the season at CKLV, going into overtime. Yianni took care of business and won handily 11-5 in the NCAA finals, however. Can Yianni once again go unscathed and make history?
And if you just can't wait until November to watch Yianni, you can watch him at both the Senior and U23 World Championships live on FloWrestling this fall!
Watch the highlights from Yianni's 3rd NCAA final below.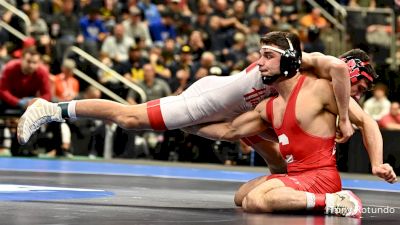 Unlock this video, live events, and more with a subscription!
Get Started
Already a subscriber? Log In
Other Options: Ryan Sokol, Owen Finn
157: Colton Yapoujian, JR
Colton Yapoujian has been in Ithaca since the fall of 2018, but has only wrestled 35 matches in his career. Last season Yapoujian was the starter at Collegiate Duals before tearing his ACL and undergoing season-ending surgery. Hunter Richard took over 2nd semester and made the round of 16. Richard is out of eligibility and it looks like it could be time for Yapoujian to step up.
Other Options: Gage McClenahan, Ryan Sokol
165: Julian Ramirez, SO
Julian Ramirez was one win shy of earning All-American status last year. Going 0-3 against him, including a 4-3 loss in the bloodround, Carson Kharchla proved to a big thorn in Ramirez's side. Ramirez did a good job of peaking and got hot at NCAAs. The Florida native avenged both of his EIWA tournament losses at nationals. One by fall and one by major.
Ranked #11 in the way too early 2022-23 rankings, Ramirez should once again be fighting for a spot on the podium. If he can peak like he did last year, watch out.
Other Options: Erik Gibson
174: Chris Foca, JR
Chris Foca got off to a decent start to last season, but wasn't quite the same after suffering an injury when wrestling Michael O'Malley. He still managed to qualify for NCAAs and pick up a win over Jacob Nolan there. A lot of the best will be returning at 174 lbs, so Foca won't come in ranked high. He's got a high ceiling, however, and probably a bit of a chip on his shoulder.
Other Options: Peyton Craft
184: Jonathan Loew, SR
After qualifying for the national tournament in 2020 and having it, along with the entire 2021 season, taken away from him, Jonathan Loew made the most of his 2021 opportunity by getting onto the podium in Detroit. One last ride for the New York native and he'll be in position to repeat as an All-American. The EIWA gained a big name at 184 lbs with the news of Tate Samuelson transferring from Wyoming to Lehigh. Loew is 2-0 against Samuelson in his career with two 2-point victories.
Watch Jon Loew beat Tate Samuelson for 3rd place at the 2021 CKLV below.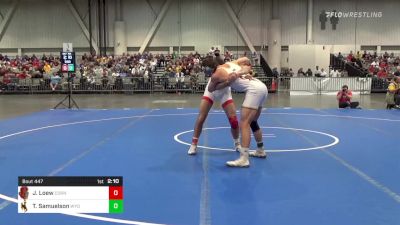 Unlock this video, live events, and more with a subscription!
Get Started
Already a subscriber? Log In
Other Options: Ethan Hatcher
197: Jacob Cardenas, JR
Can Jacob Cardenas make a jump after one full college season under his belt? That's the question. Cardenas was #15 on the 2019 big board coming out of high school. From high school powerhouse Bergen Catholic in New Jersey, many had high expectations for Cardenas. He had a decent first competitive season last year going 23-8 and qualifying for the NCAA tournament. It's clear by Cardenas' #19 ranking that he's got some work to do if he wants to make the podium next season. Even the EIWA is no joke at 197 with Lou Deprez, Luke Stout, and Cole Urbas among others. If Cardenas can put it together when it counts, he can contend for a conference title and podium spot.
Other Options: move a 184 up
285: Lewis Fernandes, JR
Another 2019 recruit from New Jersey, Lewis Fernandes was an overtime loss away from becoming the first heavyweight All-American in Cornell history last season. He should be in a similar position next season - fighting for a podium spot. Lehigh's Jordan Wood, who has had a stranglehold on the EIWA heavyweight crown for the past 5 years, will no longer be in Ferandes' way. However, Harvard's skilled Yaraslau Slavikouski will be back after a season-ending injury last year.
Other Options: Ashton Davis