Women's Weekly
Women's Weekly: World Teams Are Set
Women's Weekly: World Teams Are Set
World Teams are set and college coaching changes are plentiful as things start to heat up for an eventful season of wrestling.
Jun 10, 2022
by Kyle Klingman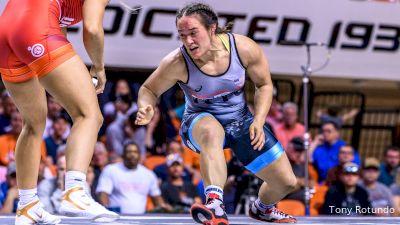 Unlock this video, live events, and more with a subscription!
Get Started
Already a subscriber? Log In
World Teams Are (Almost) Set
Final X Stillwater and Final X New York set our 2022 Senior World Team. In some cases, it set our U23 World team, too. All that's missing is the 62-kilogram senior-level World team spot. Returning silver medalist Kayla Miracle postponed her best-of-three series with Jennifer Page due to an injury. The time and location of the special wrestle-off have not been determined.
The highest-ranked, age-eligible athlete from the 2022 Senior Women's Freestyle National Team will represent the United States at the U23 World Championships if she chooses to take the spot. If a wrestler on the National Team does not meet the age requirements then the winner of the U23 Nationals will represent the United States.
Here is what our four World teams look like right now. Notice that 18-year-old Amit Elor is on three different teams.
Senior World Team
50 kg: Sarah Hildebrandt
53 kg: Dominique Parrish
55 kg: Jacarra Winchester
57 kg: Helen Maroulis
59 kg: Abby Nette
62 kg: Kayla Miracle or Jennifer Page
65 kg: Mallory Velte
68 kg: Tamyra Mensah-Stock
72 kg: Amit Elor
76 kg: Dymond Guilford
U23 World Team
50 kg: Nyla Valencia
53 kg: Felicity Taylor
55 kg: Alisha Howk
57 kg: Alex Hedrick
59 kg: Lexie Basham
62 kg: Alex Liles
65 kg: Emma Bruntil
68 kg: Sienna Ramirez
72 kg: Amit Elor
76 kg: Dymond Guilford
U20 World Team
50 kg: Audrey Jimenez
53 kg: Katie Gomez
55 kg: Adriana Dorado Marin
57 kg: Sofia Macaluso
59 kg: Savannah Cosme
62 kg: Adaugo Nwachukwu
65 kg: Reese Larramendy
68 kg: Destiny Rodriguez
72 kg: Amit Elor
76 kg: Tristan Kelly
2022 U17 World Team
40 kg: Megan Valdez
43 kg: Erica Pastoriza
46 kg: Gabriella Gomez
49 kg: Audrey Jimenez
53 kg: Elena Ivaldi
57 kg: Shelby Moore
61 kg: Valerie Hamilton
65 kg: Lizzie Shunn
69 kg: Jasmine Robinson
73 kg: Amarisa Manuel
Coaching Carousel
There have been lots of college coaching changes and additions over the past several weeks. Here is a breakdown of what has happened — so far.
— McKendree head women's coach Sam Schmitz accepted the head men's position at Central Methodist and his former Bearcat assistant, Gabby Weyrich, accepted the head women's role at Southern Oregon.
— Alexio Garcia, an assistant coach with USA Women's Wrestling and coach at Empire Wrestling Club in Washington, accepted the head women's position at McKendree — a program that has won the past three NCWWC (NCAA programs) tournaments.
— Shauna Kemp resigned as head women's coach at Jamestown and accepted the role of executive director of a domestic abuse shelter. The university is currently seeking someone to fill her position. The first officially sanctioned women's NAIA Championships will take place at Jamestown on March 10-11, 2023.
— Amy Hildebrandt, sister of three-time World/Olympic medalist Sarah, resigned at Trine and was replaced by Theresa Rankin. Rankin placed fifth at the 2019 WCWA Championships and seventh at the NCWWC tournament (NCAA programs) for McKendree. She transferred and placed fifth at the 2021 NAIA Championships for Lourdes.
— Brady Kyner was named head coach at the newly formed Wartburg College women's program. Kyner placed fifth at the 2022 NCAA Division III Championships and was part of team championships for the Knights in 2018 and 2022.
— Dominique Smalley was named head coach of Cornell College's new women's program. Smalley was a 2000 Junior World champion and was a member of three US National Teams.
— Jake Kaedel was officially named the head men's and women's coach at Iowa Wesleyan after serving as interim head coach this year, while Cash Wilcke was promoted to assistant. Both wrestled at the University of Iowa.
— Stryder Davis was named the head women's coach at Wayland Baptist after previously serving as head coach at Corban University. Corban recently dropped its women's wrestling program.
— Texas Wesleyan is still seeking a head women's coach after Ray Bedford was fired.
Everything Women's Wrestling
Sacred Heart coach Paulina Biega was recently interviewed by FloWrestling's Lori Ayres on Everything Women's Wrestling. Biega is one of three Division I head women's coaches and one of two women.