Why Did Ray Bedford Get Fired?
Why Did Ray Bedford Get Fired?
Ray Bedford was let go at Texas Wesleyan University, but the support he received at Women's Nationals in Fort Worth was on display.
May 11, 2022
by Kyle Klingman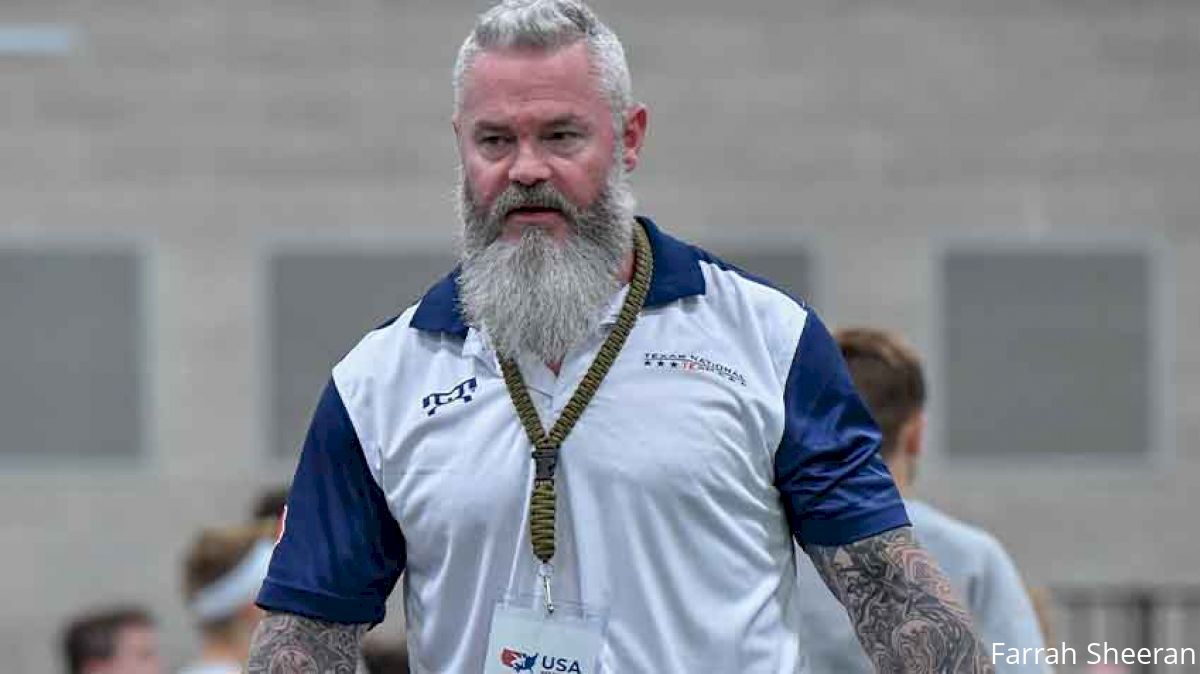 A box of black t-shirts sat quietly behind the head table at Women's Nationals in Fort Worth, Texas, over the weekend. The front and back of each shirt said something loud and clear.
Tournament director Ray Bedford wasn't wearing one, but the message was directed at him: We have your back.
Bedford was recently fired as the head men's and women's wrestling coach at Texas Wesleyan University — a private Methodist school located 15 minutes from the venue.
The reason?
"Long story short, it became aware to me that I was under investigation for the use of profanity, which, as a 55-year-old, 21-year military vet, of course, I swear when I think the situation calls for it. It's not like I walk around and belittle people. I'm just a normal guy.
"Officially, I was let go for interfering with an investigation into the use of profanity. I still don't know what that means. It wasn't an athletic department thing. It wasn't a Title IX thing. It was an HR thing. I'm still not really clear what it's all about."
Bedford has built the women's team into a national contender while the men's team is in the middle of the pack. Texas Wesleyan women finished fifth at the NAIA Championships this year with seven place winners. Lexie Basham became the first national champion in program history when she won the 130-pound title.
The former coach points out that the team trained in his facility since Texas Wesleyan did not have a wrestling room on campus. He also points out that the school never paid to use the wrestling space. Bedford runs Spartan Mat Club in addition to his duties as director of Texas-USA Wrestling, so, as of right now, the college team does not have a dedicated place to train.
An email was sent to Texas Wesleyan athletic director Ricky Dotson and he forwarded it to the communications and public relations department director Tammy Evans-Mitchell. She indicated that no individual within the university will make a comment at this time but offered the following public statement:
"Texas Wesleyan University (TXWES) is committed to a positive student-athlete experience and continues its plans to build the TXWES Wrestling Program into a national contender. TXWES is currently engaged in a search process for a head coach of the wrestling program and looks forward to its next chapter and the successes of its student-athletes.
"To the extent necessary: TXWES does not comment on personnel matters. Personal opinions or statements expressed about the wrestling program or personnel matters are not representative of or endorsed by the university."
Support for Bedford — regardless of what transpired — was on display at Will Rogers Memorial Center. The team created shirts to advocate for its former coach.
The front: SAVE OUR PROGRAM
The back: WE HAVE RAY'S BACK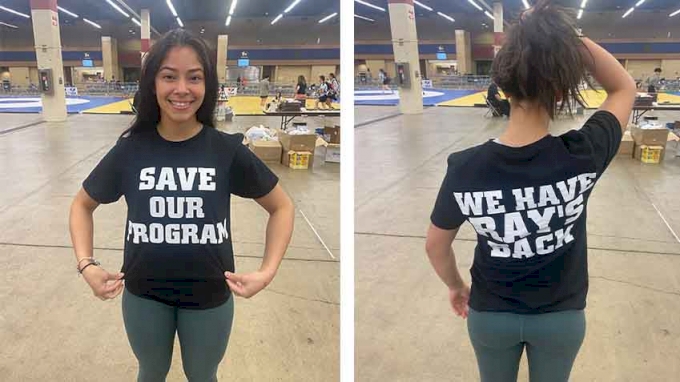 Members of the Texas Wesleyan team wore these shirts at Women's Nationals to support Ray Bedford
"It was honestly shocking," Basham said. "It didn't seem real. I got the phone call from him and I didn't believe it. I just sat there for three hours crying because it's something that is unbelievable. A couple of weeks ago we were at nationals getting fifth as a team. I won my first national title for the program and in school history. Going from that to him getting fired just seemed unbelievable.
"We had some girls that want to take something to the extreme. It's not fair in any part. I think our school doesn't want to hear us out. They didn't interview a single person about the situation besides the girls who turned him in and I think it's really unfair. I think at this point it's the school trying to shut us down and push us out of the way."
Bedford won't be pushed out of the way any time soon. He says he was blind-sided by his termination and has every intention of filing a lawsuit against Texas Wesleyan. Bedford received a handful of college offers when the news broke but plans to coach at All Saints Episcopal — a private high school where his son and daughter will attend next year.
"There are some things that are going to come to light as we move forward during the process with lawyers and that kind of stuff," Bedford said. "It's unfortunate because if there would have been an investigation they would have realized that I have high-def audio and video of every single practice when they arrive to when they shut off the lights because we do train in my facility so I've always had camera and audio for my protection."
The future of the women's team is uncertain at this point. Basham indicated that she is on the fence about staying but will consider it if assistant coach Jose Lazo gets the head job.
"As the team captain, all these girls are looking to me for answers," Basham said. "I don't have them. Our school's not giving us answers, which I also don't think is fair.
"If they don't take (Lozo), we're all gone. If he stays, we'll stay. They signed for Coach Ray and now we have to look elsewhere because they want to destroy our program. In three years we placed fifth in the country and that's going to go out the window. Ray is the best coach that anybody could ever ask for."
Coach Lozo has applied for the head job along with numerous other candidates.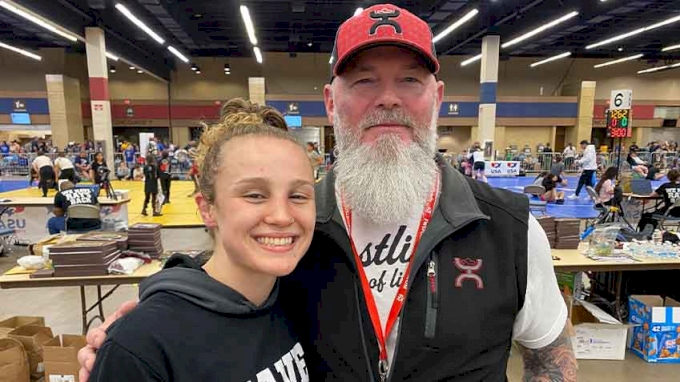 Lexie Basham and Ray Bedford at Women's Nationals in Fort Worth, Texas