Top 100 American Wrestlers Of All-Time
The Top 100 Countdown: 60-51
The Top 100 Countdown: 60-51
FloWrestling's countdown of the Top 100 American wrestlers of all time continues with 60-51.
Dec 3, 2021
by Kyle Klingman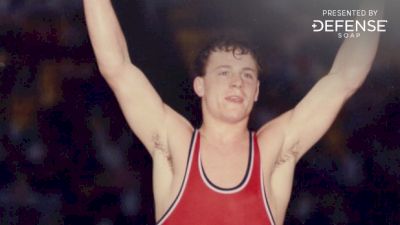 Unlock this video, live events, and more with a subscription!
Get Started
Already a subscriber? Log In
The countdown continues as FloWrestling releases its top 100 greatest American wrestlers of all time. The inaugural episode was released on November 4 and will end with the announcement of the greatest wrestler of all-time on January 10, 2022.
Below are biographies of the next 10 wrestlers in the countdown with information about their careers and why they made the list.
Fraser was the first American to medal at the Olympic Games in Greco-Roman. It just so happens that the medal was gold. Fraser won the 1984 Olympics at 90 kilograms with an inspired performance, highlighted by his win over three-time World champion Frank Andersson of Sweden.
The Hazel Park, Michigan, native was down 1-0 in the gold medal match but pulled out a late takedown for a dramatic victory in front of the partisan Los Angeles crowd. Fraser was a two-time All-American for the University of Michigan, placing sixth at the NCAA Championships in 1978 and fifth in 1980.
59. Pat Smith
How about another first? Pat Smith broke new ground by becoming the first wrestler to win four Division I NCAA titles. It wasn't a good start for the former Oklahoma State star who was pulled out of redshirt and competed as a true freshman. Smith was pinned in his first match against Portland State's Dan Russell but rebounded to win his first title in March.
The Del City, Oklahoma, native didn't slow down from there. He won a thrilling 7-6 match in the 1991 NCAA tournament finals over Iowa's Tom Ryan for his second title then cruised to his third title the following year. Smith redshirted during the 1993 season before returning to the Cowboy line-up the following year to pick up his fourth national title.
Women's freestyle wrestling was added to the Olympic program in 2004 and Miranda earned a first of her own. She became the first American to medal in the discipline after she won bronze at 48 kg.
That's not all she accomplished. Overall, she was a five-time World teamer and a three-time medalist, picking up silvers in 2000 and 2003 and bronze in 2006. She also competed on the Stanford men's wrestling team while she was in college.
How do you win three Super Bowl rings with the New England Patriots with zero college football experience?
Answer: Win a World title in wrestling.
That was the path that heavyweight Stephen Neal took to becoming one of the greatest two-sport athletes ever. Neal was a four-time All-American at Cal State-Bakersfield, placing fourth at the NCAA Championships as a freshman in 1996 and second in 1997. He won titles in 1998 and 1999, including a win in the finals over Minnesota's Brock Lesnar during his senior season.
Neal won a World title in 1999 and took second at the 2000 Olympic Trials before trying his hand at football as an offensive lineman. Neal's success on the mat turned into a 10-year career in the NFL where he became a World champion in two sports.
Abas changed wrestling with his innovative and inventive style. He seemed to float on the mat, sort of like Muhammad Ali did for boxing and Bruce Lee did for martial arts.
His numbers are impressive, too. He was a four-time All-American for Fresno State and a three-time NCAA champion, winning titles in 1999, 2001, and 2002. He was undefeated during his final two seasons and was undefeated for three years at 125 pounds.

Abas was a 1998 Junior World champion, a three-time World team member (2001-03), and a 2004 Olympic silver medalist.
55. Matt Ghaffari
Ghaffari almost reached the summit at the 1996 Olympic Games but he fell one point short. He faced 12-time World/Olympic champion Alexander Karelin in the Greco-Roman heavyweight finals but lost 1-0 and settled for silver.
An Iranian immigrant, Ghaffari set the standard for future Greco heavyweights. He made five World teams and two Olympic teams (1992 and 1996) with silvers in 1991, 1996, and 1998, and a bronze medal in 1995.
54. Lloyd Keaser
Keaser faced Dan Gable in the final 1972 Olympic Trials and fell 22-0 and 11-0. The following year, he won the 1973 World Championships — becoming the first black wrestler to win the Worlds.
The Columbia, Maryland, native nearly won a gold medal at the 1976 Olympics but lost by too many points in his final match and bagged a silver. Keaser was a two-time All-American for Navy, placing fourth at the NCAA tournament in 1971 and third in 1972. His career college record was 54-6-1.
Weaver won a silver medal at the 1979 World Championships and was at the top of his game at the 1980 Olympics but the United States boycotted the Games due to the Soviet Union's invasion into Afghanistan. He made World Teams in 1982 and 1983 before winning a gold medal in the 48-kg class at the 1984 Olympic Games.
As a junior in high school, he reached the finals of the Olympic Trials and actually secured a pin in one of his matches over eventual Olympian Billy Rosado. Despite wrestling at 105.5 pounds internationally, Weaver placed third at the 1982 NCAA Championships in the 118-pound class for Lehigh.
How about these numbers? Lewis wrestled 27 World/Olympic medalists and defeated 24. He wrestled nine World/Olympic champions and defeated eight.
The Rapid City, South Dakota, native loved to pin and he loved to score points — and he always left fans entertained. His go-for-broke style led to World Teams in 1978 and 1982 and Olympic teams in 1980 and 1984. He blitzed through the 1984 field to win an Olympic gold medal.
In college, Lewis placed second at the 1978 NCAA tournament as a true freshman before picking up titles in 1979 and 1980. He finished seventh in 1981 following a gruesome injury during the season but finished as a four-time All-American with 64 career college pins.
Metzger was only 19 when won a bronze medal at the 1979 World Championships and was the youngest American World medalist before Kyle Snyder won gold in 2015. He added a silver medal at the 1986 Worlds and a bronze in 1987 for a total of three Senior-level medals.
He had an equally successful college career at the University of Oklahoma. Metzger placed fifth at the NCAA tournament as a freshman in 1979 before falling to Oklahoma State's Lee Roy Smith in the finals of the 1980 tournament. He followed that up with 142-pound NCAA titles in 1981 and 1982 with wins over Iowa's Lennie Zalesky in the finals.