Top 100 American Wrestlers Of All-Time
The Top 100 Countdown: 80-71
The Top 100 Countdown: 80-71
FloWrestling's countdown of the Top 100 American wrestlers of all time continues with 80-71.
Nov 19, 2021
by Kyle Klingman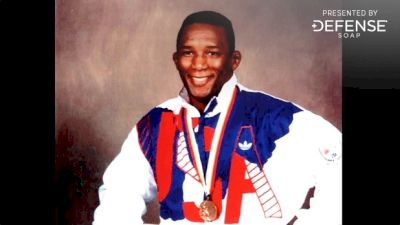 Unlock this video, live events, and more with a subscription!
Get Started
Already a subscriber? Log In
The countdown continues as FloWrestling releases its top 100 greatest American wrestlers of all time. The inaugural episode was released on November 4 and will end with the announcement of the greatest wrestler of all time on January 10, 2022.
Below are biographies of the second 10 wrestlers in the countdown with information about their careers and why they made the list.
It's too bad politics played a part in Kerry McCoy's international wrestling career. He won his semifinal match at the 1998 World Championships but it was overturned in a back room and he was stripped of an opportunity to win a gold medal. What he accomplished before and after deserves to be remembered.
McCoy made Olympic teams in 2000 and 2004 along with World teams in 1998, 2001, 2002, and 2003. The highlight came in 2003 when he won a silver medal at Madison Square Garden in his home state of New York.

His final three seasons at Penn State were nearly flawless. He had a .500 record during his freshman season at 190 pounds before moving to heavyweight. He only dropped one match the remainder of his career, placing first at the NCAA championships in 1994, third in 1995, and first in 1997 with a win in the finals over eventual World champion Stephen Neal.
Think about all the domestic talent that has filtered through the 65-kilogram weight class lately. Now, think about the last time the United States won a medal at the Worlds or Olympics at that weight or its comparable counterpart.
You'll have to go back to when Bill Zadick won a gold medal at the 2006 World Championships at 66 kg. Zadick was 33 and, in most people's eyes, past his prime. His younger brother, Mike, won silver the day before. Big brother Bill did him one better by bagging gold during his second trip to the Worlds.
Zadick attended the University of Iowa after winning four Montana state championships and completing his prep career undefeated. The Great Falls native placed fifth at the 1995 NCAA Championships as a junior before snagging his lone title as a senior in 1996.
Don't call Lindland a half-man just because he competed in Greco-Roman. The upper body form of the sport was his calling card, but he could take you down with a leg shot if he had to — especially if someone disparaged his favorite style of wrestling.
Lindland had a solid college career highlighted by a junior college national title for Clackamas in 1991 and a Big Eight title for Nebraska in 1993. He entered the NCAA Championships undefeated but lost in the first round and was eliminated from the tournament.
The former Husker had to fight his way onto the 2000 Olympic team — on the mat and through the courts. He initially lost to Keith Sieracki in the best-of-three finals but claimed Sieracki used an illegal technique in the process. A judge overturned the decision and Lindland won a silver medal in the 76-kg weight class. He moved up to 85 kg for the 2001 World Championships and earned his second silver medal in as many years.
77. Fred Fozzard
Fozzard may have contracted polio at the age of two but that didn't prevent him from getting on this list. The Marshall, Oregon, native attended Oklahoma State — placing second, first, and third at the NCAA Championships from 1966-68. Remember, this was an era where freshmen weren't allowed to compete so he may have added another All-American honor to his resume with an additional year.
Although he never made an Olympic team, Fozzard will be remembered as one of the first two wrestlers to win a World title for the United States. Both he and fellow Oregon native Rick Sanders won gold medals at the 1969 World Championships — setting the tone for generations to come. A fifth-place finish the following year capped a trendsetting career for Fozzard.
Koslowski's Greco-Roman accomplishments aren't embellished — he was just that good. He won a bronze medal at the 1988 Olympics then earned a silver medal in 1992 — becoming the first American Greco wrestler to win medals in multiple Olympic Games. He also had a nice run at the Worlds by making five teams and collecting a silver medal in 1987.
He was a D3 NCAA champion for Minnesota-Morris in 1980 and 1982 but, get this, he never competed in Greco until after college. Koslowski proves you can blaze your own trail to wrestling success.
The numbers only tell part of the story with heavyweight Lou Banach. The former University of Iowa wrestling star placed first at the NCAA Championships in 1981 and 1983 and third in 1982 then went on to win a 100-kg freestyle gold medal at the 1984 Los Angeles Olympics.
As far as heavyweights go, Banach was undersized. He competed at 190 pounds as a freshman before moving up to the unlimited class for his final three seasons. Banach used his 220-pound body against wrestlers who weighed over 400 pounds — and won.
His most notable win came during the 1981 NCAA Championship finals his sophomore year. He pinned Indiana State's Bruce Baumgartner with a near-side cradle to win his first title. Baumgartner, as you may know, became a five-time World/Olympic champion who finished his career with 13 World/Olympic medals.
You can talk a big game or you can walk a big game. Iowa State's Nate Carr could do both. His matches with Oklahoma State's Kenny Monday created the greatest rivalry in college wrestling history. And they would talk smack the entire time. Even the moms got into the action.
Monday won the Big Eight tournament; Carr won the NCAA tournament. The former Cyclone star won NCAA titles from 1981-83 — the last two against Monday in the finals. Carr became the second three-timer in program history.
Carr wasn't finished competing, though. Monday moved up to 74 kg for his international career while Carr was forced to stay down at 68 kg. Both made the 1988 Olympic team with Monday becoming the first black wrestler to win an Olympic gold medal while Carr won a bronze.
Imagine being so naive about international wrestling rules that a bronze medal performance turns into gold. That's what happened to Smith at the 1952 Olympics Games after he lost a match during the tournament. He took his place on the third-place spot of the podium before a tournament director had to point him to the top.
The black mark system in place meant a wrestler could lose but still win the tournament. Smith lost to eventual silver medalist Per Berlin of Sweden but defeated bronze medalist Abdollah Mojabavi of Iran who beat Berlin.
Smith moved up a weight for the 1956 Olympic Trials where he pinned the legendary Dan Hodge with his signature Whizzer. He lost a match at the Trials, too — but his pin over Hodge earned him the Olympic spot. That spot was ultimately taken away because of the strict amateur rules in place at the time. Smith took a job as a teacher and was ruled a professional so he was deemed ineligible to compete.
He ended his college career at Iowa State Teachers College (now Northern Iowa) as an undefeated two-time NCAA champion (1949-50). The former Panther star could not compete during his senior season due to an eligibility issue.
While most wrestlers move up in weight, Hildebrandt moved down. She was a four-time WCWA Championship finalist (2012-15) and a two-time champion (2014-15) at 123 pounds (approximately 56 kg) for King University.
After college, Hildebrandt created her successful descension plan. She made the 2016 World team at 55 kg then moved down to 53 kg where she won a silver medal at the 2018 Worlds and made another team in 2019. She dropped to 50 kg for the 2020 Olympics and 2021 Worlds, earning a bronze and silver medal respectively.
Hildebrandt has been one of the most reliable wrestlers in American history — and she's become one of the most popular. She's not done competing, either. Who knows what she will add to her list of accomplishments.
Blubaugh needed big, thick glasses to correct his horrible vision. That was bad news for opponents. Blubaugh wouldn't let them out of his sight when he was on a wrestling mat.
The Ponca City, Oklahoma, native wrestled like he was in a phone booth — punishing his opponents with his bruising style. Blubaugh attended Oklahoma State where he placed third at the NCAA Championships as a sophomore in 1955 followed by finishes of second and first each of the next two seasons.
His most memorable accomplishment came at the 1960 Rome Olympics where he won a gold medal and pinned five of the six opponents that he faced. His biggest win was a pin over four-time World champion Eman Habibi of Iran. Habibi, a four-time World/Olympic champion, was handling his American foe until Blubaugh pancaked him to his back for the fall.