Top 100 American Wrestlers Of All-Time
The Top 100 Countdown: 90-81
The Top 100 Countdown: 90-81
FloWrestling's countdown of the Top 100 American wrestlers of all time continues with 90-81.
Nov 12, 2021
by Kyle Klingman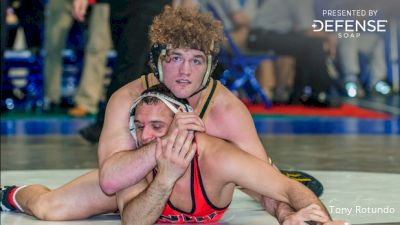 Unlock this video, live events, and more with a subscription!
Get Started
Already a subscriber? Log In
The countdown continues as FloWrestling releases its top 100 greatest American wrestlers of all time. The inaugural episode with 10 wrestlers was released on November 4 and will end with the announcement of the greatest wrestler of all-time on January 10, 2022.
Below are biographies of the second 10 wrestlers in the countdown with information about their careers and why they made the list.

You never knew what Jake Herbert was going to do — on or off the mat. That made him one of the most dynamic wrestlers of his era — perhaps of any era.
Herbert's results speak for themselves. He was a four-time All-American at Northwestern, placing third at the NCAA Championships as a freshman in 2005 followed by a runner-up finish in 2006 — both at 174 pounds. The former Wildcat star moved up to 184 pounds the next season and won his first NCAA title with a 6-1 win in the finals over future Olympic gold medalist Jake Varner of Iowa State. Herbert took an Olympic redshirt in 2008 and came back in 2009 for his second NCAA championship. His overall career college record was 149-4.
International wrestling was on the horizon for one of America's brightest stars. Herbert won his second NCAA title in March of 2009 and won a silver medal at the World Championships later that year. He followed that up by making World teams in 2010 and 2015, and the 2012 London Olympic Games. That's a good career for a wrestler who liked college so much that he said he didn't want to leave.
So you took Wade Schalles down and you're on top? Big deal. Schalles prefers it that way. His unusual and innovative style saw him pin opponents from every position, including underneath. The Clarion collegiate star famously placed a tiny X on the mat to mark the spot where he would secure his 100th college pin. Unfortunately, he was a ways away from the X so he had to drag his ill-fated foe across the mat to the spot. Once he secured the fall the tape rolled up on his opponent's back so the evidence was gone.
There is plenty of evidence that supports Shalles's inclusion on this list despite never making a senior-level World team. He won D2 and D1 titles in 1972 and 1973 but lost an opportunity to win a third title during his senior campaign due to a strange eligibility rule that did not allow him to compete in the NCAA Championships. As a way to prove his might, he moved up from 158 pounds to 177 pounds and pinned Floyd Hitchcock — the eventual NCAA champion and Outstanding Wrestler. His overall record of 153-5-1 and 106 career pins only adds to his legacy.
In 1977, Schalles won the University World Championships by pinning all six opponents and was named Outstanding Wrestler at the famed Tbilisi Championships where he pinned five of six opponents. In all, he defeated 36 national champions and pinned 17.

Was it the flair or was it the hair? It was both if you're talking about Ben Askren. The loud and proud superstar made entertainment his calling card and he always delivered with a performance worthy of top billing.
Askren put Missouri wrestling on the map by becoming the program's first NCAA champion. He won 174-pound titles in 2006 and 2007 after reaching the finals the previous two seasons. His overall career college record was 153-8 with seven losses coming to Oklahoma State's Chris Pendleton — Askren's chief rival. The Tiger superstar won his last 87 college matches and bagged 91 career college pins. He even went up a weight class at the National Duals to take on Minnesota's returning NCAA tournament finalist Roger Kish. Askren won, 5-3. He also defeated Jake Herbert — #90 on this list — during the 2006 NCAA tournament finals, 14-2.
After college, Askren made the 2008 Olympic team at 74 kg before a highly-successful MMA career that included a 22-2 overall record.

Mean Gene Mills was robbed of his opportunity to become an Olympic champion but he won't be denied inclusion on this list. Mills made the 1980 Olympic team at 52 kg but the United States boycotted the entire Moscow Olympic Games as a way to protest the Soviet Union's invasion into Afghanistan. Mills consistently makes the list of Olympians, regardless of sport, most likely to win a gold medal in 1980. It's hard to argue otherwise.
Mills was on a tear in 1980 with numerous victories, most of them by pin over great wrestlers. He won the Tbilisi Championships that year — considered by some to be the toughest wrestling tournament in the world — with seven pins (one of his falls was over eventual Olympic champion Anatoli Beloglazov). He was ahead 14-2 in the finals before they disqualified the Soviet for passivity. Mills's time at 52 kg was limited since he faced numerous injuries over the next five years, but he made a World team in 1985 at 62 kg (136.5 pounds) prior to John Smith and Tom Brands taking over the weight class.
He was a four-time All-American at Syracuse, placing third as a freshman and fourth as a sophomore before winning 118-pound titles in 1979 and 1981. His win in the 1979 NCAA tournament finals was particularly memorable. Mills and Joe Gonzales of Cal State-Bakersfield had a 16-13 slugfest that is considered the most exciting NCAA tournament finals in college history.

Many remember that Bobby Douglas wrestled for Oklahoma State, but they won't remember the circumstances behind it. Douglas competed for West Liberty where he was an NAIA champion at 130 pounds in 1962 and a runner-up at the NAIA championships and the D1 NCAA tournament the following year. He moved to Stillwater for the 1965 season to wrestle for the Cowboys and was the best 147-pounder in the country.
Douglas was seeded first at the NCAA Championships but was concussed during his opening round match against Dan Divito of SIU-Carbondale. Douglas couldn't continue despite winning 6-2, which opened the door for Iowa State's Veryl Long to win the tournament — an opponent he had defeated twice during the season.
He more than made up for any college setbacks with success at the international level. He made Olympic teams in 1964 and 1968 along with World teams in 1963, 1965, 1966, 1969, and 1970. Douglas was a two-time World medalist, earning silver in 1966 and bronze in 1970. He also competed in both disciplines at the 1965 World Championships when the entire freestyle team opted to compete in Greco.
His most famous match was an 11-1 win over Dan Gable at the 1968 Olympic Trials. Gable was a sophomore in college who hadn't hit his stride on the international scene yet, but it was the largest margin of victory over the Cyclone superstar who had yet to taste defeat in college.

It's rare that an all-time great wrestler will be remembered for a loss, but Brandon Paulson should take pride in this historic achievement. His three-match series with World champion Dennis Hall for the 55-kilogram Greco Olympic team spot lives in wrestling lore. The third and final match — after the two split matches — is considered one of the greatest wrestling series of all time, possibly the greatest.
The match was tied 3-3 in regulation when officials let the clock run continuously until one of the warriors scored first. Hall finally broke through with a takedown for the win, but the standing ovation from the crowd was the culmination of an American wrestling classic.
For his part, Paulson entered the match as a 1996 Olympic silver medalist, 2001 World silver medalist, and member of World teams in 2002 and 2003. He made an Olympic team after his sophomore year of college, which was an exceedingly rare achievement at the time. Paulson competed for four seasons at the University of Minnesota as the 118-pound starter where he reached the Round of 12 of the NCAA Championships in 1995 and 1997 before earning a seventh-place finish in 1998.

Women's wrestling was coming into its own when Sara McMann entered the scene, and she took advantage by becoming one of the best wrestlers in U.S. history. Women's freestyle wrestling made its debut at the Olympic Games in 2004 with four weight classes. McMann made the team at 63 kilograms and earned the highest medal finish for the United States at the inaugural tournament. She became the first American woman to earn a silver medal in women's freestyle wrestling at the Olympics. She dropped a 3-2 match to 14-time World/Olympic champion Kaori Icho in the finals despite leading late in the match.
Overall, McMann is a four-time World/Olympic medal winner. She made seven World teams, earning silver in 2003 and bronze medals in 2005 and 2007. Her performance at the 2003 World Championships in New York City was particularly memorable. The United States and women's wrestling power Japan tied during the team race but Japan took the title based on more gold medals. McMann was a 2009 No-Gi World champion who currently holds a 12-6 Mixed Martial Arts record.

There can only be one baddest man on the planet, and there was a time when Joe Warren had a claim to the title. The highlight came in 2006 when Warren blasted the competition to snag the 60-kilogram Greco World title. Remember, these titles don't come easy — especially in the Greco-Roman discipline. Only five Americans have won a Greco World title and Warren is the most recent. No U.S. wrestler has duplicated his achievement in 15 years.
Prior to that, Warren made a World team in 2005 and was a three-time Greco national champion. The former University of Michigan star qualified for the NCAA championships from 1998 through 2000 and was a third-place finisher during his senior year.

It's ok if you can't pronounce Nick Gwiazdowski's last name. You can use his shortened nickname of Gwiz. Just don't short-change his wrestling career and all he's accomplished.
For starters, he was a four-time All-American for two different schools. He placed eighth at the 2012 NCAA Championships for Binghamton before transferring to North Carolina State for his final three seasons where he reached the NCAA tournament finals each year. His finals opponents were too shabby, either.
In 2014, he stopped Minnesota's Tony Nelson from becoming Minnesota's first three-time NCAA champion with a 4-2 win for his first title.
In 2015, he stopped eventual Greco World silver medalist Adam Coon of Michigan, 7-6, for his second title.
In 2016, he dropped his final collegiate match to returning World champion Kyle Snyder of Ohio State in a 6-4 sudden victory thriller. Some say it's the great college heavyweight match of all time. From a credentials standpoint, they could be right.
Gwiz won two NCAA titles and went 109-3 during his final three seasons. He also made four straight World teams (2017-21) and bagged World bronze medals in 2017 and 2018. His medal at the 2017 Worlds was part of the first men's freestyle title for the United States since 1995.

Jacarra Winchester always wanted her picture on the wall, and now she has a permanent spot among the best wrestlers in U.S. history. Every World and Olympic champion gets his or her photo placed on the wall inside the wrestling room at the Olympic Training Center in Colorado Springs. It's something Winchester wanted, and in 2019 she earned her way into the most coveted collection of wrestling photographs on American soil.
Her 55-kilogram title at the 2019 World Championships in Nur-Sultan, Kazakhstan was part of a three-gold medal performance by the U.S. women, which set the record for the most World titles won in one year by the women's team. She also placed fifth at the 2018 World Championships but moved down to 53 kilograms to make the 202One Olympic team. In college, Winchester was a 2015 WCWA champion for Missouri Valley after a runner-up finish in 2013.