Top 100 American Wrestlers Of All-Time
The Top 100 Countdown: 100-91
The Top 100 Countdown: 100-91
FloWrestling's countdown of the Top 100 American wrestlers of all time begins with 100-91.
Nov 5, 2021
by Kyle Klingman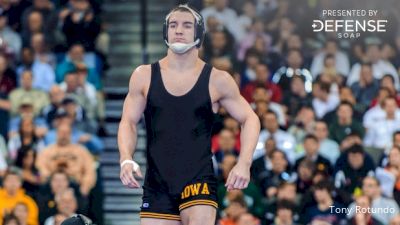 Unlock this video, live events, and more with a subscription!
Get Started
Already a subscriber? Log In
The countdown begins as FloWrestling releases its top 100 greatest American wrestlers of all time. A fresh episode with 10 wrestlers will be released every Thursday beginning November 4 and will end with the announcement of the greatest wrestler of all-time on January 10, 2022.
Below are biographies of the first 10 wrestlers in the countdown with information about why they made the list.
Metcalf was the transformational wrestler that Iowa needed when Iowa head coach Tom Brands took over during the 2006-07 season. The Davison, Michigan, product posted a 228-0 high school record with four state titles and signed with Virginia Tech during Brands's two-year stint in Blacksburg. Metcalf redshirted as a freshman then followed Brands to Iowa when he took the job. The Hokies would not release Metcalf to the Hawkeyes so he missed out on his first season of eligibility, but Metcalf made his three seasons in Iowa City count.
Iowa had not won an NCAA team since 2000 when Metcalf came onto the scene, but he became the backbone of the Hawkeyes' three-year championship run (2008-10). The Hawkeye star won 149-pound NCAA titles in 2008 and 2010, with a runner-up finish in 2009.
His 2008 run at the NCAA Championships was particularly impressive. Six of the top eight wrestlers have at least one NCAA title on their resumes, and the other two reached the NCAA tournament finals. Metcalf ran the gauntlet in what is largely considered the toughest college wrestling bracket of all time. Metcalf had a nice run in freestyle, although he did not garner a World medal. He made World teams in 2010, 2013, 2014, and 2015.
Give Guerrero credit. The Oklahoma State star won NCAA titles in 1997, 1998, and 1999 in one of the toughest weight classes in the country. The 126/133-pound brackets during this era included multiple Olympians, NCAA champions, and All-Americans. And Guerrero always came out on top during his three-year NCAA championship run. Redshirting was the norm during this era, but Guerrero was inserted into the Cowboy line-up at 126 pounds as a true freshman for the 1996 season. His fifth-place finish included a 5-1 win over Iowa's Jeff McGinness — an eventual two-time NCAA champion — during the consolation round. His overall college record was 117-13
The weight class would stay tough as Guerrero entered the freestyle circuit immediately after college. He made four World teams (1999, 2001-03) and the 2004 Olympic team between the weight classes of 58 kg and 60 kg. His domestic rivalry with 2006 World silver medalist Mike Zadick always saw Guerrero coming out on top.
The San Jose, California, native posted jaw-dropping numbers in high school, including three state titles and an overall prep record of 226-4. He also won a Junior National title in 1995 and a Cadet World Championships in 1993.
What you are about to read is not a joke. Retherford's final three seasons at Penn State defy logic, but what he did for the Nittany Lions is real.
How is this for domination in the 149-pound weight class?
Sophomore (2016): 35-0 with a bonus rate of 88.57
Junior (2017): 28-0 with a bonus rate of 89.29
Senior (2018): 31-0 with a bonus rate of 83.87
That means Retherford won by a major decision or better in over 87 percent of his matches during his final three seasons.
His true freshman season was too shabby, either. He posted a 33-3 record at 141 pounds and a fifth place at the NCAA Championships, including a dual-meet win over eventual four-time NCAA champion Logan Stieber who was in his senior year. Overall, "The Zain Train," posted a 127-3 career college record and joined an exclusive club with three individual NCAA titles with four NCAA team championships.
Retherford's run at the 2017 NCAA tournament deserves special mention. He won five matches, including four by technical fall and one by fall. He was the key for Penn State during one of the most dominant eras in college wrestling history.
The former Nittany Lion star has a handful of international credentials, as well. He made 65-kg World teams in 2017 and 2019 and was a Cadet World champion in 2012.
When Smith won a gold medal in the 72 kg division at the 2005 World Championships it was still uncharted territory for women's wrestling. U.S. women entered the World Championships for the first time in 1989, and only four American women had won World titles up to that point. The year prior, women had their first opportunity to compete in wrestling at the Olympic Games.
Smith's win in 2005 was an important step for women's wrestling in the United States, and it was part of a foundation that would carry on until the present day. Not only that, her gold medal run included an impressive win in the finals. She defeated Kyoko Hamaguchi of Japan — a five-time World champion, a 10-time World medalist, and a two-time Olympic bronze medal winner.
Smith also made World teams in 2000 and 2012 and was a World Military Games champion in 2010.
Iowa coach Dan Gable calls Alger the toughest wrestler he ever coached. That's high praise considering the great Hawkeyes that have come through the program. The Iowa star made hand fighting and superior conditioning his calling card as he brutalized his opponents — especially during his final two college seasons.
Alger is among the few who have won NCAA titles at two different weights. He picked up the 167-pound crown in 1987 then moved up to 177 pounds for his senior season in 1988 since it helped the team. He also placed fifth at the 1986 NCAA Championships at 158 pounds, which earned him three All-American honors at three different weights. Alger posted 131 career college wins with 49 falls.
He defeated Iowa State's Kevin Jackson — an eventual three-time World/Olympic champion — three times during his junior season, including a 10-4 win in the 167-pound finals. The Alger-Jackson rivalry through college and international competition is one of the fiercest in American history. Alger actually holds the head-to-head edge over Jackson, 10-7, throughout 10 years of competition. The apex of Alger's international career came when he won a silver medal at the 1990 World Championships.
One word should come to mind when you take a glance at Ragan's international career: consistency. She was a staple of the U.S. women's freestyle team from 2013 through her retirement after the 2021 Olympic Trials. In all, Ragan made seven consecutive World teams (2013-19) despite being unable to compete at the 2019 Worlds due to an injury.
Her best years came in 2016 and 2017 where she reached the gold medal finals at 60 kg and ultimately won silvers both years. She also has a pair of Junior World bronze medals (2011 and 2012) and a silver medal finish at the 2013 World University Games. Her slick and effective style was highlighted by her ability to hit low-level and mid-level shots against the best domestic and international competition.
Ragan's college career at King included four appearances in the WCWA finals (2011-14) and two titles (2013-14). Her title as a senior was part of a WCWA team championship that saw King outlast Oklahoma City 229-227.
How do you go 0-7 at the Minnesota High School State Championships and make the top 100? You do something no other American has ever done before. No American had ever won a Greco-Roman World title when Houck entered the 1985 World Championships at 98 kilograms. His weight included three former World champions, so the odds of making history were slim.
His win over Russia's Igor Kanygin in the gold medal finals broke new ground for Greco-Roman wrestling in the United States. The U.S. coaching staff was so excited with his win that they tossed him up and down in the air during a memorable victory celebration. Houck's feat is even more impressive considering that only four other Americans have won a gold medal in Greco at the World Championships, the most recent coming in 2006.
Houck wasn't a flash in the pan, either. He reached the finals of the 1984 and 1988 Olympic Trials and was a member of Greco World teams in 1981 and 1983.
Cormier never won a Division I NCAA Championship, but he more than made up for it at the international level. He won two junior college national titles for Colby Community College (1998-99) before transferring to Oklahoma State where he wrestled for John Smith and the Cowboys. He didn't place at the 2000 NCAA tournament but earned a spot in the 184-pound finals as a senior in 2001 against Iowa State's Cael Sanderson — a wrestler who went 159-0 for his college career.
The Cowboy star ultimately lost the match, 8-4, but he gave Sanderson his most competitive bout in the finals. Prior to that, Cormier blitzed his way to the finals, picking up two falls, a technical fall, and a major decision.
His freestyle career was where Cormier built his wrestling legacy. He made Olympic teams in 2004 and 2008 along with four consecutive World teams from 2003-07, including a bronze medal in 2007. Cormier built a successful MMA career, compiling a 22-3 record with UFC belts in two divisions.
Koll defined an era of grit after returning to Iowa State Teachers College (now Northern Iowa) after serving in World War II. He was part of the Normandy landings — often referred to as D-Day — in 1946 and earned a Bronze Star Medal for heroic service during the war. The Panther superstar won three duals as a freshman in 1943 — including a win over two-time NCAA champion Burl Jennings of Michigan State — before serving in the army for three years.
Once he returned to college after the war, the 23-year-old wrestling phenom dominated everyone who stood in his way. He won NCAA titles in 1946, 1947, and 1948 and he never lost a college match. Koll won the Outstanding Wrestler Award at the 1947 and 1948 NCAA Championships, becoming the first person to achieve the feat multiple times. Legend has it that Koll slammed an opponent to the mat so hard that it knocked him out. He shook his defeated foe so the referee thought he was conscious. This led to the NCAA implementing a slam rule to go into effect.
Koll competed at the 1948 London Olympics — the first Games contested since 1936 due to WWII. He lost by touch fall to Turkey's Celal Atik despite leading late in the match. Atik won the gold medal and Koll settled for fifth.
Who is James Green? He's just one of the most dynamic, technical, and entertaining wrestlers in American history. Green was a four-time All-American for Nebraska from 2012-15, placing seventh at the NCAA Championships his first two seasons and third as a junior and senior. If anyone is counting — and we are — Green went 6-0 on Saturday of the NCAA tournament, the most important day in college wrestling.
If you want to learn about the history of the 70 kg weight class in the United States then there is only one name you will need to remember: James Green. The former Husker star has made six straight teams (2015-19, '21) and is the only American to represent the weight at the World Championships. Green bagged two medals along the way — a bronze in 2015 and silver in 2017. His silver medal effort was part of the first team championship for the United States in men's freestyle since 1995. He also snagged a silver at the 2014 University Worlds.