2021-2022 NCAA Campus Visits
The 2021-22 NCAA D1 Redshirt Report
The 2021-22 NCAA D1 Redshirt Report
A rundown of all the wrestlers we didn't see last season (for whatever reason) to keep an eye on during this upcoming 2021-22 NCAA D1 season.
Oct 31, 2021
by Andrew Spey
Unlock this article, live events, and more with a subscription!
Get Started
Already a subscriber? Log In
In typical years, now is around the time during the NCAA preseason where we'd take a look at the potential impact wrestlers who sat out last varsity season while on redshirt.
But this isn't a typical year, and scads of wrestlers who can make an impact on this upcoming season did not wrestle last season for many different reasons: redshirts, greyshirts, the Olympics, covid, injuries, etc. So while we're still calling this article a 'Redshirt Report' for posterity's sake, consider this more of a 'Welcome Back' article than anything else.
Below is an incomplete list of NCAA D1 wrestlers that are returning to the varsity lineup after an interval of at least one year. Really it's 18 months or more since we've seen these hammers in varsity collegiate competition. That's far too long, but now they're coming back. We're reunited, and it feels so good.
More Preseason Content: Wrestle-Off Box Scores | Iowa Visit | NC State Visit | Iowa State Visit | Missouri Visit
125 Pounds
#2 Vito Arujau, Cornell - We think we'll see Vito down at 125-pounds but now is a good opportunity to remind everyone that, like our preseason ranking, all weights are provisional. Also, due to the entire Ivy League shutting down last season, prepare to see a lot of Ivy League wrestlers, Cornellians in particular, on this list.
#3 Pat Glory, Princeton - Consider Vito and Pat to be #2 and #2a in the rankings behind Spencer. We're very much looking forward to this renewed Ivy league rivalry.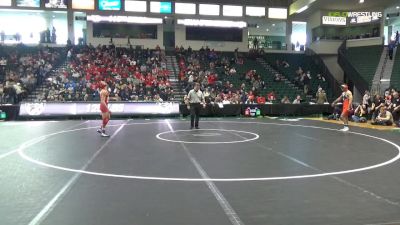 Unlock this video, live events, and more with a subscription!
Get Started
Already a subscriber? Log In
Joe Manchio, Columbia - The Lions have a pretty nice RTC setup, and the results were evident over the last 18 months as the Lions were well represented at every freestyle tournament that figured out a way to exist. Expect Manchio and others to climb up the rankings in a hurry.
Joey Prata, Oklahoma - Sam Latona emerged as the 125er for Virginia Tech last season, which meant Prata missed the postseason after qualifying for the NCAAs in 2020. Don't expect him to miss the tournament in 2022 with his new Sooner squad.
Brock Hudkins, Indiana - A two-time national qualifier for Northern Illinois, an injury Hudkins suffered an injury at Midlands that slammed the brakes on what was shaping up to be a monster season at new school Indiana. Hopefully, Hudkins is fully healed and can put together one last run for the Hoosiers.
Gary Steen, Penn State - It looks like Robbie Howard will be taking another redshirt to convalesce from an injury, which means a fellow blue chip recruit has an opportunity to step up into the role as leadoff hitter for the Nittany Lions. True freshman Steen was the #29 ranked wrestler in the high school class of 2021.
Ryan Miller, Penn - One of the many grads from prep school dynasty Blair Academy that populates the Ivy League. Miller is a Class of 2020 Big Boarder looking for his first taste of collegiate NCAA wrestling.
---
133 Pounds
#3 Stevan Micic, Michigan - The Serbian Sickle is back! Micic aims to finish a college career he started back in the fall of 2014! Three top-3 NCAA finishes and a trophy-case full of international freestyle medals are what he's accomplished in the interim. Pretty dece in our humble opinion.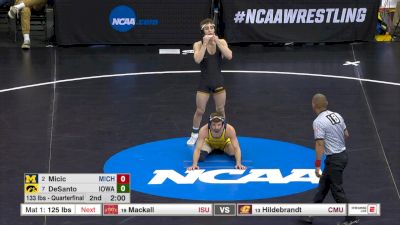 Unlock this video, live events, and more with a subscription!
Get Started
Already a subscriber? Log In
#11 Michael Colaiocco, Penn - Like so many other Ivy Leaguers, Colaiocco's been waiting for over a year to get back on the mats as an official representative of his school. He qualified for the 2020 NCAAs with a 23-7 record.
#15 Sammy Alvarez, Rutgers - Even though Alvarez was the starter last season for Rutgers, he was unable to make weight at Big Tens and thus did not participate in the postseason. Hence his inclusion on this year's list, as he is definitely a podium contender who was not at the NCAAs last season.
Greg Diakomihalis, Cornell - We would not be shocked to see Greg D and Vito switch spots in the lineup. Cornell also has Dom LaJoie and Philip Moomey to man these weights. That said, two Diakomihalises (or is it Diakomihalethese?) are likely to be in the Cornell lineup.
Jamie Hernandez, North Carolina - Though Joe Heilmann got the start for the Tar Heels in 2021's postseason, Hernandez just defeated Heilmann in a wrestle-off, so we've penciled him in as the starter going forward.
Angelo Rini, Columbia - Rini just missed qualifying for the NCAA tournament in 2020, then spent the next 18 months turning heads in freestyle tournaments, which he hopes to parlay into continued folkstyle success.
Alex Thompsen, Nebraska - Tucker Sjomeling got the nod in 2021's postseason, but 2020 national qualifier Alex Thomsen could be back in the starting lineup this upcoming season.
Ramazan Attasauov, Iowa State - A native of Kabardino-Balkaria in Russia's wrestling-rich Caucasus region, Attasauov is a freestyle specialist with a very high folkstyle ceiling.
Matt Ramos, Purdue - A 2018 UWW cadet world champion, Ramos is now at Purdue after two seasons at Big Ten rival Minnesota.
---
141 Pounds
Andrew Alirez, Northern Colorado - Though he technically took the mat at the Big 12 Championships, Alirez immediately injury defaulted and did not compete at the NCAAs, though he did receive an at-large bid. If he's healthy, the sky's the limit for this hometown here who stayed in Greeley, Colorado for college.
Kizhan Clarke, North Carolina - Clarke won 37 matches for American University at 149-pounds in the 2019-20 season but didn't take the mat last season. Now at North Carolina, it appears Clarke will be down at 141.
Matthew Kazimir, Columbia - Ohio native Matt Kazimir was an EIWA runner-up and NCAA qualifier in 2020.
Josh Saunders, Cornell - Or, perhaps we will see Yianni return to 141. We have Yianni ranked at 141, where he will remain until we see him take the mat elsewhere, but if we were to make an educated guess we think this is the more likely spot for Saunder, with Yianni up at 149. We'll see, though!
Quinn Kinner, Rider - A transfer from Ohio State, the New Jersey native will man the weight class while 2021 qualifier McKenzie Bell dons a redshirt.
Dusty Hone, Oklahoma State - The Cowboys will have many options at this weight, including recent transfer Carter Young as well as fellow true freshman Travis Mastrogiovanni, but expect 2020 National Qualifier Hone to hold down the spot for the time being. Hone was edged out for the starting job by Kaden Gfeller last season, who will likely be up at 149 going forward, now that Boo Lewallen has ended his college career.
Dylan Cedeno, Virginia - A redshirt freshman from NJ prep powerhouse Bergan Catholic, Cedeno is expected to be the guy for the Cavaliers at 141.
Cael Happel, UNI - There will be competition for this spot all year long but redshirt freshman Happel looks to be in pole position.
Joseph Zargo, Wisconsin - Like Cedeno, Zargo is a product of Bergan Catholic who is expected to make his first appearance on a varsity team this season. He spent last season greyshirting.
---
149 Pounds
#1 Yianni Diakomihalis, Cornell - As explained above, this is just where we think Yianni will go, but no weights have been announced from anyone up in Ithaca. Yianni is a two-time NCAA champ so its safe to assume he'll start at whichever weight he decides to go.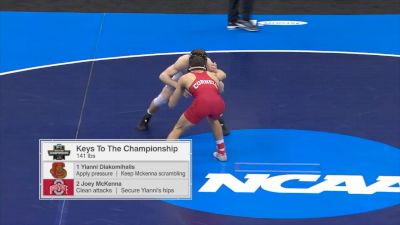 Unlock this video, live events, and more with a subscription!
Get Started
Already a subscriber? Log In
#12 Austin Gomez, Wisconsin - After two years off the mat recovering from injuries, Gomez moved from Ames, Iowa to Madison, Wisconsin and will be up two weights from 133 to 149. We weren't sure if we were ever going to see Gomez compete again so we are thankful to see him no matter the singlet or weight class.
#13 Michael Carr, Illinois - Injuries have not been kind to the two-time NCAA qualifier. He's got about a half dozen wins over All-Americans, however, so if he's healthy he's a podium threat for sure.
#19 Anthony Artalona, Penn - One of the first big recruits of Roger Reina's second stint as head coach of the Quakers.
Josh Edmond, Missouri - Looks like Brock Mauller is going to take a redshirt, opening the door for the young and talented Edmond, who went 10-0 last season while deferring eligibility.
Jarod Verkleeren, Virginia - A cadet world champ, Verkleeren qualified for the NCAAs in 2020 for the Nittany Lions but had trouble breaking into the lineup last season. He's now in Charlottesville and looks to contribute to coach Garland's Cavaliers.
Luke Karam, West Virginia - Lehigh Valley native Karam was a national qualifier for the Mountain Hawks in 2018 but has not been to the postseason since. A change of scenery to Morgantown may be just what he needs to get back to form.
---
157 Pounds
#7 Quincy Monday, Princeton - Quincy Earned the fifth seed going into the canceled 2020 season, then had to sit out last year with the rest of the Ivy League.
#10 Josh Humphreys, Lehigh - Josh had a nice EIWA rivalry with the aforementioned Monday. Injuries kept him out of competition last season.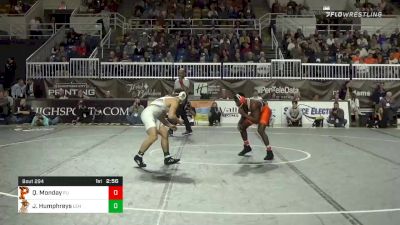 Unlock this video, live events, and more with a subscription!
Get Started
Already a subscriber? Log In
#22 Colton Yapoujian, Cornell - We could also see Hunter Richard here, or at 149. Cornell has a lot of options!
Doug Zapf, Penn - A qualifier for the Quakers in 2020, Zapf racked up 30 wins the last time he was allowed to participate in an NCAA season.
Enrique Munguia, Kent State - The 15th ranked recruit in the class of 2021 stayed in state and is expected to see the varsity lineup in his true freshman season.
---
165 Pounds
#4 Evan Wick, Cal Poly - A third and fourth place finish at the NCAAs in his first two years of varsity action, Wick was ranked fourth going into the canceled 2020 tournament, all at Wisconsin. One Olympic redshirt and a change of location and Wick is looking to climb the podium steps one more time, representing his new program in his home state of California.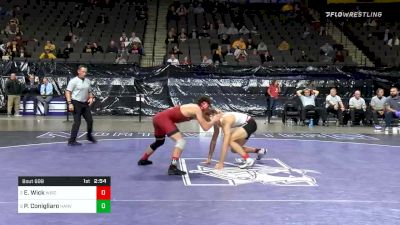 Unlock this video, live events, and more with a subscription!
Get Started
Already a subscriber? Log In
#12 Carson Kharchla, Ohio State - The number four recruit in the class of 2019 Big Board, Kharchla was perfect in his redshirt season of 2019-20, including a win over All-American Cam Amine, before having to sit out the next season due to injuries.
#15 Phil Conigliaro, Harvard - One of two qualifiers for the Crimson from the 2020 season (Slavilouski was the other at heavyweight), Boston native Philly Cheesesteaks will be looked upon as a leader for Harvard's program this season.
Alex Facundo, Penn State - Penn State's lineup isn't set, and as of the writing of this article, don't have their roster updated yet either, but if the #2 recruit in the nation from the high school class of 2021 is healthy and the best guy in the room, expect Cael Sanderson to give him the nod.
Grant Cuomo, Princeton - A national qualifier in 2020, the Princeton coaching staff are very high on the prospects of Cuomo this season.
Julian Ramirez, Cornell - Andrew Merola has also started here in the past for the Big Red, and figures to give his fellow Blair grad a run for his money.
Tanner Cook, South Dakota State - Injuries kept the 2020 national qualifier out of the Jackrabbit lineup last season.
Joe Grello, Oklahoma - A transfer from Rutgers, Grello made the round of 16 in 2019 but then injuries and internal competition kept him out of the postseason since. It should be noted that Troy Mantanona just won a wrestle-off for the Sooners in which Grello did not participate. Troy Man may elect to redshirt, however, paving the way for Grello to start. If not, we may see back-to-back Mant-men in the Sooner lineup.
Sonny Santiago - SoCal native Santiago will look to take over the reins from the departed senior Kennedy Monday who held down the spot last season for the Tar Heels.
Bubba Wilson, Nebraska - Injuries kept Wilson out of action in the 2021 season but in 2020 he had a pretty spiffy 19-1 season while redshirting.
---
174 Pounds
#7 Matt Finesilver, Duke - Where once there were four, now there are a mere two Finesilvers in the Duke lineup. The younger set of twins is headlined by the largest of all the Finesilvers, known as Matt. Big Matt is a two-time NCAA qualifier who hasn't taken the mat for the Blue Devils since March of 2019 due to an Olympic redshirt and then injuries.
#11 Chris Foca, Cornell - Peyton Craft is also a potential starter on Cornell's roster at this weight. Foca is the frontrunner for the job, though, proving his folkstyle mettle in an excellent 2019-20 season spent greyshirting in Ithaca.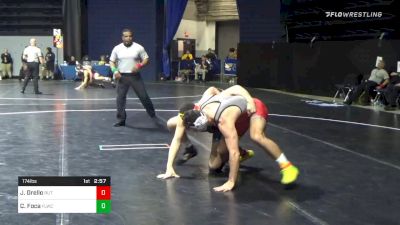 Unlock this video, live events, and more with a subscription!
Get Started
Already a subscriber? Log In
Gavin Kane, North Carolina - Kane defeated two-time national qualifier Clay Lautt in wrestle-offs this fall. He was 4-1 last year as a true frosh. It's unclear at this moment if we'll ultimately see Kane here or up at 184 but we will be monitoring the situation, to be sure.
Tyler Eischens, Stanford - A qualifier in 2020, Eischens missed out on postseason action last season.
Cael Valencia, Arizona State - The blue chip recruit from Southern California is expected to start as a true freshman. Cael will be the third Valencia brother to start for the Sun Devils if that's the case, joining Anthony, a senior, and Zahid, who has graduated.
Tyler Stoltzfus, Lock Haven - #25 on the Class of 2020 Big Board, Pennsylvania native Stoltzfus is expected to start as a true freshman for the Bald Eagles.
---
184 Pounds
Abe Assad, Iowa - With the caveat that Nelson Brands, or Pat Kennedy, or even Myles Wison, could end up starting for the Hawkeyes when March rolls around. Assad, however, had the gig back in 2020 when he qualified for the Big Dance, beating a future NCAA third-placer in parker Keckeisen and a former fourth-placer in Taylor Venz along the way. Brands, it should be noted, qualified the weight for nationals in 2021.
Colton Hawks, Missouri - Hawks will have to get by NCAA round of 16 finisher Jeremiah Kent to gain the starting job for the Tigers. The Missouri native earned a spot on the 20-and-under UWW Junior World Team this summer.
Jonathan Loew, Cornell - Greco specialist Andrew Berryesa may also fight his way into the lineup at 184. Loew qualified for the 2020 NCAA tournament, defeating Ivy League rival Travis Stefanik at the 2020 EIWA Championship.
Travis Stefanik, Princeton - A two-time NCAA qualifier for the Tigers. Could this be the year Stefanik finally punches through to the third day of the NCAA tournament?
Isaiah Salazar, Minnesota - Taking over for Owen Webster in the Gopher lineup, Salazar was the #27 recruit on the Class of 2020 Big Board.
---
197 Pounds
Braxton Amos, Wisconsin - The number one recruit in the class of 2020 deferred eligibility, spending the year winning gold in freestyle and bronze in Greco-Roman at the UWW Junior World Championships in Ufa, Russia. Not bad.
#2 Max Dean, Penn State - With the big caveat that we could see All-American Michael Beard here as well. Not a bad problem for Penn State to have with more All-Americans than roster spots.
#7 Ben Darmstadt, Cornell - If it's not Darmy, it'll probably be Jacob Cardenas, who had an excellent season in 2019-20 while greyshirting. It'll probably be Darmstadt, though, as he placed sixth at NCAAs as a freshman and then earned the #4 seed in the canceled tournament in 2020.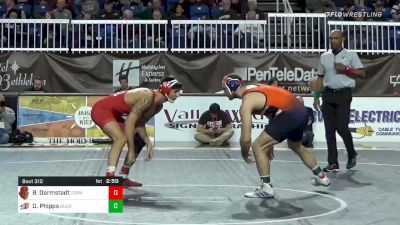 Unlock this video, live events, and more with a subscription!
Get Started
Already a subscriber? Log In
#8 Pat Brucki, Michigan - Brucki transferred from Princeton where he was an All-American. Ivy League rules prohibited Brucki from sticking around for a post-grad year, hence the move to Ann Arbor for his last season of eligibility.
#19 Isaac Trumble, NC State - We could also see Nick Reenan, who got the post-season nod for the Wolfpack last spring. Both Trumble and Reenan wrestled at the most recent Wolfpack wrestle-off but did not compete against each other. Weights for either wrestlers and their opponents was not disclosed.
Garrett Hoffman, Indiana - Injuries held back the PA-native in the past, robbing him of two seasons of competition. Hoffman qualified for NCAAs as a freshman for Bucknell, then graduated and transferred to Indiana, where he hopes to get one more crack at NCAAs before he runs out of eligibility.
Cole Urbas, Penn - A national qualifier for the Quakers in 2020.
Luke Stout, Princeton - The 23rd ranked recruit in the class of 2020 finally gets to wrestle in an Orange and Black singlet.
---
285 Pounds
#15 Yaraslau Slavilouski, Harvard - The Belarussian native had podium potential after qualifying for the canceled 2020 NCAA tournament.
#20 Gary Traub, Oregon State - Fan favorite 'Gas Tank' Gary was unable to earn the starting heavyweight job from Utah Valley transfer Tate Orndorf for the 2021 postseason. Traub placed 6th at the 2020 Big Ten Championship and qualified for that season's NCAAs.
#21 Lewis Fernandes, Cornell - The Big Red have never had a heavyweight All-American. Might New Jersey native Fernandes be the first?
AJ Nevills, South Dakota State - The two-time national qualifier from California transferred from Fresno State to the Jackrabbits in the offseason. Injuries have kept AJ from wrestling a full season since 2018-19.
Zach Schrader, Maryland - A transfer from Cal Baptist (and before that, West Virginia) where he was ineligible for the postseason as CBU makes the transition from DII to DI. Schrader had a 25-5 record during the 2019-20 season for the Lancers.
Owen Trephan, NC State - Trephan will head into this new season with four years of collegiate eligibility. He went undefeated last season, wrestling behind Wolfpack starter Deonte Wilson, however, Trephan recently defeated Wilson, a two-time NCAA qualifier, in a wrestle-off and could very well be the Wolfpack's anchor this season.
Did we miss anyone, egregiously or otherwise? Hit me up at @speywrestle on Twitter on email me at andrew.spey@flosports.tv. We don't always get it perfect on the first shot so your feedback is always appreciated!