2021 Super 32
Super 32 Bracket Rapid Reax And Best Early Matches
Super 32 Bracket Rapid Reax And Best Early Matches
Our immediate thoughts on the official Super 32 men's high school brackets and the best early-round matchups.
Oct 23, 2021
by David Bray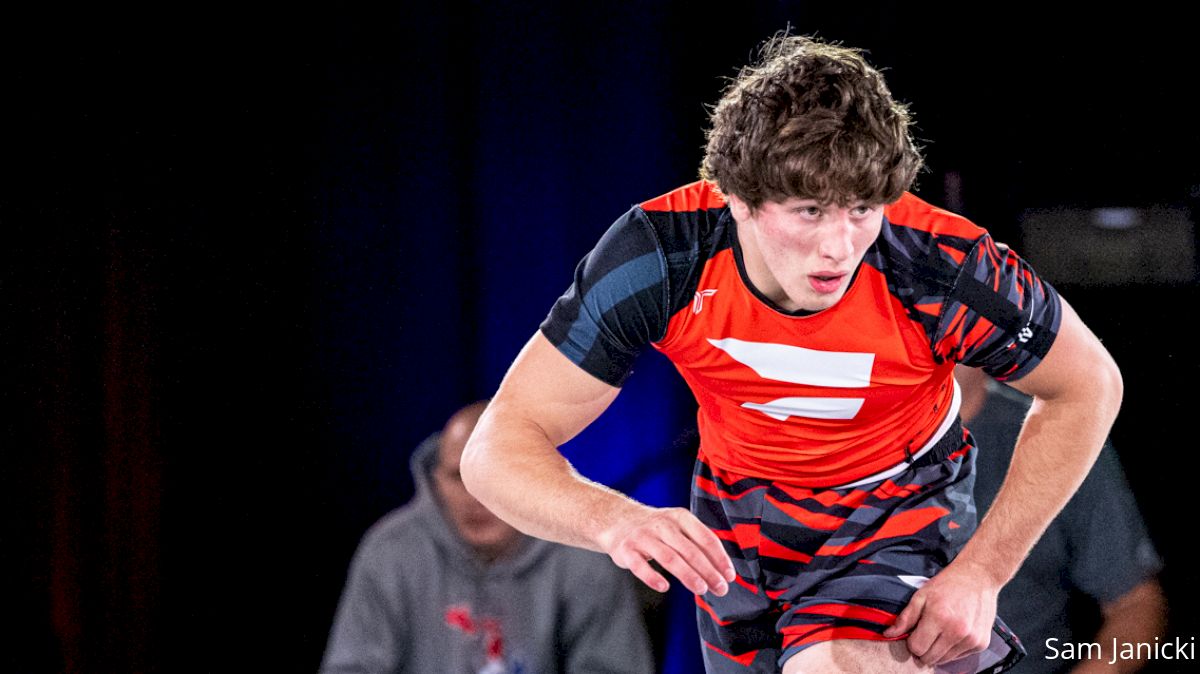 The official brackets for the Super 32 Challenge are out. Which means we get to react to them!
We'll also identify the early-round matchups we're most looking forward to.
More Super 32 Content: Brackets | Men's Preview | Women's Preview | Deepest Weights | College Guide | Sleepers & Dark Horses
Also, sidebar: FloZone will be in action tomorrow!
106 Pounds
Stars will emerge from this bracket, so you'll want to keep your eyes glued to this field full of young up-and-comers. The potential round of 16 bout between Hasting, Minnesota's Blake Beissel and Valiant Prep, Arizona's #15 Christian Castillo is particularly interesting, and you'll also want to catch #20 Louie Gill, a Pennsylvania state champ, vs Ford Dodge, Iowa's Dru Ayala.
Round of 16
Blake Beissel vs #15 Christian Castillo
#20 Louie Gill vs Dru Ayala
---
113 Pounds
This bracket is so deep that even the round of 16 is hard to predict. We're going to see incredible action from the first round on, but the following potential round of 32 matches should be a whole lot of fun. We could see ranked matchups in that round between Marcus Blaze and Brady Roark as well as Gauge Botero and Daniel Guanajuato. Two unranked guys with big opportunities are Sam Herring, who's been registering outstanding results this year including a second-place showing at Fargo, and Jake Crapps, who won a loaded Grappler Fall Classic bracket a couple of weeks ago. Herring could see Jackson Blum, the #9 ranked wrestler at 106 lbs, and Crapps could see Ethan Rivera, the #11 ranked wrestler at 106 lbs.
Round of 32
#8 (106) Marcus Blaze vs #12 (106) Brady Roark
#19 (120) Gauge Botero vs #5 (106) Daniel Guanajuato
Carter Nogle vs Marcello Milani
#15 Drew Heethuis vs Noah Nininger
#9 (106) Jackson Blum vs Sam Herring
Jake Crapps vs #11 (106) Ethan Rivera
---
120 Pounds
The round of 32 has some spicy potential matchups to look out for. The four potential pairings below could all be excellent, especially a ranked matchup between #20 Drew Gorman and #14 Jacob Joyce. Gorman is coming off an All-American performance at Fargo while Joyce was an NHSCA finalist this spring.
Round of 32
Kyison Garcia vs Paul Kelly
#19 Dalton Perry vs Billy Dekraker
Omar Ayoub vs Tyler Ferrara
#18 Drew Gorman vs #20 Jacob Joyce
---
126 Pounds
This bracket will have pure madness starting right away. In the round of 128, we could have two outstanding matches when Vince Bouzakis takes on Logan Frazier and Nathan Taylor looks to pull an upset over #13 Fernando Barreto. Perhaps craziest of all, we could see a ranked matchup in the round of 64 when #17 Caleb Thoennes, moving up from 113, takes on #17 Nick O'Neill who's riding a hot streak after a Journeymen title that includes victories over Vince Bouzakis and Matty Lopes.
Round of 128
#18 Vince Bouzakis vs Logan Frazier
Nathan Taylor vs #13 Fernando Barreto
Round of 64
#17 (113) Caleb Thoennes vs #17 Nick O'Neill
Round of 32
Max Gallagher vs Brennen Cernus
#11 (120) Grigor Cholakyan vs Gable Porter
---
132 Pounds
This bracket doesn't appear to have the same upset potential as some others, but we still have some outstanding early matches. Colorado's Brady Hankin has been right on the verge of being ranked and will have a tough early test against #19 Jordan Soriano of New York in the round of 64. The round of 32 has a couple of outstanding matchups as well.
Round of 64
Brady Hankin vs #19 Jordan Soriano
Round of 32
Koy Buesgens vs Cash Raymond
Spencer Barnhart vs Collin Guffey
---
138 Pounds
Expect some excellent early action at 138. Perhaps the most interesting potential round of 32 bout will be between Ethan Mojena, a Fargo 3rd place finisher who was in the top 20 until recently, and #14 Alex Almeyda. This one could go either way. #19 Matt Repos was undefeated at the Columbus Day Duals with a victory over #13 Brandan Chletsos. He'll look to keep his hot streak going but could have a tough bout with Colorado's Weston Dalton in the round of 32.
Round of 32
Brayden Ivy vs Jackson Polo
Joe Fongaro vs Danny Nini
Weston Dalton vs #19 Matt Repos
Ethan Mojena vs #14 Alex Almeyda
---
145 Pounds
This bracket has some seriously exciting early matchups. We could see two bouts featuring ranked opponents in the round of 32. Fargo finalist KJ Evans is on course to see #18 Fin Nadeau of Montana, and #13 Danny Sheen could see #19 Gavin Brown in the same round. Those matches, among others, make 145 one of the most exciting weights to watch.
Round of 64
Joel Jesuroga vs Magnus Frable
Round of 32
Tommy Curran vs Nate Burnett
#20 (152) KJ Evans vs #18 Fin Nadeau
#13 Danny Sheen vs #19 Gavin Brown
---
152 Pounds
This was one of the more open weights going into the tournament and that didn't change. There are going to be some unranked guys that make a deep run at this weight. A couple to keep an eye on that have the name star power and pedigree as their brothers both wrestle for Oklahoma State. Kael Voinovich and Angelo Ferrari, brothers to Victor and AJ, are solid but will have tough paths. Voinovich will first be tested by Braxton Strick of Missouri, another unranked guy who I like a lot. Ferrari should make it to the round of 16 where he'd be in for a big test against Jonathan Ley, who got reseeded to the four.
Round of 32
Kael Voinovich vs Braxton Strick
Round of 16
#9 Jonathan Ley vs Angelo Ferrari
#7 Zack Ryder vs Laith Hamdeh
---
160 Pounds
Levi Haines is a huge favorite at this weight. It would be a big upset for anyone else to come out of his top quarter/semi, let alone win. If seeds hold true, the main obstacles in his way on the topside will be #4 seed Landen Johnson. The five-seed, Hunter Mays, a New Jersey state champion, will have a fun match with Thor Michaelson in the round of 16. I had Michaelson as a pre-tournament potential sleeper and I still stand by that.
On the bottom side, I'm looking forward to the Nick Fea - Caesar Garza match.
Round of 16
Thor Michaelson vs Hunter Mays
#11 Nick Fea vs #14 Ceasar Garza
---
170 Pounds
The top five seeds at this weight are HAMMERS. Hard to predict anyone else making it through. Matthew Singleton and Rocco Welsh, the 1 and 2 seeds, both made the finals here at Super 32 last year but fell short. #3 Brayden Thompson just competed at Who's Number One. #4 Tate Naatkgeboren is a Folkstyle Nationals champion with a win over Thompson. And lastly, #5 Rune Lawrence was a PA state champ as a freshman last year.
Round of 16
#2 Rocco Welsh vs Markell Rivera - Cain
#9 Tate Naatkgeboren vs Orlando Cruz
---
182 Pounds
Top-seed Brian Soldano will be trying to win back-to-back belts at 182. His toughest opponent tomorrow will probably either be Matthew Furman of PA or Anton Puhach of MA. A couple of nice round of 16 matches to keep an eye on are listed below. The one I'm really looking forward to is Cody Merrill, who is ranked #8 at 170 coming up and taking on Mickey Griffith, who just committed to Iowa a week ago.
Round of 16
#8 Cody Merrill vs Mickey Griffith
#8 Kole Mulhauser vs Jude Correa
#5 Hayden Walters vs Oscar Williams
---
195 Pounds
This weight is similar to 170 with a couple of real hammers in the top handful of seeds and a bit of a drop off after that. Four seed Martin Cosgrove and three seed Kolby Franklin could have some fun matches in the round of 16 against Mark Ayala and Luke Cochran. The match I'm actually looking forward to the most tomorrow is between two unranked guys. Michael Tal-Shahar (brother to Northwestern wrestler Frankie) and New Jersey state finalist Remy Brancato.
Round of 16
#5 Martin Cosgrove vs Mark Ayala
#6 Kolby Franklin vs Luke Cochran
Michael Tal-Shahar vs Remy Brancato
---
220 Pounds
Christian Carroll is becoming must-watch high school wrestling. He's going to smash some poor souls tomorrow and do something someone of his size should not be able to. Lucky for fans that aren't Carroll's opponent's friends and family, he even got a pigtail, so we get an extra match of Carroll. Two-seed Jack Darrah shouldn't overlook his round of 16 opponent, New Jersey native Robert Canterino.
Round of 64
#1 Christian Carroll vs Bryce Gadson
Round of 16
#10 Jack Darrah vs Robert Canterino
---
285 Pounds
Chase Horne made the finals at this tournament last year but fell to Hayden Copass. He'll be the favorite to get his belt this year as the one seed ahead of #2 Keith Miley.
Round of 16
#3 Chase Horne vs Ben Kohler/Gavin Thompson