2021 Super 32
Super 32 Women's Preview
Super 32 Women's Preview
The women's brackets at Super 32 will be loaded! Here's what you need to know.
Oct 21, 2021
by Andrew Spey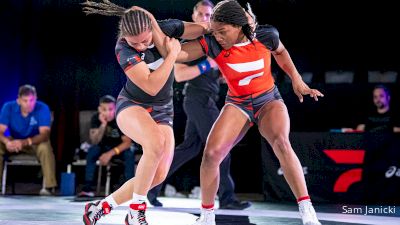 As one of the crown jewels of the high school wrestling season, it's no surprise to see the women's brackets at the 2021 Super 32 Challenge featuring some of the most decorated young athletes in the sport.
There are 11 event-specific weight classes being contested, meaning these are not the weights you'll see at either Fargo or the UWW age-division team trials, but that just makes for one of the more compelling showdowns as see matchups we may not otherwise get at other events.
Below is a rundown of what to expect in each bracket.
97 Pounds
The lightest weight class in Greensboro will have no shortage of heavy hitters. We could see a rematch of a Who's Number One bout from last month as 2021 40kg (88 pounds) Cadet World champ Erica Pastoriza and 2021 94-pound Fargo 16U champ Valarie Solorio are both entered.
In all, 13 past participants from Who's Number One have registered for Super 32, with 12 coming from this year alone.
Gabriella Gomez is also entered, setting up another potential rematch as Gomez finished runner-up to Solario this summer in Fargo.
Since we're talking rematches, we should also mention Gigi Bragg, who was second to Pastoriza at the 2021 Cadet World Team Trials at Women's Nationals.
And don't count out two competitors who were in the top 10 in the most recent National Girls High School Rankings. #6 Madison Avila and #7 Kealonie Vega have registered for 97kg. Avila defeated Vega 2-1 in the fifth-place match at Fargo's Junior 100-pound division.
---
103 Pounds
Cadet 46kg (approximately 101 pounds) world bronze medalist Ava Ward is one of the headliners of this weight class. The Missouri native is trained by Sammie Henson and was also at Who's Number One a month ago, where she lost an action-packed match to Brianna Gonzalez.
The co-headliner will be Alex Szkotnicki. The Maryland native Szkotnicki will be defending both her Super 32 belt that she won by defeating Ward in the finals in 2020, and the belt she won in 2019.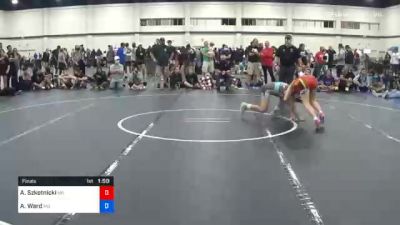 Unlock this video, live events, and more with a subscription!
Get Started
Already a subscriber? Log In
Looking to score an upset over both Ward and Szkotnicki are Chloe Dearwester, a Super 32 and Fargo placer, Virginia Foard, one of the many Wyoming Seminary team members going to Super 32, and Juliana Alejandro, who placed third at the Fargo 16U 100-pound weight class. All three of these competitors are ranked in the top 12 nationally.
---
108 Pounds
Probably the deepest weight class at Super 32, which makes it difficult to narrow down the favorites from this mighty collection of registered contenders.
One name that stands out is Cecilia Williams, who was up at 112-pounds when she defeated Jenavi Alejandro (who is registered for Super 32 at 115-pounds) at Who's Number One. Williams, a Michigan native, is also a Fargo 16U champ at 112-pounds and finished as a runner-up to the highly credentialed Olivia Shore at last year's Super 32. Shore has since graduated high school and will wrestle for Tiffin University this fall.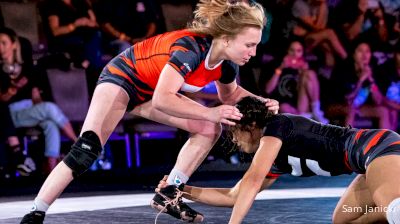 Unlock this video, live events, and more with a subscription!
Get Started
Already a subscriber? Log In
Another WNO alum and Fargo champ to watch in this bracket is Paige Morales, who dropped a thriller to cadet world medalist Audrey Jimenez in Dallas. Morales also won a stop sign at Fargo in the 106-pound junior division.
You definitely don't want to sleep on the other contenders in this bracket, chief among them being Faith Cole, a Missouri native who was the number one seed in the 106-pound Junior Fargo bracket this summer but was upset in the round of 32. Cole battled all the way back in the consolation rounds, ultimate road-warrior style, for a third-place trophy. Cole was also runner-up at Cadet trials to the aforementioned world bronze medalist, Audrey Jimenez.
There is also Kiely Tabaldo, ranked #3 nationally. In the 106-pound Junior Fargo bracket, Tabaldo beat Carmen Perez, who upset Faith Cole. Tabaldo then fell to Morales in the finals.
You also need to factor the defending 103-pound Super 32 Champ, Sterling Dias, into your prognostications for this bracket. A Nevada native, Dias buzzsawed her way through her bracket last year as the number one seed and will look to repeat that performance in 2021.
Two other nationally-ranked and highly credentialed women in the field are Nyla Valencia (#6 at 112 and a 2019 Super 32 champ) and Persaeus Gomez (#6 at 106 and a Fargo third-placer).
Trinity Malave and Clare Booe are ranked #8 and #9 respectively in the 108-pound weight class, which means one of the nine top 10 ranked wrestlers registered for this tournament is not going to make the podium. You will be hard-pressed to find a more competitive women's high school bracket this year.
---
115 Pounds
Hailing from New Hampshire, Jaclyn Dehney has been racking up major trophies for the last couple of years. She already has one Super 32 belt from 2020. The year before she was runner-up to cadet world gold medalist Katie Gomez. Dehney would also be runner-up to Gomez in the cadet world team trials of 2021, and finished second in Fargo in the 117 Junior division. Dehney will no doubt be determined to get back to the top of the podium in Greensboro.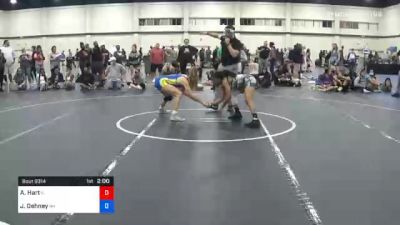 Unlock this video, live events, and more with a subscription!
Get Started
Already a subscriber? Log In
Opposing those plans are several highly credentialed competitors, including two WNO alumnae in Zao Estrada, a Fargo runner-up from South Carolina by way of Colorado, and Jenavi Alejandro, a Fargo third placer.
Additionally, one of Wyoming Seminary's many stars will be in the lineup as Ava Bayless, a Fargo and Super 32 medal-winner, is registered for this weight, as well as #5 nationally Juliana Diaz, who also has a Fargo medal to her name.
---
123 Pounds
Looking to go back-to-back-to-back and earn her third strap is Californian Katie Gomez, who is also the Cadet World Gold medalist at 53kg. Gomez is coming off an electric win in the Who's Number One headlining match against Fargo double champ Shelby Moore. Can Gomez make history and win her third consecutive Super 32 title?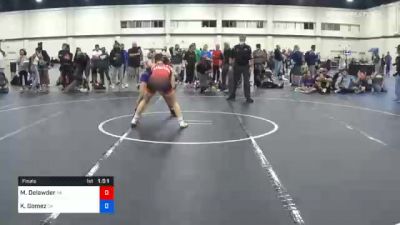 Unlock this video, live events, and more with a subscription!
Get Started
Already a subscriber? Log In
She has to be considered the favorite, but standing in her way will be Fargo champ and fellow WNO alum Alexis Janiak, who was also runner-up at the Cadet World Team Trials. Janida Garcia also wrestled at WNO, where she won a brilliant match over Hanna Errthum. She's registered for this division as well.
Plenty more contenders will be vying for a podium step, however. #2 ranked nationally Jennifer Soto will seek a title in Greensboro after falling to the aforementioned Moore in the 122-pound Fargo Junior finals.
Additional Fargo place-winners who registered for this weight include Savannah Witt and Julianna Morris
---
130 Pounds
Looking to follow up a thrilling Who's Number One victory over Alexis Janiack is Colorado native SaVannah Cosme, who's been doing quite a lot of winning lately. She earned a spot on the Cadet World Team at the trials last May and she won a Super 32 belt last year.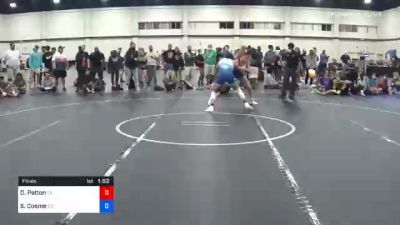 Unlock this video, live events, and more with a subscription!
Get Started
Already a subscriber? Log In
Looking to unseat the reigning 130-pound Super 32 champ will be Skylar Little Soldier, ranked #5 nationally at 127. Little Soldier has also done fair bit of winning as of late, taking home the Fargo 16U stop sign at 127-pounds last July.
Also registered are Marissa Jimenez, who was second at the Cadet World Team Trials to eventual junior world bronze Korina Blades, and Sarah Savidge, who was seventh in Fargo's Junior 127-pound division and first in the intimidating names bracket.
Additionally, Iowa's Lilly Luft will look to climb the podium just like she did in Fargo's 16U 132-pound division.
---
139 Pounds
It's excellent to see 2020 WNO alumna Skylar Hattendorf back in action. Hattendorf, like Dehney, hails from New Hampshire and represented the Granite State and the rest of the country well when she won a world cadet silver medal in 2019. She also has a background in Judo that she uses with devastating effectiveness when taking opponents from feet to back.
Another contender for the 139-pound belt is 2021 cadet world teamer and #1 ranked 144-pound girls high schooler Grace Stem. The Pennsylvanian native will look to improve on her sixth-place finish at Super 32 in 2020.
Two other highly credentialed registrants include Cassia Zammit, a Fargo 16U champ at 132-pounds from Ohio, and Kendall Bostelman, yet another hammer from Wyoming Seminary that placed fourth in Fargo's 144-pound junior division.
---
148 Pounds
There will be several contenders for the 148-pound belt in a very deep upper weight field in Greensboro. Reese Larramendy, also a student at Wyoming Seminary, leads the pack, as she's ranked #3 nationally and won a Super 32 belt in 2019. In 2021, Larramendy would fall just shy of a Fargo stop sign, losing in the finals of the 144-pound junior division to Destiny Rodriguez.
Winning the 16U 144-pound division in Fargo was Maryland native Nebi Tsarni. To get back to the top of the podium she may have to avenge a loss she took in the junior division of Fargo to Maddie Kubicki, who is ranked #5 nationally at 144 and was kept off the cadet world team by in 2021 by Grace Stem.
Two other Fargo placers and cadet world team hopefuls in the bracket to keep an eye on are Amarisa Manuel and Maggie Graham, who are ranked #7 and #8 in the nation respectively.
---
160 Pounds
One of the leaders of the Wyoming Seminary squad, Lillian Freitas, will be heavily favored to win a belt in Greensboro. The Californian won an impressive match at Who's Number One over Rose Cassioppi, which followed an equally impressive run at the Cadet World Championships in Budapest, where she earned a bronze medal.
Two competitors that will look to challenge Freitas are Fargo and Super 32 placer Ella Nichols, #4 at 160, and Kaylie Hall, who took fourth at Super 32 in 2020.
---
172 Pounds
If you aren't familiar with her yet, get to know Minnesota's Ella Pagel, who has been on a rampage as of late. She placed third at Super 32 in 2020 while still in middle school. She then tore through the Fargo 16U bracket at 164-pounds. Now a freshman in high school, Pagel was also victorious at the Minnesota's #1 all-star event, which you can watch by going to the 1:46:15 mark of this video.
One of the top competitors looking to defeat Pagel, or at least slow her down, will be Lily El-Masri, another member of the loaded Wyoming Seminary team who is ranked #7 nationally at 164
---
195 Pounds
The final weight class of the women's divisions of Super 32 is still replete with talent. Alivia White is ranked #2 nationally at 180 and placed third at Fargo in the junior 180-pound bracket.
Dasia Yearby should also contend for a Super 32 belt. She's #3 in the rankings at 180, placed second at Super 32 in 2020, and added a Fargo medal to her trophy case in the junior 180-pound division.
Finally, look for Andrea Smith to also contend. She checks in a #4 in the national rankings at 225-pounds and also has both Super 32 and Fargo medals to her name.
Participants By State
And now, because I have the data and ran the pivot table, here is the number of entries in the 2021 Super 32 girls divisions by state, as well as the number of entrants ranked nationally in the top 25.
| | | |
| --- | --- | --- |
| State | Entries | Ranked |
| PA | 32 | 15 |
| NC | 14 | 1 |
| FL | 12 | 7 |
| CA | 12 | 10 |
| GA | 11 | 2 |
| TN | 10 | 3 |
| SC | 10 | 4 |
| NJ | 9 | 1 |
| IL | 9 | 2 |
| OK | 7 | 2 |
| OH | 7 | 5 |
| MO | 7 | 4 |
| IA | 7 | 2 |
| WV | 6 | 3 |
| VA | 6 | 1 |
| MN | 6 | 3 |
| NH | 5 | 2 |
| MA | 5 | 1 |
| IN | 5 | 3 |
| CT | 5 | 3 |
| CO | 5 | 4 |
| WI | 4 | 1 |
| NV | 4 | 4 |
| MD | 4 | 2 |
| AZ | 4 | 2 |
| ON | 3 | 1 |
| MI | 3 | 2 |
| AL | 3 | 0 |
| WA | 1 | 1 |
| TX | 1 | 0 |
| NY | 1 | 1 |
| KY | 1 | 0 |
| ID | 1 | 1 |
| DE | 1 | 1 |
That'll do it for the preview. The women weigh in on Saturday, October 23 and wrestle all day on Sunday the 24th. See you then!