2021 Super 32
College Wrestling Fan's Guide To Super 32
College Wrestling Fan's Guide To Super 32
What NCAA wrestling fans need to know about the upcoming edition of the Super 32 Challenge.
Oct 19, 2021
by Andrew Spey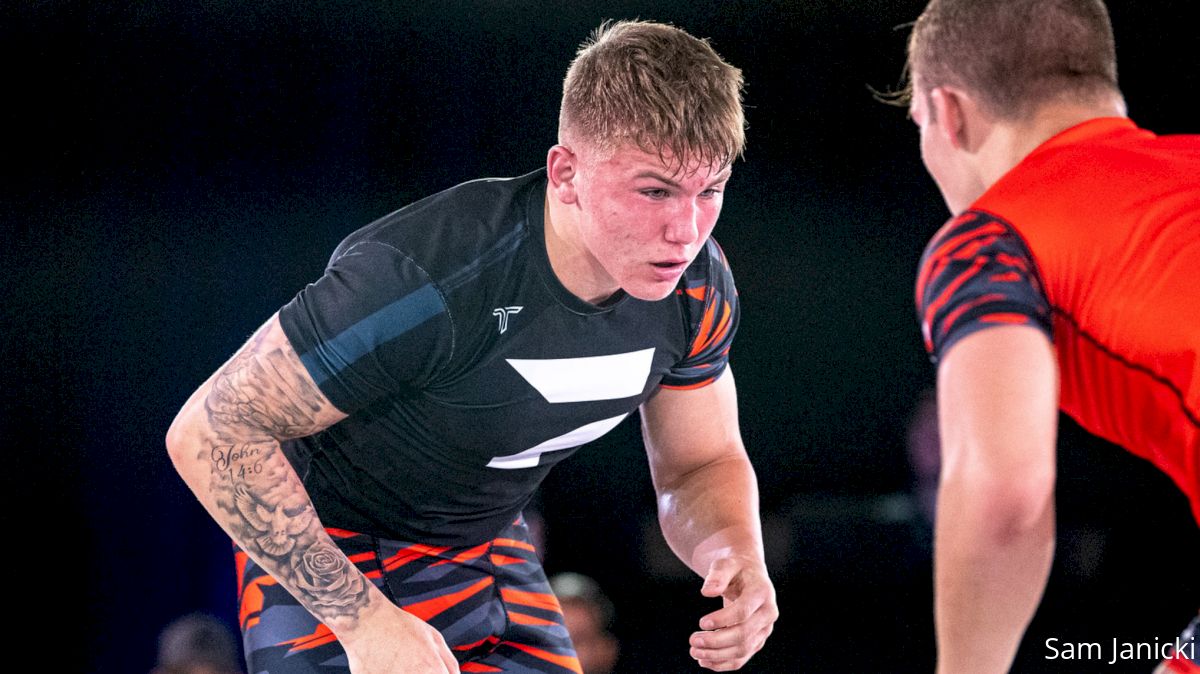 As one of the crown jewels of the high school wrestling season, Super 32 has long been a mandatory stop for college recruiters. That also means it's a great opportunity for current college fans to get a glimpse of the future stars of their sport.
And it's not just an opportunity to get recruiter eyeballs on your matches. The best high schoolers are entering to test themselves against the best and prepare themselves to for the next level, whether they've committed or not.
As such, there are heaps of competitors in this year's field in Greensboro that already know where they will be matriculating after they graduate high school.
Below are all wrestlers we could find in the list of registered athletes who have already committed to a D1 collegiate program. Let us know if we missed anyone!
Arizona State
#12 at 152 Michael Kilic
#13 at 152 Kaleb Larkin
The Sun Devils have two middleweights with entered, and though they are ranked at the same division, Kilic is slated to compete at 145 at the event, whereas Larkin is registered at 152.
Army West Point
#11 at 126 Braden Basile
#15 at 285 Gage Cook
#19 at 160 Gunner Filipowicz
HM at 132 Cole Thomas
HM at 145 Jaime Rivera
A solid squad of Black Knights will be in Greensboro.
Bucknell
#9 at 220 Logan Shepard
Cal Baptist
#3 at 152 Mitchell Mesenbrink
Look for the Lancers' recruitment efforts to start picking up as this is the final year that they will not be eligible for the NCAA postseason as they complete their transition from NAIA to NCAA D1.
Campbell
#11 at 160 Domonic Baker
Columbia
#4 at 145 Richard Fedalen
HM at 126 Kai Owen
Fedalen is also #54 on the recently updated Class of 2022 Big Board.


Cornell
#5 at 152 Erik Gibson
Drexel
#18 at 132 Jordan Soriano
HM at 113 Gabe Giampietro
Illinois
#1 at 220 Christian Carroll
#4 at 120 Kannon Webster
#11 at 138 Kole Brower
Recently minted head coach Mike Poeta has got a crop of talent at Super 32. Christian Carroll may bonus his way to a belt.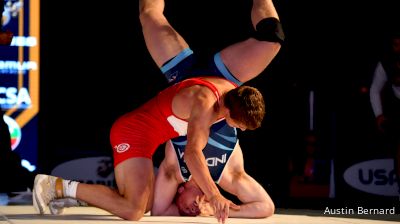 Unlock this video, live events, and more with a subscription!
Get Started
Already a subscriber? Log In
Iowa
#1 at 120 Nathanael Jesuroga
#14 at 132 Ryder Block
The Hawkeyes got a slew of recent commits, including local Iowan blue-chipper Nate Jesuroga.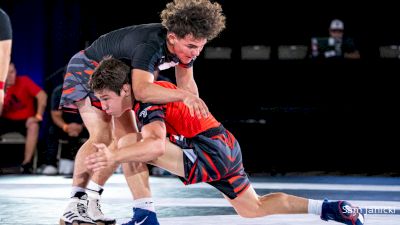 Unlock this video, live events, and more with a subscription!
Get Started
Already a subscriber? Log In
Little Rock
#10 at 285 Keith Miley
#18 at 160 Kodiak Cannedy
Great to see one of the newest D1 programs in the country hauling in more ranked recruits.
Maryland
#16 at 145 Kal Miller
Michigan
#5 at 195 Rylan Rogers
HM at 145 Nathan Jerore
Michigan State
#14 at 160 Ceasar Garza
Minnesota
HM at 145 Cody Chittum
Chittum being an honorable mention rather than ranked is a matter of circumstance and has nothing to do with whether the Tennessean is good enough to be ranked in the top 20. As the #1 recruit in the class of 2023, he most certainly is, his coaches at the Boom Rank requested he be taken out of the rankings because he wasn't planning on wrestling a regular folkstyle season and was going to focus solely on freestyle until he enrolls at Minnesota.
We're assuming he's entering Super 32 for both the competition and for a chance to add a bad ass belt to his trophy case, but should he continue to enter folkstyle competitions he will likely be placed in the rankings once again.
Missouri
#4 at 132 Zeke Seltzer
#6 at 182 Clayton Whiting
Navy
#15 at 132 Jake Niffenegger
North Carolina State
#1 at 145 Jackson Arrington
#3 at 182 Matthew Singleton
#3 at 285 Chase Horne
Three future Wolfpackers are registered, and they are big dogs indeed. If we had to predict which college will "win" Super 32, and we don't have to but we will anyway, it would be NC State.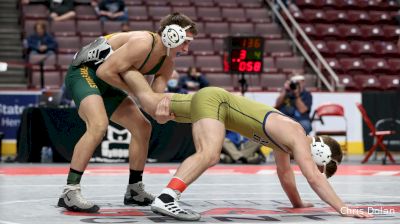 Unlock this video, live events, and more with a subscription!
Get Started
Already a subscriber? Log In
North Dakota State
#17 at 138 Maxwell Petersen
HM at 145 Gavin Drexler
North Carolina
#5 at 132 Danny Nini
#13 at 113 Cole Hunt
Northern Colorado
#16 at 182 Andrew Donahue
Northern Iowa
#4 at 126 Cory Land
One of the few ranked wrestlers of the Deep South, Alabaman Cory Land will be heading north to Greensboro for the tournament, and then future north to Cedar Falls to continue his academic and athletic career.
Northwestern
#9 at 182 Joseph Martin
Ohio State
#1 at 132 Nic Bouzakis
#2 at 170 Rocco Welsh
#4 at 195 Seth Shumate
#20 at 145 Gavin Brown
Another potential collegiate "winner" of Super 32 would be the Buckeyes, as they are sending four ranked guys including three of their bluest chips.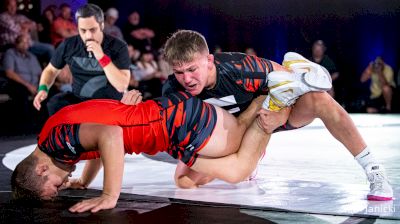 Unlock this video, live events, and more with a subscription!
Get Started
Already a subscriber? Log In
Oklahoma
#19 at 152 KJ Evans
Oregon State
#6 at 126 Gabe Whisenhunt
#15 at 138 Chase Deblaere
Penn
#5 at 220 Martin Cosgrove
#7 at 120 Evan Mougalian
#8 at 145 Jude Swisher
#10 at 152 Andrew Troczynski
#14 at 138 Alex Almeyda
The Movement continues in Philadelphia as the Quakers have another strong recruiting class. Penn faithful will be able to catch several of them on the mat at Super 32.
Penn State
#1 at 160 Levi Haines
Just one commit for the Nittany Lions, but he's a pretty important one.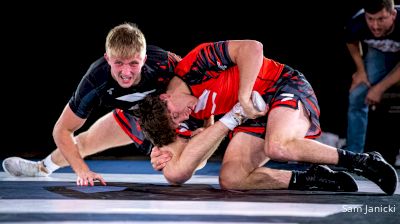 Unlock this video, live events, and more with a subscription!
Get Started
Already a subscriber? Log In
Princeton
#4 at 138 Ty Whalen
#8 at 182 Kole Mulhauser
Rutgers
#2 at 182 Brian Soldano
Like their neighbors to the West, Rutgers has a single highly ranked commit wrestling in the Greensboro Coliseum this weekend.
South Dakota State
#15 at 113 Caleb Thoennes
Stanford
#10 at 220 Jack Darrah
Virginia
#3 at 138 Michael Gioffre
#5 at 120 Kyle Montaperto
HM at 120 Peyton Fenton
Virginia Tech
#20 at 132 Mac Church
Wisconsin
#9 at 132 Brock Bobzien
Top Ranked Uncommitted
If you don't see your favorite college team listed above, there's still plenty of reasons to tune into Super 32. Below is an incomplete list of some of the top-rated (mostly) upperclassmen who have yet to sign or verbal to a D1 program.
#1 at 106 Anthony Knox
#1 at 126 Sergio Lemley
#2 at 106 Luke Lilledahl
#3 at 106 Beric Jordan
#3 at 113 Brock Mantanona
#3 at 132 Emilio Ysaguirre
#4 at 113 Vincent Kilkeary
#5 at 138 Joel Adams
#5 at 170 Brayden Thompson
#5 at 182 Hayden Walters
#6 at 113 Caden Horwath
#6 at 138 Tyler Kasak
#6 at 152 Nicco Ruiz
#6 at 195 Kolby Franklin
#7 at 126 Vincent Robinson
#7 at 182 Ruder Rogotzke
#8 at 126 Kuler Larkin
#9 at 120 Aden Valencia
#9 at 152 Jonathan Ley
#9 at 170 Tate Naaktgeboren
#10 at 120 Matty Lopes
#10 at 170 Rune Lawrence