Olympic Games Watch Party
Tokyo Olympic Wrestling Betting Odds Breakdown
Tokyo Olympic Wrestling Betting Odds Breakdown
Our analysis of the early Olympic betting odds posted by Barstool.
Jul 17, 2021
by Andrew Spey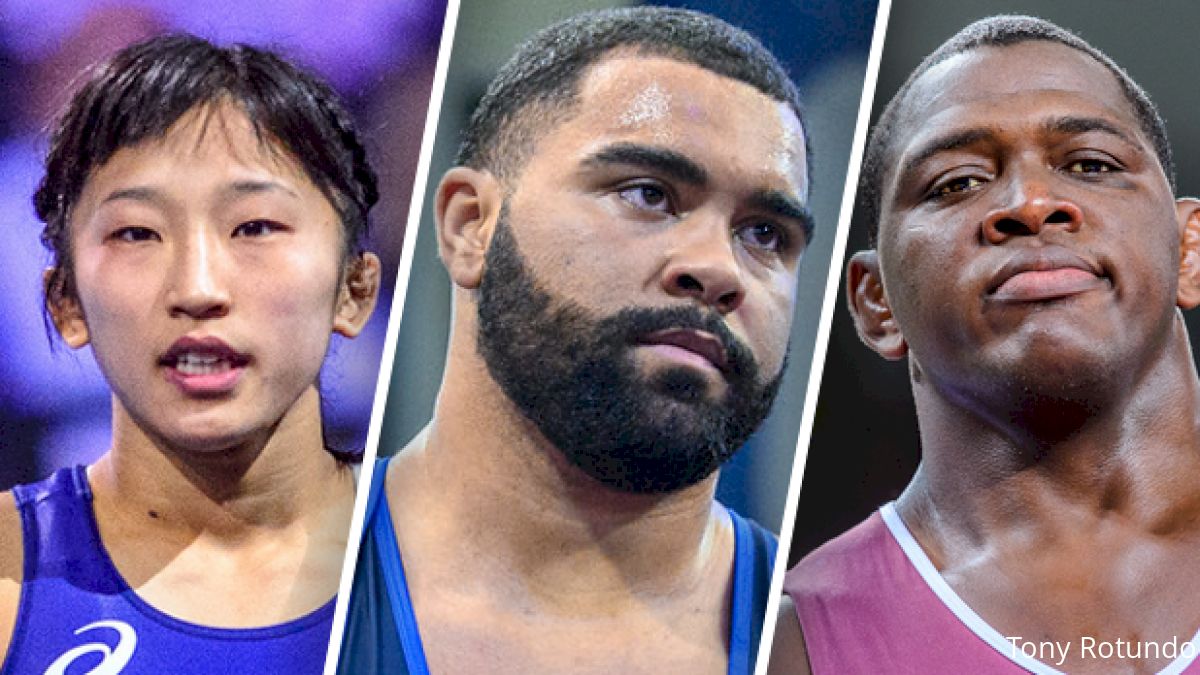 Barstool just put out Olympic betting odds for every wrestling weight class being contested at Tokyo. They are the most comprehensive odds we've seen (if you know of others, please let me know!) which lends itself to careful analysis in our quest to find wagering value.
Before we continue, a few quick caveats. First, this is all for entertainment purposes. Any wagers you make, whether based on info gleaned from this article or not, are done at your own risk. Only bet what you are comfortable losing!
Additionally, sports betting legality is a complicated issue. Don't bet illegally! Or do, whatever, I'm not the police, just don't ask me to figure out if you're allowed to bet on Barstool's book or anywhere else.
With that out of the way, let's see if we can find some opportunities to leverage our enjoyment of the most prestigious wrestling event in the world, and potentially make a few bucks as well.
Oh, one more quick caveat, we pounced on these odds as soon as we saw them. However, they can, and probably will, change. I'm blogging this today (July 16) a day after I screengrabbed them (July 15). Sorry, not sorry if the odds change by the time you get to wagering!
Below are those screengrabs from Barstool.
Men's Freestyle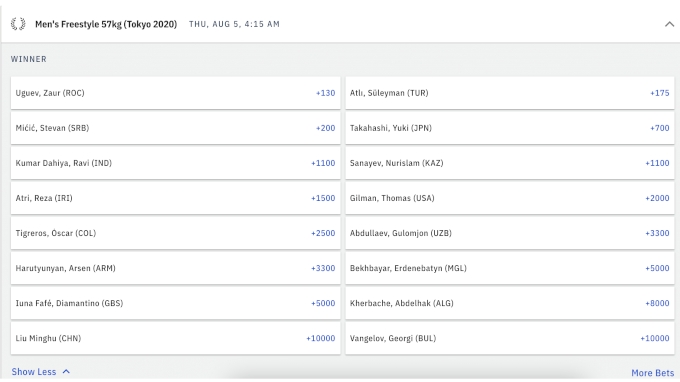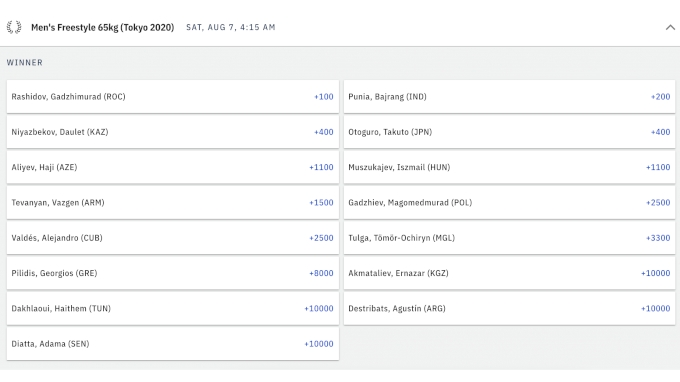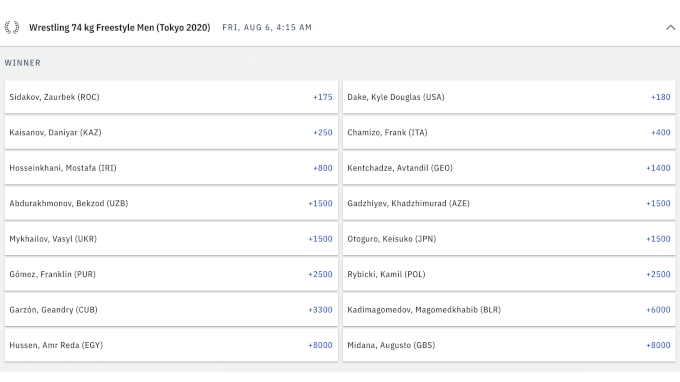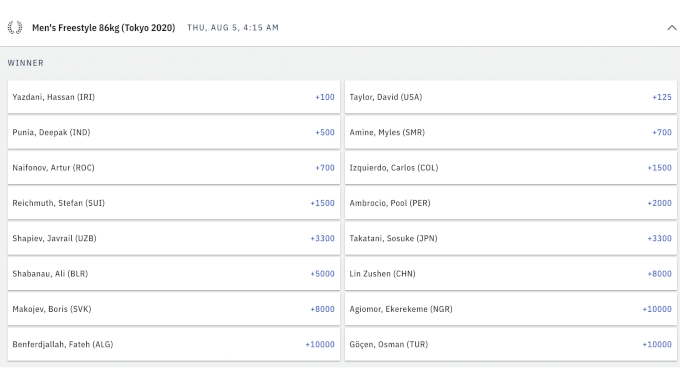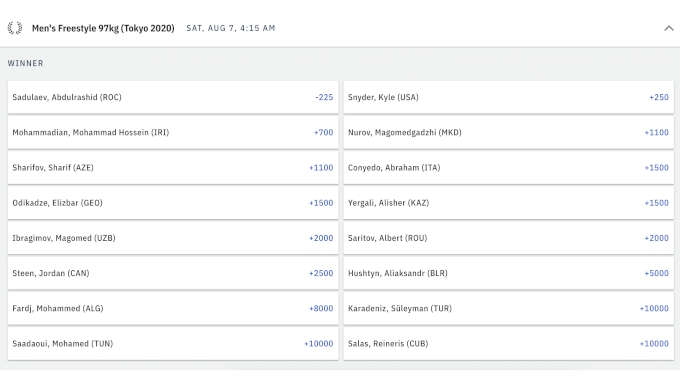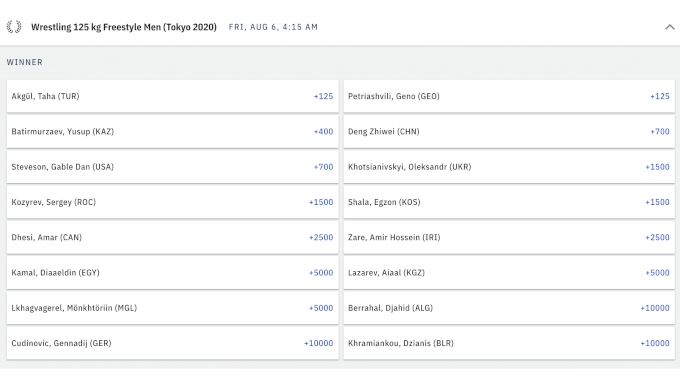 Hope everyone can read that. If not, too bad, because I'm not typing all those odds by hand. You can also find them here on Barstool if they haven't changed since I took the screen grabs.
---
Women's Freestyle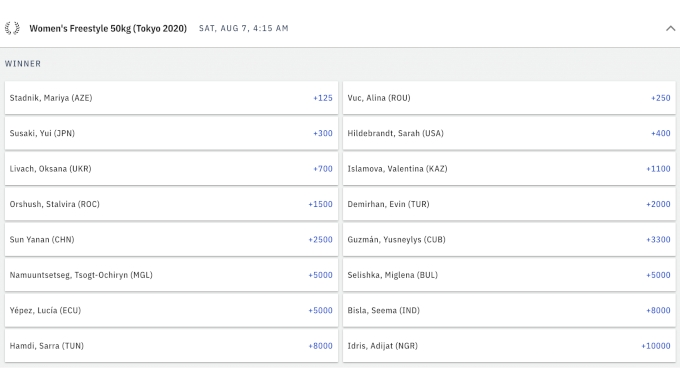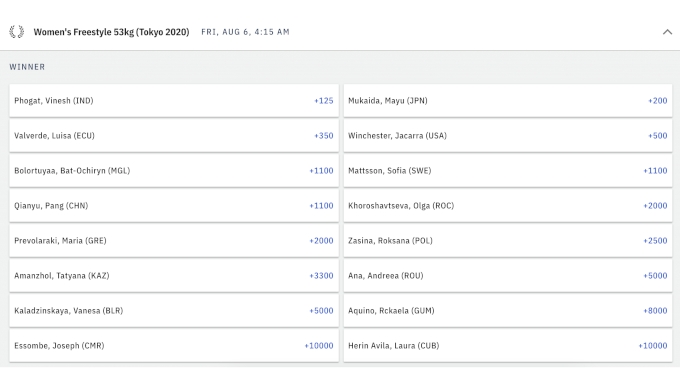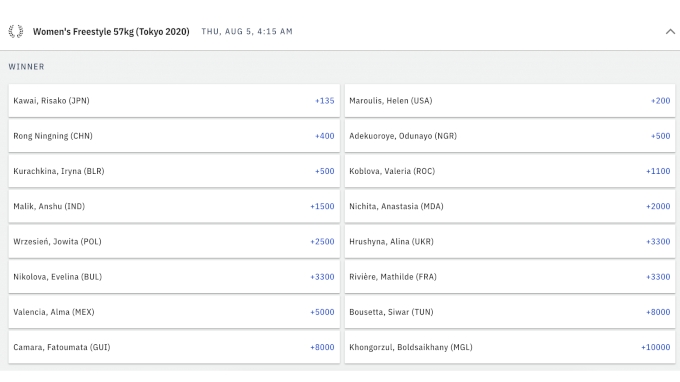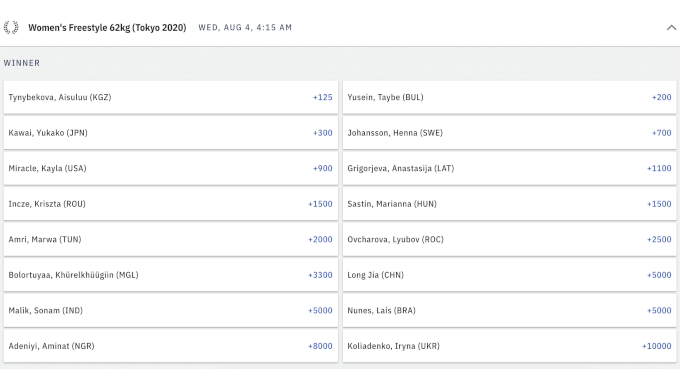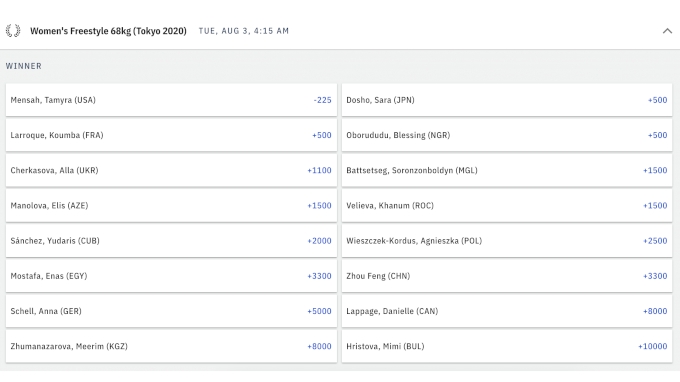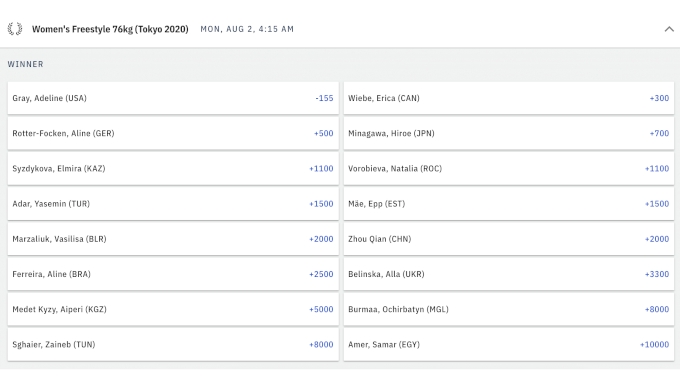 ---
Greco-Roman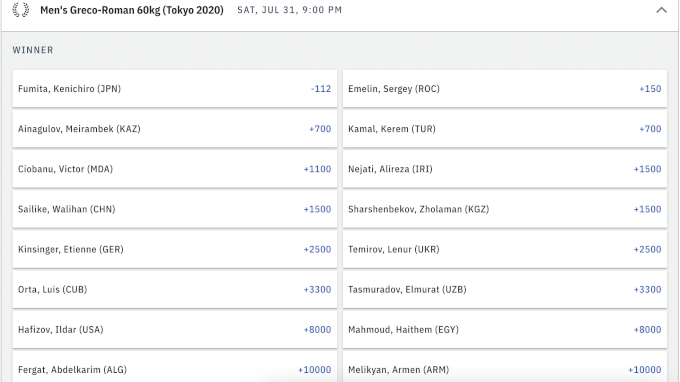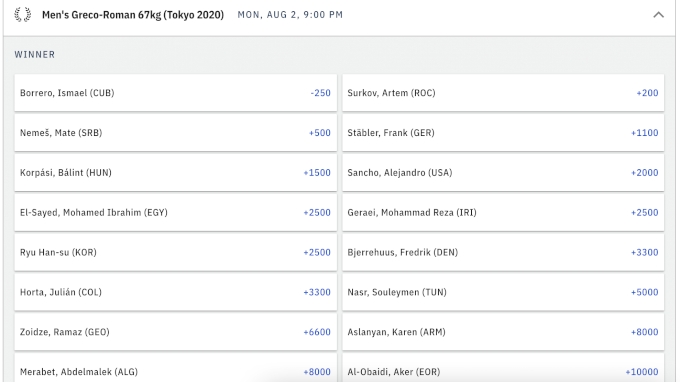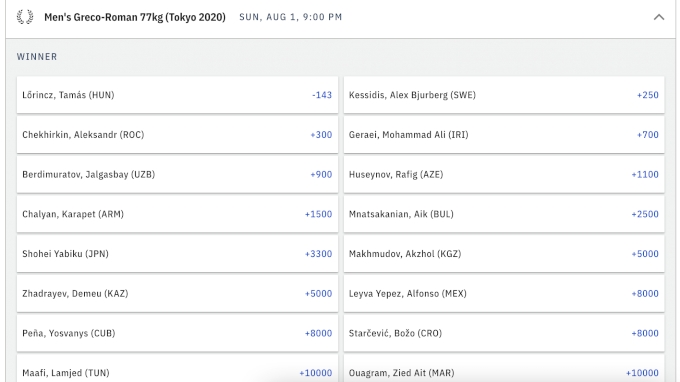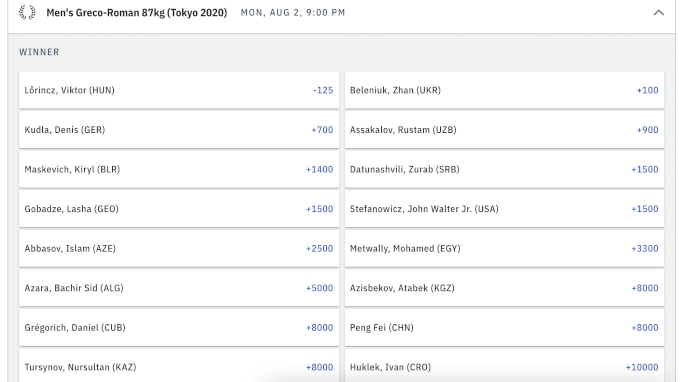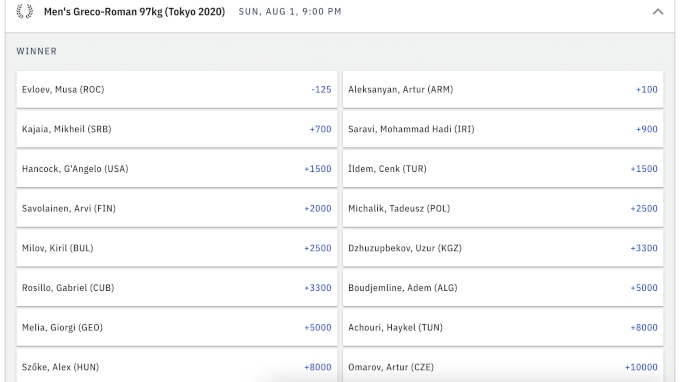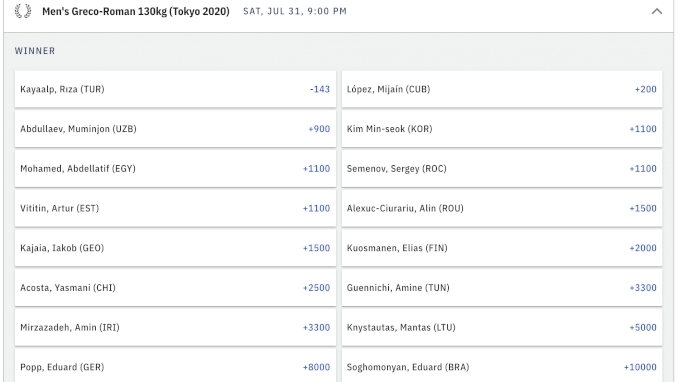 Betting On Team USA
Since we're all homers here (or at least I am), let's see what kind of money we can make just betting on the Red, White & Blue.
A quick note on the odds, if you see a positive number next to a wrestler's name, that how much you win if you wager $100 on them and they take gold. A negative number means you have to wager that much to win $100 if they climb to the top of the podium. No money for silver, bronze, or anything else.
Thomas Gilman is worth taking a flyer on at +2000. Bet a hundred and win two cool grand if Thomas takes home a yellow medal.
There's definitley value at 74kg if you consider Kyle Dake the favorite. I've gone on the record as saying that I think Sidakov is the slightest of favorites and bookmakers at Barstool agree, but +180 implies about a 35% probability that Dake takes gold, and I personally think it's closer to 40% (40-40-20 Dake, Zaurbek Sidakov, Frank Chamizo to be precise) so I'd feel good putting a modest wager on KD.
I see similar value with David Taylor at 86kg. He's at +125, which implies a 44% chance of gold, whereas I think it's closer to 50%. With Hasan Yazdani listed as the favorite at +100, I think another modest wager on the Magic Man is sensible. My esteemed friends in Iran will naturally beg to differ.
Maybe it's the 'Murica goggles talking but Kyle Snyder at +250 looks very enticing. Abdulrashid Sadulaev is the favorite at -250, and rightfully so, and there are two other wrestlers in the bracket that Snyder lost to the last time they faced off, but I've got faith in Snyderman. That's bad betting advice, by the way, listening to someone who has a 'feeling' about something. So take my inclination to plonk down a bet Snyder to win gold for what it's worth!
Our final male freestyler has perhaps the most value of them all. Gable Steveson at +700 is a steal. That implies a 12.5% chance of winning gold. I think that is far too low and will be riding a substantial Gable wager throughout the heavyweight competition.
The women's odds for Team USA all look more or less on target. Depending on how you feel about their chances, there could be some value at Sarah Hildebrant at +200, Jacarra Winchester at +500, Helen Maroulis at +200, and Kayla Miracle at +900. It's not surprising to see none of the first four women's weights as underdogs when it comes to winning gold, but a small bet on all four may yield a nice payday if one of them comes through with the ultimate prize.
Tamyra Mensah-Stock (-225) and Adeline Gray (-155) are favorites, so you have to bet more to win less. Tamyra is a heavy favorite, with an implied gold medal probability of nearly 70%. I think Tamyra is going to get it done but you'll have to put a lot of dough at risk to get paid. Adeline has more attractive odds for a weight where I think she's just as big a favorite, so I'd think about bumping her wager up a bit if you plan on betting America across the board.
The American Greco squad all have long odds to win gold, which unfortunately is probably an accurate reflection of their chances of attaining one. However, the odds are sufficiently long enough where it wouldn't hurt to take a few flyers.
Ildar Hafizov has the longest odds of any American at +8000. That's just a 1.2% implied probability, so why not drop a few bucks on Ildar?
Alejandro Sancho is at +2000, which gives him a 5% shot at gold. No offense to Alejandro but I wouldn't recommend betting on this outcome. John Stefanowicz and G'Angelo Hanock are both at +1500. Hancock has beaten Rio's Olympic champ Aleksanyan of Armenia before, so if you're looking for some upside potential, you could do worse than betting on G'Angleo.
Where Else To Find Value
If you're betting on Americans, I'd hammer Gable Steveson at +700 all day long. Taha Akgul of Turkey and Geno Petriashvili of Georgia have literally won every World or Olympic championship since 2014 between them and every European championship since 2012, but the Steveson era has just begun, and I believe the oddsmakers' erred by relying too heavily on past results when setting the 125kg Olympic odds.
Likewise, I think Iran's very young Amir Zare, who was a junior still in 2019, is worth a wager at +2500.
With the Greco heavies, perhaps the best play you can make for all the divisions is, in my opinion, going with the living legend Mijain Lopez to win gold at an astonishing +300. Lopez has a few blemishes on his record. He took silver at the 2006, 2011 and 2014 worlds, but has otherwise been perfect from 2005 to 2016. Lopez hasn't wrestled much since Rio, but I don't think he's going to let anything get in the way of an unprecedented fourth Olympic gold.
From the heaviest to the lightest weight at the Games is where I think you'll see the next best value. Yui Susaki has been on the shelf with injuries since the 2019 World Cup, but looked to be back to her regular dominant self at the Asian Olympic Games Qualifying Tournament. Susaki is lifetime undefeated against international competition and recently bested her domestic rivals (where she has taken losses) to make the host country's team. She's also one of Japan's flag-bearers. Japan also scheduled the 50kg finals to be the last match wrestled in the Games. Susaki is a massive favorite for gold in my eyes and hugely undervalued at a mere +300.
Enough Copy, Just Give Me Some More Bets To Place
Okay, that's enough novel writing, let's do rapid-fire wagers with minimal commentary.
Men's Freestyle 57kg: Zaur Uguev (ROC) +130. Solid odds for the favorite and 2018 & 2019 world champ and 2020 individual world cup champ.
Men's Freestyle 57kg: Arsen Harutyunyan (ARM) +3300. Arsen is a long shot but not that long of a shot. Definitely worth a flyer here.
Men's Freestyle 65kg: Vazgen Tevanyan (ARM) +700. Looked outstanding winning the Individual World Cup and European Qualifying Tournament.
Men's Freestyle 65kg: Ernazar Akmataliev (KGZ) +10000. Super long odds for a young up and comer. Too much value to pass up.
Men's Freestyle 74kg: Frank Chamizo (ITA) +400. Decent odds if you think Frank has a 20% or greater chance of winning gold. Chamizo is guaranteed to be opposite Sidako based on seeds. If Dake is drawn on to the opposite side as well, this could be a steal.
Men's Freestyle 86kg: Artur Naifonov (ROC) +700. Naifonov is the #4 seed and Yazdani is #1 so nevermind, this is not a great bet and can only get worse with Taylor potentially getting drawn into the same half of the bracket.
Men's Freestyle 97kg: Mohammad Mohammadian (IRI) +700. Undefeated since returning from a four-year anti-doping suspension, including a win over Snyder at the 2020 Pellicone.
Men's Freestyle 97kg: Sharif Sharifov (AZE) +1100. A crowded weight at the top with Snyder, Sadulaev & Mohammadian but +1100 is good value for a two time Olympic medalist who still has some gas left in the tank.
Women's Freestyle 53kg: Mayu Mukaida (JPN) +200. Great odds for my pick to win gold at home.
Women's Freestyle 57kg: Odunayo Adekuoroye (NGR) +500. Has been lights out since finishing 3rd at 2019 Worlds. Beat Maroulis 13-0 just six weeks ago.
Women's Freestyle 62kg: Yukako Kawai (JPN) +300. Too low to pass up for a co-favorite -- along with Tynybekova (KGZ) +125 -- at home.
Women's Freestyle 68kg: Zhou Feng (CHN) +3300. Crazy odds for a woman who beat Mensah-Stock in the 2020 Pellicone finals.
Greco-Roman 77kg: Aleksander Chekhirkin (ROC) +300. Didn't earn a seed but had to battle through two other gold medal contenders just to make the Russian team.
Greco-Roman 87kg: Zurabi Datunashvili (SRB) +1500. Odds are too enticing for a Georgian transfer who just won 2021 Euros.
Greco-Roman 97kg: Musa Evloev (ROC) -125. Gotta spend a bit more for the payday but I don't see Evloev losing.
So How Am I Spending My Gambling Money?
Good question. Let's all play along and get rich together or curse my name forever as the scourge of lost fortunes.
Starting with 100 units, I'm putting 25 each on Steveson, Susaki and Lopez. I'm spreading the rest around, placing one unit on the men's and women's freestyle team, so as to leverage my fan experience (it's called having skin in the game).
That leaves me with 15 units to have fun with. One unit on Harutyunyan, Akmataliev and Feng as long shots. Three units on Evloev. Two each on Mukaida, Adekuoroye and Chkhirkin. And the last three I dunno. Maybe I'll put them on Uguev, maybe I'll come up with some stupid reason to place them on three totally random picks. Haven't decided yet.
Update: In the time it took to take screengrabs and to finish this article, Gable Steveson's gold medal line has gone from +700 to +300. Told you they'd move fast!