2021 USA Wrestling Olympic Team Trials Watch Party
The 11 Most Surprising Things That Happened At Olympic Trials
The 11 Most Surprising Things That Happened At Olympic Trials
These are the things that no one saw coming at the 2021 US Olympic Team Trials.
Apr 6, 2021
by JD Rader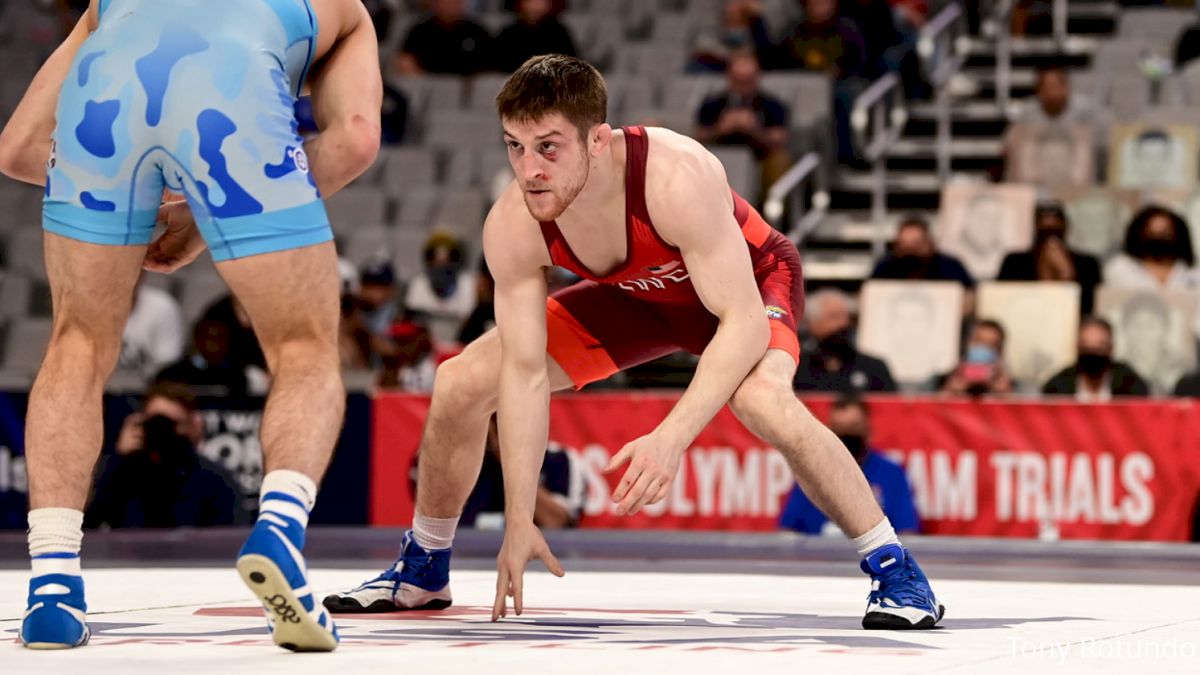 Unlock this article, live events, and more with a subscription!
Get Started
Already a subscriber? Log In
Andy Hamilton warned us just prior to the 2021 Olympic Trials, "Trials History Says Expect Something Unexpected." However, most or all these things almost nobody could have predicted. That's part of what made this Olympic Trials and every World/Olympic Team Trials so memorable. The things we never saw coming.
Olympic Trials News | Olympic Trials Interviews/Videos
Here are the 11 most surprising things that happened at the 2021 US Olympic Team Trials.
11) Bo Nickal Beating Zahid Valencia
There was talk before this tournament started of whether or not Zahid Valencia could beat David Taylor. While most were excited for this match, few, if any, were giving Bo a real chance. Not to dismiss Bo, but Zahid had been wrestling crazy good up to that point. Bo put a stop to that and then spanked him.
10) Greg Kerkvliet Over Mason Parris
Mason Parris whooped up on Greg Kerkvliet when they wrestled at the Big Ten Championships. Changing styles and giving Kerkvliet a little bit more time to heal turned out to make a huge difference, however as Kerkvliet came out on top 4-4 in the quarters.
9) Nathan Tomasello Making The National Team
Two or three years ago this wouldn't have been too crazy. But in September Nathan Tomasello announced he would be taking a break from competing to focus on coaching and other areas of his life. Most of us assumed this would be the end of NATO. When he announced he would be competing just days before the tournament, it seemed more of a "why not?" decision rather than one he had known for a while and been training. In a bracket with Fix, Thomas Gilman, Vito, Seth Gross, and Joe Colon, it seemed impossible for Tomasello to get top three if he wasn't 100% all-in. However, three of those guys chose not to compete on the backside and NATO took full advantage.
8) Braxton Amos Making Greco Finals
Braxton Amos is good at Greco-Roman wrestling. We knew this going in. He won multiple Fargo titles in high school and the Last Chance Qualifier. However, making the Olympic Trials finals is something completely different. After pinning the three-seed, Braxton beat the two-seed, and four-seed to make the finals.
7) Vito Arujau Beating Daton Fix
This upset lost a little bit of its shock factor after Daton Fix's NCAA finals loss. Still, Daton not making the finals of a domestic tournament is something we haven't seen since Daton was a child. Vito is up there for the most improved over the past 12 months.
6) 14 Seed Kyle Welker Making The Finals
This wasn't quite out of nowhere, some people were even predicting it, but still. Kylie Welker is just 17 years old and was the lowest seed to make the finals in the whole tournament regardless of style. Just one week prior she qualified at 68 kg before moving up for Trials. If she didn't have one of the greatest women wrestlers of all time at her weight, she might have done the dang thing. At least she's not going anywhere anytime soon.
I'll be back😤

— Kylie Welker (@kylie_welker) April 4, 2021
5) John Stefanowicz Winning 87 kg
Similar to Burkert, John Stefanowicz is a solid wrestler who even made the 2019 World Team, but Alan Vera is a monster. Stefanowicz beating Vera was the biggest upset of session one. Stefanowicz then doubled down on his W over Vera by beating 3X World Team member Pat Martinez and two-time World Team member and 2016 Olympic Trials winner Joe Rau. A great run for the Marine.
4) Jenna Burkert Taking A Match From Helen Maroulis
Jenna Burkert is a good wrestler who has made multiple World Teams, but Helen Maroulis is the women's freestyle GOAT. This is not up for debate. Prior to the Olympic Team Trials, Burkert hadn't competed in almost 14 months, and the last time she did Helen pinned her twice to make the Pan Am team. The progression Jenna made over a year when it looked like there was no way she could make the Olympic Team a year ago is incredible. That, in addition to the recent passing of her mother, made Jenna's run something none of us will forget anytime soon.
3) No Zain Or Yianni On The National Team
I'd say probably 70% of fans were picking one of these two to win 65 kg. With Jordan Oliver, James Green, and Joey McKenna spread out across both sides of the brackets, picking one of these guys not to make the final would not have been a bad bet, but both? That seemed highly unlikely. For neither of these guys to take top three when they both wrestled back? Well, that would have seemed almost impossible. No one outside Evansville, Indiana, would have picked Nick Lee to beat both Zain Retherford, and Yianni Diakomihalis.
2) 10-Seed Jesse Porter Making The Olympic Team
Jesse Porter barely even qualified for Olympic Trials. He got teched in the finals at the Last Chance Qualifier before winning his true second match. At the Trials, he was given the 10-seed and beat the #7, #3, #2, and #5 en route to making the finals.
1) J'den Cox Missing Weigh-Ins
It's Unfortunate this became the talk of Trials. It seems like every other year or so something completely crazy that isn't just an upset is bound to happen, and this was it this year. I'm sure by now you already know the story, but David Bray provides a detailed timeline with some great insight and quotes from J'den Cox, Kevin Jackson, and Rich Bender HERE. This won't be the last time we discuss this controversy.