2021 USA Wrestling Olympic Team Trials Watch Party
Trials History Says Expect Something Unexpected
Trials History Says Expect Something Unexpected
From Brandon Slay's incredible run in 2000 to Frank Molinaro and J'den Cox in 2016, the last five Olympic quads have been highlighted by underdog Olympians.
Apr 1, 2021
by Andy Hamilton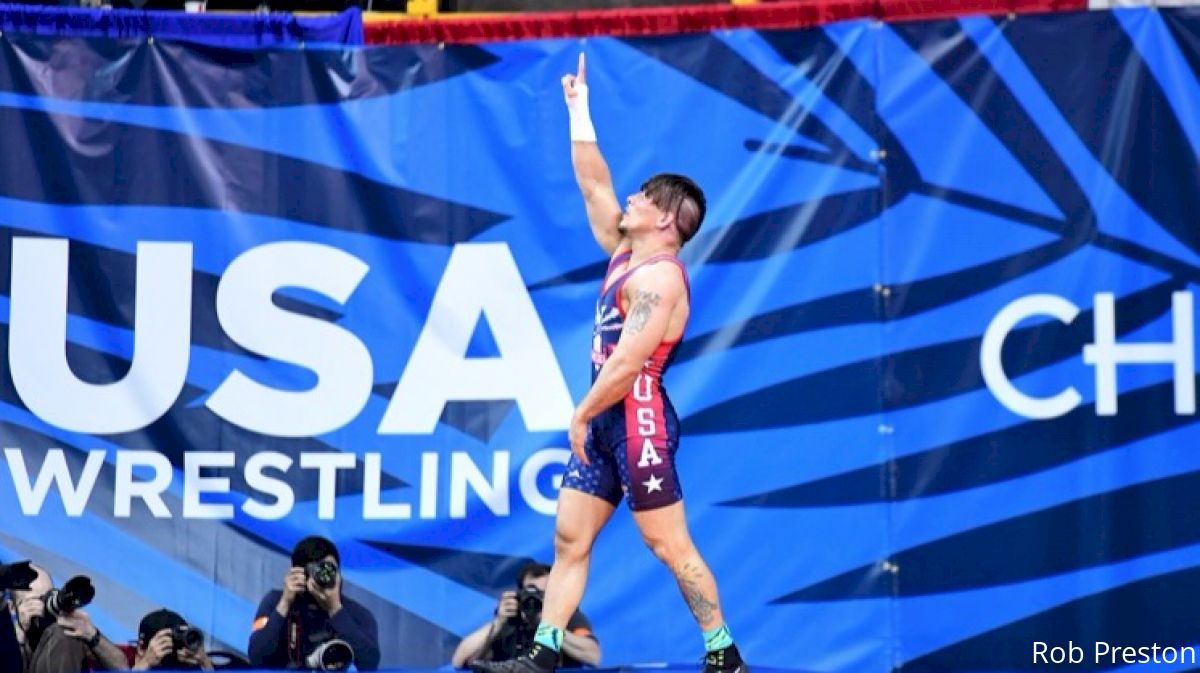 Unlock this article, live events, and more with a subscription!
Get Started
Already a subscriber? Log In
Brandon Slay transformed from a seventh seed in the U.S. Open into an Olympic champion in a span of six months.
Frank Molinaro went from retirement to Rio.
Tela O'Donnell's journey included a bout with pneumonia and a brief paralysis spell before a stunning Olympic Trials series win against a returning World finalist.
Jake Deitchler was attending graduation parties for his high school classmates one month. The next, he was a Beijing-bound teenager being shadowed by a New York Times reporter.
The Olympic Trials can alter career trajectories in a matter of minutes. They can — and often do — serve as a platform for unlikely upsets, surprise stars and legendary stories.
From Slay's incredible run in 2000 to Molinaro and J'den Cox winning the Trials as #9 seeds in 2016, the last four Olympic cycles have been highlighted by underdog Olympians. Here's a look at four of the best stories from the past 21 years.
FROM SEVENTH SEED TO SYDNEY
On the surface, there was little to suggest Brandon Slay was on the verge of an incredible breakthrough when the 2000 Olympic Team qualifying process began.
Slay's resume included two NCAA runner-up finishes for Penn, a couple Cadet Greco-Roman World medals and he claimed a Dave Schultz Memorial gold in 1999.
But he entered the Olympic year several rungs down on the American ladder behind Joe Williams, the odds-on favorite to represent the United States at the Sydney Games. Williams defeated Slay in the 1998 NCAA finals and placed fourth at the 1999 World Championships, qualifying the weight class for the Olympics.
Meanwhile, Slay finished sixth that year at the World Team Trials, but he also drew confidence from a series of close bouts against the top American contenders at the weight class, including an overtime bout with Williams.
"For me," Slay said, "it started building (in 1999)."
Slay entered the 2000 U.S. Open as the #7 seed in a 76-kilogram bracket loaded with NCAA champions. He notched wins against Ty Wilcox, Daryl Weber, Steve Marianetti, Sean Bormet and knocked off Williams in the finals to earn the tournament's Outstanding Wrestler Award.
"It wasn't arrogance or cockiness that I thought I could win, it was genuine faith," Slay said. "It was genuine confidence that I believed I was good enough to beat Joe Williams. I believed I was good enough to beat all those guys. (Brian) Dolph and I were 1-1 against each other, so I knew I could beat him. Steve Marianetti beat me by a point, so I knew I could close the gap on those guys in my heart and in my mind. But winning that tournament and getting the Outstanding Wrestler, it really legitimized my belief in myself and my self-talk and what I'd been saying to myself."
Perhaps more importantly, the title launched Slay into the best-of-three championship series at the Olympic Trials in Dallas, where he figured he'd have a rematch with Williams.
"I probably spent 90 percent of my time preparing for him, just thinking about how I beat him the last time, how he was going to change his strategy, the thought process of what it was going to be like to have to beat him again and not just once, twice," Slay said. "(Then) Brian Dolph beats Joe Williams (in the challenge tournament) and I have this realization that I'm going to have to wrestle my college wrestling coach to make the Olympic Team, which doesn't happen very often.
"Dolph was my assistant coach at Penn. I was at Penn for five years and he was with me for four, so the majority of all that time at Penn he beat the dog out of me because 28 years old and I was 19. Just the mental shift it took to realize, 'All that time you spent on Joe Williams, you can punt all of that and now it's time to focus on what it's going to take to beat Brian Dolph, a friend, a coach, a mentor, somebody who's still really close in my life.' That was emotionally more taxing than Joe Williams, to be candid."
Slay grew up almost six hours northwest of Dallas in Amarillo and had a throng of supporters behind him as he downed Dolph in two straight bouts. He rode the wave of momentum to Sydney, where he toppled nine-time World and Olympic champion Buvaisar Saitiev on his way to the gold.
THE CRITERIA KING OF 2016
Molinaro shifted his focus to coaching after winning an NCAA title in 2012. He took an assistant position the next season at Rutgers and figured his days of competitive wrestling were done.
But one night in 2013 he began pondering the possibility of a comeback.
"I was walking my dog with my wife and I really felt like I still had something left in me, I still had something to prove," he said in 2016. "I decided right there I was going to do everything I could possibly do until 2016 to make the team.
"A lot was going on in my life at the time and I really still wanted it. I just thought I hadn't really reached my full potential and I wanted a bigger legacy than just being an NCAA champ. I wanted to see if I could do it."
His first three seasons on the Senior circuit produced mixed results. Molinaro won titles at the NYAC in 2013, the Dave Schultz Memorial in 2014 and the Grand Prix of Spain in 2015. He also placed fourth, fifth and sixth in the U.S. Open in those three years and he entered the 2016 Olympic Trials as the #9 seed at 65 kilograms.
"At the beginning of the year it was a very dark time because I wasn't really winning anything," he said. "I was having some injuries that were kind of lingering. I kept working and kept believing that something good was going to happen. Then the Pan American Championships happened and that was kind of the turning point for me. It was a really big win. I beat a guy who tech falled me a couple years before. Now it's been a steady climb of getting better, visualizing and focusing on exactly what I want."
Molinaro opened the 2016 Trials with a 14-1 technical superiority win against Kellen Russell. Then he stunned four-time World Team member Brent Metcalf with a late score to win 3-3 on criteria, a theme that continued throughout Molinaro's march through the bracket. He defeated Logan Stieber 5-5 in the semifinals and edged Aaron Pico in a three-bout championship series, making a first-period four-point takedown stand for a 4-4 criteria win.
O'DONNELL RULES
Two major obstacles stood in Tela O'Donnell's path to making the first women's freestyle Olympic Team. The first was just getting back on her feet and being able to train again.
O'Donnell battled pneumonia in the months leading up to the 2004 Trials, and she believes it contributed to a mysterious ailment that left her unable to walk for nearly three weeks.
"I don't know what it was," she said. "I got this muscle tightness. They never figured out what it was, but it was so intense that I couldn't move my legs. It was really painful. My legs shrunk and I was in a wheelchair and I couldn't walk for three weeks."
Building her strength and conditioning level back up was part of the challenge for O'Donnell heading into the Trials. Figuring out a way to take down two-time World silver medalist Tina George was an even bigger task.
George reached the World finals in 2002 and 2003, losing gold medal matches in those two years to Japanese legend Saori Yoshida.
"Tina George was a better athlete than me," O'Donnell said. "She was amazing. She was strong, really explosive. I have so much respect for Tina. But you have to get in this mindset where you feel you have (an advantage over) this person here or there and that's what helps you beat somebody (like her). I had a lot of respect for her, but I also balanced that with the fact that I was going to frustrate her and get into scramble positions because that was my strength rather than being on my feet in front of her, which was her strength."
O'Donnell was 21 at the time and wrestling carefree and she pinned George twice in the best-of-three final series to secure a trip to Athens.
"I was used to being an underdog and it felt good to me," O'Donnell said. "I didn't have anything to prove. I could just go out there and wrestle my match and stick to my plan … and I was able to do that.
"I felt really good. That was probably the time when I was loving wrestling the most and Trials and the Olympics were the best I ever wrestled."
THE GRECO PRODIGY
Jake Deitchler was a 17-year-old high school junior when he made the 2007 Junior World Team, which opened developmental doors that summer in Colorado Springs. Deitchler trained alongside the American Greco-Roman squad that brought home the team title from the World Championships.
"I was getting my butt kicked every day, but it kind of opened up a new world to me, like, 'This is the next level,'" he said. "I was watching Harry Lester and the idea of being on the Olympic Team (in 2008) was not even on my mind. It was not even a thought. I was thinking my next thing to do was to go to a Senior event and see how I do."
After taking second that fall at the Sukist Open, Deitcher began pondering the possibilities in 2008. He entered the U.S. Open seeded outside the top seven and reached the finals, where he lost to teammate and mentor Mark Rial.
Suddenly, making the Olympic Team didn't seem that far-fetched.
"It was like, 'Let's focus on the process, let's give everything we've got, let's do everything right and let's go let it fly,'" Deitchler said. "We didn't know what was going to happen."
The funny part about the 2008 Trials for Deitchler was how the day began.
"I remember in warmups, Mark Rial absolutely kicked my tail," Deitchler said. "He beat me up. I think he teched me and pinned me in warmups. (Brandon) Paulson was my coach and he was so disgusted he walked away. He was so mad. He was like, 'You look like crap.' I was like, 'Whatever, man, I feel really good."
Deitchler's confidence carried over into each match along the way to the semifinals, where he ran into Lester, a World bronze medalist in 2006 and 2007. He entered the match with a "Have fun, score points" mentality.
"Just go out there and compete free, have the courage to just let it fly and fight for every point, every position, make it as hard of a battle as you can," Deitchler said. "You can't always control the outcome, but you can control the process. I went into that and I've never felt so good as an athlete. I was like, 'This is my moment and it's going to happen.' And it did."
Deitchler finished his run through the tournament in Las Vegas by defeating Faruk Sahin in the best-of-three series.
"Great guy, competed with him, trained with him, got along great, but it was personal," Deitchler said. "One day he beat me up so bad in practice and basically told me that I wasn't really allowed to practice with him because he beat me so bad. And it like a spark inside to me and I was like, 'I'm never losing to Faruk again.' So I went into those finals and it was like, 'I'm going to win. If I do what I need to do, it's a done deal.'"
Deitchler's story produced a flood of media requests.
"I want to say that first week I had 26 calls," Deitchler said. "A reporter from the New York Times flew out to my house and followed me around for two days and wrote an article. ESPN, you name it. I went from being a kid who was happy to be in the local paper to having the New York Times coming out to your house to stay with you.
"I remember after the first week telling my mom, 'After the New York Times comes, I'm done. I want to be a kid, I want to wrestle and that's it.' But you realize this could be a positive spotlight for wrestling and it's bigger than yourself. I remember thinking, 'Let's make the best of this. Let's give wrestling a good name and get people excited about it.' That was the goal."