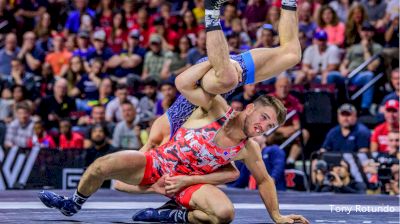 Unlock this article, live events, and more with a subscription!
Get Started
Already a subscriber? Log In
Olympic Trials week is finally here! Before official seeds come out later in the week, I wanted to take my best guess at how the seeding committee will see things.
Watch the 2021 USA Wrestling Olympic Team Trials Watch Party
LIVE on FloWrestling | Friday & Saturday, April 2-3
I would like to make it clear that this is not necessarily how I think the seeds should be, but rather what I think they will be based on the criteria USA Wrestling has published (view below) and the fact that they will take into consideration all matches. Every weight could also be seeded a number of ways based on the information at hand and still be considered correct.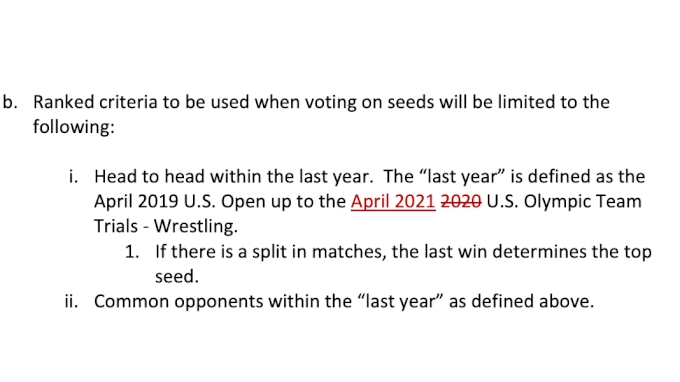 Ok, let's ride.
57 kg
This weight is tricky and could be seeded in several different ways. Here's why I think it goes like this, however. Although Thomas Gilman beat Daton Fix at the 2020 Matteo Pellicone, Gilman has since lost to Gross and Zach Sanders. There is a scenario where Daton stays below Gilman and drops to the #2 or #3, but I think the committee will reward Daton for being a 2019 World Team member.
The committee could also do the same with Gilman and keep him the one. However, with a loss to Gross, Sanders, and a common opponent loss to Suriano, I think he drops to at least the three. Seth Gross gets the #2 with wins over Gilman, Suriano, Sanders, Richards, and Tomasello.
There is an argument to have Suriano higher than Gilman and Vito. After all, he won the 2021 Henri Deglane when all three were in the bracket. That is what I did in the domestic rankings. However, I believe the committee will put more weight on Vito's 2019 head-to-head win over Suriano and keep him at the #5. Gilman has to stay above Vito as he beat him at the aforementioned Henri Deglane.
Joe Colon is a tough one to place. He won a bronze medal at the 2018 World Championships and even beat Seth Gross at 2020 Beat the Streets, but has only competed at 57 kg once: the 2020 Matteo Pellicone. At this event, he lost to Gilman. I believe that loss + the loss to Suriano at 2019 Beat the Streets + the inactivity in 2020/2021 + the lack of results at 57 kg will keep him at the six seed.
The return of NATO. He hasn't wrestled since 2019 Senior Nationals where he made the finals. Tomasello beat Richards at 2019 Bill Farrell. Richards beat Sanders at Rumble on the Rooftop. Sanders' win over Gilman keeps him ahead of RBY. RBY goes ahead of Russell because he beat Jack Mueller at the Dake-Chamizo card and Mueller beat Russell at RTC Cup.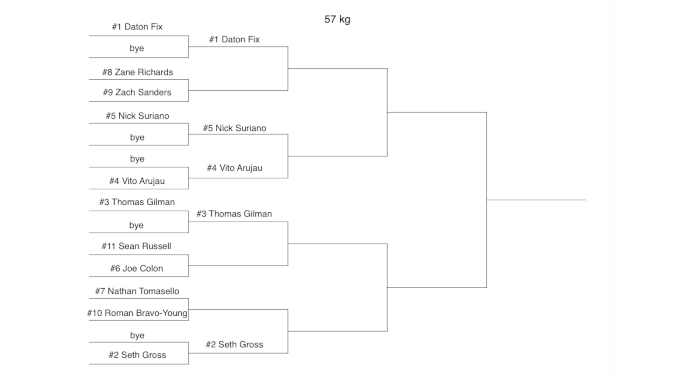 Watch Thomas Gilman and Vito Arujau square off at the 2021 Henri Deglane below.
---
65 kg
Mitch McKee

Austin O'Connor
Zain and Yianni have split matches, but Zain won the last one making him the 2019 World Team rep. While Jordan Oliver won 2019 Senior Nationals in a bracket with McKenna and Yianni, James Green gets the nod for #3 with a common opponent win over JO in Alec Pantaleo at the Flo 8 Man Challenge. This puts Yianni at #2 as he is 3-0 against Green. McKenna goes to #5 with his loss to JO in the 2019 Senior Nationals finals.
Outside of the top-five is Nick Lee. Lee earned the sixth seed with his third-place finish at 2019 Senior Nats. The fight for seven is a toss-up between Ashnault and Garrett. Their best win is both Evan Henderson, who gets the nine.
Tyler Graff is tricky. He has never competed at 65 kg, but was the 2019 World Team rep and should have been the 2018 rep if it wasn't for injury at 61 kg. Mitch McKee had an impressive backside run at Last Chance but has taken his fair share of losses including to Henderson. O'Connor has only wrestled one freestyle match since the 2018 Junior Trials.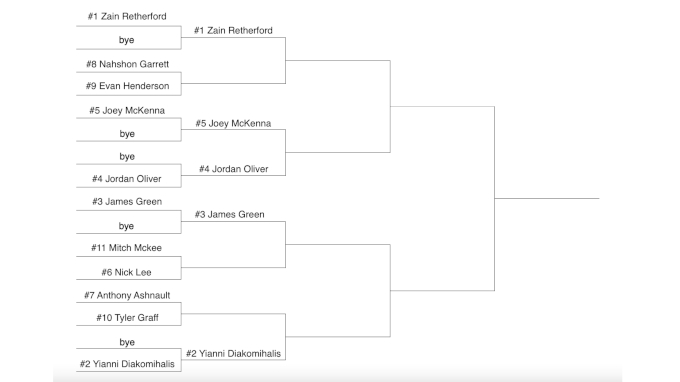 ---
74 kg
Jordan Burroughs: sits to finals
Kyle Dake: sits to challenge semi-finals
74 kg is another weight that depends on how heavily the seeding committee weighs special events. Should Carter Starocci choose to wrestle and if he can make 74 kg, he could get the four-seed as he beat Marsteller 4-2 at the third NLWC card, Marsteller beat Gantt at Battle on the Banks in January, and Gantt beat Massa at RTC Cup. However, if more weight is put on tournaments, both Starocci and Marsteller could drop all the way to #7 and #8 and Massa could go up to #3.
Vincenzo is a weird one to place. His only significant win is over Mekhi Lewis at 2019 Bill Farrell. I believe the seeding committee will look more favorably upon 2020 Senior National results and put Valencia - Wick - Carr ahead of him in that order.
Watch Tommy Gantt defeat Logan Massa in their last head-to-head match below.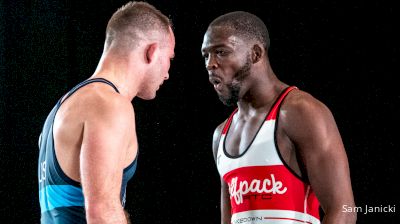 Unlock this video, live events, and more with a subscription!
Get Started
Already a subscriber? Log In
---
86 kg
I think this weight is fairly straight-forward. World champion David Taylor the clear #1. 2019 Senior Nationals champion and two-time Matteo Pellicone gold medalist Valencia the clear #2. Gabe Dean the #3 with his win over Nickal at NLWC 5. Nickal and Martin are up for debate. Their best win is both Dieringer, but Bo has the lifetime advantage over Martin, less freestyle losses, and a 2019 U23 World gold medal. Ringer beat Downey at 2020 Matteo Pellicone.
Nate Jackson is interesting. He has now beaten Mark Hall twice in close proximity to when Hall pinned Martin, but I think he has too many losses and the fact that Downey made the 2019 World Team keep Jackson at #8. Brooks is #9 with more recent head-to-head victories over Pfarr and Brooks.
---
97 kg
Kyle Snyder: sits to finals
J'den Cox: sits to challenge semis
2019 97 kg World medalist Kyle Captain America Snyder sits in the finals and 2019 92 kg World medalist J'den Cox awaits in the challenge semifinals.
Moore, Zillmer, and Macchiavello have all beaten each other but I think this is how it plays out with Moore getting the better of Zillmer in their past two meetings and Zillmer getting the better of Mike Macc in their past two meetings.
Two-time Final X competitor Kyven Gadson should get the four followed by Ty Walz at the five. Ben Honis earned himself the six at the Last Chance Qualifier this past weekend with his late win over Amos. If Ferrari chooses to enter, he will be the final seed.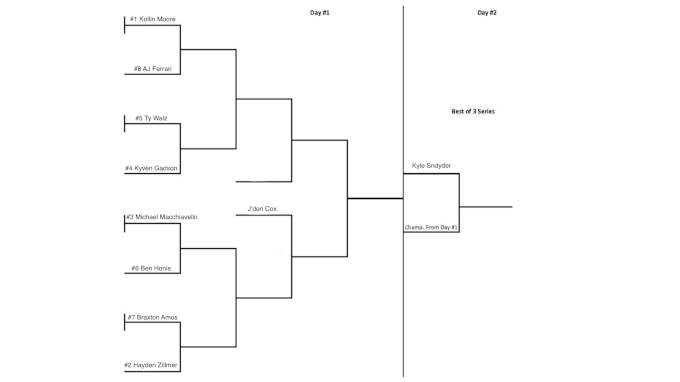 ---
125 kg
Per USA Wrestling procedures, Nick Gwiazdowski has to be the #1 seed as he was the 2019 World Team member and qualified the weight. This means Gable Steveson will get the two-seed and once again have to go through Mason Parris on the bottom side before trying to defeat Gwiz for the second-straight time.
Although Tanner Hall beat Bradley at 2020 Senior Nationals, I think he stays below him with his loss to Nelson, who Bradley is 2-0 against in their last two. Hall also falls below Kerkvliet for his common opponent losses to Nevills and Ryan. While Wood also defeated Nevills head-to-head, his losses to Anthony Cassioppi and Tate Orndorff keep him below Hall. Lastly, Nevills beat Ryan at the 2019 Bill Farrell.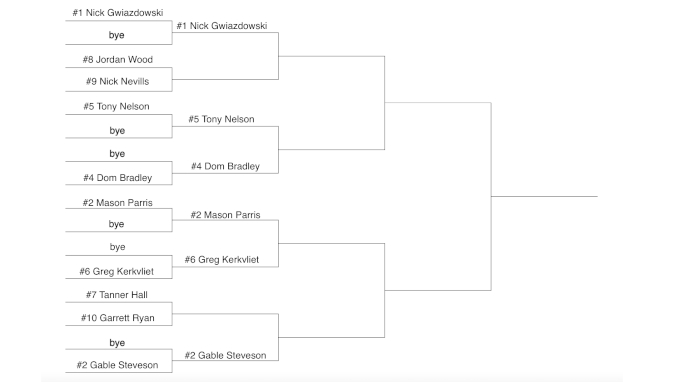 Watch Gable Steveson knock off Nick Gwiazdowski below.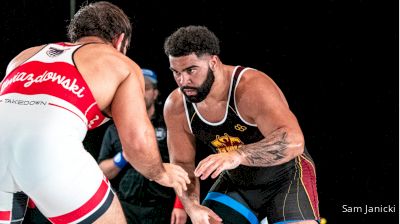 Unlock this video, live events, and more with a subscription!
Get Started
Already a subscriber? Log In