2021 Henri Deglane Grand Prix
Complete Henri Deglane Grand Prix Preview
Complete Henri Deglane Grand Prix Preview
Here's everything you need to know before America's top talent takes on some of the world's best in France on January 15-17.
Jan 12, 2021
by David Bray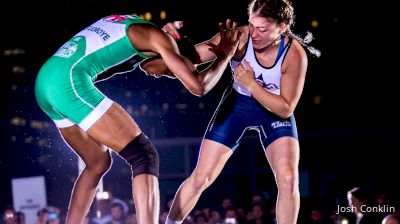 Unlock this video, live events, and more with a subscription!
Get Started
Already a subscriber? Log In
The United States is sending a ridiculously loaded roster to France for the Henri Deglane Grand Prix. This is the first competition for many since early 2020 and an important step toward the Olympic Trials in April and the Olympic Games this summer. Here's everything you need to know before watching Team USA take on some of the world's best this weekend.
Watch the Henri Deglane Grand Prix LIVE on FloWrestling
Friday-Sunday, January 15-17 | 4:00 AM EST
Schedule
Competition for each weight from qualification rounds through finals will be wrestled in one day in a single session instead of the two day format used for the World Championships. More information about the schedule is available on the United World Wrestling website.
Friday, January 15, 4:00 AM EST - Women's Freesyle (50kg, 53kg, 57kg, 62kg, 68kg, 76kg - all weights +2 kilos)
Saturday, January 16, 4:00 AM EST - Men's Freestyle (57kg, 61kg, 65kg, 70kg, 74kg, 79kg, 86kg, 92kg, 97kg, 125kg - all weights +2 kilos)
Sunday, January 17, 4:00 AM EST - Greco Roman (55kg, 60kg, 63kg, 67kg, 72kg, 77kg, 82kg, 87kg, 97kg, 130kg - all weights +2 kilos)
Team USA
The United States plans to send a strong contingent of wrestlers in all three styles. Check out the preliminary roster courtesy of USA Wrestling.
Men's Freestyle

Women's Freestyle

Greco Roman

57 kg: Vitali Arujau
57 kg: Thomas Gilman
57 kg: Nick Suriano
61 kg: Joe Colon
65 kg: James Green
65 kg: Yianni Diakomihalis
74 kg: Kyle Dake
86 kg: David Taylor
86 kg: Zahid Valencia
97 kg: Kyle Snyder
125 kg: Nick Gwiazdowski

50 kg: Sarah Hildebrandt
50 kg: Amy Fearnside
53 kg: Jacarra Winchester
57 kg: Helen Maroulis
57 kg: Lauren Louive
62 kg: Kayla Miracle
62 kg: Macey Kilty
68 kg: Tamyra Mensah-Stock
68 kg: Forrest Molinari
68 kg: Victoria Francis

60 kg: Thomas Hicks
63 kg: Colton Rasche
63 kg: Devin Hester
67 kg: Jamel Johnson
67 kg: Raymond Bunker
77 kg: Pat Smith
77 kg: Peyton Walsh
82 kg: John Stefanowicz
87 kg: Terrence Zaleski
87 kg: Vaughn Monreal-Berner
87 kg: Joel Nivar
97 kg: Daniel Miller
Men's Freestyle
The lightest weight may be the most interesting as Vito Arujau, Thomas Gilman, and Nick Suriano will all throw their hats in the ring. Gillman hasn't wrestled either of these two. On the senior level, Vito has a 2-2 criteria win over Suriano, hence the intrigue with these three. They'll be pushed by the field, in particular, Junior World champ Amiraslanov of Azerbaijan, and U23 World champ Renieri Andreu Ortega of Cuba who is 1-1 with Gilman.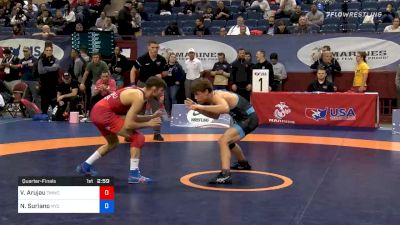 Joe Colon is the lone man for the US at 61 kg. His toughest competition may be Beka Lomtadze, a World silver medalist from Georgia.
At 65 kg, the US has Yianni Diakomihalis and two-time World medalist James Green. Yianni beat Green twice at the RTC Cup, but both matches came down to criteria, so these guys are razor thin. Also in their bracket are Olympic gold medalist Vladimer Khinchegashvili of Georgia, and two-time World medalists Alejandro Valdes Tobier of Cuba and Magomedmurad Gadzhiev of Poland.
Two-time World champ Kyle Dake will be holding it down for the US at 74 kg. The field is tough, but the only other senior level medalist in the field is Avtandil Kentchadze of Georgia. Dake should roll here.
Both David Taylor and Zahid Valencia are registered at 86 kg, but Taylor is not expected to travel as he'll wrestle Jordan Burroughs on Wednesday night in Lincoln, Nebraska. Even without the 2018 World champ, Zahid will have his hands full with World medalists Dato Marsagashvili of Georgia and Stefan Reichmuth of Switzerland along with some age level medalists.
Kyle Snyder is back in action on the world stage, and he'll have a shot at redemption against Azerbaijan's Olympic champ Sharif Sharifov who beat him in the 2019 World semis.
Nick Gwiazdowski represents the US at heavyweight, and he'll get a crack at Geno Petriashvili of Georgia who has won the last three World championships. Gwiz was close in 2017, falling by just a point at the World Clubs Cup.
Women's Freestyle
The United States rolls out an all-star squad on the Women's side. World silver medalist Sarah Hildebrandt and Amy Fearnside represent the US at 50 kg. These two met in the finals of Senior Nationals in October and will present a strong showing for the red, white, and blue.
Unlock this video, live events, and more with a subscription!
Get Started
Already a subscriber? Log In
World champ Jacarra Winchester will toe the line in Nice. After a long layoff due to COVID-19, she returned to the mat against Lauren Louive and looked outstanding. Now she'll test herself against international competition.
Speaking of Louive, she'll be in action at 57 kg as will Olympic champ and two-time World champ Helen Maroulis. They'll be followed at 62 kg by Kayla Miracle and Macey Kilty. Miracle represented team USA at the 2019 World Championships, the same year she won U23 silver. Kilty won Junior and U23 silvers the same year at 65kg and 68 kg respectively but has settled on 62 kg for the Olympic year.
World champion Tamyra Mensah-Stock is coming off a win over five-time World champion Adeline Gray on Saturday. She'll look to stay hot in France and could see her rival, Koumba Larroque of France, who she's split with at the last two World Championships.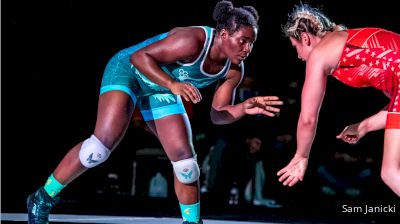 Unlock this video, live events, and more with a subscription!
Get Started
Already a subscriber? Log In
Mensah-Stock will be joined by Forrest Molinari and Victoria Francis at 68 kg. The three were teammates on the World team in 2019, but now all three are vying for the 68 kg spot. This bracket could be big for Olympic Trials seeding.
Greco Roman
While the US is rolling out some of its most experienced wrestlers in men's and women's freestyle, most of its Greco team is still looking for its first World Championships experience. An event like this could offer a useful simulation for a squad that's hungry for more.
Raymond Bunker, Pat Smith, and John Stefanowicz will be competing at 67 kg, 77 kg, and 82 kg, respectively. They're the veterans of this team and the three previous World Team members on the senior level.
Get to know Raymond Bunker before he competes this weekend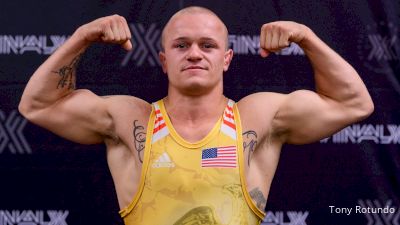 Unlock this video, live events, and more with a subscription!
Get Started
Already a subscriber? Log In
They're joined by Thomas Hicks at 60 kg, Colton Rasche and Devin Hester at 63 kg, Peyton Walsh at 77 kg, Terrence Zaleski, Vaugh Monreal-Berner, and Joel Nivar at 87 kg, and Daniel Miller at 97 kg.