2020 FloWrestling 8-Man Challenge: 150 lbs
Complete Preview - FloWrestling 8-Man Challenge: 150 lbs
Complete Preview - FloWrestling 8-Man Challenge: 150 lbs
Here's everything you need to know about the 150 lb 8-Man Challenge bracket and the two incredible women's matches we'll see alongside it.
Dec 14, 2020
by David Bray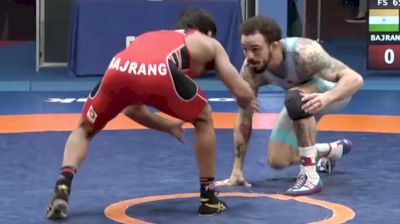 Unlock this video, live events, and more with a subscription!
Get Started
Already a subscriber? Log In
On Friday, December 18, eight of the toughest 150-pounders around will collide in a tournament with nearly $60,000 in total payouts where the winner takes home a $25,000 check. The event is made even better by two incredible women's matches: Jacarra Winchester vs Lauren Louive and Amy Fearnside vs Tiare Ikei. Here's everything you need to know.
*On December 11, Joey McKenna was replaced by Alec Pantaleo due to injury. This article has been updated to reflect the new bracket.
Watch the FloWrestling 8-Man Challenge: 150 lbs LIVE on FloWrestling
Friday, December 18, 2020 | 8:00 PM EST
High Powered Quarterfinals
Each of the first round matches has its share of intrigue, and since a quarterfinal win guarantees a finish of 4th place or higher, these matches are worth $4,000 apiece. Before we dive into each of the matchups, take a look at the bracket in its entirety.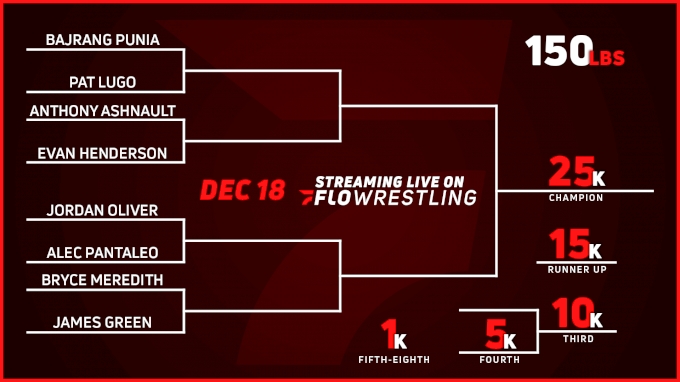 Bajrang Punia vs Pat Lugo - We'll kick off a great night of wrestling with three-time World medalist Bajrang Punia against Hawkeye Wrestling Club's Pat Lugo who was the top seed at 149 at the 2020 NCAA Championships.
Bajrang's World silver and two World bronzes make him the most accomplished wrestler in the field, and he'll be the favorite over Lugo whose senior level freestyle career is just getting started. An upset by Lugo would shock wrestling fans around the world.
Anthony Ashnault vs Evan Henderson - With #4 seed Joey McKenna out, we reseeded the bracket. Henderson moved up to the #4 spot, Ashnault moved up to #5, and Pantaleo slotted in at #6. That means we'll see Ashnault vs Henderson, a match we've never seen in freestyle and haven't seen at all since the Journeymen Northeast Duals in 2015.
Ashnault got the better of Henderson then 7-4, but both guys have improved too much for that match to mean very much. More recently, Ashnault was a finalist in the 2019 World Team Trials Challenge bracket, and Henderson was a 2020 Senior Nationals finalist. This could be a preview of a high-stakes match at the 2021 Olympic Trials.
Ashnault vs Henderson at the Journeymen Northeast Duals in 2015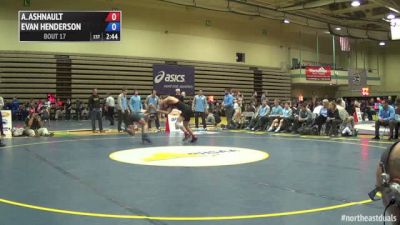 Jordan Oliver vs Alec Pantaleo - Joey McKenna's replacement, Alec Pantaleo, will see Jordan Oliver in the first round. These two will be absolutely enormous coming off the scale, and both are powerful enough to offer big move potential.
Oliver looked as good as ever last fall with dominant titles at the Bill Farrell and at Senior Nationals, but we haven't seen him at 150 lbs or lower since the 2020 Matteo Pellicone. Pantaleo just wrestled right around 150 lbs at the RTC Cup where he went 4-0, but he didn't see anyone of Oliver's caliber at the event. This might be the match of the first round we didn't know we needed. Expect fireworks.
James Green vs Bryce Meredith - Green's 2017 World silver and 2015 World bronze have earned him the #2 seed in this bracket. The only question about Green's readiness to compete in this field is related to the fact that he normally competes up at 70 kg, but Green seemed to answer that question with a solid outing at last weekend's RTC Cup.
Meredith is beginning his transition to MMA, but he's competed as much as anyone this fall with recent matches against Seth Gross, Austin DeSanto, and Beau Bartlett. Meredith will be competing up from his normal weight class of 65kg. We've never seen this match and don't know exactly what to expect.
Semis & Finals Will Be Fire
Bajrang is the favorite to make the semi against Lugo. If he does, he'll see an unfamiliar opponent in either Evan Henderson or Anthony Ashnault. Bajrang has given Americans trouble in the past and has recent wins over over Joey McKenna, Zain Retherford, and Jordan Oliver although he did lose to Yianni at Beat the Streets in 2019. Bajrang's pace and credentials make him the favorite, but both Henderson and Ashnault have the chance to establish themselves as bonafide world-class 65kg contenders.
While it's probably foolish to count out Pantaleo and Meredith, seeds suggest James Green and Jordan Oliver will square off in the second semi of the night in a would-be rematch from their three-match series at the 2016 non-Olympic World Team Trials at 70 kg.
Green won those matches 2-1 and 4-3, and while it has been over four years since they met, the results favor Green in this potential match. One key difference between this event and the 2016 Trials is that it's down at 150 lbs instead of 70 kg which is around 154 lbs. If Oliver wins, he'll avenge those losses and could set up a rematch with Bajrang. If Green wins, he'll confirm his status as one of the top contenders for the Olympic Team at 65 kg.
Match 2 of the best-of-three series between James Green and Jordan Oliver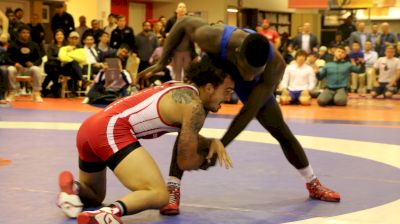 Unlock this video, live events, and more with a subscription!
Get Started
Already a subscriber? Log In
Green and Bajrang hold the top two seeds, and they could meet in a battle of multiple-time World medalists. This is a dream matchup and it could come down to Green's timing, power, and mat savvy against Bajrang's stingy defense and incredible pace.
We could also see Henderson or Ashnault vs Green or Oliver. If that happens, the bottom side wrestler will be the heavy favorite as Green is 2-0 against Ashnault and Oliver is 2-0 against Henderson.
If Bajrang and Oliver make the finals, they would meet for the third time. Bajrang teched Oliver at the 2019 Dan Kolov and came back from a 3-0 deficit to beat him 4-3 at the 2020 Matteo Pellicone.
2 Big Time Women's Matches
Between the quarterfinal and semifinal rounds of the 150-pound bracket, we'll have two women's matches to get excited about. World champion Jacarra Winchester will compete in her first match since qualifying the US for the Olympic Games at 53 kg. She earned the right to qualify the weight by beating Katherine Shai in a best-of-three special wrestle off in February.
Jacarra Winchester's series clinching win over Katherine Shai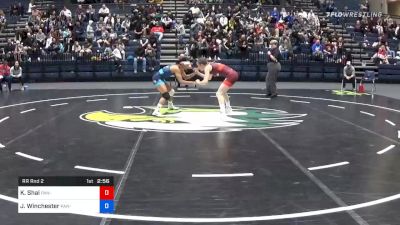 Winchester's opponent on December 18 will be 2020 57kg Senior Nationals champion Lauren Louive who recently competed against Alli Ragan during the Burroughs vs Zahid event in November. Louive typically competes one or two weight classes higher that Winchester which could serve as an advantage. Winchester did beat Louive at the 2017 US Open and the 2019 Dave Schultz.
We have another exciting match between 2020 Senior Nationals finalist Amy Fearnside and 2019 US Open champion Tiare Ikea. Fearnside and Ikei have never competed against each other but have cemented themselves as contenders at 50 kg and 53 kg respectively. Fearnside is currently ranked #4 at 50 kg whie Ikei is #7 at 53 kg.
---
Dig Deeper Into The 8-Man
In addition to this match preview, we have interviews, predictions, betting odds, and more. Check out the links here:
Interviews and workout footage