2020 FloWrestling 8-Man Challenge: 150 lbs
New 150 lb Field Means A New 8-Man Bracket
New 150 lb Field Means A New 8-Man Bracket
Alec Pantaleo is in after the announcement of Joey McKenna's injury. Here's the new bracket after the team revisited the seeds.
Dec 13, 2020
by David Bray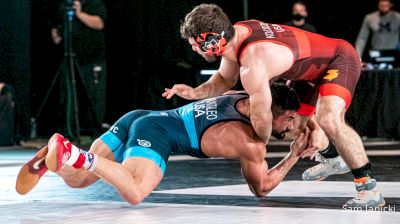 Unlock this video, live events, and more with a subscription!
Get Started
Already a subscriber? Log In
When Alec Pantaleo stepped into Joey McKenna's place in the 150 lb 8-Man Challenge, it seemed like he would slot nicely into the spot McKenna formerly occupied, but a closer look at his credentials compared to the field has shaken up the bracket. Here are the new first round matchups.
Watch the FloWrestling 8-Man Challenge: 150 lbs LIVE on FloWrestling
Friday, December 18, 2020 | 8:00 PM EST
Bajrang will still see Pat Lugo right away, and James Green will still see Bryce Meredith. The shakeups came in the 4-6 seeds. Evan Henderson's finals appearance at 2020 Senior Nationals and consistency at 65 kg have earned him the #4 seed which led to a debate about whether Alec Pantaleo or Anthony Ashnault should occupy the #5.
There is very little difference between Pantaleo and Ashnault. Both have spent most of their senior level freestyle careers at 70 kg, and both have turned in strong results. Pantaleo's senior level record since 2018 is 28-11 while Ashnault's is 12-5. Pantaleo has been 4rd and 5th at the US Open while Ashnault has finished 2nd at the World Team Trials Challenge Tournament.
The deciding factor between these two came down to the most recent event where both competitors were entered, the 2019 World Team Trials Challenge Tournament. On that weekend, Ashnault had wins over Hayden Hidlay and Jason Chamberlain which pushed him into the finals where he lost to James Green. Pantaleo lost to both Chamberlain and Brandon Sorensen and finished outside of the top four. Even though Pantaleo had two previous wins over Chamberlain, the more recent result took precedent.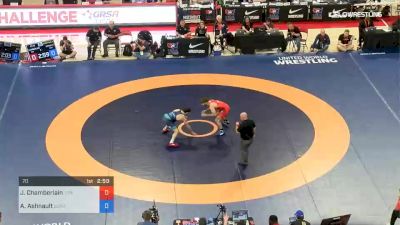 Unlock this video, live events, and more with a subscription!
Get Started
Already a subscriber? Log In
So the second and third matches of the new 150 lb 8-Man bracket will feature Evan Henderson vs Anthony Ashnault and Alec Pantaleo vs Jordan Oliver. The winner of the Henderson vs Ashnault match will see either Bajrang Punia or Pat Lugo while the winner of the Pantaleo vs Oliver match will see either James Green or Bryce Meredith.
Here's the full updated bracket: