2020 FloWrestling 8-Man Challenge: 150 lbs
It's Wagering Time! 150lb 8-Man Challenge Betting Odds
It's Wagering Time! 150lb 8-Man Challenge Betting Odds
Each competitor's odds to win the 150lb 8-Man Challenge, plus quarterfinal point spreads and event over/unders!
Dec 15, 2020
by Andrew Spey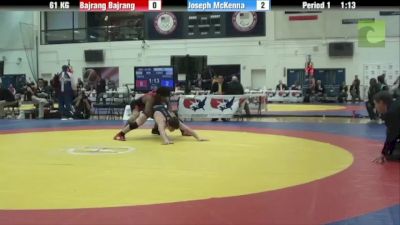 It's time to find your nearest and dearest pals and place some friendly wagerers on the 150-pound 8-Man Challenge. Or find a bookie and make some illegal bets. We're not the police, go live your life. Just please do it safely and responsibly!
Watch the FloWrestling 150 lbs 8-Man Challenge LIVE
Friday, Dec 18, 2020 | 8 PM ET
But for real these are for entertainment purposes. We are not an actual casino or bookmaker. We will not take your money in exchange for a chance to win more money. We may even disagree with what our own odds imply about how the event might unfold.
It's all just for fun is what we're saying. We're just trying to spice up the conversation and get more eyeballs on these incredible athletes!
Future Odds
These are the so-called odds that each entrant will end the evening with an oversized $25,000 check. Bet the second number to win the first e.g. two dollars on Bajrang will get you three if he wins and zero if he doesn't finish in first.
Bajrang Punia: 3/2
James Green: 2/1
Jordan Oliver: 3/1
Anthony Ashnault: 4/1
Alec Pantaleo: 7/1
Evan Henderson: 11/1
Bryce Meredith: 20/1
Pat Lugo: 20/1
Quarterfinal Point Spreads
Pick either wrestler. If you bet on the favorite he has to win by at least the amount in the spread, otherwise, the other wrestler 'wins'.
Bajrang vs Lugo: Bajrang -8.5
Ashnault vs Henderson: Ashnault -1.5
Oliver vs Pantaleo: Oliver -2.5
Green vs Meredith: Green -5.5
Event Over/Unders
Pick whether the thing happens more than the number listed (the over) or less (the under). But you know this already. It's very self-explanatory and you are all smart and perspicacious wrestling fans!
Pins at the event: 0.5
Tech-falls at the events: 2.5
Total points scored at the event: 65.5
So make some picks and let us know what they are! Or tell us what you think the odds should actually be! Or come up with new bets altogether! Use your imagination and really challenge yourself. We have faith in you!