2020 FloWrestling 8-Man Challenge: 150 lbs
The FloWrestling Team's Official 150-lb 8-Man Predictions
The FloWrestling Team's Official 150-lb 8-Man Predictions
The FloWrestling team's expert predictions for the 150-lb 8-Man Challenge.
Dec 17, 2020
by JD Rader
Unlock this article, live events, and more with a subscription!
Get Started
Already a subscriber? Log In
It's almost time for the second ever Flowrestling: 8-Man Challenge. This time at 150 lbs with multiple World medalists and NCAA champions, plus bonus wrestling in two great women's matches headlined by 2019 World champion Jacarra Winchester. A great Friday evening of wrestling!
Watch the FloWrestling 8-Man Challenge: 150 lbs LIVE
No extra fluff here, below is the 8-Man bracket and the FloWreslting staff's "expert" picks. If you want some more information to base your own picks off of, you can find that information HERE.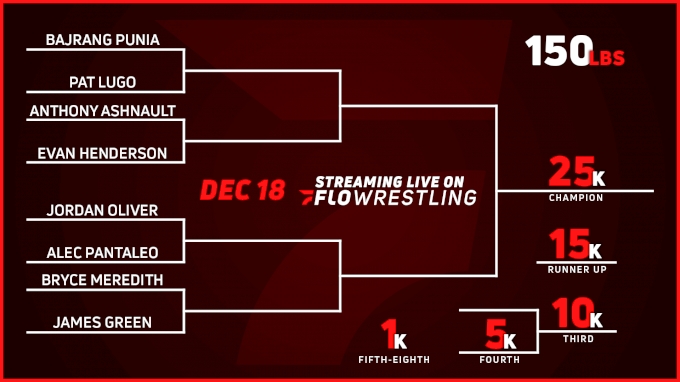 Quarterfinals
Bajrang Punia vs Pat Lugo
CP: Bajrang
Bratke: Bajrang
Bray: Bajrang
Spey: Bajrang
JD: Bajrang
Anthony Ashnault vs Evan Henderson
CP: Ashnault
Bratke: Ashnault
Bray: Ashnault
Spey: Ashnault
JD: Henderson
Jordan Oliver vs Alec Pantaleo
CP: Oliver
Bratke: Oliver
Bray: Oliver
Spey: Oliver
JD: Oliver
Bryce Meredith vs James Green
CP: Green
Bratke: Green
Bray: Green
Spey: Green
JD: Green
Semifinals
Top Half
CP: Bajrang over Ashnault
Bratke: Bajrang over Ashnault
Bray: Bajrang over Ashnault
Spey: Bajrang over Ashnault
JD: Bajrang over Henderson
Bottom Half
CP: Oliver over Green
Bratke: Oliver over Green
Bray: Green over Oliver
Spey: Oliver over Green
JD: Oliver over Green
3rd Place
CP: Green over Ashnault
Bratke: Ashnault over Green
Bray: Oliver over Ashnault
Spey: Green over Ashnault
JD: Green over Henderson
Finals
CP: Oliver over Bajrang
Bratke: Bajrang over Oliver
Bray: Bajrang over Green
Spey: Oliver over Bajrang
JD: Oliver over Bajrang
Women's Matches
Tiare Ikea vs Amy Fearnside
CP: Fearnside
Bratke: Ikea
Bray: Fearnside
Spey: Ikea
JD: Ikea
Jacarra Winchester vs Lauren Louive
CP: Winchester
Bratke: Winchester
Bray: Winchester
Spey: Winchester
JD: Winchester