2020 FloWrestling Hometown Heroes
Vote for the 2020 Hometown Hero
Vote for the 2020 Hometown Hero
Vote now for the 2020 FloWrestling Hometown Hero award.
Sep 8, 2020
by FloWrestling Staff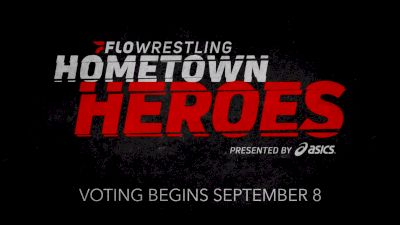 The Hometown Heroes program was designed to honor coaches who are making substantive and lasting impacts on their communities, and not just on the mat. The finalists were selected based on a nationwide call for nominations, and the final award will be based on a public vote. The top vote-receiving finalist will be awarded $20,000, second place will receive $5,000, and all finalists will receive a minimum of $2,000. Vote to select the winner today!
2020 Hometown Heroes Finalists
Before you vote, read more about each of our five finalists.
Rocky Burkett, Northern State University in Aberdeen, South Dakota
Jacob Custer, Palm Springs High School in Palm Springs, California
Caleb Kolb, Pine-Richland High School in Gibsonia, Pennsylvania
Dechlin Moody, Collingswood High School in Collingswood, New Jersey
Stephen Perez, Grand Street Campus High School in Brooklyn, New York