2020 FloWrestling Hometown Heroes
Dechlin Moody: 2020 Hometown Heroes Finalist
Dechlin Moody: 2020 Hometown Heroes Finalist
Hometown Heroes finalist Dechlin Moody has grown the Collingswood, New Jersey program into a staple of the community, and he just had his first state champ.
Sep 8, 2020
by David Bray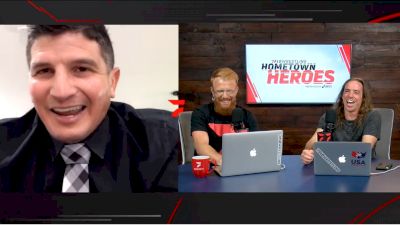 When Dechlin Moody graduated from Collingswood High School in 1996, he wouldn't have been able to guess that he would return to take over the wrestling program in 2010 or that it would become such an integral part of the Collingswood community. But that's what happened. Now, just months after Moody coached Collingswood's first New Jersey state champion since 1992, he is also one of five Hometown Heroes finalists.
Vote for Your Hometown Heroes Finalist
One of the reasons the Collingswood team has seen success is that Moody has grown resources around the program. His fundraising efforts help outfit athletes in top-notch gear, send kids to camp who couldn't otherwise afford it, and provide an environment where kids know they're part of something bigger than themselves.
According to one member of the community, Moody has become known as the, "unofficial mayor," of Collingswood. He has even been known to use his own money to feed and clothe athletes in need. One community member described him this way:
Dechlin has created a true program where everyone works together towards a common goal. We sweat together. Endure together. Laugh together. Win together. Lose together. Learn together. Collingswood is Dechlin's hometown. He would die for these kids and this town.
This community-minded wrestling program has also seen its fare share of success on the mat. the cherry on top came last season when Andrew Clark became the first Moody-era Collingswood state champion at 145 lbs.
Clark's story is amazing in its own right. The 145-pounder wrestled 160 all season, but he and Coach Moody had a secret plan to descend to 145 for the post-season. This required wrestling well under the 160 pound limit for much of they year to maintain his 145 weight-class certification. Even a torn labrum didn't stop Clark from achieving his goal of climbing the podium in Atlantic City.
Clark, now a high school graduate, will wrestle at Rutgers, but like so many Moody-coached athletes, he'll be part of the Collingswood wrestling family for a long time.
---
About Hometown Heroes
The Hometown Heroes program was designed to honor coaches who are making substantive and lasting impacts on their communities, and not just on the mat. The finalists were selected based on a nationwide call for nominations, and the final award will be based on a public vote. The top vote-receiving finalist will be awarded $20,000, second place will receive $5,000, and all finalists will receive a minimum of $2,000. Vote to select the winner today!