2020 FloWrestling Hometown Heroes
Stephen Perez: 2020 Hometown Heroes Finalist
Stephen Perez: 2020 Hometown Heroes Finalist
Get to know Stephen Perez, a Hometown Heroes finalist whose work at Grand Street Campus in Brooklyn is changing lives.
Sep 8, 2020
by David Bray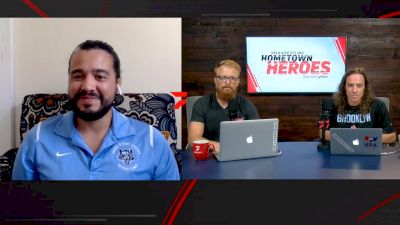 During Stephen Perez's first seven years at Grand Street Campus in Brooklyn, he has helped lead the Wolves to success on the mat while focusing on academic success and developing leadership networks. Perez's focus on the holistic development of his athletes is what makes him a Hometown Heroes finalist.
Vote for Your Hometown Heroes Finalist
Perez has focused on building systemic support for his athletes and other students at Grand Street Campus. In addition to his role as a coach, he is an Advisor for the Peer Group Leadership Program. In this role, he develops upperclassmen into mentors for first year students helping all students build their leadership skills.
He also focuses on academic success by hosting a mandatory study hall for his student-athletes and requiring strong academic performance for any wrestler who wants to start. these efforts have helped countless students reach higher levels of academic success. His work is paying off. One person said the following about Coach Perez:
Stephen Perez is an exceptional Coach and Teacher...His impact is undeniable. Perez influences everyone he comes in contact with for the better.
Perez's focus on the whole wrestler is paying dividends when it comes to wrestling results as well. His Wolves have won the PSAL New York City Dual Meet Championship the last two seasons and are even having success on the state level. Last season, three Grand Street Campus wrestlers punched their tickets to the state championships, and 132-pounder Jayden Cardenas finished on the podium in 4th place.
Wrestling success is nothing new for Coach Perez who was an NJCAA All-American on a national championship team, but it is relatively new for Grand Street Campus which is not a traditional wrestling school.
All of these things help to explain why Perez was named the Boy's High School Coach of the Year by Beat the Streets in 2017 and why he's a finalist for the 2020 Hometown Hero award.
---
About Hometown Heroes
The Hometown Heroes program was designed to honor coaches who are making substantive and lasting impacts on their communities, and not just on the mat. The finalists were selected based on a nationwide call for nominations, and the final award will be based on a public vote. The top vote-receiving finalist will be awarded $20,000, second place will receive $5,000, and all finalists will receive a minimum of $2,000. Vote to select the winner today!