Unlock this article, live events, and more with a subscription!
Get Started
Already a subscriber? Log In
NC State brought in the #1 recruiting class in 2016. It came on the heels of Pat Popolizio's fourth year in Raleigh, but it took that long to build the relationships that came with that class. Those guys are now entering their senior years with the Wolfpack and have laid the foundation for all the recruiting classes coming after them.
After winning a team trophy in 2018, Popolizio was given a seven-year contract extension. A key cog of that team in Frank Beasley has since moved on to the head coaching role at George Mason, and Obe Blanc has become the head assistant at North Dakota State.
Depth Charts: Penn State | Iowa | Oklahoma State | Michigan | Missouri
There's little doubt Adam Hall will eventually take over a program of his own. It's likely Donny Vinson and Timmy McCall are destined for larger coaching roles eventually, be it at NC State or elsewhere. But for now that's the group stewarding the ship of a squad hoping to maintain supremacy over the increasingly competitive ACC.
But this article isn't about the coaching staff and how it will look in a few years, it's about the student-athletes they have brought to Raleigh and the ones that will soon be on their way. Although they only had the #8 class this year, the staff feels it might be their most complete haul and one that can rival or even exceed the 2016 group.
125 Pounds
| | | | |
| --- | --- | --- | --- |
| Weight | Spot | Name | Grade |
| 125 | 1 | Jakob Camacho | RSSO |
| 125 | 2 | Anthony Noto | FR |
Looking Back: After an excellent redshirt year, Jakob Camacho closed out his first year as a starter with an 11-4 win over Jack Mueller in the ACC finals and earning the 10 seed at the national tournament. Prior to that, Sean Fausz qualified all four years for the big dance, making the bloodround twice.
This Season: With Jarrett Trombley at 133 and Tariq Wilson at 141, I see no reason Camacho doesn't return as the 125. He's currently ranked fifth in our preseason rankings, which could change pending a few guys moving up or coming down. If Camacho is able to get on the podium in his sophomore season, the Wolfpack could be looking at another team trophy.
Long-Term Outlook: Two words: Stevo Poulin. I'm thinking they roll him out right away, with Trombly and Camacho moving up. Poulin is the #8 prospect from the Class of 2021, and they also just signed another multiple-time New York state champ in Anthony Noto. So they've got depth and if they do redshirt Stevo, they're looking to be set through 2026.
133 Pounds
| | | | |
| --- | --- | --- | --- |
| Weight | Spot | Name | Grade |
| 133 | 1 | Jarrett Trombley | RSSO |
| 133 | 2 | Kai Orine | RSFR |
| 133 | 3 | Mike Madara | RSFR |
Looking Back: Tariq Wilson went 44-15 his first two years as a starter, placing third as a freshman in one of the more incredible NCAA tournament runs we've ever seen. He then lost in the Round of 12 as a sophomore before moving up a weight. While Trombley was just the 27 seed, over half of his wins came by bonus.
This Season: Not much is expected of Trombley team pointwise as he's currently ranked 21st. It's not unusual for guys to make a big jump in their third year of college, but he's at a weight that looks to be absolutely brutal once again and even with a big jump he may be looking at the bloodround at best.
Long-Term Outlook: Lots to work with here. Trombley will have two more years left after this upcoming season, and so will Camacho if Trombley moves up. Then there is Kai Orine and Mike Madara, both of whom are entering their redshirt freshman campaign. Oh, and they're still in on both Cooper Flynn and Braxton Brown. No shortage of options.
141 Pounds
| | | | |
| --- | --- | --- | --- |
| Weight | Spot | Name | Grade |
| 141 | 1 | Tariq Wilson | RSSR |
| 141 | 2 | Alex Urquiza | RSSO |
| 141 | 3 | Jarred Papscy | RSSO |
| 141 | 4 | John Devine | RSJR |
| 141 | 5 | Hunter Lewis | RSFR |
| 141 | 6 | Ryan Jack | FR |
Looking Back: Kevin Jack finished out his career in 2018 as a three-time All-American and has stuck around the program. Then Jamel Morris took over for a year, going 2-2 at NCAAs. Last year it was Tariq Wilson going 24-6 en route to the 15 seed in Minneapolis. He struggled at tournaments, getting seventh at CKLV and placing eighth at the Southern Scuffle, in addition to falling in the ACC finals.
This Season: Wilson was a huge part of why Pat Pop's team claimed a trophy in 2018, but has yet to reclaim his Tariq the Freak status. Six of his eight bonus-point wins last season came against non-starters at the Wolfpack Open, and he had a losing record in bouts that went to overtime. His #13 ranking is no doubt one that can be improved upon, but is about fair for what we've seen out of him for three seasons minus that one incredible performance in Cleveland.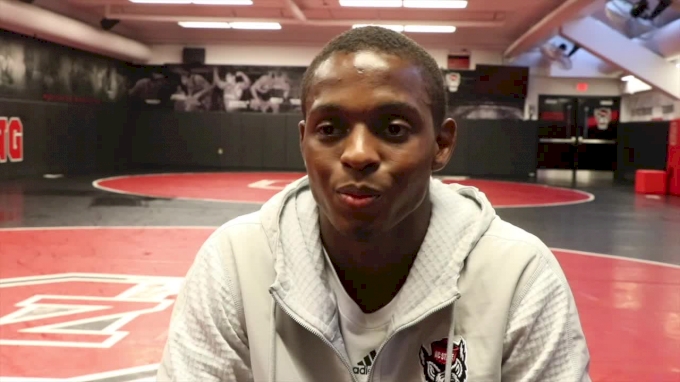 Unlock this video, live events, and more with a subscription!
Get Started
Already a subscriber? Log In
Long-Term Outlook: This could go a few different ways. I wouldn't be surprised if Trombley went up, and they've also got Kevin Jack's younger brother Ryan in town now; he would be a redshirt freshman next year. Skylar Smith is committed from the Class of 2021, and they used sophomore Alex Urquiza in three duals last season.
149 Pounds
| | | | |
| --- | --- | --- | --- |
| Weight | Spot | Name | Grade |
| 149 | 1 | AJ Leitten | RSJR |
| 149 | 2 | Matt Grippi | RSSO |
| 149 | 3 | Matt Fields | RSSO |
| 149 | 4 | Silas Shaw | RSFR |
Looking Back: This weight has been a little snake-bitten in the Pat Pop era. They haven't qualified five out of eight years (including last year), and are just 3-6 with 2.5 total team points at the national tournament. They've rolled out four different guys for the postseason the past four years. AJ Leitten got the nod for ACCS, he wrestled in eight duals while Matt Grippi handled five and Matt Fields took two.
This Season: Given that Leitten and Grippi split time, I see no reason to think one or the other has a firm grasp on the starting spot. Leitten was 18-10 against D1 competition and none of his bonus point wins came against NCAA qualifiers. Grippi was 16-8 against D1 foes and likewise had no bonus-point victories against qualifiers. Matt Fields was 10-11 against other D1 wrestlers; his younger brother Derek is committed to NC State.
Long-Term Outlook: This is probably the Wolfpack's number one priority in recruiting, but barring an unforeseen impact transfer, it won't be addressed until the Class of 2022 at the earliest. So what's on the roster now is what they've got for the time being.
157 Pounds
| | | | |
| --- | --- | --- | --- |
| Weight | Spot | Name | Grade |
| 157 | 1 | Hayden Hidlay | RSSR |
| 157 | 2 | Kiernan Shanahan | RSFR |
| 157 | 3 | Ed Scott | FR |
| 157 | 4 | Joe Roberts | FR |
Looking Back: The first three years of Hayden Hidlay's time in Raleigh had to be considered excellent by NC State fans. It produced an NCAA finals appearance, a near win over Jason Nolf in the semis in the tournament where he wound up fourth, and a two seed this past season. He's 78-6 in his career and bonuses at over a 50% clip. He was the centerpiece of that 2016 class and has lived up to the hype both on the mat and off.
This Season: It's the final year of Hidlay, the guy who helped bring his brother Trent, currently ranked third at 184, to the team. The guy whose other brother Heath has begun helping the program. The guy whose club coach Ian Assael has become the director of operations. Hidlay has been a leader on this team since his freshman year, and whether he finishes this season as many expect with a national title or not, his impact may be second only to Nick Gwiazdowski since Pat Pop has been the skipper.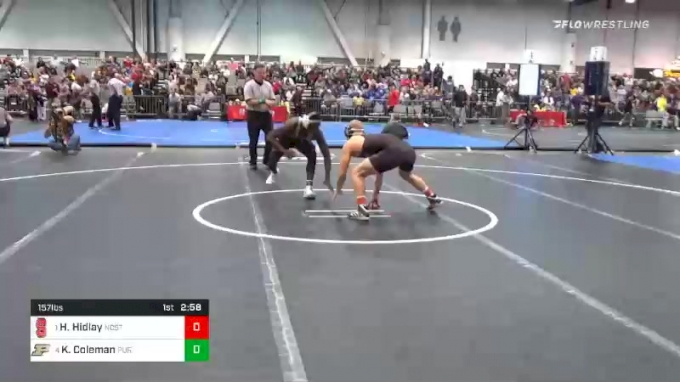 Unlock this video, live events, and more with a subscription!
Get Started
Already a subscriber? Log In
Long-Term Outlook: All signs point to it being Ed Scott, who finished his career ranked second at 152 and #19 on the Senior Big Board. Scott is a pinner, having decked 26 in a row towards the end of his senior season that culminated with a PIAA state title. He's affiliated with both Young Guns and M2, two pipelines any college wants in on. There's also Joe Roberts out of Illinois and AJ Kovacs out of New York, who I think will be a 165, pushing him for the starting spot.
165 Pounds
| | | | |
| --- | --- | --- | --- |
| Weight | Spot | Name | Grade |
| 165 | 1 | Thomas Bullard | RSSR |
| 165 | 2 | Tyler Barnes | RSSO |
| 165 | 3 | AJ Kovacs | FR |
| 165 | 4 | Donald Cates | FR |
Looking Back: Thomas Bullard improved his seed from 16 to 10 year over year. The season before that, when Bullard redshirted, there was no Wolfpack representative at NCAAs. Prior to Bullard, Brian Hamann went 1-2 in 2017 and Max Rohskopf was 1-2 in 2016. So they've been able to get to the show but haven't quite broken through to place just yet.
This Season: The Bullards have been an underrated part of that 2016 class, a group that has had five guys qualify 14 times, score 58 points at NCAAs, put two wrestlers on the podium a combined three times, and help win a team trophy. As the nation's #7 ranked athlete at this weight, he is very much like Camacho this season, a guy who has never been an AA but is in position to place and push the Wolfpack into the top four once again.
Long-Term Outlook: They've got two more years left of Tyler Barnes after this, plus Roberts, Kovacs and Cates all coming off redshirt after Bullard graduates. One of them will take the reins and become the guy, so this one's a pretty low priority on the recruiting trail.
174 Pounds
| | | | |
| --- | --- | --- | --- |
| Weight | Spot | Name | Grade |
| 174 | 1 | Daniel Bullard | RSSR |
| 174 | 2 | Alex Faison | RSSO |
| 174 | 3 | Jake Cook | RSSO |
| 174 | 4 | Dylan Reinert | FR |
| 174 | 5 | Kai Bele | FR |
Looking Back: It's been all Daniel Bullard for the past three years, qualifying each time. He went 1-2 the first two seasons and was the 15 seed going into Minneapolis. While that's not necessarily earth-shattering, there is value in consistency and setting the bar to at the very least qualifying. That sets the tone for those coming after him to outdo his achievements.
This Season: Coming in ranked 13th doesn't scream that he'll finally be able to crack through and place, but there seems to be a large clump of guys in contention for those final about three AA spots. I mean, the three guys right above him are all in the ACC and he has prior wins over all three. He's never wrestled Sammy Colbray, Anthony Mantanona or Demetrius Romero, so it's not out of the question he could beat them in a one-match setting at NCAAS.
Long-Term Outlook: I imagine Reinert has the edge over Bele, but both are incoming freshman that should be in contention for the spot over the next several years. Bele keeps their connection to the Southeast strong as he came out of Florida, and Reinert is out of Gettysburg, PA. Although they missed out on Trey Kibe, a guy like the Hidlays out of Mifflin County, Reinert beat Kibe 5-1 at Pennsylvania states this past March.
184 Pounds
| | | | |
| --- | --- | --- | --- |
| Weight | Spot | Name | Grade |
| 184 | 1 | Trent Hidlay | RSSO |
| 184 | 2 | Jacob Ferreira | JR |
| 184 | 3 | Chris Garrison | RSFR |
Looking Back: A clearly injured Nick Reenan went just 1-2 at NCAAs in 2019, and the year before that Pete Renda closed out his career by losing in the bloodround. In 2017, Mike Macch also made the bloodround before bumping up to 197 as a senior and winning the whole thing. If Trent performed to his five seed, he would've been their first All-American at this weight since Pete Renda's excellent run to third in 2016.
This Season: Hidlay went 19-4 against D1 foes with 10 bonus point wins, and made the finals of CKLV, the Scuffle, and ACCs. He's ranked third in the preseason, but with only Zahid and Taylor Lujan gone, he's right in the same group of guys he was in last year, plus adding in Max Dean. He was 0-2 against Hunter Bolen, split with Louie DePrez (losing the latter) and has a not so recent freestyle loss to Aaron Brooks, so he's going to need to make some adjustments if he wants to win a national title.
Long-Term Outlook: They've got three more years left of Trent, so they can sell low on a high upside 2021 or, more likely, go all-in on a 2022 like Rylan Rogers and get them ready to start as a true freshman. Along with 149, this weight will be the focus of their targets article.
197 Pounds
| | | | |
| --- | --- | --- | --- |
| Weight | Spot | Name | Grade |
| 197 | 1 | Nick Reenan | RSSR |
| 197 | 2 | Tyrie Houghton | JR |
| 197 | 3 | Christian Knop | RSFR |
| 197 | 4 | Isaac Trumble | FR |
Looking Back: Their last national champ was Mike Macchiavello in 2018, and he's hung around to continue training with the Wolfpack WC for his senior level career. Malik McDonald took over the year after and went 1-2 in Pittsburgh. Nick Reenan was supposed to be the starter, but various injuries kept him out for large chunks of the year. Tyrie Houghton competed in nine duals and manned the spot for ACCs, but did not qualify.
This Season: Well you'd have to think it'd be Reenan, but this isn't the first season he's faced health issues. I imagine he's the best guy when healthy, but if he can't take the mat then they have to look elsewhere. That likely means a fair roster battle between Houghton and Christian Knop, who they brought in last year. Then they can redshirt Trumble and decide if the tall Nebraskan is destined to stay at '97 or grow into a heavyweight.
Long-Term Outlook: I covered that a bit above, but it could very well be four years of Knop. Trumble is 6-foot-4 and likely has the body for it, but they also need to see what Owen Trephan can do this season. Even if Houghton starts this year and next, Knop or Trumble is the guy down the road.
285 Pounds
| | | | |
| --- | --- | --- | --- |
| Weight | Spot | Name | Grade |
| 285 | 1 | Deonte Wilson | JR |
| 285 | 2 | Colin Lawler | JR |
| 285 | 3 | Owen Trephan | RSFR |
Looking Back: The last year of Gwiz in college was 2016, but he's obviously stuck around Raleigh to make three straight world teams. They had Mike Kosoy in the next year, falling to All-Americans Jacob Kasper and Youssif Hemida. Michael Boykin went 1-2 in 2018 and they didn't qualify in 2019. Deonte Wilson made it to the big show as a true sophomore, but never got his chance after NCAAs was canceled.
This Season: Deonte Wilson has been their starter for 28 of their last 34 duals and both ACC championships since he came on campus. He owns a 6-2 win over Colin Lawler from the 2019 National Collegiate Open, but neither has wrestled Owen Trephan. In learning about the recruitment process for Wilson, it's clear the staff saw a great deal of potential in him and have followed that up by helping him exceed the expectations for him coming out of high school.
Long-Term Outlook: It's got to be Trumble or Trephan. I think this year will have a lot to say about that, which is tough given the possibility for limited open tournaments due to COVID-19.