Create a free account to unlock this article!
Get Started
Already a subscriber? Log In
One of the most recognizable lightweights in the nation has made his college decision. Stevo Poulin has committed to wrestle for NC State on the next level.
With the recruiting dead period extended to July 31st, there were two ways recruiting could go. Guys would either be committing to schools they haven't visited, or they would be pushing off their decision for a few months once campuses open back up. Stevo elected for the latter, as Raleigh was one of only two official visits he's taken,
Just over five weeks ago, our own Kyle Bratke reached out to the #3 ranked 113-pounder (new rankings coming soon!) for his school list. What we got back were the schools Poulin had been in contact with the most, which is common for guys who have not been able to take or schedule all of their official visits. Aside from NC State, he had also visited Ohio State.
The verbal to wrestle for the Wolfpack is not surprising, as he has long been linked to the ACC power. His club coach at Journeymen is Frank Popolizio, also an assistant at Shenendahowa where Stevo goes to high school. Frank is the brother of NC State head coach Pat Popolizio, and his team is full of guys from various parts of New York.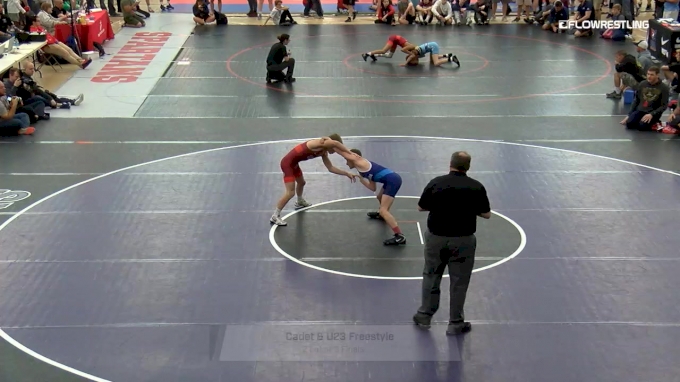 Unlock this video, live events, and more with a subscription!
Get Started
Already a subscriber? Log In
Poulin is #8 on the 2021 Big Board for good reason. He won Super 32 in 2018, is a three-time New York state champion, and last year made a Cadet world team before taking fifth at the world championships. This past season he wrestled at Who's #1, and has won titles at both Eastern States and the Reno Tournament of Champions during his high school career.
There's no question he projects as a 125 in college, and is one of the best lightweight prospects out there. Jakob Camacho will be a redshirt sophomore for them this upcoming year, and could even give Stevo a year to redshirt if he can hold it through his junior year, but ultimately it seems like Camacho will wind up at 133.
NC State is young at lightweights in general, as Anthony Noto will be entering his first year on campus at 125, and Kai Orrine and Mike Madara will be entering their redshirt freshman years at 133. Meanwhile, Jarrett Trombley was the starter at 133 this past year and still has three years of eligibility left. NC State was also on the school lists of Cooper Flynn and Braxton Brown, both of whom they are still after.
He chose NC State over Penn State, Ohio State, Lehigh, and Oklahoma State. The Wolfpack will have nine New York natives on the roster this season, including Stevo's high school teammate Kiernan Shanahan. Brock Delsignore, who is also in the Class of 2021 at Shen, will be heading to Raleigh as well.