Cooper Flynn Is Keeping His Options Open For College
Cooper Flynn Is Keeping His Options Open For College
Cooper Flynn has maintained contact with a number of college coaches, but is keeping his options open and has not yet narrowed down his school list.
May 5, 2020
by Wrestling Nomad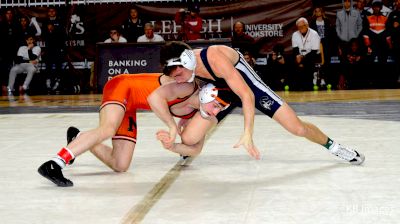 Unlock this video, live events, and more with a subscription!
Get Started
Already a subscriber? Log In
Unlock this article, live events, and more with a subscription!
Get Started
Already a subscriber? Log In
Ever since he's been in high school, Cooper Flynn has established himself as one of the hardest working and grittiest kids in the country. It's those traits that have attracted some of the best colleges to speak to him.
Flynn is originally from the tiny town of Seymour, Tennessee, but wrestles for McDonogh High School in Maryland. After finishing second and third at National Preps as a freshman and sophomore, he finally got his title, winding up with a 47-2 record on the year and fourth in our rankings at 120. His only losses came in the Ironman finals and Beast of the East quarters.
Being from the Southeast, most of the schools he's talking to are (relatively) close to home, but it doesn't seem to be a requirement for him. He's close with his family and very proud of where he's from, but he went to a different state for high school and will do the same for college if he feels it will help him achieve his ultimate goals.
Cooper Flynn School List
Virginia Tech
North Carolina
Oklahoma
NC State
Virginia
Wisconsin
Rutgers
Indiana
Chattanooga
Navy
As you can see, it's not really a school list as much as his current options, the programs that have been reaching out the most. He still has four official visits remaining and is not ruling out any other schools joining the fray, but right now coaches from these colleges are the ones he stays in heavy contact with.
The only official visit so far for the Baltimore Sun's All-Metro Wrestler of the Year has been to Virginia Tech. While there's no doubt the Hokie coaches have a high level of interest in Flynn, they also have a strong group of lightweights already. If Flynn were to redshirt his first year in Blacksburg, they'd still have one year left of Collin Geraradi, two years of Sam Latona, and three years of Eddie Ventresca.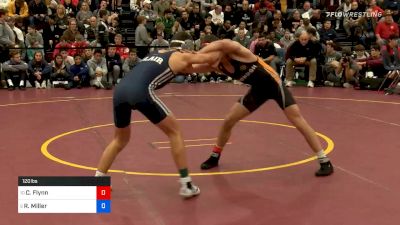 Unlock this video, live events, and more with a subscription!
Get Started
Already a subscriber? Log In
One of his coaches at McDonogh, Joe Bakewell, was slated to join Flynn on a couple of unofficial visits to North Carolina and Oklahoma after the season ended, but those were obviously canceled. Another of his coaches, Pete Welch, was an All-American for the Tar Heels in 1991. UNC would have a senior Joey Melendez and either two or three years left of Wil Guida at 125, and the weights above them don't leave much room to move up. As for the Sooners, they are in dire need of a 125, with only one on the roster, though Tommy Hoskins would be a senior by the time Flynn comes off redshirt.
Like most high-level recruits, he has freestyle aspirations beyond college. He's placed fifth, third, and seventh at Fargo, plus a fourth-place finish in Akron, helping him to be #21 on our junior Big Board. Right now, NC State appears to have had the most RTC success of any school Flynn is talking to. Again looking at a redshirt, they'd have a senior Jakob Camacho, three years of Anthony Noto, a year left of Jarrett Trombley and two more of Kai Orrine.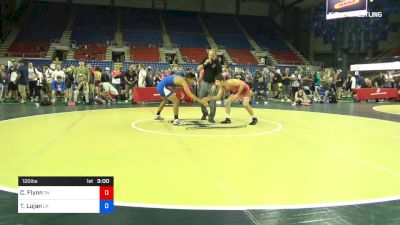 Unlock this video, live events, and more with a subscription!
Get Started
Already a subscriber? Log In
The Cavaliers are certainly in need of a 125 with Jack Mueller graduating, but Flynn won't have Mueller to work out with as the NCAA finalist is now with the NYC RTC. There's a good possibility by the time Flynn arrived in Madison that Eric Barnett and Kyle Burwick would be up in weight, or perhaps both at 133, so he might be able to start right away for the Badgers.
Another Big Ten school looking at Flynn is Rutgers, which would be a great fit if Dylan Shawver and Joey Olivieri go up in weight. I assume Sammy Alvarez also ends up getting bigger, which is crazy to think about given how small he was in high school. A third Big Ten program speaking to him is Indiana, whose head coach Angel Escobedo was a 125lb NCAA champ and 55kg world team member. Brock Hudkins has one more year left so Flynn could start right away if he wanted to.
Flynn won NHSCA grade level nationals as both a freshman and a sophomore, and would have been the favorite for a three-peat this year. He's a first-year UWW Junior and will compete at 57kg if there ends up being a trials this year. He's still not a big 125lb prospect, but should grow into it by the time he arrives on campus. The plan right now is for him to go 126 next season for McDonogh, closing out a one weight bump for him each year in high school.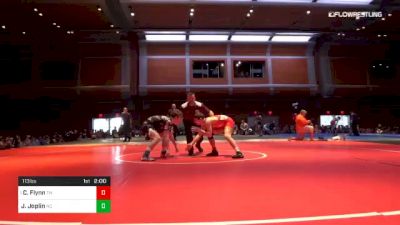 Unlock this video, live events, and more with a subscription!
Get Started
Already a subscriber? Log In
The only Division I program in his home state is UT-Chattanooga, and his time being able to attend the Southeast RTC coincided with Dan Dennis being down there. Although Dennis was never a coach for the Mocs, he ran the RTC and developed a relationship with Flynn. Although UTC is still in play, Dennis' departure to the Hawkeye Wrestling Club could make it a little harder to keep Flynn home.
Last but not least is Navy. The recent hiring of Cary Kolat no doubt helped their cause, and it would keep him in his new adoptive home of Maryland. The Midshipmen would have just a single 125 on the roster in Grant Treaster, so Flynn would be in a good position to be the guy.
As you can see, I project Flynn as a 125 in college, with the potential he grows into a 133 later in his career. When he was younger I saw him as a 141, but he never grew quite like I anticipated. Both his parents are short so it seems unlikely he hits a big growth spurt. If he can maintain 125 for his whole career he'll turn out to be one of the most valuable prospects in the 2021 class.