Unlock this article, live events, and more with a subscription!
Get Started
Already a subscriber? Log In
Singular success in sports is hard enough as it is; prolonged success and maintaining dominance seems downright impossible. Yet that's exactly what Penn State has done for a decade, the gold standard of winning in the current NCAA landscape.
Sustained excellence does not come from one or two stars, however. It comes from a team of them, and beyond that recruiting high-level talent to replace them and developing those prospects into All-Americans and national champs. We'll leave that to the coaches, but for us, we can break down who's in the pipeline for the major teams this season and moving forward.
As we have done for the past several summers, we're examining the depth chart for each team, with the context of what recruits they have slated to come in. My man Kyle Bratke tackled Iowa first and I have PSU. We'll follow that with the OSUs: he's taking Oklahoma State and I have Ohio State.
One important note: redshirting freshmen are at the bottom of the depth chart. This is not a comment on their skill but rather on the fact that, unless the plan changes, this year is used for development with no intention to have them start.
125 Pounds
| | | | |
| --- | --- | --- | --- |
| Weight | Spot | Name | Grade |
| 125 | 1 | Brandon Meredith | RSSO |
| 125 | 2 | Devin Schnupp | RSSR |
| 125 | 3 | Baylor Shunk | RSFR |
| 125 | 4 | Robert Howard | FR |
Looking Back: The curse of Nico Megaludis. Nick Suriano was supposed to be the guy, but he transferred out after one year and never wrestled in the postseason for the Nittany Lions. They've scored just 2.5 points combined at the past three Big Tens with zero NCAA qualifiers.
Adam Busiello committed as a high school freshman and they wanted him at 125, but he spent a semester at Arizona State and now looks to be a 149. Gavin Teasdale was brought in for a year, but he's a 133 for Iowa now. Brody Teske also spent some time in Happy Valley but transferred to Northern Iowa.
This Season: Weights where there will be a roster battle or incoming freshmen are even more interesting in these times of coronavirus. There's very little doubt Robert Howard is immediately the best 125 the second he steps on campus — however, he's coming off shoulder surgery and is young for his grade. In my view, the smart play is to let Howard heal, get another year to mature, and figure out how well he can hold 125 for five months.
If they just want the best guy (and he's healthy), Howard is the no-brainer. If they do want to slow play Howard, they've got Brandon Meredith and Devin Schnupp to choose from. Schnupp wrestled at Big Tens in 2019 and Meredith this past year. I went with Meredith in my way too early lineup look based on his 4-2 win over Schnupp at the Black Knight Invite.
Long-Term Outlook: Spoiler, but this is their number one area of need in the forthcoming targets article. There are two paths right now: Howard for the next four or five years, or Howard's really a 133 and whichever recruit they land becomes the lightweight through about 2026. The Bergen Catholic graduate finished up #7 on the Senior Big Board.
133 Pounds
| | | | |
| --- | --- | --- | --- |
| Weight | Spot | Name | Grade |
| 133 | 1 | Roman Bravo-Young | JR |
| 133 | 2 | Austin Clabaugh | RSJR |
Looking Back: Roman Bravo-Young came in and started right away as a true freshman after PSU didn't qualify in 2017 and got a half-point out of Corey Keener in 2018. He made obvious improvements year-over-year, going 24-7 with a 37.5% bonus rate as a freshman to 20-2 with a 50% bonus rate this past season. RBY went from placing fourth to second at Big Tens, and bumped his seed from tenth to fifth at NCAAs. He was a big storyline this year for PSU.
This Season: Bravo-Young has a redshirt to burn, but I don't see him using it this season or next unless it is due to an injury. There was a point I thought he would redshirt to put on weight and grow into a 141, but it's looking more and more like he'll just be making a title push at 133. Seth Gross is gone and Sebastian Rivera might be moving up, but in all likelihood Stevan Micic and Daton Fix (and maybe Nick Suriano) all return. It took Roman three tries to make a Cadet world team, will the third time be the charm to win NCAAs?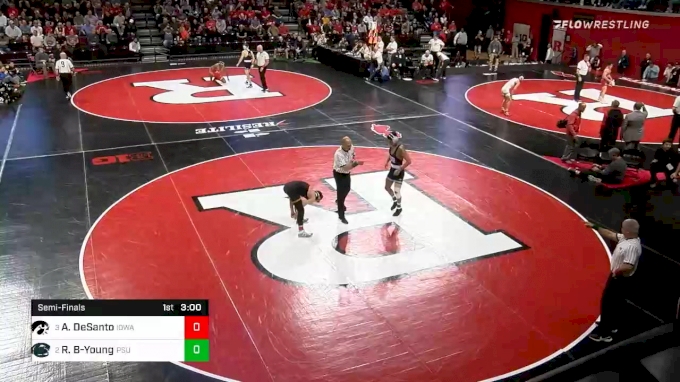 Unlock this video, live events, and more with a subscription!
Get Started
Already a subscriber? Log In
Long-Term Outlook: Again, this depends on Howard, and to some extent Beau Bartlett. I don't think Bartlett should be a '33 in college, but it's worth kicking the tires on, especially if Howard is going to stay small for his whole career. But I think more likely Howard is the guy once RBY graduates as long as his shoulder holds up.
141 Pounds
| | | | |
| --- | --- | --- | --- |
| Weight | Spot | Name | Grade |
| 141 | 1 | Nick Lee | SR |
| 141 | 2 | Mason Lindenmuth | RSSR |
| 141 | 3 | Joey Blumer | RSJR |
| 141 | 4 | Beau Bartlett | FR |
Looking Back: Nick Lee took over for Jimmy Gulibon and promptly placed fifth twice and was seeded second this year. His losses have gone down, his bonus percentage has gone up, and it's now his team. Seven of his 12 career losses have graduated.
This Season: Senior leadership is crucial to any team with big goals, and PSU's is the same every year: win a national championship. Eight times in nine years doesn't happen without leadership, and where it was once Zain, Bo, Nolf, Hall, and Cenzo, now it falls on Nick Lee's shoulders. That doesn't just mean winning. It means dominating, setting the tone, and putting the team on your back. The 2021 season will be one of the more difficult titles for a Cael-coached team if it happens, and it only happens if Nick Lee leads them to it.
Long-Term Outlook: I think this is the most obvious one so far. Weight can change once guys get to college, but Bartlett seems like a clear 141, and possibly for his whole career. After a redshirt that will allow Nick Lee to finish out his eligibility, the Arizona native and Wyoming Seminary product slides right in and we'll find out if his college career matches our blue-chip expectations of him. He was a four-time National Prep champ and finished his career #4 on the Big Board.
149 Pounds
| | | | |
| --- | --- | --- | --- |
| Weight | Spot | Name | Grade |
| 149 | 1 | Jarod Verkleeren | RSJR |
| 149 | 2 | Luke Gardner | RSSR |
| 149 | 3 | Adam Busiello | RSFR |
| 149 | 4 | Terrell Barraclough | RSFR |
| 149 | 5 | Scott Obendorfer | RSJR |
| 149 | 6 | Austin Boone | FR |
Looking Back: You never want to be the guy that follows a legend, which is exactly what Zain Retherford was. The first was Brady Berge, who pretty clearly seemed to have a tough pull that kept him from performing beyond his 2-2 record at NCAAs, both decision wins. Then you had Jarod Verkleeren, who wrestled in 12 duals and went 2-2 at Big Tens. Neither bonused at a rate that could compare to their admittedly historical peers.
This Season: I made Verkleeren the guy in my lineup look, but it's a fun one to speculate. Luke Gardner has only wrestled 46 matches in college, 40 of them at 149. Busiello made a late-season appearance at the Edinboro Open and is maybe the most intriguing guy on the team right now. Barraclough is a dark horse but had some solid high school results. Then there's Austin Boone, who I'm not sure why they wouldn't redshirt other than if they want to make a title push and he obviously shows himself to be the best guy.
Long-Term Outlook: It's pretty clearly Boone, and maybe sooner than later. The Michigan native had an interesting career, being high on the Big Board early on, then not doing much nationally, to having a monster Super 32 and signing late with the Nittany Lions.
157 Pounds
| | | | |
| --- | --- | --- | --- |
| Weight | Spot | Name | Grade |
| 157 | 1 | Brady Berge | RSJR |
| 157 | 2 | Bo Pipher | RSSR |
| 157 | 3 | Paul Feite | RSSO |
| 157 | 4 | Matt Lee | FR |
Looking Back: Four years of Jason Nolf produced one of the most incredible careers we've ever seen. At very worst he's a top-25 college wrestler of all time, and more likely he's closer to top-10 ever. The year after was a bit up-and-down, with Brady Berge wrestling just two matches, Luke Gardner taking two duals, and Bo Pipher wrestling at Big Tens but going 0-2.
This Season: There are more pressing issues the world is facing right now, but Brady Berge's health ties back in, as he seemed to face the kind of injuries that weren't going to go away. If that's still the case come the winter, you have to wonder if he just walks away from the sport to try to salvage a good quality of life afterward. Should he be looking at a clean bill of health though, he's very obviously an All-American contender. But I think the coaches are preparing for another year of Bo Pipher or perhaps throwing Matt Lee in right away rather than redshirting him.
Long-Term Outlook: As of now it's Lee, carrying on a tradition that began with his brother Nick and will continue with his brother Joe at 165. Matt spent his senior season in State College training with the Nittany Lion Wrestling Club and still has a redshirt available, so they could be set through 2026 if his trajectory approaches his eldest brother's.
165 Pounds
| | | | |
| --- | --- | --- | --- |
| Weight | Spot | Name | Grade |
| 165 | 1 | Joe Lee | RSFR |
| 165 | 2 | Mason Manville | RSSO |
| 165 | 3 | Konner Kraeszig | RSSO |
| 165 | 4 | Aurelius Dunbar | FR |
Looking Back: Somehow Vincenzo Joseph never won Big Tens and was never the one seed at NCAAs. But he made three finals, won two titles and was on pace for at least one more of those accolades. He's sticking around with the NLWC, hopefully for a full quad as he makes an Olympic run at 74kg. Cenzo will go down as one of the more underrated guys of this or any other era.
This Season: It's been a long time coming for Joe Lee, who committed as soon as Nick did, and the wheels were set in motion back then, about five years ago. Since, he's spent his senior year in Happy Valley, then did a greyshirt year, and THEN redshirted. So Cael and his staff have about as good a handle as you can get on a first-year starter. However, there is also that Greco maven Mason Manville hanging around after an Olympic Redshirt, though I'm wondering if he tries to take another one.
Long-Term Outlook: At this point, it's Lee until further notice. The great thing about entering a year with a freshman as a starter is that you can put off scouting a replacement for years. Now you still want depth in case of injury, but this weight and most of the back half of the lineup looks to be well in hand for the time being. For now, that depth comes in the form of Aurelius Dunbar, who has always had a big upside but it's just a question of what he needs to tap into that.
174 Pounds
| | | | |
| --- | --- | --- | --- |
| Weight | Spot | Name | Grade |
| 174 | 1 | Carter Starocci | RSFR |
| 174 | 2 | Creighton Edsell | RSSO |
Looking Back: Getting Mark Hall proved invaluable if for no other reason than that it kept him off other teams. That's not to call him a luxury, but he was emblematic of why Penn State's won eight in nine under Cael instead of say, four titles this past decade. I'm not sure what his plans are for senior-level and coaching, but a title, two finals, and a top seed makes for one hell of a career.
This Season: There is perhaps no wrestler more important to a Nittany Lion title push this season than Carter Starocci. He's got the blue-chip pedigree and appears to be at the right weight, but there's always a hint of skepticism attached to freshmen. Even nowadays given increased success early on, and especially at Penn State ("they won't be able to replicate that once Ruth and Taylor are gone"), but his best win last year was 11 seed Neal Richards.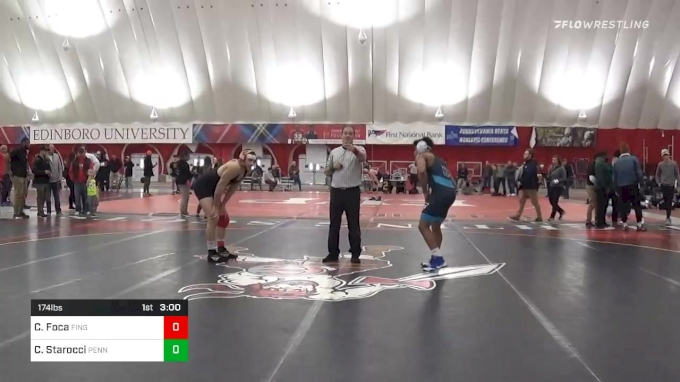 Unlock this video, live events, and more with a subscription!
Get Started
Already a subscriber? Log In
Long-Term Outlook: Once again, it's Starocci. And while I may be the slightest bit skeptical about his national title prospects this upcoming season (especially if Michael Kemerer doesn't go up), color me very surprised if he doesn't make at least one final in his career. But things could get weird in a few years with third-ranked junior Alex Facundo coming to town.
With a redshirt, there will be two years of overlap with Starocci. With a red and greyshirt, there's still one. To make it work, they may need to do both shirts, and then have one of them spend a year at 184 post-Aaron Brooks to maximize starting years.
184 Pounds
| | | | |
| --- | --- | --- | --- |
| Weight | Spot | Name | Grade |
| 184 | 1 | Aaron Brooks | SO |
| 184 | 2 | Donovan Ball | RSFR |
| 184 | 3 | Ritchie Heywood | RSFR |
Looking Back: Bo Nickal won a pair of titles as a sophomore and junior, then Shakur Rasheed took over and went 2-2. They thought Rasheed would be the guy last year, but after their first three competitions of the year Brooks had his redshirt pulled against Lehigh and never looked back.
This Season: Zahid's gone, as is Taylor Lujan. He avenged his only loss of the year when he pinned Taylor Venz at Big Tens, so AB sure looks a whole lot like a title contender. But Max Dean is back, Kemerer might be moving up, and Myles Amine is definitely moving up (though possibly all the way to 197), so it's hard to say his title odds have improved other than that he is another year stronger and wiser, and probably more healthy. This is probably the year we figure out if he can be another PSU bonus point monster.
Long-Term Outlook: It's Brooks, and then maybe Facundo, but for now we have Facundo as a 174lb prospect. With the June 15 contact date coming up, I could see them kicking the tires on a few sophomores at this weight, but more likely I see them not really targeting anyone until the 2023 class. In the meantime, a couple national titles is not an unrealistic expectation for the Maryland native.
197 Pounds
| | | | |
| --- | --- | --- | --- |
| Weight | Spot | Name | Grade |
| 197 | 1 | Michael Beard | RSFR |
| 197 | 2 | Austin Hoopes | RSSO |
| 197 | 3 | Joe Kurtz | RSFR |
| 197 | 4 | Eddie Smith | RSFR |
Looking Back: The first season post-Nickal was a tumultuous one. First it was supposed to be Kyle Conel, who was too injured to finish the year, then came a dinged up and not full strength Shakur Rasheed. No matter how you slice it, this past year did not go according to plan for Penn State.
This Season: No weight is a greater enigma than 197. It's not viewed as a tough weight, though perhaps more accurately it is still tough just difficult to predict. If you looked at Michael Beard's high school credentials, then attach Penn State to him, you wouldn't expect him to lose to Ethan Laird, Nathan Traxler, and Greg Bulsak. But that's exactly what happened, which means he's got some ground to cover if he wants to be an All-American in 2021.
Long-Term Outlook: It's Beard, and there's no cavalry on the way. They're relying on him to be as good as advertised, which in all honesty is a hard thing to live up to for most kids. Two AAs and a 50 percent bonus rate is a fantastic career, but he could fall short of expectations.
285 Pounds
| | | | |
| --- | --- | --- | --- |
| Weight | Spot | Name | Grade |
| 285 | 1 | Greg Kerkvliet | RSFR |
| 285 | 2 | Seth Nevills | RSSO |
| 285 | 3 | Keagan Carmenatty | RSFR |
Looking Back: Much is made of 125, but heavyweight has also been constantly in flux under Cael Sanderson, and not always in a bad way. There was the transition from the Thomas Haines verbal to eventually receiving one from Nick Nevills. He battled some injuries but that of course ultimately led to his little brother Seth Nevills coming. Then Anthony Cassar recovers from a bad shoulder injury, bulks up to heavyweight and makes an improbable NCAA title run, only to get two years back from the NCAA, but then he gets hurt. All the while Greg Kervkliet comes in, likely ending any shot Seth had of starting.
This Season: While Starocci may be more of a question mark, Kerkvliet is also hugely important to PSU's ceiling for the national tournament. The potential has never been questioned, he simply had to settle on one place for himself. He'll be favored against both Mason Parris and Tony Cassioppi, and once wrestled Gable to a one-point defeat in folkstyle.
Long-Term Outlook: Three of Kerkvliet's years overlap with those three guys mentioned above, but his senior year is ripe for domination if he remains healthy.