2020 Matteo Pellicone | UWW Ranking Series
97 kg Matteo Pellicone UWW Ranking Series Preview
97 kg Matteo Pellicone UWW Ranking Series Preview
Two Olympic medalists, six World medalists, and a potential Snyder-Nickal match headline the 97kg field in Rome.
Jan 13, 2020
by JD Rader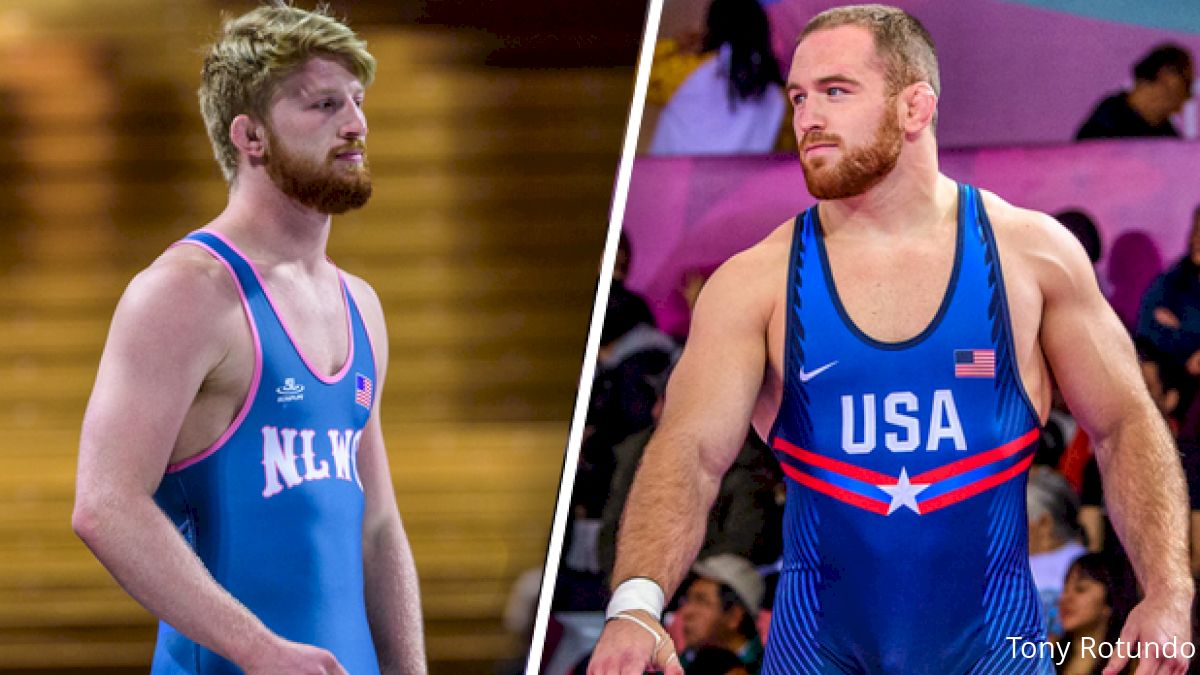 Unlock this article, live events, and more with a subscription!
Get Started
Already a subscriber? Log In
The first international stop in the trek to Tokyo is in Rome for the Matteo Pellicone Ranking Series event. At Ranking Series events, athletes earn points based on their finish and the number of athletes in their bracket.
Watch the Matteo Pellicone LIVE on Flo
January. 15-18 | 4:30 AM Eastern
America is sending three athletes at 97kg: Kyle Snyder, Bo Nickal, and Hayden Zillmer. There are 16 other entries from all over the World including Bucknell assistant coach Evan Ramos, who represents Puerto Rico.
Weight class previews: 57 kg I 65 kg I 74 kg I 86 kg
Team USA
#2 Kyle Snyder (2016 Olympic champ, 2015 & 2017 World champ, 2018 World silver, 2019 World bronze)

#13 Bo Nickal (2019 U23 World champ)

Hayden Zillmer (2018 Cerro Pelado champ)
International Field
#6 Mohammad Mohammadian, IRI (World bronze 2014)

#9 Aliaksandr Hushtyn, BLR (2019 European silver)

Valerii Andriitsev, UKR (World bronze 2014)

Pavel Olejnyik, HUN (World bronze in 2013 & 2015)

Abraham Conyedo, ITA (World bronze 2018)

Ibrahim Bolukbasi, TUR (2019 Dan Kolov bronze)

Murazi Mchedlidze, UKR (2017 U23 bronze)

Jose Diaz, VEN (2016 Spanish Grand Prix bronze)

Fatih Yasarli, TUR (2018 Yasar Dogu bronze)

Jordan Steen, CAN (2018 Pan Am bronze)

Chaoqiang Yang, CHN (2018 U23 fifth)

Georg Stark, GER (2019 Spanish Grand Prix champ)

Erik Thiele, GER (2016 Junior World silver)

Gennadij Cudinovic, GER (2019 Henri Deglane bronze)

Ravi Ravi, IND (2019 U23 fifth)

Evan Ramos, PUR (2019 Pan Am bronze)
Commentary: Similar to 74kg, this weight has one big primary matchup American fans are going to want to see with a few landmines thrown in that could stop it from happening. At 97kg, it's Kyle Snyder vs Bo Nickal. In addition to the technical questions, because we've never seen these two compete against each other, the fact that Snyder and Nickal are now teammates adds another interesting factor to this match.
Snyder has competed twice since joining the NLWC, picking up gold at the Bill Ferrel and Alans, and looked phenomenal doing so. He teched his way through Ferrell and beat five really solid opponents at Alans, including 2016 Olympic bronze medalist Magomed Ibragimov of Uzbekistan, 2019 Yarygin and Euro silver Alexander Hushtyn of Belarus, and 2019 Russian Nationals champion Vladislav Baitsaev. Watch Snyder's Alans finals match with Vladislav Baitsaev here.
Bo hasn't competed since winning his U23 World gold medal in early November. The only opponent Bo didn't tech there was Shamil Zubairov of Azerbaijan, the 2018 U23 champ, and Bo beat him 9-1.
Another big question coming into this match is whether or not Bo's size will be an issue. We've never seen Bo above 92kg, and he even weighed in for Final X at 87.7kg. That's about 20 pounds under 97kg. That could be a big issue against Snyder, who isn't exactly small for 97kg.
With all these questions, there are still a few things you can probably count on seeing: high-level technique, hard clubs/hand fighting, possibly an ankle pick and/or high crotch from either guy, and no easy takedowns.
There are two guys ranked higher than Nickal that could very well prevent this match from happening: #6 Mohammad Mohammadian of Iran and #9 Aliaksandr Hushtyn of Belarus.
Mohammadian won World bronze at 86 kg back in 2014, where he beat Ed Ruth.
However, after 2015, Mohammadian dropped off of the radar, but he's been back in action this season. So far the Iranian has taken third at Alrosa Cup, out-placing three-time World medalist Salas Perez and Yarygin and Russian Nationals champ Anzor Urishev, and won World Military Games. In the World Military Games finals, Mohammadian edged Hushtyn 3-2.
Hushtyn has been a top guy at 86/97 since 2015 when he won U23 Worlds and was Belarus' Senior Worlds rep. In the 2019 season, Hushtyn finished bronze at European Games and silver at European Championships and Yarygin. In the European finals, Hushtyn held Sadulaev to a 3-1 match.
Valerii Andriitsev of Ukraine is another solid guy who has been around the block. Andriitsev made his first Senior World Team in 2009, where he went 0-1. Since then, Andriitsev won Olympic bronze in 2012, Olympic fifth in 2016, European silver in 2012, European bronze in 2015, and Yarygin bronze in 2015. At last year's World Championships, he went 2-1, losing in the quarterfinals to Kyle Snyder 13-3. Snyder also beat Andriitsev at Dan Kolov last year.
The last two guys with Senior World medals to their name in Rome at 97 will be Pavel Olejnyik of Hungary and Abraham Conyedo of Italy (formerly Cuba). Olejnyik won in 2013 and 2015, but was actually denied his third by Conyedo in 2018.
I have only mentioned a handful of names but clearly this weight is loaded with good wrestlers and great potential matchups all the way through, even outside of Kyle Snyder vs Bo Nickal (but still fingers crossed it happens).
97kg will be wrestled in its entirety on Saturday, January 18. Wrestling begins at 4:30 AM EST, with finals slated for 2 PM EST.