Unlock this article, live events, and more with a subscription!
Get Started
Already a subscriber? Log In
Everyone knows Super 32 is one of the toughest high school tournaments in the country. (I'd posit that it's the most difficult open folkstyle tournament in the world.)
And as its field and depth grow, the number of its alumni that go on to do work at the NCAA level becomes more and more correlated; 13 of the 20 NCAA finalists this year were also Super 32 placers.
Additionally, the field this year includes 235 of the 600 total Big Boarders for 40 percent of all the top talent.
From 106 through 145, the brackets will contain more than half of the nation's top 20 per weight.
Watch Super 32 LIVE on FloWrestling
Saturday & Sunday, October 12 & 13 | Starting at 8:00AM ET
Below are the top contenders, notes, and picks for the first four weights. Look for the middleweight and upperweight previews coming later in the week. Fill up on all the Super 32 intel and then buckle up to watch it unfold. Pro tip: don't miss the quarterfinal round on Sunday at 8 AM. It's perhaps the best round of high school wrestling all year.
More Super 32 Content: Women's Preview | College Fan Guide | Ranked Wrestlers By State
106: Entries - 165
Last Year's Final: Stevo Poulin (NY) DEC Drake Ayala (IA), 11-8
2009 Final: Joey Dance (VA) dec. Freddie Rodriguez (MI) 6-4
The Ranked:
#1 Cory Land (AL) - NHSCA Champ
#4 Mitchell Neiner (WA) - Fargo Runner-Up
#6 Mason Gehloff (MN) - CD Greco World Team
#7 Danny Sheen (IL) - Fargo Champ
#8 Jore Volk (MN) - Fargo Champ
#9 Carter McCallister (MO) - Fargo 3rd
#10 Brandon O'Brien (IA) - Fargo Runner-Up
#11 Peyton Fenton (OH) - State Champ
#12 Carter Fousek (IA) - State Champ
#14 Mac Church (PA) - Akron Runner-Up
#15 Kai Owen (FL) - Fargo 4th
#16 Caden Horwath (MI) - Fargo Runner-Up
#17 Clarence Moore, Jr (CA)
#18 Tyler Vazquez (NJ)
#19 Charlie Farmer (IL) - Fargo 5th
#20 Joseph Fernau (IL) - Fargo 6th
Other Contenders:
Gary Steen (PA)
Greyson Clark (WI)
Dylan Gilcher (MI)
Cisco Cabrera (CA)
Maxximus Martinez (CA)
Camron Phetxoumphone (IA)
Beau Mantanona (CA)
Kyle Montaperto (NC)
Nathanael Jesuroga (IA)
Koy Buesgens (MN)
Cam Soda (MA)
DJ Gillett (OR)
Jaden Pepe (PA)
Brayden Sonnentag (WI)
Brandon Cannon (CO)
Cael Keck (MO)
Danny Martinez (FL)
Gabe Giampietro (DE)
Bryce Luna (CA)
Ryder Block (IA)
Hayden Cunningham (PA)
Zack Soda (MA)
Benjamin Aranda (IL)
Tyler Kasak (PA)
Jacob Brya (MI)
Sam Goin (IN)
Marlon Yarbrough (OH)
Commentary: Absolutely phenomenal weight with 16 of the 20 ranked wrestlers including the #1 guy in Cory Land who won NHSCAs in a deep bracket, and made Akron finals in both styles. He's tough and scrappy, and you need that to navigate a tournament as deep as S32. He has all the ingredients of a S32 champ.
He leads almost two dozen Fargo/Akron AAs with some twists in there as well. Both Gary Steen, who was third at Ironman last year, and Max Martinez, last year's Akron runner-up, have changed weights to 106.
Kai Owen just beat Horwath in the Grappler Fall Classic finals. Volk beat Horwath, another Davison product coached by Paul Donahoe, in Fargo Cadet finals. Sheen beat O'Brien in Fargo Cadet finals.
I really like Fenton, too. Look at the track record of Ohio big school 106 champs. Fenton won a very deep bracket there last year and returns at the same weight.
I have two guys to look out for that may not be household names. Tyler Vasquez is going to be a star. Whether that happens as soon as this weekend is to be determined but trust me, he's coming. Also give me Cisco Cabrera to make a splash.
Willie's Picks: 1. Fenton 2. Land 3. Steen 4. Vasquez
---
113: Entries - 158
Last Year's Final: Richie Figueroa (CA) DEC Greg Diakomihalis (NY), 5-4
2009 Final: Jerome Robinson (Ohio) dec. Brandon Jeske (Virginia) 3-2
The Ranked:
#3 Jeremiah Reno (MO) - Returning 3rd
#4 Nico Provo (CT) - Fargo Runner-Up
#6 Braxton Brown (TX) - Returning 4th
#8 Joziah Fry (RI) - Fargo 5th
#9 Yusief Lillie (WA) - Fargo 4th
#11 Jett Strickenberger (CO) - Akron 5th
#12 Jacob Rivera (CA) - State 6th
#13 Brady Hankin (CO) - Fargo 5th
#14 Blake West (MN) - Fargo Runner-Up
#15 Eli Griffin (OK) - Fargo 3rd
#16 Kelly Dunnigan (NJ) - Returning 5th
#17 Carter Dibert (PA) - State Champ
#18 Max Black (CO)
#19 Diego Sotelo (IL) - Ironman 8th
#20 Joseph Cangro (NJ) - Journeyman 2nd
Other Contenders:
Andrew Harmon PA
Joe Davi NJ
Aiden Lewis PA
Reid Nelson MN
Jackson Baglio NC
Sulayman Bah NY
Jackson Bond GA
Tryon Kaess WA
Erik Roggie VA
Joseph Manno NJ
Ryan Luna CA
Jordan Soriano NY
Isaiah Gamez CO
Jacob Moon OH
Braxton Appello PA
Richard Treanor NC
Cole Thomas KY
Kenny Sailas CO
Mason Brugh OH
Nathan Roth PA
Christian Decatur NC
Hunter Adrian MA
Jacob Craig PA
Evan Kinney MA
Nolan Gessler OH
Kyle Hauserman PA
Danny Nini FL
Fernando Barreto CA
Weston Dalton CO
Jack Maida NJ
Alexzander Cottey IN
Benjamin Monn PA
Nick Gonzalez IL
Josiah Encarnacion NY
Commentary: Another fantastic weight with 15 of the 20 ranked wrestlers in the country. The field is led by perennial top-five Jeremiah Reno who was third at both Fargo and last year's S32 where his only loss was to then-#1 Greg Diakomihalis.
Next up is Nico Provo who had a monster summer. He was third at FloNationals losing only to #1 Richie Figs, and then second at Fargo to Jordan Williams (who is in this field at 120).
Ironman finalist Braxton Brown is next.
The rest of the field is full of parity and incredibly deep. Joziah Fry had a breakout Fargo and then look at all the Colorado talent. Three ranked at the weight and don't forget about Sailas, who is about as good as their ranked guys, Gamez (another CO state champ) and Dalton (a FR Big Boarder). The Colorado boys will 100 percent have a say in how this bracket plays out.
One guy I'm really interested in seeing is Selma's Jacob Rivera, who was sixth in Cali last year up at 120 as Selma had top-five guys (Figs and Lujan) at 106 and 113.
It's tough to choose a darkhorse at this weight. Anything can happen with so much parity. But give me Ohio's Jacob Moon if you're looking for an unexpected run. He and Carter Dibert should make noise — the PA state champ who really hasn't done anything outside of that. I'm looking for him to confirm his elite-ish status.
I also want to see freshmen Sulyaman Bah and Joe Davi.
Willie's Picks: 1. Provo 2. Reno 3. Rivera 4. Strickenberger
---
120: Entries - 198
Last Year's Final: Lucas Byrd (OH) DEC Sam Latona (AL), 6-3
2009 Final: Chris Mecate (CA) dec. Mike Rhone (PA) 3-0
The Ranked:
#3 Maximo Renteria CA - 2x State Champ
#4 Jordan Williams OK - 2x Fargo Champ
#6 Zeke Seltzer IN - Fargo Runner-Up
#7 Jordan Titus NY - 2x State Champ
#8 Nicolar Rivera WI - Fargo Champ
#9 Drake Ayala IA - Returning Runner-Up
#10 Dean Peterson NJ - 2x State Finalist
#11 Anthony Noto NY - Returning 7th
#13 Cooper Flynn TN - Fargo 7th
#14 Dustin Norris OH - Ironman Placer
#15 Tristan Lujan CA - Returning 4th
#18 Vincent Santaniello NJ - State 3rd
#19 Brennan Van Hoecke FL - Fargo 3rd
#20 Nick Kayal NJ - State 4th
Other Contenders:
Dominic Chavez TX
Casey Swiderski MI
Colton Drousias IN
Nicholas Babin NJ
Andrew Chambal MI
Meyer Shapiro MD
Finn Solomon PA
Cole Skinner OH
Paxton Creese MN
Nain Vazquez IL
Chance Lamer OR
Gable Strickland PA
Zachary Espalin AZ
Jacob Mann MO
Jackson Arrington PA
Richard Fedalen MD
Nick Fea NY
Levi Haines PA
Troy Spratley NY
Chris Kim PA
Evan Holloway VA
Kase Mauger ID
Dylan Chappell PA
Stevie Ray Barnes IA
Ethan Fernandez NJ
Kobe Early NC
Kyle Waterman PA
Gregor McNeil PA
Blaine Brenner WI
Matthew Mayer PA
Riley Bettich IN
Brenden Barnes VA
Braden Basile FL
James Joplin NC
Garrett Grice NE
Ethan Sellers GA
Aaron Lucio MI
Rocco Camillaci NY
Christian Moder FL
Trace Ragland VA
Michael Joyce RI
Angelo Lozado CO
Vincent Robinson IL
Michael Atencio CO
Micah Roes NY
CJ Shea CT
James Latona AL
Cole Bayless PA
Dustin Smith VA
Ryan Michaels PA
Commentary:
This weight is just insane. There are 14 of the top 20 here but it goes so much farther beyond that. The first 23 guys listed under "Other Contenders" were all ranked at some point. Then add in the FR and SO Big Boarders and you have the recipe for one of the deepest brackets I've ever seen.
Seven of the eight medalists from the Fargo Cadet 120 bracket are here. The top four placers — all nationally ranked — from the New Jersey state tournament at 113. Two three-time state finalists from New York. And this year's Fargo 113 JR champ, Drake Ayala, who made the S32 finals last year.
Maximo Renteria will enter as the favorite for many people. He's on the exclusive path to Cali four-timer status. He had a good start to S32 last year but lost to Cardenas (at 126 now) and then defaulted. Uber-talented and savvy, the question will be if he can maintain pace when pushed late. And boy are there a lot of those types he could hit.
Jordan Williams also had a rough go at S32 last year despite being a universally celebrated talent. He won his first four bouts and dropped the next two, losing to two placers (Chappel and Brown). Like Maximo, there's reason to pause in picking Williams as well. Whereas Maximo's tank might make you second guess, Williams rallies from behind just so often you have to think his magic might run out in a tournament so deep.
There are so many guys that can win. I'll skip the tedium of telling you about Seltzer (who's a whiz) and Titus and the funky Nicolar and fan-favorite Drake Ayala. You all know about them.
Instead, let me gush a little about Dean Peterson. His status doesn't have him in the stardom category as it does for the aforementioned, but I'm here to tell you that he's just as good. He's a two-time finalist in Jersey and he's been absolutely mashing people.
It's such an awesome bracket that PA finalists are just a footnote. And it makes for picking the placers almost a fool's errand. So I'll say this: I truly believe Maximo is the most talented of the group. If he finishes matches off instead of managing leads I think he can get it done.
Willie's Picks: 1. Maximo 2. Peterson 3. Seltzer 4. Ayala
---
126: Entries - 164
Last Year's Final: Shayne Van Ness (NJ) DEC Ryan Jack (CT), 10-6
2009 Final: Devin Carter (VA) maj. dec. Brandon Wright (IN) 13-4
The Ranked:
#5 Nic Bouzakis PA - Fargo Champ
#6 Wyatt Henson MO - Fargo 3rd
#7 Eddie Ventresca NJ - State Champ
#10 Ethen Miller MO - Fargo Runner-Up
#11 Jacob Rundell IL - FloNationals Champ
#16 Jayden Gomez CA - Fargo 6th
#17 Brayden Littell IN - Returning 8th
#20 Zachary Redding NY - 2x State Finalist
Other Contenders:
Dylan Evans PA
Aiden Riggins IA
Khyler Brewer MO
Chris Arciuolo PA
Nicholas Nardone NJ
Jager Eisch WI
Sam Hrabovsky MO
Jaekus Hines FL
McKenzie Bell NJ
Ismael Ayoub OH
Rocco Welsh PA
Antoine Allen OH
Eli Rocha MO
Mitchel Petersen MN
Cole Homet PA
Adam Allard IA
Noah Horst TN
Nicco Ruiz CA
Gavin Drexler WI
Ivan Garcia NY
Damon McGee Jr. VA
Conor Knopick NE
Cole Wilson PA
Caleb Tanner OK
Aiden Evans IA
Maximilian Leete MA
Luke Lucerne PA
Kurtis Phipps PA
Ethan Oakley NC
Jake Swink GA
David Panone GA
Pierson Manville MN
Colin Dupill VA
Kyren Butler OH
Nicholas Masters GA
Tom Crook FL
Commentary:
Kind of odd that there are "only" eight ranked kids when the surrounding weights are well into the double digits. That being said, there are still buckets of talent here.
Bouzakis is the lead dog and I think he takes it home. At Journeymen two weeks ago he was pounding everyone in the same fashion he was in Fargo. That being said, Henson has been oh-so-close to reaching the finals at a major, and he's still down at 126. He should be a title threat if he can remain consistent throughout.
Ventresca had a banner year with big wins at the Beast and a state title in Jersey. He just took a couple of losses, though, at Waterway Duals. Ethen Miller had a heckuva Fargo run. Let's see if he can keep it rolling, and in folk.
Rundell beat Jesse Ybarra (now #1 at 120) and Nicolar Rivera (once #1 at 106) at FloNationals. But his game there was largely dependent on a front head pinch and other freestyle-specific moves. While not "freestyle-specific," Ismael Ayoub came out of nowhere (0-2 at the state tournament) to upset a bunch of good talent in Fargo. I'm keeping an eye on him.
Let's get to some under-the-radar type guys. Gomez hit the map in Fargo then crushed a very good field at GFC last week. He could be sneaky here. As could Nico Nardone, a returning placer.
In a recurring theme of PA State finalists that need to further confirm their place in the national pecking order (Solomon/Dibert/Arrington), I want to see more of Kurtis Phipps who could certainly be a factor here.
Finally, I've been watching and waiting for Oklahoma's Caleb Tanner to have a breakthrough. Still down at 126, I think this is probably his time to make a little noise.
And finally, what a slew of talented freshmen. Rocco Welsh, Collin Dupill, and Dylan Evans among them. I think they are staples in the rankings going forward.
Willie's Picks: 1. Bouzakis 2. Miller 3. Henson 4. Welsh
---
132lbs: Entries - 164
Last Year's Final: Dylan D'Emilio (OH) DEC Beau Bartlett (PA), 5-2
2009 Final: Frank Cagnina (NJ) DEC Jason Tsirtsis (Indiana) 3-1
#2 Jesse Mendez, IN
#5 Frankie Tal-Shahar, FL
#7 Daniel Cardenas, CO
#8 Nathaniel Pulliam, MO
#10 Trey Crawford, MO
#11 Kal Miller, MO
#13 Reid Ballantyne, MN
#14 Ramon Ramos, AZ
#15 Kellyn March, SD
#16 Carter Young, OK
#18 Joel Vandervere, IL
#20 Brock McMillen, PA
Other Contenders:
Anthony Clark, NJ
Devin Murphy, CA
Dylan Cedeno, NJ
Chase DeBlaere, ND
Michael Kilic, GA
Skylar Smith, TX
Eddie Homrock, MI
Chris Rivera, FL
Zack Witmer, PA
Ben Alanis, AZ
Blake Boarman, IN
Noah Horst, TN
Danny Pucino, IL
Julian Farber, GA
Casey Wiles, OH
Ian Oswalt, PA
Tagen Jamison, TX
Anthony White, NJ
Jayden Scott, NY
Commentary: What a difference a year makes. It's fascinating how different the lay of the land looks from 2018, starting right with the guys at the top. A year ago, we had no idea where most of these guys would be attending college or just how high they could climb in the rankings. The favorite coming in is now Jesse Mendez (Crown Point, IN), the #3 recruit on the 2022 Big Board who just took a freestyle match from Ryan Jack at WNO. Unfortunately, we won't get the rubber match at Super 32.
Ryan Jack is injured at will not be at S32.

— Willie Saylor (@WillieAtFLO) October 9, 2019
One of the most confusing contenders is #5 Frankie Tal-Shahar, who went 2-2 here last year but then made the Ironman finals six weeks later. He should be seeded highly, and I'm always curious to see which version of Tal-Shahar we get. One thing I know for sure: I'll try to be matside for as many of the Northwestern commit's matches as I can be. His younger brother Michael is wrestling 182.
There are three 120s who placed all coming up to 132 this year: Dylan Cedeno was fourth, Daniel Cardenas (CO) was fifth, and Anthony Clark was sixth. Cardenas comes in ranked seventh, and is #9 on the sophomore Big Board, just a few spots behind Mendez. Clark and Cedeno, both New Jersey boys, are going Ivy League as Clark will be at Princeton and Cedeno at Cornell.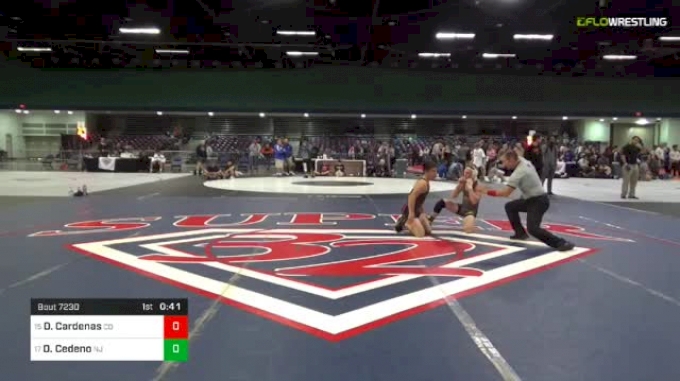 Unlock this video, live events, and more with a subscription!
Get Started
Already a subscriber? Log In
Two Park Hill boys are registered for the same weight, #10 Trey Crawford recently committing to Missouri and #11 Kal Miller still a free agent. It will be interesting to see which weights they go in the regular season and if their performance here has any impact on that. Another Missouri stud in #8 Nathaniel Pulliam is also registered.
Making his third appearance at Super 32 is #13 Reid Ballantyne (Stillwater, MN). He went 2-2 as a freshman and 5-2 last year, both at 120, so he is still looking for his first placement in Greensboro. The three-time Minnesota state champ is ranked 26th on the Junior Big Board and is still uncommitted.
Fargo finalist Ramon Ramos (Valiant Prep, AZ) comes in ranked 14th. Ramos did not compete at states last season but did college opens. Last year, he was the 12 seed at 120 but went just 1-2. He is coached by Eric Larkin and Angel Cejduo. Another West Coast boy in Devin Murphy (Selma, CA) may be able to do some damage in his first crack at S32.
Recent North Dakota State commit Kellyn March (Canton, SD) went 3-2 as the nine seed last year and is back at the same weight. Carter Young (Stillwater, OK) finally seems to have settled into a weight after hitting some growth spurts the past couple years.
Joel Vandervere (Warren, IL) has finished second and third in Illinois 3A the past two years. He is #35 on the 2020 Big Board and is making his first appearance at Super 32. Rounding out the ranked athletes is Pitt commit Brock McMillen, who made the state finals as a freshman and won PIAAs this past year for Glendale.
Like most weights the dark horse is long, so I'll try to keep this brief. There will be college eyes on Noah Horst (Baylor, TN) to see if his results start to pick up. Illinois commit Danny Pucino could make some noise. Valiant Prep's unranked Ben Alanis will make life terrible for someone in the early rounds. Witmer has long been a guy I've had my eye on. Willie is expecting big things out of Eddie Homrock.
With Jack out, the sophomore Mendez becomes the favorite. Remember, he's coached by the same guys that brought up Jason Tsirtsis (in fact Jason's brother Alex was in Mendez corner last week at WNO), and Tsirtsis never won a Super 32 belt. To bring the first one home to Crown Point, he'll have to live up to the now sizable expectation on his shoulders and navigate a field with all the killers mentioned above. Mendez did win the middle school division back in 2017.
Nomad's Picks: 1) Mendez, IN 2) Tal-Shahar, FL 3) McMillen, PA 4) Crawford, MO
Foster's Picks: 1) Mendez, IN 2) Cardenas, CO 3)Crawford, MO 4) McMillen, PA
---
138lbs - 162 Entries
Last Year's Final: Jaden Abas (CA) DEC Jesse Vasquez (CA), 3-1
2009 Final: Josh Dziewa (PA) MAJ Jordan Beverly (NJ), 9-0
#2 Josh Saunders, MO
#4 Lachlan McNeil, CAN
#5 Mick Burnett, OH
#6 Sammy Hillegas, PA
#7 Kenny Herrmann, PA
#8 Caden McCrary, GA
#9 Caleb Henson, GA
#10 Josh Edmond, MI
#11 Teague Travis, MO
#15 Ethan Basile, FL
#16 Drew Eller, GA
#17 Matt Bianchi, WI
#18 Bretli Reyna, FL
#19 Henry Porter, CA
#20 Garrison Dendy, TN
Other Contenders
Alek Martin, OH
Hayden Taylor, IA
Domonic Baker, VA
Justin Mastroianni, CT
Ryan Burgos, NY
Justin Rivera, FL
Nick Moore, OH
Luke Sloan, TX
Kaleb Larkin, AZ
Jared Keslar, PA
Alex Ramirez, CA
Mitchell Mesenbrink, WI
Bam West, OK
Isaac Salas, CA
Jalen Spuhler, WI
Commentary: In his final crack at Super 32, Joshua Saunders walks in as an overwhelming favorite. It will probably be his last high school folkstyle event until the Missouri postseason, when he will return to try to win his fourth state title for Christian Brothers College. In the meantime, Saunders will be training at the OPTC with their EAP, the same program Aaron Brooks, Gabe Tagg, and others have gone through.
Canadian Lachlan McNeil (Wyoming Seminary) is the next-highest-ranked athlete at #4 in the weight. The North Carolina commit was a three-time Cadet world team member for Canada and made three Pan Am finals, winning the first two. He is one of the most intriguing entries with one of the more circuitous routes to D1 wrestling.
Looking to get over the hump is #5 Mick Burnett (Elyria, OH), who for the past two years has lost in the ultimate tiebreaker in the round of 16. But after winning his first Ohio state title, the Pitt commit has to be considered among the favorites to make the finals.
At this point, I'm pretty sure it is mandatory that #6 Sammy Hillegas (North Hills, PA) and #10 Josh Edmond (Detroit Catholic Central, MI) meet in all major tournaments. They met in the first round in 2017 at 126, a 4-3 win by Hillegas and in the quarters last year, a 7-6 victory for the Pennsylvania boy.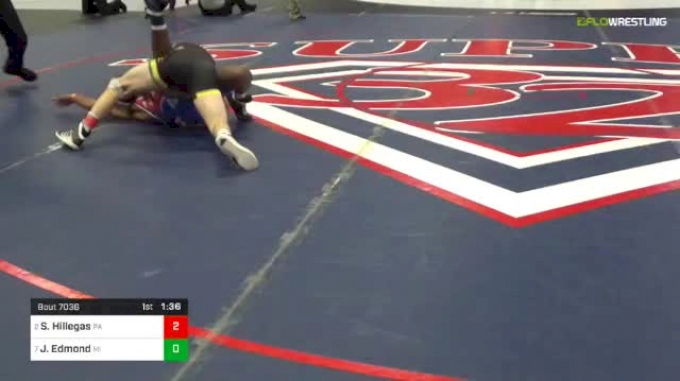 Create a free account to unlock this video!
Get Started
Already a subscriber? Log In
Just like Park Hill at 132, a couple Georgia boys from Woodland High School are entered at 138. They are #8 Caden McCrary and #9 Caleb Henson. They were both at 138 for Fargo as well, though Henson went up to 145 for Greco. Henson made the semis last year, beating Sammy Alvarez, Joey Olivieri, and Jason Miranda to get there, but slid to sixth. McCrary went 4-2 at the same weight.
Looking to make a big jump this year is Teague Travis (Father Tolton, MO) after going 3-2 last year. The Eierman Elite product has been in between weights a little and has produced more of his results in freestyle.
The South is well-represented at this weight with #15 Ethan Basile (Tampa Jesuit, FL) who's headed to Northern Iowa, #16 Drew Eller (Evans, GA) committed to Lander College, #18 Bretli Reyna (South Dade, FL) still uncommitted, and #20 Garrison Dendy (Baylor, TN) also uncommitted but the youngest of the group as a sophomore.
Back at the same weight is South Dakota State commit Alek Martin (St. Paris Graham, OH), who went 3-2 last year and 4-2 as a 120lb freshman. More Valiant Prep here at the middleweights with Kaleb Larkin entered, he's #68 on the 2022 Big Board.
Nomad's Picks: 1) Saunders, MO 2) Hillegas, PA 3) Burnett, OH 4) Travis, MO
Foster's Picks: 1) Hillegas, PA 2) Saunders, MO 3) Edmond, MI 4) Burnett, OH
---
145lbs - 146 Entries
Last Year's Final: Keegan O'Toole (WI) FALL James Whitaker (MI), 2:55
2009 Final: Josh Kindig (PA) DEC Stephen Dutton (NY), 9-3
#3 Manzona Bryant, OH
#4 Joey Zargo, NJ
#6 Paniro Johnson, PA
#7 Cael Berg, MN
#9 Vinny Zerban, MO
#11 Ed Scott, PA
#13 Nick Vafiadis, VA
#15 Chase Warden, TX
#16 Austin Boone, MI
#18 Luke Odom, IL
#19 Francis Morrissey, GA
#20 Jagger Condomitti, PA
Other Contenders
Aidan Medora, WI
Noah Castillo, FL
Matt Singleton, GA
Jaden Le, CA
Victor Jacinto, CA
Kolby Allred, VA
Erik Gibson, PA
Thor Michaelson, WA
Micah Norwood, OH
Josh Barr, MI
Cade Balestrini, PA
Commentary: Phenomenal group here. Highly skilled, but still unproven and/or young. No one in this weight has even placed within the top five of Super 32 before, which means a good chunk of them will get to make a name for themselves this weekend. Especially on day one, this weight will be rife with upsets.
At the top is #3 Manzona Bryant (Western Reserve, OH), who's finally a senior. A National Prep and FloNats runner-up, could this finally be his breakthrough major win? He's still uncommitted, but #4 Joey Zargo (Bergen Catholic, NJ) verballed to Wisconsin last month. The FloNats champ is looking for his first placement in Greensboro, compiling a 9-6 record overall here the past three years.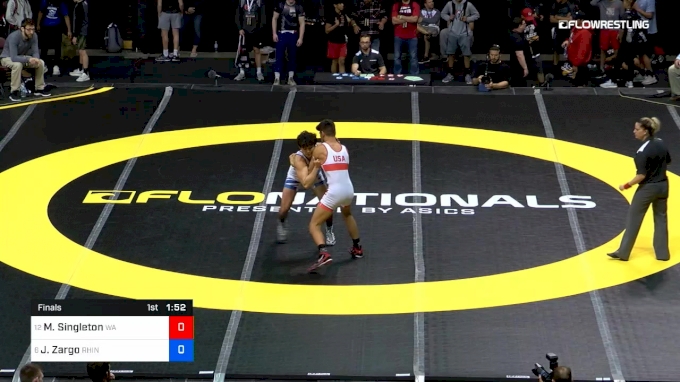 Unlock this video, live events, and more with a subscription!
Get Started
Already a subscriber? Log In
We just saw a Simley junior at Who's #1 in Ryan Sokol and we'll see another at Super 32 in #7 Cael Berg. He was just 2-2 last year, getting knocked out by Cade Balestrini. The rangy Vinny Zerban (Christian Brothers, MO) has gone 4-2 in both of his first two tries here, down at 113 and 132. The uncommitted junior has an excellent elbow pass and scores off a bundle often.
NC State commit Ed Scott (DuBois, PA) is a state champ and perhaps one of the most underrated guys you'll see this weekend. He got upset by another PA boy last year and fell short of placing so he'll be out to send a message this year. Super 32 was built by Virginia schools, so #13 Nick Vafiadis of New Kent will look to emulate the likes of Jordan Frishkorn, Patrick Bond, Cody Gardner, Devin Carter, and Joey Dance in bringing a belt back to the Commonwealth.
For years, we've known #16 Austin Boone (Lowell, MI) was good, but we were never quite sure how good. He's a three-time D2 state champ, but has never had an undefeated season and rarely ventures outside the state, but did go 3-2 here as a freshman. This year seems different, though, as no one's been more active than Boone. He won the IndianaMat Hoosier Preseason Open, was third at the Journeymen Fall Classic, and third at the Grappler Fall Classic, basically hitting all of the big ones on the Road to Super 32.
Chase Warden (Dripping Springs, TX) is the best wrestler with local proximity to FloHQ. He's been around this weight for a few years now, placing damn near everywhere he goes, and should be on the podium once again.
Nomad's Picks: 1) Zargo, NJ 2) Scott, PA 3) Zerban, MO 4) Johnson, PA
Foster's Picks: 1) Scott, PA 2) Zerban, MO 3) Zargo, NJ 4) Berg, MN
---
152lbs - 126 Entries
Last Year's Final: Connor Brady (OH) DEC Cam Amine (MI), 5-2
2009 Final: Colin Shober (PA) DEC Greg Amos (MI), 4-3
#3 Peyton Hall, WV
#5 Dean Hamiti, IL
#6 Chase Saldate, CA
#10 AJ Tamburrino, PA
#11 AJ Kovacs, NY
#11 (at 160) E'lan Heard, OH
#15 Donald Cates, NC
#16 Matt Lee, IN
#17 Luka Wick, CA
#19 Jaxon Garoutte, CO
Other Contenders
Cameron Robinson, PA
Tyler Badgett, CA
Brayden Roberts, WV
Grant MacKay, PA
Caleb Dowling, PA
Jared Simma, KS
Tate Nichter, PA
Tyler Lillard, OH
Alfonso Martinez, AZ
RJ Weston, GA
Dominic Isola, FL
Max Callahan, MI
Enzo Morlacci, PA
Brant Whitaker, MO
Commentary: The makeup of this weight is drastically different than the end of last season, with only two guys who were in the final 152lb rankings now in the current rankings at this weight. The top two guys are established after WNO, leaving open the ability for someone to grab hold of the #3 spot.
Currently holding that is Peyton Hall (Oak Glen, WV), who outperformed his seven seed last year with a fifth-place finish in the 138lb bracket. The WVU commit earned his ranking with an NHSCA Junior title, going 8-1 at NHSCA Duals for Quest, and by winning the Journeymen Fall Classic, beating two ranked guys up in New York.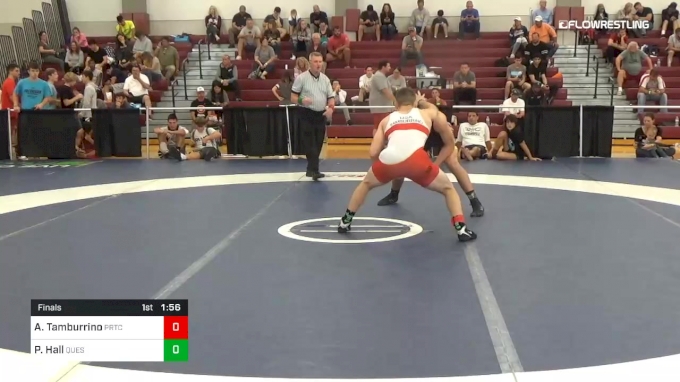 Unlock this video, live events, and more with a subscription!
Get Started
Already a subscriber? Log In
Coming off a title at the Grappler Fall Classic is #5 Dean Hamiti (Joliet Catholic, IL), who will be making his Super 32 debut. A recent Wisconsin commit, the junior has a couple 2A state titles, down at 106 as a freshman and 126 this past season. The Fargo champ clearly has a great feel for the sport, and will probably end up being a 174 for the Badgers.
Speaking of the GFC, a future Big Ten star who fell in the 160 finals is coming down to 152 for Greensboro in #6 Chase Saldate (Gilroy, CA). The Michigan State commit Saldate has never competed at Super 32 and is looking for his first major title after finishing as runner-up at Cali states with a third-place finish at NHSCAs.
The still-uncommitted #10 AJ Tamburrino (William Tennent, PA) is hoping to make a good impression on college coaches this weekend. Third in Pennsylvania big school this year, he was also an NHSCA champ as a freshman. He wasn't unable to place last year, but his finals appearance at Journeymen indicates he is peaking for this weekend.
Out of Empire Wrestling Academy, #11 AJ Kovacs (Iona Prep, NY) is wrestling right near his future home as he is committed to NC State. The FloNats champ was 3-2 last year down at 145 but looks much improved after a fifth-place finish in Akron. He lost in the NHSCA finals to E'lan Heard (Cincinnati La Salle, OH), currently ranked 11th up at 160. Heard is committed to Illinois.
It appears #16 Matt Lee (Evansville Mater Dei, IN) is following in his brother's footsteps, spending his senior year in Pennsylvania at the M2 Training Center before going to Penn State. Lee fell to #15 Donald Cates (Northern Durham, NC), an NC State commit, at Journeymen.
I'm always going to feel good about picking #17 Luka Wick (San Marino, CA) heading into a major tournament. Sometimes he proves me wrong and takes a loss, but he's battle-tested from wrestling everywhere around the country. Jaxon Garoutte jumped onto the national stage with his win over Theorius Robison at the Reno TOC.
Pennsylvania state finalist Cameron Robinson (Council Rock North, PA) is an Iowa State commit with massive potential. California state finalist Tyler Badgett (Rancho Bernardo, CA) is from the same school as last year's 138lb champ Jaden Abas. Brayden Roberts (Parkersburg South, WV) is one of several from the best crop of West Virginia seniors we've seen in quite some time.
Grant MacKay (North Allegheny, PA) is one of the nation's best freshmen, and won the middle school division last year. Tate Nichter (Chambersburg, PA) also has a previous middle school belt here. Caleb Dowling (St. Joseph's, PA) has been second and third the past two years in PA and Enzo Morlacci (Kiski Area, PA) rounds out the group of sleepers coming from the Keystone state.
Tyler Lillard (Aurora, OH) had a breakout Fargo. He's originally from Georgia, where RJ Weston (Lassiter, GA) made the Greco finals. Brant Whitaker (Father Tolton, MO) is still searching for a major placement and Alfonso Martinez (Desert Vista, AZ) provides some depth from the West Coast.
Nomad's Picks: 1) Hamiti, IL 2) Hall, WV 3) Saldate, CA 4) Wick, CA
Foster's Picks: 1) Hall, WV 2) Hamiti, IL 3) Saldate, CA 4) Heard, OH
---
160lbs - 107 Entries
Last year's Final: Alex Facundo (MI) DEC Nick South (IN), 7-3
2009 Final: Jackson Morse (MI) DEC Taylor Massa (MI), 3-2
#4 Cael Valencia, CA
#5 Derek Gilcher, MI
#6 Thayne Lawrence, PA
#7 John Martin Best, WV
#14 Luke Nichter, PA
#15 Joseph Martin, CA
#16 Jack Blumer, PA
#17 Caleb Eaton, MI
Other Contenders
Clayton Whiting, WI
Manny Rojas, MI
Cesar Alvan, MA
Enrique Munguia, OH
Bradley Gillum, IL
Christian Carroll, IN
Nicky Hall, DE
Jaxon Smith, GA
James Rowley, OR
Gabriel Arnold, GA
Aurelius Dunbar, PA
Commentary: It's pretty insane that 160 has the fewest ranked guys of any middleweight, and they still have eight. Even more insane is that this bracket only has two previous Super 32 placers in the field: Thayne Lawrence and Luke Nichter. Neither of those guys is the highest-ranked entry, however.
That distinction belongs to #4 Cael Valencia (St. John Bosco, CA). His first appearance at S32 was last year when he went 5-2 down at 145. Since then, he finished third at Doc B and made the finals of both the Cali state tournament and FloNationals. The junior out of the Sunkist Kids/Monster Garage is still uncommitted.
Our next three highest-ranked guys have all announced their college decisions. Derek Gilcher (Detroit Catholic Central, MI) is going to Indiana, Thayne Lawrence (Frazier, PA) is heading to Lehigh, and John Martin Best (Parkersburg, WV) is joining the Air Force. Although he didn't win, Lawrence made a name for himself two years ago at Super 32 when he beat top seed Alex Lloyd. Best made the Cadet Pan Am team this summer and is 2-0 against Valencia, albeit in freestyle and Greco. Gilcher just won the GFC.
There's another group of ranked guys to round out the group, starting with #14 Nichter (Chambersburg, PA), a Drexel commit. The three-time PA state placer is making his fourth appearance at Super 32. Buchanan sophomore Joseph Martin is one of the best young talents in California, currently #17 on the 2022 Big Board. He had an excellent freshman debut here, going 6-2 and picking up wins over AJ Kovacs and Joey Bianchi. Half of those wins were pins, so expect some people to be put on their backs this weekend. In 2017, he won the middle school division.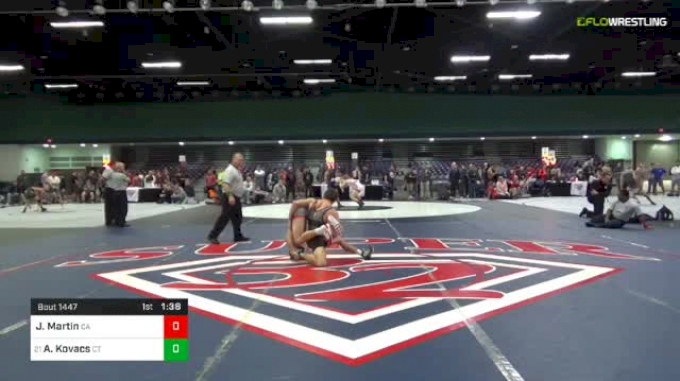 Unlock this video, live events, and more with a subscription!
Get Started
Already a subscriber? Log In
Rounding out the ranked athletes are #16 Jack Blumer (Kiski Area, PA), a third-place finisher in the PIAA last year committed to West Virginia, and #17 Caleb Fish (Eaton Rapids, MI), who is making his S32 debut.
Now there is a guy who won Super 32 last year, but down at the middle school level. Christian Carroll (Penn, IN) took the 157lb bracket with a pin in the finals and is now competing in his first high school folkstyle event. He is #19 on the freshman Big Board, and along with #17 Gabriel Arnold (Wyoming Seminary, PA), they will be the two highest-profile newcomers at the weight.
There is an excellent group of sophomores entered, starting with Martin. Using the Big Board rankings, Fargo runner-up #25 Manny Rojas (Detroit Catholic Central, MI), you have Fargo third #42 Clayton Whiting (Oconto Falls, WI), Fargo fourth #43 Bradley Gillum (Dekalb, IL), #59 Brian Soldano (High Point, NJ), and #80 Nolan Lear (Benton, PA), as well as Nicky Hall (Caravel Academy, DE) who has spent time on the Big Board.
Cesar Alvan (Springfield Central, MA) was third at NHSCAs and is one to keep an eye on. Enrique Munguia (Elyria, OH) had multiple wins last season over new #1 Victor Voinovich. Penn State commit Aurelius Dunbar is a high upside guy with experience here but no placements. Jaxon Smith (Woodland, GA) is just outside the Top-100 on the JR Big Board.
Nomad's Picks: 1) Best, WV 2) Valencia, CA 3) Lawrence, PA 4) Martin, CA
Foster's Picks: 1) Valencia, CA 2) Martin, CA 3) Best, WV 4) Lawrence, PA
---
170: Entries - 93
2018 Final: Dustin Plott (OK) dec. Patrick Kennedy (MN), 16-12
2009 Final: Tristan Warner (PA) dec. Levi Clemons (FL), 5-1
The Ranked (8)
#3 Clayton Ulrey (PA) - Cadet World Team
#4 Lenny Pinto (PA) – Fargo Champ, NHSCA Champ
#6 Gavin Kane (GA) – Fargo 4th
#7 Greyden Penner (MO) – Returning 4th, Akron 3rd
#8 Connor O'Neill (NJ) – Fargo Runner Up
#10 Trey Kibe (PA) – State Champ, Powerade 3rd
#12 Duwayne Villalpando (KS) - State 1st
#14 Rocco Contino (CA) – State Runner Up
Other Contenders:
Bennett Berge (MN) – Fargo Champ
Andrew Wenzel (IL) – State 1st
Shane Reitsma (NJ) – State Runner Up
Trent Schulthesis (PA) – State Runner Up
Tyler Stoltzfus (PA) – Powerade Runner Up
Graham Calhoun (IN) – State 5th
Harrison Trahan (PA) – State Runner Up
Adrian Vidaud (FL) – State 1st, Grappler Champ
Commentary:
170 is stacked once again with six of the top 10, highlighted by two PA hammers who have literally muscled their way on to the national stage. Clay Ulrey was a guy sporting the best mullet in all of wrestling, but coming up just a little bit short in the big matches. The tipping point started when he won FloNats and then took it to Gerrit Nijenhuis at NHSCA Duals. Soon after, he started tossing boulders out of his way in Akron as he claimed his first World Team spot. It was pure magic watching Clay put it all together and I would be willing to bet that there is absolutely no stopping him now.
Of course, the same could be said about Mister Leonard Pinto. Pintomania caught fire over here at Flo this year. Willie had been in my ear nonstop about this kid leading into PA finals and I make no apologies in admitting that he was 1000 percent correct. I too have caught the fever. Not only is Pinto super talented and tough as nails, but he is just plain fun to watch. Lenny's NHSCA win was pointing things in the right direction, but his pathway of destruction through Fargo in claiming his stop sign last summer was a blast to follow along, unless you were one of the unfortunate souls who had to wrestle him.
Should they meet in the final, Ulrey beat Pinto early in the high school season last year, but I really feel like these two have truly come into their own and you can throw out a lot of their past results. This will be their moment to show how far the distance is between the top four at this weight and everyone else.
A few folks might think that gap is a lot smaller in reality. Trey Kibe bested Ulrey for the PA state championship last season, but Kibe also split matches with Tyler Stoltzfus. Gavin Kane earned fourth in a very tough Junior bracket at Fargo and has a little more reach in his game than a lot of these guys. Connor O'Neill wasn't far behind him and had a great Akron where he finished just behind Greyden Penner, who also won a hotly contested match over the larger Jake Evans there. O'Neill also won Powerade in sudden victory over Stoltzfus and is a past Fargo finalist. He beat Villalpando 13-12 in a wild semi in the Fargodome. Penner also has a high-scoring winner over Villalpando. Duwayne likes to go upper body and can be real problems for folks if they want to play that game. Rocco Contino has seen most of his competition out west, and is the only one of these guys that hasn't already rolled numerous times with half the field.
The guys that are bubbling just under have also busy beating one another all over the place. Stoltzfus probably has the craziest resume with wins over top ten guys but also tons of losses. He beat Graham Calhoun at Journeyman recently, but then lost to Brian Soldano, who lost to Calhoun. Calhoun also beat Reitsma, who has hung in there with tons of this crew, as has Wenzel. If you like riding a hot streak, Vidaud won Grappler last weekend, but didn't really hit anyone in doing so.
It's all over the place at this weight, from top to bottom. Luckily, Super 32 will help us start to shake it all out and make sense of this craziness. I expect Ulrey and Pinto to provide some separation, but all bets are off on how the rest of the bracket goes. One thing I know for sure is that it will be all kinds of entertaining.
Now, there is a wild card. Bennett Berge is just a sophomore, but he certainly has the pedigree, and following some growing pains and a tough Akron he went out and won a stop sign at Fargo. Is this his year, and does he start to put it together right here in Greensboro? I have a feeling that in this deep but fractured field he just might.
Foster's Picks: 1. Ulrey 2. Pinto 3. Penner 4. O'Neill
---
182: Entries - 66
2018 Final: Abe Assad (IL) dec. Gerrit Nijenhuis (PA), 5-3
2009 Final:
The Ranked (4)
#2 Gerrit Nijenhuis (PA) – Returning Runner Up, Fargo Runner Up
#4 John Poznanski (NJ) – Akron 5th
#13 Jake Evans (OH) – Akron 6th
#14 JT Davis (DE) – NHSCA Runner Up
Other Contenders:
Carson Manville (MN) – Cadet World Team
Gavin Nelson (MN) – Fargo 5th, Fargo Greco Champ
Michael Tal-shahar – Fargo Runner Up
Quayin Short (MN) – Akron 7th
Landon Foor (NC) – State 1st
Brady Colbert (VA)
Jack Darrah (MO)
Martin Cosgrove (NJ)
Joseph Walker (IN)
Walker Stephenson (SC)
Tanner Mendoza (AZ)
Commentary:
All eyes are going to be on the only wrestler who could prevent Nijenhuis and Poznanski from meeting once again. Carson Manville returns the mat for the first time after an extended break fully recovering from surgery for compartment syndrome in his arm. We are all thrilled to have him back on the mat and it will be fascinating to watch and see how quickly he can return to the level he was at before his injury. The big question is how do you seed a kid that was once the most prized prospect in his class? Manville was a Cadet World Team member who had dominated everything in his path before taking his much-needed break. He is one of the most decorated wrestlers in the entire tournament, but he has been out of the rankings for so long it is difficult to argue as to where he should go, not to mention that he is returning far heavier than when he left. If Manville shakes off the rust and looks like his old self, this gets REALLY interesting.
I am a huge Nijenhuis fan and few elite kids are as willing to put themselves in danger for the sake of learning how to get out of it quite like Gerrit. We have all been able to watch him progressively improve by the match and this should be the year where it all truly comes together to give him a season of domination. The kid is a potent mix of skill and technique and grit and determination: the total package. He still has room to grow and will only get better and better. Poznanski has been a little more under the radar but has also been an absolute savage on the mat, emerging as a warrior that no one likes to see across from them. He featured in some of my favorite matches last season, perhaps highlighted by a wild 16-13 loss to Chris Foca in the Beast semis (Poz beat JT Davis along the way as well). He can go toe to toe with the very best and isn't afraid of anything or anyone.
Is this the moment when one of these two studs really plants their flag and takes the title at a big tournament, or does Manville swoop down and steal their thunder?
There is a bit of a drop off for the rest of the field, with Jake Evans and JT Davis looking great recently, as long as they don't have to face Luke Stout. Evans has a win over Peyton Craft and was down in weight for FloNats and proceeded to give Ulrey a decent run before ultimately taking fifth. He has done well against the guys behind him and went through the grind to place fourth at Beast, so he has what it takes to go deep at Super 32. Davis had a big win at Beast over Sam Fisher before he fell to Poznanski and lost a heartbreaker in the NHSCA final to Colton Hawks. Those two will be looking to establish that they really belong in the elite guys at this weight.
If it wasn't for all of the buzz around Manville, the kid to watch in this bracket for a major surprise might just be another Minnesota hammer in Gavin Nelson. He is still growing and has been inconsistent in his results, but he really put it together this summer and gutted out a big win over Tate Picklo in the Greco final at Fargo, and finishing off his fifth-place match on the freestyle side really showed how far he has advanced since the high school season. Full of power and well-coached, Nelson has darkhorse written all over him.
The rest of this crew got some warmup runs in preparing for this weekend. Foor is up in weight after an inconsistent run at 170 at Journeyman. Walker beat Darrah for third last weekend at Grappler and beat a tough Jacob Laplace in the IndianaMat final and could be on the upswing for his senior year. Martin Cosgrove looked solid in taking third at 195 at Journeyman. Darrah has been waiting for that breakthrough so many times that it is legitimate to ask if it will ever come. No matter what they all do though, this is a two man race (or is it three..?).
Foster's Picks: 1. Nijenhuis 2. Poznanski 3. Manville 4. Nelson
---
195: Entries - 55
2018 Final: Jacob Cardenas (NJ) dec. Wyatt Hendrickson (KS), 9-7
2009 Final: Antonio Giorgio (PA) dec. Stephen McPeek (TX), 12-6
The Ranked (7)
#2 Seth Shumate (PA) – Fargo Champ
#6 Evan Bates (IN) – Fargo Runner Up
#9 Brandon Hoselton (IL) – State Champ, Fargo 4th
#10 Isaac Trumble (NE) – State Champ, Fargo 4th
#12 Santos Cantu (OR) – Reno Champ
#13 Guillermo Escobedo (CA) – NHSCA Runner Up (at 220)
#20 Mike Misitia (NJ) – NHSCA 3rd
Other Contenders:
David Harper (GA) – Fargo 4th
Luke Chakonis (NJ) – Returning 6th
Bennett Tabor (MN) – Fargo 5th
Kaden Glass (KS) – Fargo 7th
Evan Anderson (OH)
Jadon Martin (CA) – State Runner Up
Jack Wimmer (PA) – State Runner Up
Kyle Epperly (NJ)
Gavin Carter (KS) – State Runner Up
Commentary:
Seth Shumate was an absolute BEAST this spring and summer, winning an Ohio state title, storming NHSCA and then capturing both styles at Fargo, including beating Evan Bates in the freestyle final and all business over David Harper in the semi. He rocketed to the top of the 2022 Big Board and hasn't looked back. Not only does Shumate win convincingly, but he does so with such power and style that you simply can't take your eyes away during his matches. The kid is the TRUTH! In a stacked bracket at Akron he beat Kolby Franklin and pinned Poznanski and gave Kyle Haas all he could handle in the finals.
Last year Shumate and Pinto couldn't get out of the back side here, and now they are two of the most exciting high school wrestlers in the country. I am certain that Seth is looking to make sure everyone knows that. Shumate was also the only person to have a better Fargo than Evan Bates. Bates put it on top seed Noah Pettigrew in the round of 64 and just kept right after it, blazing a path all the way to the final. He may not have an answer for Seth's muscular approach, but any other opponent will find his crisp positioning and killer technique a major dilemma.
Brandon Hoselton just gets work done against the rank and file and has picked up some impressive wins pinning guys right and left. He runs into trouble with the top guys like Poznanski or Braxton Mikesell, but will be looking to stake a claim to climb the rankings. Watch for him to end matches quickly. A fresh Hoselton entering the semis could be problems. Isaac Trumble is more of the same, but with a bit more of a rangy style to pair with his height. Neither one matches up well with Shumate's power, but both will like their chances if they get to Bates.
Santos Cantu actually looked great at Fargo this summer, but ran into the magical run Jonovan Smith was on. He has a compact build and tends to let guys come in, where they are then met with his very heavy hands. Guillermo Escobedo dropped down in weight and is a similar bulldog out there. He really gave Dorian Crosby and Danny Striggow some battles at 220 but I think he will be more effective at 195 and this will be a good opportunity to find out if that is the case. Both guys are savvy and tend to keep matches close. Look for one of them to strong-arm their way through to the final four.
Mike Misita has shown flashes of real talent, from taking Dorian Crosby to the edge at FloNats to pinning Shumate at National Duals, but he has been inconsistent. Two weeks back he looked overmatched by Nick Stemmet in the Journeyman final, and running into one of the real powerhouses here could spell trouble for him. Misita lost his first match here last year to Cantu, so this is a huge chance for him to make a statement as to where he is now.
David Harper is a young kid who has been lingering around late in big tournaments and could do the same here. He is a work in progress as he fills out his body, but one to watch as it will all come together for him sooner rather than later. Does he make a big run? It can't be ruled out and he is certainly a decent darkhorse if you fancy one, but I am circling him for making more noise by National Preps at the end of the season.
Tons of bangers round out this group and we could have a really entertaining round of 16. Chakonis has the pedigree and beat Wimmer here last year and lost the semi 3-2 to Jacob Cardenas. Wimmer is always tough and just hasn't been able to get past the top guys. Tabor and Glass both had solid showings in Fargo and can hang. Anderson is talented and just waiting for his big man body to fully arrive. Kyle Epperly has soundly beaten Chakonis but just dropped one to Misitia. Gavin Carter is stronger in Greco where he once had a wild match with Hoselton but can be dangerous in potentially catching someone. This group should really get after it and it will be a lot of fun to see how it shakes out.
Foster's Picks: 1. Shumate 2. Bates 3. Escobedo 4. Hoselton
---
220: Entries - 32
2018 Final: Braxton Amos (WV) dec. Konner Doucet (OK), 5-0
2009 Final: Jamie Callender (PA) dec. Harrison Honeycutt (NC), 9-2
The Ranked (2)
#2 Braxton Amos (WV) - Returning Champ
#11 Dorian Crosby (PA) - Fargo Runner-Up
Other Contenders:
Chase Horne (GA) - Returning 8th, Fargo 3rd
Gage Cook (WA) – Fargo Greco Runner Up
Riley Ucker (OH) - Fargo xx
Chad Nix (FL) - Grappler Champ
John Meyers (PA) - Journeyman Champ
Nick Benton (FL)
Brent Paulus (OH)
Commentary:
We could be witnessing the beginning of a senior year victory lap for the incomparable Braxton Amos. He is the #2 pound-for-pound guy in the country and has been absolutely dominant in high school. He has seen fit to kick off the past two seasons by winning Super 32 titles, and looks to be on track to do so again. Dorian Crosby is a tough competitor with rock-solid positioning, and was able to fight through the field to face Amos in the final at Fargo, but he will have some tough talent nipping at his heels.
The primary pursuit will come from Chase Horne, who has been improving rapidly and finished third at Fargo, blowing through Riley Ucker and Gage Cook along the way. He is quick and nimble for the weight and will be eyeballing a major improvement on his eighth-place finish here last year. Cook is a past Fargo Greco finalist and is a powerhouse who can do some upper body damage, and despite their most recent meeting, he does hold a narrow win over Horne in the past. Ucker dominated Cook in their Fargo meeting and he tends to go deep into tournaments and stick around, as shown by his third-place showing at NHSCA.
Keep your eye on Chad Nix, as he just beat Nick Villareal (currently ranked ninth at 285) at Grappler in the 215 bracket last weekend. He won the whole thing and is screaming into Super 32 on a hot streak. Nix also has a last-second sudden victory loss to Garrett Kappes on his resume so he should be considered a tough out at best. In a similar vein Pennsylvania big man John Meyers, who should have pinned Kyonte Hamilton with a vicious cradle at NHSCA Duals, got into fighting shape by winning Journeyman and will be looking to keep his roll going. Meyers isn't a finished product, but could be very dangerous this weekend and is a decent darkhorse to crash into the semifinals (assuming he can avoid Amos early) if you are looking for one.
Foster's Picks: 1. Amos 2. Crosby 3. Horne 4. Meyers
---
285: Entries - 25
2018 Final: Aiden Connor (TX) dec. Colby Whitehill (PA), 11-4
2009 Final: Henry Chirino (FL) dec. Donovan Green (FL), 2-1
The Ranked (4)
#1 Hunter Catka (PA) - Cadet World Team
#2 Hayden Copass (IL) - 2 Time Fargo Champ
#5 Colby Whitehill (PA) - Returning Finalist, State Champ,
#8 Garrett Kappes (MD) – National Preps 3rd, State Champ (both at 220)
Other Contenders:
Alex Coleman (OH) – Fargo Greco Champ, State 1st, NHSCA Runner Up
Nick Sannino (NJ) – Journeyman Champ
Jalen Stephens (PA) – State 3rd
Tyler DeLooff (MI)
Commentary:
I wrote pretty extensively on how amazing it is that we have the potential for Super 32 to end on a #1 vs #2 heavyweight clash, but it should be celebrated here as well. We are looking at two bulls running straight towards one another, with the strong possibility of the victor locking down the #1 ranking for the foreseeable future. Hunter Catka has broken through and fulfilled his years of potential by making his first Cadet World Team, and Hayden Copass just can't seem to stop swatting opponents away like flies on his way to his second straight Fargo Cadet title.
It feels like an inevitable title bout, but there are a few landmines to navigate first. Colby Whitehill has been wrestling with a lot more swagger since he last graced the Super 32 finals, and he won't shy away from trying to erase his past history with either Catka or Copass. Garrett Kappes has gone from 170 to 265 in just three years and is clearly talented, but has struggled to stay healthy and is unproven as a heavyweight. He will be looking to show that he deserves that top-10 ranking. Kappes has dominated his local rivalry at 220 with Kyonte Hamilton, but Whitehill pinned him quickly in their first meeting last spring. Garrett's Fargo draw left him facing some serious hammers, but he also didn't put up much of a challenge for them. This will be a pivotal tournament for Kappes as he could be looking at a long season at this weight.
There are two wildcards, with the first being past Fargo Greco champ Alex Coleman. Coleman is insanely dangerous and wildly inconsistent. He has been in and out of the rankings because he can beat just about anyone if he can get them in his upper body positions, but he can also lose to just about anyone by being too risky in forcing those positions. At Fargo he went right after Nash Hutmacher and put up 11 points on the polar bear, only giving up the lead in the last minute. It was a stark contrast to Hutmacher easily dispatching Kappes. He can get quick pins and is a single headlock away from upsetting this entire bracket. Coleman will surely be coming to Greensboro with a chip on his shoulder, remembering that he pinned Whitehill in 14 seconds in their Fargo Greco final in 2018.
The other sizable roadblock is Tyler DeLooff, who always looks competitive, but hasn't been able to break through at any of the big national tournaments. He had a rough summer going 220 but now he is back at heavyweight. He has already pinned Coleman once this preseason, making him 2-0 in that regard, and had to injury default out of the Grappler before they could meet again last week. If he is healthy, he could have a say in how things play out as well.
Let's not forget that every year a heavyweight comes out of nowhere to make a name for themselves at Super 32. Is Nick Sannino that heavyweight this year? He has held his own in a tough state in New Jersey, and he beat Jalen Stephens in the Journeyman semi on his way to winning the competition, knocking Stephens from the rankings. By the way, Stephens is not a top-four threat, but he isn't a lot of fun to wrestle and can be hard to move around the mat or pin once he is on bottom. For heavyweights that like to steamroll through the field, he can be an exhausting speed bump along the way.
Foster's Picks: 1. Copass 2. Catka 3. Coleman 4. Whitehill