Unlock this article, live events, and more with a subscription!
Get Started
Already a subscriber? Log In
The unofficial world championships of high school folkstyle wrestling happen this weekend in Greensboro, NC. It's the 20th anniversary of Super 32, and it promises to be as spectacular as ever.
From humble beginnings, Super 32 has morphed into a monolith, especially as state associations have restricted travel and freestyle takes up larger and larger chunks of the year. It has become one of the few opportunities to get high-level folkstyle data on a huge number of recruits, making it an absolute must-attend for college coaches.
Watch Super 32 LIVE on FloWrestling
Oct. 12-13 | 8:00 AM Eastern
On the media end, it's not a difficult sell to bill this as a can't-miss event for wrestling fans because, well, there's a huge number of stars in attendance. Future results matter too, as 13 of the 20 NCAA finalist this year were also Super 32 placers.
Below are the top contenders, notes, and picks for the middle five weights. Willie put out the lightweight preview earlier this week, and high school aficionado John Foster is manning the upperweights this year.
Fill up on all the Super 32 intel and then buckle up to watch it unfold. There's a great volume of names, so we're trying to do our best to get the basics to you: weight class rank, what high school they go to, where they're committed, and where they fall on the Big Board. Please also remember that scratches and weight changes are inevitable.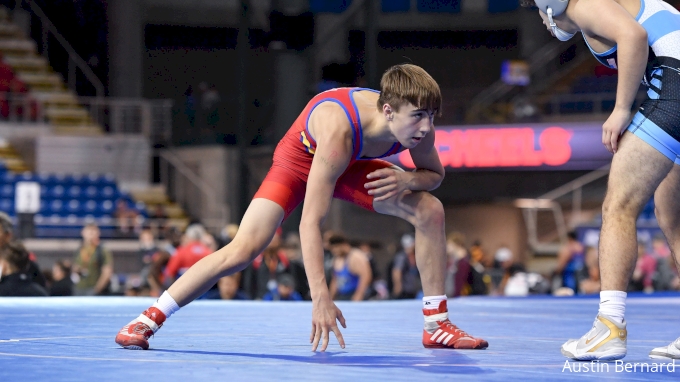 Unlock this video, live events, and more with a subscription!
Get Started
Already a subscriber? Log In
132lbs: Entries - 164
Last Year's Final: Dylan D'Emilio (OH) DEC Beau Bartlett (PA), 5-2
2009 Final: Frank Cagnina (NJ) DEC Jason Tsirtsis (Indiana) 3-1
#2 Jesse Mendez, IN
#5 Frankie Tal-Shahar, FL
#7 Daniel Cardenas, CO
#8 Nathaniel Pulliam, MO
#10 Trey Crawford, MO
#11 Kal Miller, MO
#13 Reid Ballantyne, MN
#14 Ramon Ramos, AZ
#15 Kellyn March, SD
#16 Carter Young, OK
#18 Joel Vandervere, IL
#20 Brock McMillen, PA
Other Contenders:
Anthony Clark, NJ
Devin Murphy, CA
Dylan Cedeno, NJ
Chase DeBlaere, ND
Michael Kilic, GA
Skylar Smith, TX
Eddie Homrock, MI
Chris Rivera, FL
Zack Witmer, PA
Ben Alanis, AZ
Blake Boarman, IN
Noah Horst, TN
Danny Pucino, IL
Julian Farber, GA
Casey Wiles, OH
Ian Oswalt, PA
Tagen Jamison, TX
Anthony White, NJ
Jayden Scott, NY
Commentary: What a difference a year makes. It's fascinating how different the lay of the land looks from 2018, starting right with the guys at the top. A year ago, we had no idea where most of these guys would be attending college or just how high they could climb in the rankings. The favorite coming in is now Jesse Mendez (Crown Point, IN), the #3 recruit on the 2022 Big Board who just took a freestyle match from Ryan Jack at WNO. Unfortunately, we won't get the rubber match at Super 32.
Ryan Jack is injured at will not be at S32.

— Willie Saylor (@WillieAtFLO) October 9, 2019
One of the most confusing contenders is #5 Frankie Tal-Shahar, who went 2-2 here last year but then made the Ironman finals six weeks later. He should be seeded highly, and I'm always curious to see which version of Tal-Shahar we get. One thing I know for sure: I'll try to be matside for as many of the Northwestern commit's matches as I can be. His younger brother Michael is wrestling 182.
There are three 120s who placed all coming up to 132 this year: Dylan Cedeno was fourth, Daniel Cardenas (CO) was fifth, and Anthony Clark was sixth. Cardenas comes in ranked seventh, and is #9 on the sophomore Big Board, just a few spots behind Mendez. Clark and Cedeno, both New Jersey boys, are going Ivy League as Clark will be at Princeton and Cedeno at Cornell.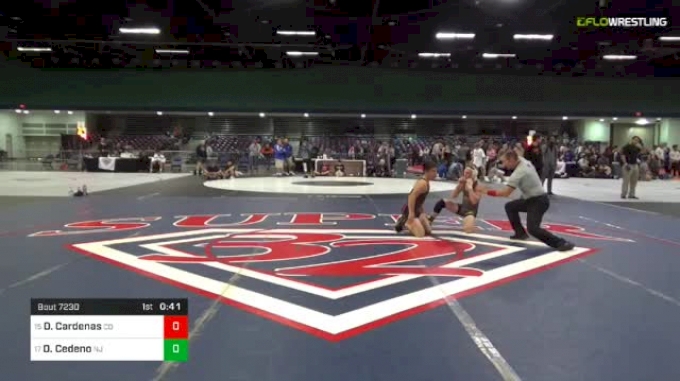 Unlock this video, live events, and more with a subscription!
Get Started
Already a subscriber? Log In
Two Park Hill boys are registered for the same weight, #10 Trey Crawford recently committing to Missouri and #11 Kal Miller still a free agent. It will be interesting to see which weights they go in the regular season and if their performance here has any impact on that. Another Missouri stud in #8 Nathaniel Pulliam is also registered.
Making his third appearance at Super 32 is #13 Reid Ballantyne (Stillwater, MN). He went 2-2 as a freshman and 5-2 last year, both at 120, so he is still looking for his first placement in Greensboro. The three-time Minnesota state champ is ranked 26th on the Junior Big Board and is still uncommitted.
Fargo finalist Ramon Ramos (Valiant Prep, AZ) comes in ranked 14th. Ramos did not compete at states last season but did college opens. Last year, he was the 12 seed at 120 but went just 1-2. He is coached by Eric Larkin and Angel Cejduo. Another West Coast boy in Devin Murphy (Selma, CA) may be able to do some damage in his first crack at S32.
Recent North Dakota State commit Kellyn March (Canton, SD) went 3-2 as the nine seed last year and is back at the same weight. Carter Young (Stillwater, OK) finally seems to have settled into a weight after hitting some growth spurts the past couple years.
Joel Vandervere (Warren, IL) has finished second and third in Illinois 3A the past two years. He is #35 on the 2020 Big Board and is making his first appearance at Super 32. Rounding out the ranked athletes is Pitt commit Brock McMillen, who made the state finals as a freshman and won PIAAs this past year for Glendale.
Like most weights the dark horse is long, so I'll try to keep this brief. There will be college eyes on Noah Horst (Baylor, TN) to see if his results start to pick up. Illinois commit Danny Pucino could make some noise. Valiant Prep's unranked Ben Alanis will make life terrible for someone in the early rounds. Witmer has long been a guy I've had my eye on. Willie is expecting big things out of Eddie Homrock.
With Jack out, the sophomore Mendez becomes the favorite. Remember, he's coached by the same guys that brought up Jason Tsirtsis (in fact Jason's brother Alex was in Mendez corner last week at WNO), and Tsirtsis never won a Super 32 belt. To bring the first one home to Crown Point, he'll have to live up to the now sizable expectation on his shoulders and navigate a field with all the killers mentioned above. Mendez did win the middle school division back in 2017.
Nomad's Picks: 1) Mendez, IN 2) Tal-Shahar, FL 3) McMillen, PA 4) Crawford, MO
Foster's Picks: 1) Mendez, IN 2) Cardenas, CO 3)Crawford, MO 4) McMillen, PA
138lbs - 162 Entries
Last Year's Final: Jaden Abas (CA) DEC Jesse Vasquez (CA), 3-1
2009 Final: Josh Dziewa (PA) MAJ Jordan Beverly (NJ), 9-0
#2 Josh Saunders, MO
#4 Lachlan McNeil, CAN
#5 Mick Burnett, OH
#6 Sammy Hillegas, PA
#7 Kenny Herrmann, PA
#8 Caden McCrary, GA
#9 Caleb Henson, GA
#10 Josh Edmond, MI
#11 Teague Travis, MO
#15 Ethan Basile, FL
#16 Drew Eller, GA
#17 Matt Bianchi, WI
#18 Bretli Reyna, FL
#19 Henry Porter, CA
#20 Garrison Dendy, TN
Other Contenders
Alek Martin, OH
Hayden Taylor, IA
Domonic Baker, VA
Justin Mastroianni, CT
Ryan Burgos, NY
Justin Rivera, FL
Nick Moore, OH
Luke Sloan, TX
Kaleb Larkin, AZ
Jared Keslar, PA
Alex Ramirez, CA
Mitchell Mesenbrink, WI
Bam West, OK
Isaac Salas, CA
Jalen Spuhler, WI
Commentary: In his final crack at Super 32, Joshua Saunders walks in as an overwhelming favorite. It will probably be his last high school folkstyle event until the Missouri postseason, when he will return to try to win his fourth state title for Christian Brothers College. In the meantime, Saunders will be training at the OPTC with their EAP, the same program Aaron Brooks, Gabe Tagg, and others have gone through.
Canadian Lachlan McNeil (Wyoming Seminary) is the next-highest-ranked athlete at #4 in the weight. The North Carolina commit was a three-time Cadet world team member for Canada and made three Pan Am finals, winning the first two. He is one of the most intriguing entries with one of the more circuitous routes to D1 wrestling.
Looking to get over the hump is #5 Mick Burnett (Elyria, OH), who for the past two years has lost in the ultimate tiebreaker in the round of 16. But after winning his first Ohio state title, the Pitt commit has to be considered among the favorites to make the finals.
At this point, I'm pretty sure it is mandatory that #6 Sammy Hillegas (North Hills, PA) and #10 Josh Edmond (Detroit Catholic Central, MI) meet in all major tournaments. They met in the first round in 2017 at 126, a 4-3 win by Hillegas and in the quarters last year, a 7-6 victory for the Pennsylvania boy.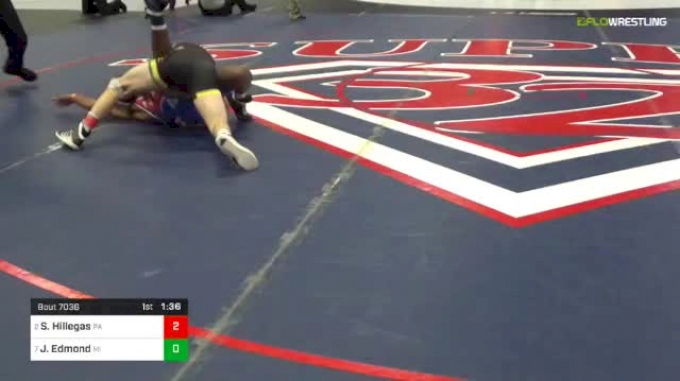 Just like Park Hill at 132, a couple Georgia boys from Woodland High School are entered at 138. They are #8 Caden McCrary and #9 Caleb Henson. They were both at 138 for Fargo as well, though Henson went up to 145 for Greco. Henson made the semis last year, beating Sammy Alvarez, Joey Olivieri, and Jason Miranda to get there, but slid to sixth. McCrary went 4-2 at the same weight.
Looking to make a big jump this year is Teague Travis (Father Tolton, MO) after going 3-2 last year. The Eierman Elite product has been in between weights a little and has produced more of his results in freestyle.
The South is well-represented at this weight with #15 Ethan Basile (Tampa Jesuit, FL) who's headed to Northern Iowa, #16 Drew Eller (Evans, GA) committed to Lander College, #18 Bretli Reyna (South Dade, FL) still uncommitted, and #20 Garrison Dendy (Baylor, TN) also uncommitted but the youngest of the group as a sophomore.
Back at the same weight is South Dakota State commit Alek Martin (St. Paris Graham, OH), who went 3-2 last year and 4-2 as a 120lb freshman. More Valiant Prep here at the middleweights with Kaleb Larkin entered, he's #68 on the 2022 Big Board.
Nomad's Picks: 1) Saunders, MO 2) Hillegas, PA 3) Burnett, OH 4) Travis, MO
Foster's Picks: 1) Hillegas, PA 2) Saunders, MO 3) Edmond, MI 4) Burnett, OH
145lbs - 146 Entries
Last Year's Final: Keegan O'Toole (WI) FALL James Whitaker (MI), 2:55
2009 Final: Josh Kindig (PA) DEC Stephen Dutton (NY), 9-3
#3 Manzona Bryant, OH
#4 Joey Zargo, NJ
#6 Paniro Johnson, PA
#7 Cael Berg, MN
#9 Vinny Zerban, MO
#11 Ed Scott, PA
#13 Nick Vafiadis, VA
#15 Chase Warden, TX
#16 Austin Boone, MI
#18 Luke Odom, IL
#19 Francis Morrissey, GA
#20 Jagger Condomitti, PA
Other Contenders
Aidan Medora, WI
Noah Castillo, FL
Matt Singleton, GA
Jaden Le, CA
Victor Jacinto, CA
Kolby Allred, VA
Erik Gibson, PA
Thor Michaelson, WA
Micah Norwood, OH
Josh Barr, MI
Cade Balestrini, PA
Commentary: Phenomenal group here. Highly skilled, but still unproven and/or young. No one in this weight has even placed within the top five of Super 32 before, which means a good chunk of them will get to make a name for themselves this weekend. Especially on day one, this weight will be rife with upsets.
At the top is #3 Manzona Bryant (Western Reserve, OH), who's finally a senior. A National Prep and FloNats runner-up, could this finally be his breakthrough major win? He's still uncommitted, but #4 Joey Zargo (Bergen Catholic, NJ) verballed to Wisconsin last month. The FloNats champ is looking for his first placement in Greensboro, compiling a 9-6 record overall here the past three years.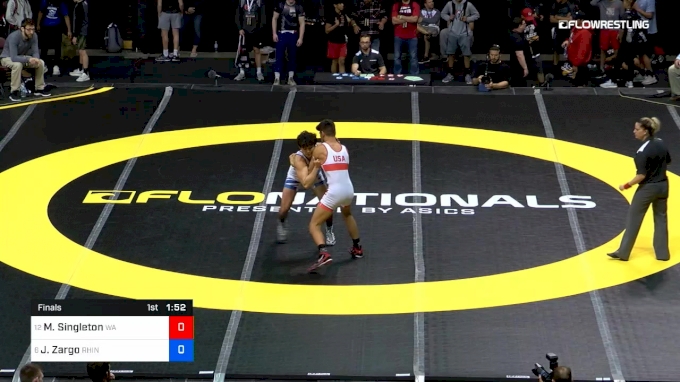 Unlock this video, live events, and more with a subscription!
Get Started
Already a subscriber? Log In
We just saw a Simley junior at Who's #1 in Ryan Sokol and we'll see another at Super 32 in #7 Cael Berg. He was just 2-2 last year, getting knocked out by Cade Balestrini. The rangy Vinny Zerban (Christian Brothers, MO) has gone 4-2 in both of his first two tries here, down at 113 and 132. The uncommitted junior has an excellent elbow pass and scores off a bundle often.
NC State commit Ed Scott (DuBois, PA) is a state champ and perhaps one of the most underrated guys you'll see this weekend. He got upset by another PA boy last year and fell short of placing so he'll be out to send a message this year. Super 32 was built by Virginia schools, so #13 Nick Vafiadis of New Kent will look to emulate the likes of Jordan Frishkorn, Patrick Bond, Cody Gardner, Devin Carter, and Joey Dance in bringing a belt back to the Commonwealth.
For years, we've known #16 Austin Boone (Lowell, MI) was good, but we were never quite sure how good. He's a three-time D2 state champ, but has never had an undefeated season and rarely ventures outside the state, but did go 3-2 here as a freshman. This year seems different, though, as no one's been more active than Boone. He won the IndianaMat Hoosier Preseason Open, was third at the Journeymen Fall Classic, and third at the Grappler Fall Classic, basically hitting all of the big ones on the Road to Super 32.
Chase Warden (Dripping Springs, TX) is the best wrestler with local proximity to FloHQ. He's been around this weight for a few years now, placing damn near everywhere he goes, and should be on the podium once again.
Nomad's Picks: 1) Zargo, NJ 2) Scott, PA 3) Zerban, MO 4) Johnson, PA
Foster's Picks: 1) Scott, PA 2) Zerban, MO 3) Zargo, NJ 4) Berg, MN
152lbs - 126 Entries
Last Year's Final: Connor Brady (OH) DEC Cam Amine (MI), 5-2
2009 Final: Colin Shober (PA) DEC Greg Amos (MI), 4-3
#3 Peyton Hall, WV
#5 Dean Hamiti, IL
#6 Chase Saldate, CA
#10 AJ Tamburrino, PA
#11 AJ Kovacs, NY
#11 (at 160) E'lan Heard, OH
#15 Donald Cates, NC
#16 Matt Lee, IN
#17 Luka Wick, CA
#19 Jaxon Garoutte, CO
Other Contenders
Cameron Robinson, PA
Tyler Badgett, CA
Brayden Roberts, WV
Grant MacKay, PA
Caleb Dowling, PA
Jared Simma, KS
Tate Nichter, PA
Tyler Lillard, OH
Alfonso Martinez, AZ
RJ Weston, GA
Dominic Isola, FL
Max Callahan, MI
Enzo Morlacci, PA
Brant Whitaker, MO
Commentary: The makeup of this weight is drastically different than the end of last season, with only two guys who were in the final 152lb rankings now in the current rankings at this weight. The top two guys are established after WNO, leaving open the ability for someone to grab hold of the #3 spot.
Currently holding that is Peyton Hall (Oak Glen, WV), who outperformed his seven seed last year with a fifth-place finish in the 138lb bracket. The WVU commit earned his ranking with an NHSCA Junior title, going 8-1 at NHSCA Duals for Quest, and by winning the Journeymen Fall Classic, beating two ranked guys up in New York.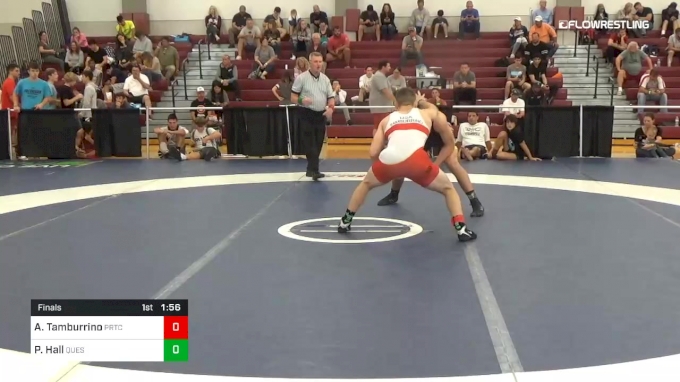 Unlock this video, live events, and more with a subscription!
Get Started
Already a subscriber? Log In
Coming off a title at the Grappler Fall Classic is #5 Dean Hamiti (Joliet Catholic, IL), who will be making his Super 32 debut. A recent Wisconsin commit, the junior has a couple 2A state titles, down at 106 as a freshman and 126 this past season. The Fargo champ clearly has a great feel for the sport, and will probably end up being a 174 for the Badgers.
Speaking of the GFC, a future Big Ten star who fell in the 160 finals is coming down to 152 for Greensboro in #6 Chase Saldate (Gilroy, CA). The Michigan State commit Saldate has never competed at Super 32 and is looking for his first major title after finishing as runner-up at Cali states with a third-place finish at NHSCAs.
The still-uncommitted #10 AJ Tamburrino (William Tennent, PA) is hoping to make a good impression on college coaches this weekend. Third in Pennsylvania big school this year, he was also an NHSCA champ as a freshman. He wasn't unable to place last year, but his finals appearance at Journeymen indicates he is peaking for this weekend.
Out of Empire Wrestling Academy, #11 AJ Kovacs (Iona Prep, NY) is wrestling right near his future home as he is committed to NC State. The FloNats champ was 3-2 last year down at 145 but looks much improved after a fifth-place finish in Akron. He lost in the NHSCA finals to E'lan Heard (Cincinnati La Salle, OH), currently ranked 11th up at 160. Heard is committed to Illinois.
It appears #16 Matt Lee (Evansville Mater Dei, IN) is following in his brother's footsteps, spending his senior year in Pennsylvania at the M2 Training Center before going to Penn State. Lee fell to #15 Donald Cates (Northern Durham, NC), an NC State commit, at Journeymen.
I'm always going to feel good about picking #17 Luka Wick (San Marino, CA) heading into a major tournament. Sometimes he proves me wrong and takes a loss, but he's battle-tested from wrestling everywhere around the country. Jaxon Garoutte jumped onto the national stage with his win over Theorius Robison at the Reno TOC.
Pennsylvania state finalist Cameron Robinson (Council Rock North, PA) is an Iowa State commit with massive potential. California state finalist Tyler Badgett (Rancho Bernardo, CA) is from the same school as last year's 138lb champ Jaden Abas. Brayden Roberts (Parkersburg South, WV) is one of several from the best crop of West Virginia seniors we've seen in quite some time.
Grant MacKay (North Allegheny, PA) is one of the nation's best freshmen, and won the middle school division last year. Tate Nichter (Chambersburg, PA) also has a previous middle school belt here. Caleb Dowling (St. Joseph's, PA) has been second and third the past two years in PA and Enzo Morlacci (Kiski Area, PA) rounds out the group of sleepers coming from the Keystone state.
Tyler Lillard (Aurora, OH) had a breakout Fargo. He's originally from Georgia, where RJ Weston (Lassiter, GA) made the Greco finals. Brant Whitaker (Father Tolton, MO) is still searching for a major placement and Alfonso Martinez (Desert Vista, AZ) provides some depth from the West Coast.
Nomad's Picks: 1) Hamiti, IL 2) Hall, WV 3) Saldate, CA 4) Wick, CA
Foster's Picks: 1) Hall, WV 2) Hamiti, IL 3) Saldate, CA 4) Heard, OH
160lbs - 107 Entries
Last year's Final: Alex Facundo (MI) DEC Nick South (IN), 7-3
2009 Final: Jackson Morse (MI) DEC Taylor Massa (MI), 3-2
#4 Cael Valencia, CA
#5 Derek Gilcher, MI
#6 Thayne Lawrence, PA
#7 John Martin Best, WV
#14 Luke Nichter, PA
#15 Joseph Martin, CA
#16 Jack Blumer, PA
#17 Caleb Eaton, MI
Other Contenders
Clayton Whiting, WI
Manny Rojas, MI
Cesar Alvan, MA
Enrique Munguia, OH
Bradley Gillum, IL
Christian Carroll, IN
Nicky Hall, DE
Jaxon Smith, GA
James Rowley, OR
Gabriel Arnold, GA
Aurelius Dunbar, PA
Commentary: It's pretty insane that 160 has the fewest ranked guys of any middleweight, and they still have eight. Even more insane is that this bracket only has two previous Super 32 placers in the field: Thayne Lawrence and Luke Nichter. Neither of those guys is the highest-ranked entry, however.
That distinction belongs to #4 Cael Valencia (St. John Bosco, CA). His first appearance at S32 was last year when he went 5-2 down at 145. Since then, he finished third at Doc B and made the finals of both the Cali state tournament and FloNationals. The junior out of the Sunkist Kids/Monster Garage is still uncommitted.
Our next three highest-ranked guys have all announced their college decisions. Derek Gilcher (Detroit Catholic Central, MI) is going to Indiana, Thayne Lawrence (Frazier, PA) is heading to Lehigh, and John Martin Best (Parkersburg, WV) is joining the Air Force. Although he didn't win, Lawrence made a name for himself two years ago at Super 32 when he beat top seed Alex Lloyd. Best made the Cadet Pan Am team this summer and is 2-0 against Valencia, albeit in freestyle and Greco. Gilcher just won the GFC.
There's another group of ranked guys to round out the group, starting with #14 Nichter (Chambersburg, PA), a Drexel commit. The three-time PA state placer is making his fourth appearance at Super 32. Buchanan sophomore Joseph Martin is one of the best young talents in California, currently #17 on the 2022 Big Board. He had an excellent freshman debut here, going 6-2 and picking up wins over AJ Kovacs and Joey Bianchi. Half of those wins were pins, so expect some people to be put on their backs this weekend. In 2017, he won the middle school division.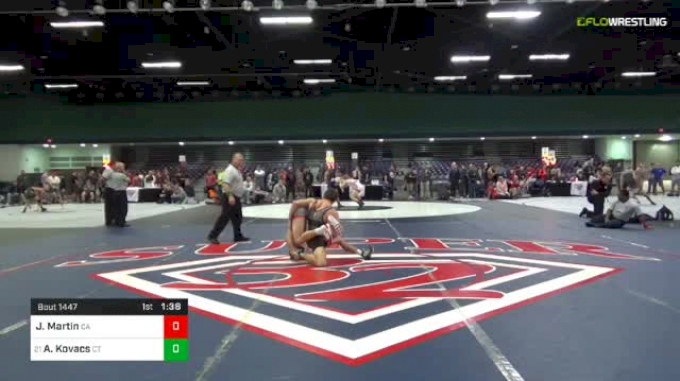 Unlock this video, live events, and more with a subscription!
Get Started
Already a subscriber? Log In
Rounding out the ranked athletes are #16 Jack Blumer (Kiski Area, PA), a third-place finisher in the PIAA last year committed to West Virginia, and #17 Caleb Fish (Eaton Rapids, MI), who is making his S32 debut.
Now there is a guy who won Super 32 last year, but down at the middle school level. Christian Carroll (Penn, IN) took the 157lb bracket with a pin in the finals and is now competing in his first high school folkstyle event. He is #19 on the freshman Big Board, and along with #17 Gabriel Arnold (Wyoming Seminary, PA), they will be the two highest-profile newcomers at the weight.
There is an excellent group of sophomores entered, starting with Martin. Using the Big Board rankings, Fargo runner-up #25 Manny Rojas (Detroit Catholic Central, MI), you have Fargo third #42 Clayton Whiting (Oconto Falls, WI), Fargo fourth #43 Bradley Gillum (Dekalb, IL), #59 Brian Soldano (High Point, NJ), and #80 Nolan Lear (Benton, PA), as well as Nicky Hall (Caravel Academy, DE) who has spent time on the Big Board.
Cesar Alvan (Springfield Central, MA) was third at NHSCAs and is one to keep an eye on. Enrique Munguia (Elyria, OH) had multiple wins last season over new #1 Victor Voinovich. Penn State commit Aurelius Dunbar is a high upside guy with experience here but no placements. Jaxon Smith (Woodland, GA) is just outside the Top-100 on the JR Big Board.
Nomad's Picks: 1) Best, WV 2) Valencia, CA 3) Lawrence, PA 4) Martin, CA
Foster's Picks: 1) Valencia, CA 2) Martin, CA 3) Best, WV 4) Lawrence, PA