2019 Super 32
Super 32 Will Decide Who's #1 At 285 Pounds
Super 32 Will Decide Who's #1 At 285 Pounds
A breakdown of the impending heavyweight class between #1 Hunter Catka and #2 Hayden Copass at Super 32.
Oct 4, 2019
by John Foster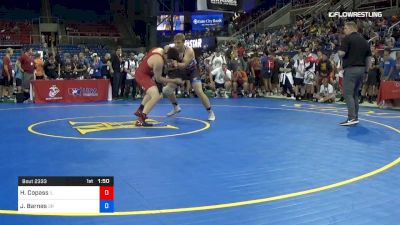 Unlock this video, live events, and more with a subscription!
Get Started
Already a subscriber? Log In
Unlock this article, live events, and more with a subscription!
Get Started
Already a subscriber? Log In
Let's get right to the point: It is a rare occasion when we are afforded the opportunity to see the top two heavyweights battle in folkstyle. Unlike the lighter weights, the combination of football participation and the restrictions certain states apply to travel conspire to make it nearly impossible for the big boys to put it all on the line early in the season.
Just dipping back to 2017, we can all recall the massive feeling of disappointment when Seth Nevills didn't pass the skin check at Ironman, robbing us of what was at the time only a #2 vs #3 matchup with Cohlton Schultz. (Luckily, Schultz would get his chance to dispatch Nevills later in the year at Doc B.) We lost our minds missing out on a 2 vs 3 match! Now, we have the chance to kick off the season with a flourish as #1 Hunter Catka and #2 Hayden Copass are on a collision course to shake the rafters in Greensboro at Super 32.
Watch Super 32 LIVE on FloWrestling
Saturday & Sunday, October 12 & 13 | Starting at 8:00AM ET
This thunderstrike will absolutely be must-see viewing! These giants spent the spring and summer wrecking house at every stop, and now we have the joy of seeing which one will come out on top and likely lock in the #1 slot for months to come. If you haven't been following their pathway of destruction closely until now, allow me to grab you in a headlock and kindly direct your attention below.
Let's Meet These Twin Terrors
There are some athletes that just feel like they are going to be special. Sometimes it is there in the results, but often it is more of an eye test and a gut feeling. Hunter Catka has seemed destined for greatness for years now. Undeniably talented, he carries himself with quiet confidence; his solid frame more than looks the part. Pennsylvania couldn't keep him a secret for long, and he burst onto the national scene by scorching the field and winning NHSCA at 195 as a freshman. Hunter repeated that NHSCA feat with a gut check win in the final at 220 as a sophomore, to pair with his PA state title.
Catka promptly made the Cadet World Team Trails final in Akron and looked primed to be crowned as the next big thing at 220 in Fargo, but those plans were sidelined by a gruesome injury suffered as he won his round of 16 match. It was so severe that it knocked him out for nearly a year. He returned in time to vie for another state title but was clearly not the same wrestler. Whispers circulated as to whether he had come back too early, or if he would ever regain the form that had dazzled early in his high school career?
Hunter quickly dispelled any concerns with his showing at FloNationals, taking the championship and then proceeding to blast through Akron on his return trip to claim his first spot on a World Team. He found a new nickname as "Big Cat" Catka, and the dividends from a training camp spent with partners named Snyder and Cox, coupled with the international experience, will soon be on display for all to see. Those skills should continue to expand after this year as he joins the stacked class of Virginia Tech 2020 recruits.
Here is The Big Cat earning his spot on the Cadet World Team: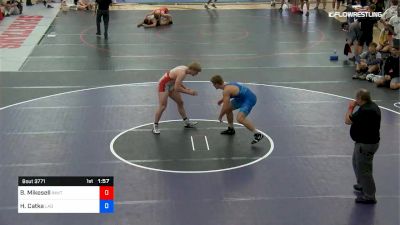 Unlock this video, live events, and more with a subscription!
Get Started
Already a subscriber? Log In
As everyone waited for Catka to claim his crown at Fargo in 2018, it was actually a freshman phenom who filled the void and grabbed the upperweight headlines. Hayden Copass followed his own solid Akron performance by blitzing the competition to bring home the freestyle title. A 6-foot-6 flash of red and white checkered might, he was clearly on a separate level from anyone else in his age group.
Splitting time with the gridiron, where Copass was a standout along the line and a tackling machine, he didn't re-enter the national spotlight until this past Fargo. It turned out to be more than worth the wait, as Hayden won another stop sign in freestyle, seemingly as a man among boys. Copass imposed his will whenever and wherever he chose and pulled away in impressive fashion. He also capped the summer by declaring that he would only be wrestling moving forward, not only allowing us to have this potential match but also serving as a concrete statement of intent to all of the top programs. Coach Chris Bono heard him loud and clear and has locked him in to lead the class of 2021 on its way to the University of Wisconsin.
Copass winning Fargo (again!):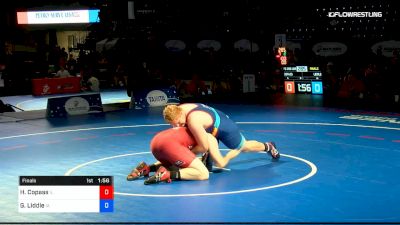 Unlock this video, live events, and more with a subscription!
Get Started
Already a subscriber? Log In
Pathway To The Final
Super 32 is notorious for having some wild results at heavyweight, and this bracket is stacked with hungry competitors, so it is fair to ask if we can really expect to see the final we all anticipate? Catka should be able to navigate his way to the semis where he most likely encounters Garrett Kappes. As he has rapidly added weight, Kappes has become exceedingly one-dimensional in his offense, and Catka's athleticism should serve him well. You can't discount that Kappes will be fighting hard for scholarship money all weekend, but I expect a professional and cautious win from Hunter. Leading into the final, the question for Catka will be how much energy has he had to expel and how banged up is he?
I don't anticipate that being an issue for Copass on the bottom of the bracket. He is much more likely to end his matches quickly with a pin or tech fall and move on to the semis relatively unscathed. Standing opposite him should be Colby Whitehill, who I would be willing to bet fancies his chances in a rematch against Catka for the title of top dog in Pennsylvania. Not sure I share that sentiment, but Whitehill has been wrestling with a fair amount of cockiness of late. However, both he and Copass know the score coming into this match after Copass tech'd him in the finals at Fargo.
Copass taking it to Whitehill: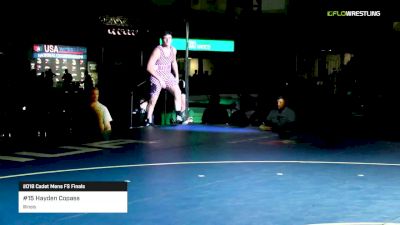 Unlock this video, live events, and more with a subscription!
Get Started
Already a subscriber? Log In
Barring getting caught in a wild Alex Coleman headlock, we will see both of these warriors arriving right on schedule for our Sunday final, and they should be in tip-top shape to scrap like two singlet-wearing Godzillas squaring off on a deserted island with room for only one king of the monsters.
What Should We Expect From This Clash?
While these two have never met before, we actually have a fair number of super talented common opponents to help us run some analysis. Not much to learn from Kerkvliet being his normal out of this world self in matches against both, but battles with Luke Luffman, Isaac Righter, and Braxton Mikesell all have hints of what might be on display once they go head to head.
It felt like Hunter Catka beating Braxton Mikesell had become just another day at the office this past year. Each time they met, Catka was simply better in every respect, but he was also patient and methodical in his attack. He was able to get to his positions, and most importantly for our purpose, he was able to get to Mikesell's ankles when needed. Greco results tend to be self-contained for me, but it is important to note that in their only match, Mikesell beat Copass when he was forced to be splayed out on the ground. Stay with me on this.
Copass could never quite solve his older in-state rival, Luke Luffman. Luffman had the big advantage of having the same training with the RTC and Illinois team program, and also being able to study and get his hands on Copass early and often. Plus, he was just older and growing into his man strength. Catka looked like he might also suffer having Luffman block his pathway to titles until he broke through in this hotly contested semi in Akron: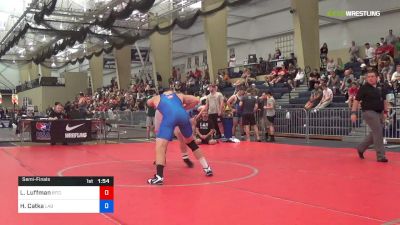 Unlock this video, live events, and more with a subscription!
Get Started
Already a subscriber? Log In
The pivotal moment was Hunter winning the takedown, but there is also a huge takeaway in how he had adjusted to Luffman from their prior meeting and kept things strong on the mat. The key for Catka will be getting those same takedowns through quickness and nullifying any size difference by moving things on to the ground, where Copass looks most vulnerable.
For insight into where Copass might have a serious edge, you can look to the battles the two have had with Isaac Righter. After cutting 15-20 pounds to make Cadet weight, Righter still muscled Catka all over the mat in a dominating win. Copass also had his hands full with Isaac's scary mix of skill and physicality, but he was able to weather the storm and keep things close enough to where he could capitalize on a mistake in the last minute for a four-point swing and the narrow victory. Both wrestlers display patience in their game, but only Copass has shown that he can really bang with the hulks and imparting some brute strength on the match will be to his (literally) huge advantage.
Copass is not overly aggressive, but he most definitely loves to throw some weight around when the occasion merits it, and this will be one of those special occasions. It is also deceiving in how he uses that power, with an incredible sense of balance and footwork, combined with the requisite brute strength. It is not as if Catka will be hitting a brick wall, and he is the one sporting the chiseled frame, but Copass will definitely be the one carrying more mass and the trusted knowledge of how to use it.
Also worth noting is how Copass controls the mat with more expertise, as he can teach a master class on the edges, thanks to his Illinois freestyle education. That could spell trouble for Catka, as the majority of his errors tend to come as he nears the line, occasionally with dire results, ranging from his season-ending injury at Fargo to not being able to finish Dorian Crosby in his state quarterfinal.
As Hayden prefers to counter-wrestle, we might have a feeling-out period, but he will control the upper body game. His time as an elite lineman playing football has only served to accentuate Copass's phenomenal hand fighting skills, which add to his myriad of advantages once they tie up. Catka's battle plan might not lean too heavily on it, but his main weapon is likely to be his quickness; more "cat" and less "big." If he can get to Copass's ankles early and often, it is not out of the question that we see a catch and release strategy. I don't see Catka keeping him down for long, or attempting to turn Copass, so it could become a race for points and avoiding a top and bottom challenge.
More than anything, I can't wait to see this official clash of the titans! Super 32 can't get here fast enough! Be sure to join us in Greensboro or tune in live on Flo to witness what is sure to be an amazing tournament capped by a battle for the ages.