In a unique match the likes of which we've never seen before at Who's #1, Josh Saunders will wrestle Anthony Echemendia in freestyle.
Sat. Oct. 5 | 5 PM Eastern
The 65kg bout will be between Saunders, a rising senior at Christian Brothers College in Missouri, and the recently graduated Echemendia. We have Saunders as the #8 prospect on the 2020 Big Board and he is committed to Cornell.
Echemendia, who is originally from Cuba, spent his senior season at Sunnyside high school in Arizona. It is the same program that produced Roman Bravo-Young, who twice wrestled at WNO, and Jesse Ybarra, who is also on this year's card.
Saunders won Fargo at 138 and is currently ranked second at that weight, but will soon be removed from the rankings as he will be spending the majority of his senior year at the OPTC. Meanwhile, Echemendia burst onto the scene at Fargo, doubling up and winning both styles at 145. There, he beat fellow WNO competitor Victor Voinovich, as well as Oklahoma State commit Chance McLane, #12 Chase Warden, #13 Derek Fields, and #19 Luke Odom.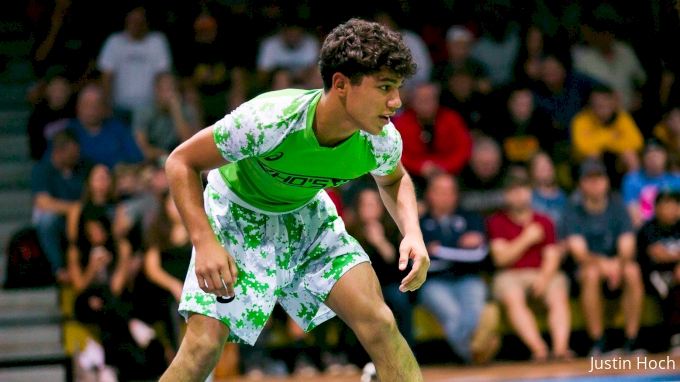 While he has not officially signed with them, Echemendia plans on become a part of the US Army WCAP and trying to eventually represent America on the senior level. It is unclear which RTC he will end up with, but he has a few suitors at this point.
Hey Anthony, congrats on EVERYTHING! I asked Flo if we can do battle at WNO! Champ vs Champ ???

— Joshua Saunders @ CBC HS / Cornell University (@teamjoshua01) July 24, 2019
It will be interesting to see Saunders' freestyle schedule for the upcoming season. He wrestled at both Cadet and Junior worlds last year, and will likely be making his senior level debut in either November at the Bill Farrell or December at the Senior Nationals Trials qualifier.
This will be Saunders second straight appearance at WNO after falling to Jordan Decatur last year. It is slated to be the sixth match on the card at Caver-Hawkeye Arena, which will be the largest in the event's seven year history.
Match Order
132: #1 Jesse Mendez, IN vs #4 Ryan Jack, CT
132: #2 Dom Serrano, CO vs #3 Shayne Van Ness, NJ
120: #1 Jesse Ybarra, AZ vs #2 Jakason Burks, NE
113: #1 Richard Figueroa, CA vs #2 Stevo Poulin, NY
145: #1 Victor Voinovich, OH vs #2 Jesse Vasquez, CA
65kg: Josh Saunders, MO vs Anthony Echemendia, AZ
152: #1 Sonny Santiago, CA vs #2 Travis Mastrogiovanni, NJ
160: #1 Paddy Gallagher, OH vs #2 Keegan O'Toole, WI
182: #1 Dustin Plott, OK vs #2 Rocky Elam, MO
126: #1 Robbie Howard, NJ vs #2 Trevor Mastrogiovanni, NJ
138: #1 Beau Bartlett, PA vs #2 Ryan Sokol, MN
170: #1 Alex Facundo, MI vs #2 Patrick Kennedy, MN
132: Mendez/Jack vs Serrano/Van Ness