2023 Senior World Championships
2023 World Championship Live Blog: Day 3
2023 World Championship Live Blog: Day 3
It's the 2023 UWW Senior World Championships of wrestling and we're in Austin, Texas but that's won't stop us from live blogging all the action!
Sep 18, 2023
by Andrew Spey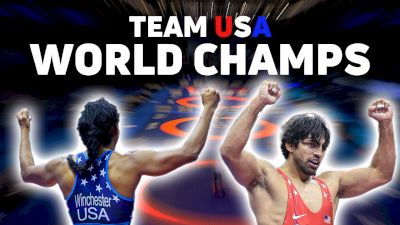 It's 3:30AM here in Texas, which means it's time to start live blogging day 3 of the 2023 World Championships from Belgrade, Serbia!
Today is a massive day for Team USA, as the final two men's freestyle weights start their tournaments as long with the first two women's freestyle weights. Plus, Kyle Dake wrestles Zaurbek Sidakov for gold and Zahid Valencia will seek a bronze.
Other World Championship Live Blogs: Day 1 | Day 2 | Day 4 | Day 5
Americans starting their quests for glory on day 3 in Belgrade are:
65kg: Nick Lee
97kg: Kyle Snyder
55kg: Jacarra Winchester
59kg: Jen Page
And then there's the team race between USA and Iran (Russia is here but are competing as neutral athletes and do not earn team points). USA has 110 points banked so far compared to 65 for Iran. We haven't clinched anything yet but things are looking good for the Red White & Blue.
Prelims & Repechage
92kg - Zahid Valencia, USA vs Denys Sahaliuk, UKR - the first match of the day for Team USA, and the first match on the mat period, is a key bout for Zahid. A win here puts Zahid in the bronze medal bout vs Yoshida of Japan and a guaranteed 10 team points. Valencia does Valencia things, shooting often, converting the a takedown in the first period for a 2-0 lead after 3 minutes. Sahaliuk can't get his offense going, and Valencia adds two more takedowns for some scoreboard insurance and takes this match comfortably 6-0. Next match for Zahid is this afternoon with a bronze medal on the line!
65kg - Nick Lee, USA vs Krzysztof Bienkowski, POL - Nick Lee is the first of today's fresh quartet of Americans to take the mat. 65kg is a massive bracket and Lee has a pigtail round of 64 bout with Poland. The match starts slow, though Lee threatens a couple of times forcing Beinkowski to go on the activity clock first. A point there plus a step out makes it 2-0 at the break. Lee adds a pair of takedowns to ice things and wins 6-0! Never a doubt for Nick Lee in that one.
Nick Lee's opponent in the round of 32 will be Wisconsin grad Austin Gomez, who is representing Mexico by way of Chicago, and won his first-round match in a shootout, 8-7, over a very tough Anuj from India.
In other 65kg early round news, Russia's Shamil Mamedov looked outstanding in his 13-3 victory over Kyrgyzstan. Some of the Russians have been looking less than 100% at this tournament but that's not the case, at least so far, at 65kg.
Elsewhere, North Carolina All-American sophomore Lachlan McNeil, representing Canada, dropped an 11-0 bout against the dynamic Arushanian of Ukraine. Duke grad Josh Finesilver, representing Israel by way of Colorado, defeated Spain 15-5.
And three-time world champ and two-time Olympic medalist Haji Aliev wins a bruising 10-4 bout against China.
74kg - Notably for team race implications, Emami wins his first match in repechage over Kentchadze of Georgia, dominating 10-0. He'll wrestle Tsabolov of Serbia by way of Ossetia next, with a spot in the bronze medal match on the line.
79kg - In another repechage match featuring an Iranian, and thus, relevant to the team race discussion, Nokhodi beat North Macedonia's Magomedov to advance to the bronze medal bout for a match with Abasov of Azerbaijan, the wrestler who defeated Chance Marsteller in the championship side of the bracket.
65kg - Back to the monster men's freestyle bracket. Takuto Otoguro, 2018 world champ and 2020 Olympic gold medalist, dispatched Arushanian 10-0 to end McNeil's medal hopes.
Additionally, Northern Iowa's Colin Realbuto defeated his opponent from the Federated States of Micronesia 18-8 to advance to the round of 32.
65kg - Nick Lee, USA vs Austin Gomez, MEX - we may have to wait a minute or two for mandatory recovery time for either or both of these wrestlers. I do not believe Lee and Gomez have wrestled in college before. And here they come now. Nick Lee jumps out to an early 6-0 lead thanks to a takedown and two turns. Gomez answers with a head pinch from short offense to make it 6-2. A step out for Lee makes it 7-2. Or does it? There's a challenge, and it's won, and the point goes to Gomez and it's 6-3. Now we're in an upper body tussle. 50/50 dueling chest wraps. Is someone going to their back? And Nick Lee gains the advantage and has Gomez in trouble. Pinfall for Nick Lee! His second win of the day already!
And in yet more 65kg news (there will be a lot of 65kg news today), the inimitable Ismail Musukaev did Musukaev things in his round of 32 bout. He has a match with Otoguro. Circle that match (among many others) in the bracket to watch!
97kg - Kyle Snyder, USA vs Nishan Randhawa, CAN - Snyder finally takes the mat over two hours after the round started. Snyder gets poked in the eye but recovers and then runs Randhawa off the mat for a point. A couple more step outs and then four takedowns in quick succession and Snyder has an 11-0 tech. His next opponent will be Radu Lefter of Moldova in the round of 16.
59kg - Jen Page, USA vs Anjli, IND - Jen Page is the first American woman to take the mat. She goes right at Anjli, driving her off the mat for the first point of the bout. Period ends still 1-0. Second period is where Page opens things up, ripping a headlock hip toss for four and nearly a fall. Later in the period age catches Anjli off balance and bulldozers her to her back. So another feet to back makes it 9-0. A takedown to polish things off and Page advances with a dominant win.
74kg - Serbia's own Khetag Tsabolov wins an exciting 11-4 bout over Iran's Emami to eliminate the Iranian from medal contention. A bronze is worth worth 15 team points and 5th place is wroth 10. Now the most Emami can score is 8 points for finishing 7th.
55kg - Jacarra Winchester, USA vs Neha Sharma - The second woman to wrestle for Team USA takes the mat. Winchester gives up a takedown but then gets the points back with a step out and feet to back pancake to make it 5-1 at the back. One more takedown in the second period will ice it and world champ Jacarra Winchester advances to the quarterfinals.
65kg - Nick Lee vs Umidjon Jalolov, UZB - Jalolov strikes first with a step out. Jalolov in on a low single, comes up with it, Lee win-dixie's him but the the officials give two to Jalolov and then two to Lee. Or maybe vice versa, but no one ends up on top so it's moot. 3-2 Jalolov. Then right before the period ends Lee fights through a scramble and scores a takedown to take the lead 4-3, which is the score at the break. Second period and Lee's pace is starting to wear on the young Jalolov, who was a U20 champ last year. Jalolov can't do anything with Lee for the rest of the match and Lee will win 4-3. He's on to the quarters and has Iranian 2022 champ Amouzad.
In other 65kg news, there was way more matches than I can keep up with. But a couple highlights: Seabass wrecked Belgium, Tevanyan lit up the scoreboard (especially for Tevanyan standards) over a tough Kudiev of Tajikistan. Haji Aliev won a controversial, low scoring bout over Tumur-Ochir when Tumur-Ochir was penalized for a singlet grab in the final seconds of the match and Aliev won 3-3 on criteria because of that call, which was only noticed on video review after time ran out. Musukaev pinned Otogoruo in perhaps the most consequential bout of the round. And finally, Mamedov looked outstanding in his dismantling of Destribats. The quarterfinals are going to be all of the fire.
97kg - Kyle Snyder, USA vs Lefter, MDA - Snyder goes right to work in the round of 16, scoring two step outs and then a slick hi-c to make it 4-0 early. Another two takedowns and it's 8-0 with 90 seconds left in the first. Lefter strikes back though, with a single leg that results in a step out and an 8-1 score. But Snyder is not concerned, he gets two more takedowns and Snyder wins 12-1. Kyle's next bout will be against Tazhudinov of Bahrain.
The other highly credentialed 97kg wrestler news, Sadulaev won 4-2 over Baitsaev of Hungary. Sadulaev was cruising 4-0 when Baitsaev ran down a low double with just a few seconds left in the match.
Quarterfinals
59kg - Jen Page, USA vs Sae Nanjo, JPN - Big test Page as she takes on Japan, who are as dominant in a style as you can be in women's freestyle. Nanjo scores first with a takedown but Page answers with a head pinch for two. A high crotch by Nanjo gives Japan the lead at the break. Page hits a headlock for two to take the lead via criteria. Nanjo looking for an opening, but Page defends, then gets two more to make it a 6-4 final and Jen Page takes out Japan to advance to the semifinals! Massive win for Page!
55kg - Jacarra Winchester vs Mariia Vynyk, UKR - Winchester gets on board in the second minute of the match with a clean takedown to go up 2-0. Winchester staying aggressive, gets a step out in the closing seconds of the period. Single leg at the start of the second and Winchester finishes quick for two more and a 5-0 lead. Winchester keeps the pressure on, getting a takedown as they go out of bounds and it's 7-0, window is closing for Vynyk. An attack by Vynyk but Winchester counters with a pancake and gets too more to make it 9-0. Step out for Vynyk gives her a point but Winchester goes right back at her for a takedown to win 11-1. Jacarra Winchester into the semifinals!
65kg - Nick Lee, USA vs Rahman Amouzad, IRI - Underhook (naturally) from Amouzad, he drops down on a single leg and scores first with a two point takedown. Amouzad runds down another single off an underhook to make it 4-0 at the break. Same script in the second period, undertook to single to a takedown and its 6-0. One minute to go. Now a step out to make it 7-0. Lee with over under, trip for four! He's got Amouzad on his back! But Amouzad fights off his back. Lee goes at him but no more points. Lee falls to Amouzad 7-4.
Amouzad will have to beat Musukaev, who defeated Mamedov 5-4 in a rare instance of a Russian transfer (Musukaev is from Kabardino-Balkaria) over a current Russian. In other 65kg news, Seabass advanced to the semis thanks to some excellent par terre work. Rivera will wrestle Tevanyan of Armenia, who beat rival Haji Aliev of Azerbaijan.
97kg Kyle Snyder, USA vs Akhmed Tazhudinov, BRN - Snyder in on an attack early but Tazhudinov chest wraps and flips Snyder for four. Early though, plenty of time for Snyder to mount a comeback. Snyder on another leg attack by the boundary but Tazhudinov throws him by for two and they go out of bounds. 6-0 hole for Snyder. Kyle hi-c right off the whistle but Tazhudinov goes high flyer and he fours Snyder again. 10-0 and Snyder loses via tech fall. Yolo challenge but it's a no good. 11-0 officially and Snyder has to hope for Tazhudinov to make the finals to have a shot at a medal and to qualify the weight for the Olympics. That's a rough one.
Tazhudinov will wrestle Abdulrashid Sadulaev in the semifinals. Iran's Goleij was beating Sadulaev 4-2 with about 10 seconds to go before Saulaev hipped into Goleij in a move that's kind of hard to describe but anyway, Sadulaev pinned Goleij in one of the wildest finishes to any match in quite a while.
So now all Tazhudinov has to do is follow up a win over Snyder with a win over Sadulaev and then we can see Snyder and Sadulaev wrestle for a bronze medal. Sure why not.
Semifinals
65kg - Musuakaev and Amouzad are 2-2 are the break, Musukaev up on criteria after a failed challenge by Amouzad. Nick Lee needs Amouzad to win to pull him into repechage. Step out for Amouzad and Musukaev trails. But not for long, takedown makes it 4-3 late in the second. But a takedown by Amouzad puts him up 5-4 with 30 seconds to go. Time running out for Musukaev, but he pulls it off with takedown in the final seconds. He wins 6-5! Bad news for Nick Lee though, as he's eliminated from medal contention and from being able to qualify the weight for the Olympics.
Tevanyan raced out to a 6-0 lead on Rivera but Seabass got a spectacular four in the second period to pull within two. Tevanyan answers back though to get to make it 9-4. Takedown Rivera to cut the lead to three. Final 30 seconds. Takedown Rivera 9-8. Less than ten, Rivera needs to get a turn. Locks up a lace. And with just a second left don't he clock he gets a turn. Sebastian Rivera wins 10-9! He's in the finals and will wrestle in the Olympics!
Two wild finishes back to back in the most electric weight class in Belgrade.
97kg - Really need Tazhudinov to beat Sadulaev here, which would eliminate Goliej of Iran and pull Snyder into the repechage. Tazhudinov is around 20 years old and literally trained at the wrestling club named after Sadulaev but he also beat Goleij 13-8 at Asian Championships and Goleij had Sadulaev on the ropes so it's not impossible. Tazhudinov gets the first point via activity clock. Then a low double for Tazhudinov and he works through a chest wrap to collect two, then turns Sadulaev for two more. 5-0 lead for Tazhudinov at the break!
A flurry and Tazhudinov gets a step out. Sadulaev on the attack, outside step and he's in on Tazhudinov's legs, counter from Tazhudinov. Sadulaev gets the exposure points but then Tazhudinov covers for 1 and it's 7-2. Shot by Sadualev, go behind for Tazhudinov and it's 9-2, Sadulaev in trouble. Sadulaev saying his head is injured. Sadualev withdraws! Sadualev loses, Goleij eliminated, Snyder back in! Oh my goodness what in the world.
In the other 97kg semifinal that is of far lesser importance, Matcharashvili of Georgia has Magomedov of Azerbaijan. Azerbaijan won, as if anyone was paying attention.
55kg - Jacarra Winchester, USA vs Anastasia Blayvas, GER - Blayvas shoots in, Winchester counters and puts Blayvas on her back for four. Later in the period, throw by for Winchester and she's gets two more, plus a high gut for two more and she wins 8-0 at the break, setting her self up nicely for a return to the finals. Second period and Jacarra, working from a three-quarter nelson, throws it by and that's a clean sheet, 10-0 tech-fall! Winchester into the finals!
Jacarra's opponent will be Haruna Okuno of Japan, who took care of business 6-0 over a very tough Mariana Dragutan of Moldova.
59kg - Jen Page, USA vs Qi Zhang, CHN - A tactical first first period, one activity clock point for Zhang. Second period, Zhang immediately shoots on a single, Page tries to defend but Zhang fights through and collects two to make it 3-0. Rogers attacks, has a leg but Zhang counters and runs Page down for two more. Time running out on Page. Pushing forward, she drives Zhang out of bounds for 1 point but it won't be enough. Zhang moves on to the finals and Page will wrestle for bronze.
Tkach of Ukraine pinned Brugger of Germany in the other semifinal bout.
Medal Matches
79kg Bronze Medal Matches Nokhodi of Iran takes on Abasov of Azerbaijan for the first bronze. Abasov beat Chance. Nokhodi with super heavy snaps. Gets the snap down go behind and has a 2-0 lead. Make that 6-0 after two turns. Two more takedowns and Nokhodi wins bronze almost too easily. Abasov looks stunned. Impressive work from Nokhodi, who ads five points to the Iranian team point total.
The second bronze medal is between Mykhailov of Ukraine versus Sakayev of Kazakhstan. Sakayev scores from the activity clock, then Mykhailov then runs down a low double to take the lead 2-1. In the second period, Mykahilov gets an activity clock point. Sakayev goes for broke with a head pinch in the closing seconds but Mykhailov fights him off and wins 3-1. Ukraine with a bronze medal!
79kg Gold Medal Match - Vladimeri Gamkredlidze, GEO vs Akmed Usmanov, RUS - Usmanov wrestling as an independent athlete, no team points to win. Usmanov scores first from the activity clock. Period ends 1-0 for Usmanov. Gamkrelidze attacks right off the whistle in the second but Usmanov counters and scores to make it 3-0. Another flurry and Usmanov gets a step out to make it 4-0. 30 seconds left. One step out for Gamkrelidze to end the shut out but it's a 4-1 final. Usmanov takes gold!
92kg Bronze Medal Matches - Miriani Maisuradze of Georiga will wrestle Feyzullah Akturk of Turkey for the first bronze. Akturk gets on the board first with an activity clock. Then a takedown to make it 3-0 at the break. Maisuradze gets on the board with a shut clock point to make it 3-1. A takedown will give him the lead via critiera. Maisuradze threatening, but only gets one. Or does he? Maisuradze wants continuation and challenges for it. Challenge won! Maisuradze leads on criteria. Score is 3-3, 19 seconds left. Akturk snapping, has an angle, now a single leg. He runs down the takedown and breaks through Maisuradze's quadpod defense with just a couple of seconds left. Amazing comeback. Akturk wth the bronze medal takedown for Turkey!
92kg Bronze Medal Match - Zahid Valencia, USA vs Arash Yoshida, JPN - Valencia trying to win a medal on his first world team. Valencia comes out firing, as is his style. Yoshida defends but then Valencia hits an arm drag and is behind Yoshida. Quick takedown and then Yoshida wrestles free. Now the Japanese coaches want a challenge. Quick review, it's lost and now its a 3-0 lead for Valencia. A low double for Valencia then four turns with a modified lace and Zahid wins 11-0. Bronze medal for Zahid Valencia and five more points for Team USA!
92kg Gold Medal Match - Rizabek Aitmukhan, Kazakhstan vs Osman Nurmagomedov, Azerbaijan - Tactical first period. Nurmagomedov scores first off the activity clock. Second period, Nurmagomedov gets behind Aitmukhan but only gets one, so it's 2-0. Aitmukhan then drives Nurmagomedov our of bounds and Nurmagomedov gets dinged for he step out and fleeing so 2-2 and criteria now in favor for Aitmukhan. Less than a minute, 30 seconds, Nurmagomedov pressuring, drives Aitmukhan defends. They tumble out of bounds as time runs out. Nurmagomedov challenges but it's lost. And in fact they award two for Aitmukhan. Kazakhstan wins gold at 92!
57kg Bronze Medal Matches - Harutyunyan of Armenia taking on Kartbay of Kazakhstan. Perhaps Kartbay will be inspired by Aitmukhan. Harutyunyan gets the first three points via step out and takedown. Single leg for Harutyunyan and then another takedown for a 7-0 lead at the break. Harutyunyan trying to get his third world bronze in a row, having won at 61kg the last two years. Another takedown and a turn for Harutyunyan and he'll clinch another bronze with a 11-0 win.
The second bronze medal match is an absurd matchup between Uguev of Russia, a two-time world champ and Tokyo Olympic champ, and Abakarov of Albania, the 2022 world gold medalist at 57kg. An activity clock point for Uguev is the only point of the first period. The savvy Uguev attacks off the whistle to start the second and he runs Abakarov off the mat for one point, lessening the chance he'll be put on the clock in this period. Uguev gets ride of the clock by taking Abakarov down to make it 4-0. Abakarov strikes back though, with a takedown on the boundary and then Uguev lapse of judgement, relaxes and Abakarov pulls Uguev backwards for an exposure and the lead via critiera. Abakarov's defense holds up and he'll win 4-4! Abakarov is now the third transfer from Russia to defeat a current Russian. Tough tournament for Russia's first year men's freestyle head coach Khadzhimurat Gatsalov.
Armenia and Albania qualify 57 for the Olympics. Kartbay and Uguev will wrestle for true fifth and the final Olympic quota.
57kg Gold Medal Match - Stevan Micic, the Serbian sensation from Indiana will try and win a gold in front of his second hometown crowd of Belgrade against Rei Higuchi of Japan. Micic snaps and completes a successful go-behind. The 2-0 lead for Micic turns into a 2-2 lead for Higuchi after a clean double leg. That's how the period ends. Higuchi grabs a single in the second and converts for two more. Micic responds, covering for two after a scramble. It's 4-4 Micic leads via criteria, 90 seconds to go. Shot from Higuchi, Micic sits the corner, he wins the scramble again, goes up 6-4. 45 seconds to go, a takedown will give Higuchi the lead. Single leg for Higuchi, scramble at the boundary, time running out. Out of bounds, no takedown awarded. 4 seconds left and Micic still leads 6-4. Japan challenges. Challenge lost, so 7-4 lead with just 4 seconds. Stevan Micic does it! He runs the gauntlet, beating Uguev, Abakarov and Higuchi back-to-back-to-back.
74kg Bronze Medal Matches - Khetag Tsabolov of Serbia trying to double up on men's freestyle medals for the host country after Micic won gold. His opponent is Turan Bayramov of Azerbaijan. Tsabolov earns a single point thanks to the activity clock. 1-0 at the end of the period. No scores after 90 seconds in the second period, though a couple of good flurries. Clean inside trip from Bayramov and that's two points and the lead. Tsabolov was on his back for a bit so not sure how that wasn't more points. Bayramov and his coach, Gozyumov, challenge. But the challenge loses and it's 2-2, Bayramov still leads via criteria. Less than a minute to go. Tsabolov gets to Bayramov's legs, and he finishes for two. Then gets a turn. 6-2 with 10 seconds left. Bayramov gets a step out but that's how it ends, 6-3 and a legendary night for Serbian wrestling continues.
The second 74 bronze medal match is between Takatani of Japan, who beat Chamizo, and Kougiomtsidis of Greece, who beat Kadimagomedov. Dake beat both Takatani and Kougi. Takatani down on a single. Great defense from Kougi, he gets an exposure and then covers, locks up a lace and gets another turn. 4-0 Kougi with a minute left in the period. Takatani answers with a takedown late in the period. Period ends 4-2 in favor of Kougi. Takatani on a single leg in the second. He gets the takedown, leg turks, has Kougi on his back, and he gets the fall! Japan with the bronze!
Japan and Serbia qualify 74 for the Olympics, Bayramov and Kougi will wrestle for true fifth.
74kg Gold Medal Match - Kyle Dake, USA vs Zaurbek Sidakov, RUS - Lots of hand fighting in the first minute. Snaps from both wrestling. Dake goes on the activity clock after 90 seconds. Dake pressures Sidakov to the boundary, picks up a grounded Sidakov and drops him over the line for a point. 1-0 for Dake. 30 seconds left in the period and Sidakov gets a passivity warning. Next one and he'll go on the clock. 3 more minutes left, second period underway. Dake again goes on the clock in the second. Sidakov shoots right after the whistle. Dake tries to cut the corner. Can't do it, Sidakov scores two, then Dake gives up the activity clock point. 3-1 Sidakov. Now a low single from Dake, he climbs up and gets the two, 3-3 now Dake with criteria. 1:17 on the clock. Dake needs blood time for his ear. Shot by Sdakov, Dake sitting the corner again, Sidakov tipping Dake back. Two points for Sidakov, two more for Sidakov. Dake gets a turn now and Sidakov ends up on top gives him one more. Tough sequence for Dake he trails 8-5. Dake's corner hits the challenge button. No idea how this is going to get ruled. And the challenge is won, Dake gets an extra turn to make it 8-7. A point should give him criteria. 25 seconds to go. Dake attacking furiously. Sidakov on a leg, Dake looking for a crotch lock, Can't get it, can't get a step out either. Scrambling on the end, the tumble over each other. Match ends, no points. Sidakov wins. Final challenge from Dake but all it does is give Sidakov two more points on that final tumble. 10-7 final score. Sidakov remains the bane of American 74kg wrestlers.
Dang, what a wild day. I'm exhausted. But we get to do it all again in 12 hours! Four more USA women take the mat tomorrow and we finish up 2 men's and 2 women's freestyle weights. Sorry for the all the typos, see you next time!