2023 Senior World Championships
2023 World Championship Live Blog: Day 4
2023 World Championship Live Blog: Day 4
It's the 2023 UWW Senior World Championships of wrestling and we're in Austin, Texas but that's won't stop us from live blogging all the action!
Sep 19, 2023
by Andrew Spey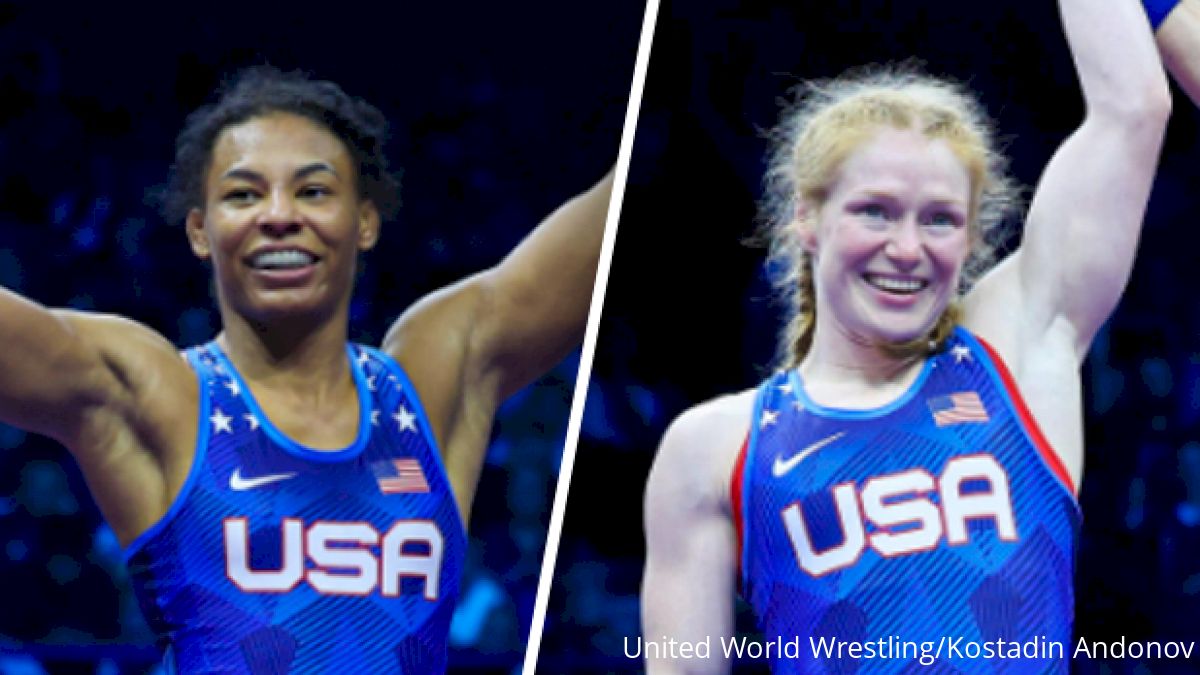 Day 4 at the Senior World Championships in Belgrade and we're still live blogging from Texas!
Four new American women take the mat, two American women wrestle for gold, and we wrap up the men's freestyle tournament, a tournament Team USA won, might I add (USA number one).
Other World Championship Live Blogs: Day 1 | Day 2 | Day 3 | Day 5
We've got some heavy hitters stepping on the mat today. The Americans that start their quests for glory are the following:
50kg: Sarah Hildebrant
57kg: Helen Maroulis
65kg: Macey Kilty
76kg: Adeline Gray
Kyle Snyder will also have an opportunity to wrestle for a bronze and an Olympic qualifying spot from the repechage at 97kg.
Prelims & Repechage
65kg - The first notable result of the day is Takuto Otoguro of Japan forfeiting his first repechage match, which means he will not place, nor will he qualify the weight for the Olympics for Japan.
65kg - Macey Kilty, USA vs Valeriia Dondupova, AIN - Kilty is the first American to take the mat and she has a neutral athlete from either Russia or Belarus, not sure which, but either way Milty makes short work of her. A takedown plus two turns, then Dondupova foolishly stands up from par terre, giving Kilty rear-standing. Macey takes advantage of the situation and Kilty Bombs Dondupova into oblivion, completing the tech fall and advancing to the round of 16 where she'll face Albania. Kilty Bombs: now available at your nearest World Championship!
76kg Adeline Gray, USA vs Jimin Baek, KOR - Adeline Gray, seeking her 7th world gold, takes the mat against South Korea. And this match lasts about as long as Kilty's. Takedown for Gray into four turns and the Lace Queen wins 10-0! Adeline Gray on to the round of 16 to face familiar foe, Epp Mae of Estonia.
97kg Kyle Snyder, USA vs Magomed Ibragimov, UZB - Snyder faces Ibragimov, who won bronze at the 2016 Rio Games, the same event that Snyder won. They didn't face either other in Rio though. Ibragimov was on the other side of the bracket and beat Andriitsev of Ukraine for the bronze. Handfighting for 90 seconds before Snyder hits a hi-c then fights through switch attempts to both sides from Ibragimov to finish the takedown. 2-0 lead for Snyder. Fakes from Snyder, who is also controlling ties. Originally from Dagestan, Ibragimov is 38 years old. Big snap from Snyder to start the second period. Snyder in on another shot, he takes Ibragimov to the mat, Ibragimov gets a chest wrap and flips Snyder. It's ruled four for Snyder, two for Ibragimov. Uzbekistani coach challenges. It's under video review. Challenge won, the sequence is ruled 4 for Ibragimov, 2 for Snyder, so it's 4-4, Ibragimov with criteria. Snyder goes back to work, takes an angle, gets a takedown, locks up a cradle then takes Ibragimov over for two more. Ibragimov bellies out. Restart, 8-4 Snyder. Another takedown, Snyder again getting a better angle on a single leg, and it's 10-4. One minute to go. Ibragimov level changes, takes Snyder down with a double. 10-6. 30 seconds left. Snyder defending, Ibragimov can't get the tie he wants. And Snyder will take the match, 10-6! It got interesting but Snyder clearly the better wrestler. He's on the the bronze medal match! Will Sadulaev wrestle? We'll find out!
57kg - Helen Maroulis, USA vs Nes Rodriguez, PUR - Helen looking to add to her legacy in Belgrade, starting with Puerto Rico. Maroulis goes right to work, two-on-one snap down into a fireman's carry for four, then two more as Maroulis goes head hunting trying to secure the fall. Doesn't get it, so back to their feet. Takedown, another turn, and Maroulis stacks and packs Rodriguez for the pin! Maroulis off to a hot start!
65kg - Macey Kilty, USA vs Albina Drazhi, ALB - Kilty follows Maroulis on the same mat. Single leg, clean finish for Kily, up 2-0 in the first minute. Drazhi goes on the attack but Kilty down blocks, finds and angle and runs down two more points. Repeat that sequence after a restart and this time add a gur wrench for two more. 8-0 lead still in the first. Kilty on a double, she'll get two but Kilty wants more, attacking the head with a half nelson. She'll get the pinfall in continuation! Kilty goes tech-fall via suplex to a pinfall with a 10-0 lead and she bulldozes her way to the quarterfinals!
76kg - Adeline Gray, USA vs Epp Mae, EST - A rematch of the 2021 World Championship finals, which Gray won, her most recent of six world gold medals. Me goes on the clock first, and Gray's on the board with a point 30 second later. Gray has the front head and arm lock she wants from neutral. Gray putting the pressure on and Mae bail. Gray right to work with a turn. She's got a gut wrench, Gray taking Mae back and forth, to the both sides. Four turns in quick succession and Adeline Gray has an 11-0 tech fall! She's into the quarters with a dominant win over a four-time world medalist!
50kg - Sarah Hildebrant, USA vs Miseon Kwon, KOR - Sarah Hildebrandt finally takes the mat against South Korea. Ankle pick and a gut wrench and she's up 4-0 early. Slide by, drop down to an ankle, takedown into a lace, and that's all she wrote! Quick 10-0 tech fall for Hildebrandt! Sarah will have the legendary Maria Stadnik next round. Stadnik is a four-time Olympic medalist.
57kg - Helen Maroulis, USA vs Graciela Sanchez, ESP - Takedown and turn for Helen in the first minute of the match for a 4-0 lead. Maroulis pressuring in on the head, sees an opportunity for a knee pick and takes it. Keeps the head, feet to back, locks up the fall! Maroulis on to the quarterfinals!
Quarterfinals
All four women made the quarters! Plus Snyder won his repechage match so Team USA is undefeated so far! Also Sadulaev did not weigh in and left Serbia to treat an injury, so Snyder will win bronze and qualify the weight for Paris!
59kg Macey Kilty, USA vs Mimi Hristova, BUL - Two-on-one for Hrsitova, she drops down to a leg and earns two points for an exposure in the ensuring scramble. Kilty wrestles out of danger and they restart. Double leg for Kilty, she's got two and she split Hristova's legs. Kilty flips Hristova to her back for two more and is looking for the fall. So close! But no pinfall. Back to their feet. Wait no it's 2-2? Kilty had 4 on the board. No two. Anyway, scramble, they're on the mat, Kilty tips Hristova over for two as the period runs out. But the points went on the board for Hristova? Kilty's corner correctly hits the challenge button. Challenge won and it's 4-2 Kilty. Still don't know how it's not 6-2 but at least they got the last challenge correct.
Second period, shot by Kilty, Hristova reattacks and has a leg. Kilty defending. Great defense to get a stalemate. Hristova challenges. Hristova is a very accomplished wrestler, with half a dozen European medals including a 2023 gold. Challenge lost and Kilty gets a point, 5-2 lead now. 2:15 to go. Hristova looking for a headlock, Kilty throws the attempt by and covers for two more to make it 7-2. Wrist snap from Hristova gets them in another scramble. Kilty gets the best of it and makes it 9-2. One leg lace later and it's 11-2 Kilty with 30 seconds to go! Hristova pressures in but Kilty defends and wins 11-2! Kilty into the semifinals!
76kg Adeline Gray, USA vs Yuka Kagami, JPN - Another test for Gray, this time with a 2022 World bronze medalist and 2019 U20 champ. A little over a minute in and no scores. Now Kagami drops to a straight ahead low single and cracks down to send Gray to the mat. Kagami covers for the early 2-0 lead. Gray on the attack for the rest of the period but no scores and it's still 2-0 for Japan at the break. 2nd period underway. Kagami goes on the clock about 40 seconds into the period. She attacks right off the whistle and has Gray's left leg. Gray wrestles the position to a stalemate. Back to their feet, activity clock expires and the leads is 2-1, still in Kagami's favor. Gray handfighting, looking for her ties. Kagami drops levels and doubles Gray. Takedown for two and it's 4-1, less than a minute to go. Time not on Adeline's side. Gray shoots with 20 seconds on the clock. Kagami defends. Gray looking for an upper body home run. She's not gonna get it. Kagami takes out Gray 4-1. Gray needs Kagami to win her next bout to be pulled into the repechage.
50kg Sarah Hildebrant, USA vs Maria Stadnik, AZE - Front head lock from Sarah, she comes close to running down a go-behind but Stadnik fends her off. Stadnik is a four-time Olympic medalist, winning medals in Beijing, London, Rio and Tokyo. The 35-year-old Azerbaijani by way of Ukraine also has two world golds and a pile of other world and European medals to her name. Hildebrandt goes on the clock first. She concedes the point. Now a scramble, seat belt for Sarah, whizzer for Stadnik. Hildebrandt fights through Stadnik's defenses to take the lead 2-1. Stadnik knew the lace was coming in par terre and defended it well. 2-1 still at the break.
Second period, Stadnik times a double leg, switches to a single and runs Sarah down to retacke the lead 3-2. Hildebrandt defends Maria's gut wrenches and they're back to neutral. Beautiful knee pick from Hildebrandt and the lead swings back to her favor, 4-3, two minutes to go. Shot by Stadnik, Hildebrandt blocks and spins behind for two more. Huge points for Sarah and it's 6-3 with 90 seconds to go. Another shot by Stadnik and another go-behind for Hildebrandt! 8-3 with just 60 seconds on the board. Stadnik challenges, not sure what for. Well the result is nothing good for Stadnik. All the discovered on review is a finger foul by Stadnik so Hildebrandt will get another point and they will return to par-terre. I guess they'll give Sarah two points? Anyway, score is 10-3. Stadnik slips free and escapes, no points for that but she's in on another shot quickly. Sarah just makes it her points though, 12-3. One leg lace, well, two turns but only one was needed, and Sarah Hildebrandt techs Stadnik! Outstanding counter offense from Hildebrandt and she's in the semifinals!
57kg Helen Maroulis, USA vs Zhala Aliyeva, AZE - The last quarterfinal of the day for USA and it's another Azerbaijani. Aliyeva is a 2022 Euro silver medalist, relatively young, as she was on Azerbaijan's U23 team this year as well. Double leg for Maroulis after a minute and she leads 2-0. Maroulis goes for a gut but is stepped over and Aliyeva evens the score at 2 each. Helen drops down on a single leg but a whizzer stops her from scoring. One minute left in the period. Another single leg, this time Helen drives Aliyeva off the mat for a point and she regains the lead 3-2. Aliyeva was attacking as the period ended but no score.
Second period under way. Handfighting, and Helen wears Aliyeva out, short snap and covers for two with 2 minutes to go. 5-2 Helen lead. Aliyeva going for an upper body tie but Helen is too powerful, snapping Aliyeva to the mat and collecting two more. 7-2, 80 seconds to go. Step out, they give it to Aliyeva, I dunno about that but it's not worth challenging. 7-3, 45 seconds to go. Aliyeva still fighting, but Helen answers, picking up another step out point, 8-3. 20 seconds. 10. And that's how it ends, Helen Maroulis onto the semifinals with a 8-3 victory! Helen will have Sakurai of Japan in a massive matchup.
Semifinals
59kg Macey Kilty, USA vs Tatsiana Paulava, AIN - Macey kicks off the semis in the only non-Olympic weight to start the today. Snap down go-behind from Kily in the first minute of action. Kilty gets mean while trying to lock up a leg lace and picks Paulava up in a wheel barrow position and crunches her over for 2 exposure points. Kilty, still in the same par terre sequence, then brings Paulava's legs back down to the mat, secures a lace lock, and turns Paulava two more times to take an 8-0 lead, still in the first. Over a minute still go to in the period. Two-on-one, Kilty drops to a low double, and secures the takedown for the 10-0 shut out! Macey Kilty will medal in her first World Championship!
Her opponent will be Nonoka Ozaki of Japan, who outscored her opponents 29-0 on her way to the finals. Should be fun!
50kg - Sarah Hildebrandt, USA vs Otgonjargal Dolgorjav, MGL - One minute in and no scores. Dolgorjav defeated Sarah in the semifinals of last year's worlds, so its an opportunity for revenge. Dolgorjav goes on the clock first. Point for Sarah. And it's 1-0 at the break.
Second period begins. Shot by Dolgorjav, nearly a go-behind for Sarah but good spin defense by Dolgorjav. Now Hildebrandt goes on the clock. Slideby attempt from Sarah, Dolgorjav counters and gets a takedown. Plus the activity clock. Dolgorjav keeps the bottom leg and tips Sarah up for two. Still in par terre. Leg lace for two more and then finally a stalemate. Sarah trails 7-1 with one minute to go. Shot to a single leg for Sarah but Dolgorjav scoots free. Inside knee pick for Sarah and she's got two more to pull within four. Can she score from par terre? No she cannot. Back to neutral, 13 seconds, 7-3 Mongolia. Snap down go-behind for two, just seconds to get a turn. And time runs out. Dolgorjav defeats Hildebrandt in the semifinals for the second year in a row. Dang.
Hildebrandt will have the winner of Stankevich, one of the neutral athletes (pretty sure Belarus), and Demirhan of Turkey for bronze. Demirhan lost to Dolgorjav 8-3 and Stankevich lost 12-1. Hildebrandt will be the favorite against either. Three-time world and one-time Olympic champ Yui Sasaki of Japan makes the finals from the opposite side of the bracket.
57kg - Helen Maroulis, USA vs Tsugumi Sakurai, JPN - Another chance for revenge, as Sakurai beat Helen in the finals of last year's worlds. Lots of handfighting but no scores after 90 seconds. No one on the clock either. Sakurai moots that concerns by grabbing an ankle in short offense and getting the go-behind just as the clock rounded the second minute. She takes the 2-0 lead. 30 seconds to go in the period. We hit the break and it's still 2-0 Japan.
Second period under way. Front head position for Sakurai, she hits what looks like a half a duck under to clear Maroulis' defenses and scores another takedown. 4-0, two minutes to go. Two-on-one snap down for Sakurai, looks like she had the go-behind but Maroulis able to defend. Still 4-0. Sakurai fights through Maroulis' defense in the next scramble and makes it 6-0. 45 seconds left. Sakurai shuts things down and wins 6-0. Dominant win by Sakurai. She'll have Nichita of Moldova in the finals. Helen will await her bronze medal opponent after three other vanquished foes of Sakurai make their way through repechage.
76kg - We need Kagami of Japan to beat Marin of Cuba to pull Adeline Gray into the repechage. Kagami scored an activity clock point in the first and a takedown off a nice double leg in the second. Kagami led 3-0 late in the third, icing the match with another go-behind off a a Marin shot. Marin did get two on the board with a takedown in the closing seconds but it was not enough. Kagami wins, pulling Gray back into the repechage.
Gray will have the winner of China and Lithuania in the repechage. A win there and she'll wrestle Marin of Cuba for a bronze medal. Kagami will wrestle Aiperi Medet Kyzy of Kyrgyzstan in the finals. Medet Kyzy pinned Renteria of Colombia in a modified peterson in the semifinals.
Medal Matches
55kg Bronze Medal Matches - Dragultan of Moldova will wrestle Godinez of Canada. Godinez won bronze at last year's worlds. Godinez scores an activity clock point in the first and the second period. But Dragutan grabs a single leg and drags Godinez to the mat to score two and take the lead via criteria with 30 seconds to go in the bout. Godinez can't score in the final seconds and Dragutan will win a bronze.
Sharma of India will have Blayvas of Germany in the other bronze bout. Sharam gets both activity clock points in the first and second period. Can Blayvas pull a Dragutan and drag a victory out of the jaws of defeat? A third activity clock point gets Blayvas half way there. And a step out with 20 seconds left gets her the lead via critiera. It holds up and Blayvas completes the second comeback from a 2 point deficit in a row!
55kg Gold Medal Match - Jacarra Winchester, USA vs Haruna Okuno, JPN - Okuno strikes first with a low double that she finishes cleanly. Okuno is a two-time world champ from 2017 and 2018. Winchester won a world title in 2019. Okuno level changes and sweeps in for a single to a double leg and a four-point lead. 35 seconds remain in the period. That's how the period ends.
Jacarra comes out aggressive in the second period. She drives Okuno out of bounds for a point in the first 20 seconds of the period. Shot by Okuno gets a leg but Winchester wrestles to a stalemate. 1:35 on the clock, still 4-1. Okuno shoots on the restart but Winchester defends but it chews up some clock. Winchester goes back into upper body ties, she drives Okuno out of bounds for another point but she still needs three more at this point. Under 30 to go. Time running out, and Winchester falls 4-2 to Okuno, who wins her third world gold.
59kg Bronze Medal Match - Jen Page, USA vs Kolesnik, AZE - Kolesnik with a single leg attack, looked like she had Page dead to rights but Page peeled hands and escaped without giving up a takedown, barely. Another shot by Kolesnik and page sits the corner and crotch lifts her through for two points. Kolesnik attempts a foot sweep but Page seized the opportunity to pancake her flat to the mat with a powerful over/under whip. Page adjusts and secures the pinfall. Bronze medal for Jen Page!
Hoeie of Norway takes on Brugger of Germany in the other Bronze. They trade activity clock points, then Hoeie stops a shot from Brugger and whips her over for two. A snap down go-behind gives Hoeie two more and she wins it 5-1. Nice to see Norway grab a medal.
59kg Gold Medal Match - Tkach of Ukraine, a four-time world medalist and one-time champ, will take on Zhang of China, a multiple-time age-level world medalist. First period ends with just an activity clock point for Zhang. Activity clock point for Tkach evens things until a pretty two-on-one boot scoot by Zhang gives her the 3-1 lead with less than a minute to go. Tkach attacks but can't get through Zhang's defenses. Zhang wins a gold medal for China.
65kg Bronze Medal Matches - Mamedov of Russia takes on Amouzad of Iran in what could easily be a gold medal match in different circumstances. But Musukaev when insane-o mode and beat then both on the topside. Amouzad scores on an activity clock and step out point, but Memedov answered with a takedown and then an incredible one-legged counter for feet to back in the closing seconds of the period to go up 6-2 after one period. In the second period, Amouzad got a step out and a takedown to pull within one, but Mamedov iced it with a late match takedown to make it 8-5. Amouzad got one final step out but that's it and Mamdeov wins bronze. Amouzad, last year's world champ, will have to wrestle off the net match's loser for an Olympic quota.
That other bronze medal match is between Armenia's Tevanyan and Moldova's Sacultan. Tevanyan won the individual world cup in 2020. Tevanyan gives up an activity clock point in the first. Sacultan gives up one in the second. Then Sacultan goes on the clock again and while on the clock, Tevanyan scores the only offensive point of the match with a shot
65kg Gold Medal Match - The resplendent Ismail Musukaev of Hungary by way of Kabardino-Balkaria is wrestling in the best shape of his life. He'll take on the New Jersey's own Sebastian Rivera, representing Puerto Rico. Musukaev scores first with a single leg that he chases down for two. Another single leg and this time Musukaev gets a step out and leads 3-0. One minute left in the period. And that's how the period ends.
Second period under way. Musukaev with a misdirection double at lightning speed and he slams Rivera to the mat for four and a 7-0 lead. That's a big hole for Rivera to dig out of. And another incredible feat of athleticism by Musuakev and he takes Rivera down to the mat for another feet to back and he knows as soon as Rivera hit the ground that he is a world champion. Emotional celebration from Musukaev. What a tournament for Moose.
97kg Bronze Medal Matches - The first match is a forfeit for Kyle Snyder, who will officially qualify the weight for Paris and collect his ninth world medal. Pretty impressive. Sadualev was flown to Moscow to get his neck and spine checked out after his semifinal loss to Tazhudinov, which is why Snyder got the forfeit. Hopefully Sadulaev is alright and we get to see him back on the mat soon.
The other bronze medal bout is between Matcharashvili of Georgia and Ciftci of Turkey. Matacharashvili got the first takedown but Ciftci answered and knotted the score up at two. A step out and then another violent low double by Matcharashvili makes it 5-2. A step out in short time and Matcharashvili takes a 6-2 lead into the break. Second period under way. 90 seconds with no more scores. Time ticking down on Ciftci. Less than 30 and Ciftci can't get through Matcharashvili's defenses. the 6-2 score holds up and Matcharashvili wins bronze and qualifies the weight for Georgia.
97kg Gold Medal Match - Can Tazhudinov, the 20-year-old prodigy from Bahrain by way of Dagestan, who defeated Snyder and Sadulaev back to back, fulfil his destiny in Belgrade? Or will he be Magomedkhan Magomedov, the Azerbaijani who is also originally from Dagestan, put an end to his Cinderella run?
It takes 30 seconds for Tazhudinov to get the first takedown. An ankle pick and quick turn and it's 6-0 still in the first. Magomedov gets on the board with a step out. Magomedov shoots again but Tazhudinov stops him in his tracks, cradles him up, and stacks and packs him for the pinfall. Incredible. Forget about Cinderella run, Tazhudinov is the real deal. Crown this man.
In the true fifth bouts, Amouzad decimated Sacultan to give Iran the fifth Olympic bid at 65kg. And Sadulaev is still absent so Ciftci of Turkey gets the forfeit and earns the Olympic qualifying bid for his federation.
That's all the action for today from Belgrade. Musukaev and Tadzhudinov complete historic world championship runs in men's freestyle and Jacarra Winchester and Jen Page earn medals in women's freestyle. Sorry for the typos, see you tomorrow!