2023 Senior World Championships
2023 World Championship Live Blog: Day 2
2023 World Championship Live Blog: Day 2
It's the 2023 UWW Senior World Championships of wrestling and we're in Texas but still live blogging all the action from Belgrade.
Sep 17, 2023
by Andrew Spey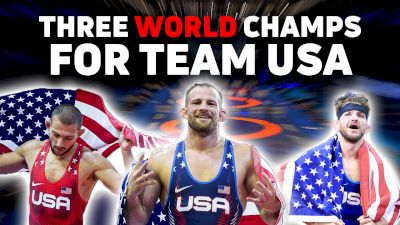 Day 1 was pretty awesome for Team USA, as three men's freestyles reached the finals and another is in the bronze medal match. Not bad! How will a fresh quartet of Americans fare on day 2? We'll find out together!
Other World Championship Live Blogs: Day 1 | Day 3 | Day 4 | Day 5
These four wrestlers start their quest for glory in Belgrade:
57 kg Zane Richards
74 kg Kyle Dake
79 kg Chance Marsteller
92 kg Zahid Valencia
And these four wrestlers will seek gold or bronze medals:
61 kg Vito Arujau
70 kg Zain Retherford
86 kg David Taylor
125 kg Mason Parris
---
Prelims
74kg - The Weight of Weights did not take long to produce some fireworks. Sidakov of Russia, wrestling as a neutral athlete, vs Kentchadze of Gerogia was the first big match of the bracket in a round of 64 pigtail. Kentchadze is a 2018 world silver medalist and Sidakov is a two-time world and one-time Olympic champ. Sidakov was down 6-3 in the second period before he rallied to win 7-6 and advance to the round of 32 and a match with two-time world and one-time Olympic bronze medalist Bekzod Abdurakhmonov, also an All-American at Clarion University.
Then things got wild. Frank Chamizo lost to Takitani, not Sosuke Takitani, who made the 2014 World Championship finals at 74kg, but his sibling, Daichi. After Chamizo went down it was Magomedkhabib Kadimagomedov getting upset, in this instance to Georgios Kougioumtsidis of Greece. There were some wild flurries at the end of the match and a crazy amount of letters on the scoreboard.
That leaves Salkazanov as the most credentialed wrestler left on Dake's side of the bracket, with a showdown with Sidakov still possible.
57kg - Zane Richards, USA vs Aliabbas Rzazade, AZE - Richards is the first American to take the mat on day 2 in Belgrade. He was right there with the fifth best wrestler in the bracket (according to our own Jon Kozak). Richards had the only takedown of the bout but two steps out and a first period activity clock point was enough for Rzazade to get the 3-2 victory. #1 Uguev and #2 Abakarov, the last two world champs at this weight, are on the same side of the bracket, so it's going to be tough for Richards to get pulled into repechage.
74kg - Kyle Dake, USA vs Magomed Evloev, TJK - Dake does Dake things, scoring off a variety of takedowns and turns to win 12-2. Did give up an exposure in a scramble while going for a big move but he still dominated a tough wrestler. A classic landmine.Dake's next opponent will be 2019 world bronze medalist Kaiponov of Kazakhstan.
79kg - Chance Marsteller, USA vs Chems Fetairia, ALG - Marsteller's Algerian opponent was tougher than you might have expected. He got a nice crotch lock roll through for two on a Chance shot, however, Marsteller scored all the offensive points and won the match 7-2. Fetairia also said Chance bit him at one point, adamantly requesting a review. The challenge failed and being as honest as possible, I saw no hint of a bite on a replay. Regardless, Chacne advances and will have Abasov of Azerbaijan next.
92kg - Zahid Valencia, USA vs Amirali Azapira, IRI - Huge bout for team race purposes. Zahid races out ot a four off two cleanly finished takedowns. Azapira scores off a counter to make it 4-2. Then Zahid goes for an inside trip, gets countered and gives up a takedown, then three costly turns. Trailing 8-4 late in the second, Zahid nearly has a takedown off a single leg but Azapira defends in a quadpod as time runs out. Then during the break, Mark Perry accidentally kicks the mat which causes the challenger buzzer to go off but the refs review anyway, over the protests of Coach Perry who can be clearly seen saying there is no challenge. The fake challenge which should have never been under review is lost and a bogus point goes on the board for Azapira. I do not understand how that happened.
Now down 9-4, Valencia goes to work, getting a pair of takedowns and turns to go up 12-9. Azapira gasses and Valencia holds on for the incredible come from behind victory to throw a dagger into the hearts of Iranian fans. Also, simultaneously Sidakov beat Emami at at 74kg. Massive win for Valencia, who has Nurmagomedov of Azerbaijan next.
57kg - Valizadeh of Iran defeats Rzazade of Azerbaijan to eliminate Zane Richards. For team race purposes it would now be good if Abakarov beat Valizadeh in the quarters and then for Abakarov to lose to Uguev in the semifinals. Or to Stevan Micic, who wrestle Uguev next in the quarters. it would be cool if he made the finals too.
74kg - Kyle Dake, USA vs Nurkozha Kaipanov, KAZ - Dake wins a ferocious scramble in the first period to muscle his way to a takedown. Three powerful gut wrenches later gives Dake an 8-0 lead. A step out close to the end of the first period makes it 9-0. In the second, Kaiponov gets a step out, then a takedown, and Dake is looking much more sluggish than in the first. Going for that final gut in the first scoring sequence may have taken a toll on Kyle. One more step out is all Kaiponov can muster, and Dake advances to the quarterfinals to face Takatani of Japan.
Quarterfinals
79kg - Chance Marsteller, USA vs Orkhan Abasov, AZE - Marsteller shoots and gives up a go behind. Then two costly gut wrenches and Chance is in a 6-0 hole early. Marsteller gets a single leg late in the period but has to settle for one. Second period Chance gets another step out that looked like two but was just fleeing for a cuation and one. Marsteller needed a turn in par terre but couldn't get one. They trade step outs and then Marsteller is taken down to ice it for Abasov, who wins 9-3. On the plus side, Usmanov of Russia beat Nokhodi of Iran so if Abasov wins in the semis he'll eliminate Iran and bring Chance into the repechage.
92kg - Zahid Valencia, USA vs Osman Nurmagomedov, AZE - A tactical first period. Zahid took all the shots but Nurmagomdov controlled center better and Zahid went on the activity clock. One point for Nurmagomedov off the clock is all the scores of that period. Second period, Nurmagomdov goes on the clock early. One point for Valencia and he leads on criteria. Valencia on the attack, scramble, Nurmagomedov capitalizes and gets the go behind. He's up 3-1 with just 30 seconds left. Zahid attacks but again its another takedown for Nurmagomedov to ice it. Valencia falls 5-1. Silver lining is Iran is eliminated from medal contention but that was a tough one after such an amazing match in the previous round.
57kg - Higuchi and Harutyunyan had a crazy good match that Higuchi won 16-14 to advance Japan to the semis. And Stevan Micic had a heroic come from behind victory over world and Olympic gold medalist Zaur Uguev to electrify the Serbian crowd. Abakarov beat Iran in the semis so if Micic can beat Abakarov that will eliminate Iran and that will be good.
74kg - Kyle Dake, USA vs Daichi Takatani, JPN - Takatani goes on the clock and gives up the first point. Takatani in on a shot late in the period and scores an exposure just before time runs out. Early in a second Takatani drops down on a single, there's a scramble, Dake tries to sit the corner but gives up an exposure. Dake recovers for the 1 point 'reversal' and the score is 4-2 Takatani. But Dake gets a two-on-one through the legs for a ball and chain turn and makes it 4-4, though Takatani leads on criteria. With 27 seconds left Dake gets a step out to make it 5-4. His defense holds up, though Takatani had Dake fighting until the final seconds. A failed YOLO challenge gives take the 6-4 win and a trip to the semifinals.
Dake's opponent will be Georgios Kougioumtsidis of Greece, who is having the tournament of his life, beating Olympic silver Kadimagomedov in the first round and then world silver medalist Salkazanov of Slovakia in the quarters. Greece is not a nationally strong country when it comes to freestyle wrestling but this will be no easy match for Dake.
On the other side of 74, Tsbalov gave Sidakov all he could handle, but the Ossetian Russian (Sidakov, wrestling as a neutral athlete) advanced over the Ossetian wrestling for Serbia (which would be Tsabalov). Sidakov will wrestle Bayramov, a young Azeribaijan wrestler who looked good taking out the experience and credentialed Turk, Demirtash.
Semifinals
79kg - It would be great if Abasov, AZE could beat Usmonov, AIN (RUS) here in the semifinals, which would eliminate Nokhodi, IRI and pull Marsteller back into repechage. Unfortunately, Usmanov doesn't let Abasov get close to scoring and defeats him 3-0, eliminating Chance from medal contention. Usmonov will wrestle Gamkrelidze of Georgia in the finals. Nokhodi will have one match to win before he he'll meet Abasov for a bronze.
92kg - Nurmagomedov, AZE takes care of Yoshida, JPN in less than 90 seconds to advance to the finals and pull Valencia into the consolation rounds. Zahid will have a bout with a Ukrainian that Nurmagomedov also 10-0 teched. Zahid will have an excellent opportunity to earn a bronze tomorrow. Nurmagomedov has Aitmukhan, KAZ in the finals.
57kg - Because Abakarov, ALB beat Iran in the quarters it would be great for Team USA if Stevan Micic< SRB beat Abakarov in the semis. And that's what Micic does! After being Olympic and world champ Uguev he beats 2022 world champ Abakarov. Incredible. Micic will see Higuchi, a 2022 world champ at 61kg and a 57kg 2016 Olympic silver medalist.
74kg - Kyle Dake, USA vs Georgios Kougioumtsidis, GRE - Pace is fairly deliberate, not a lot of action. Greece put on the clock (not typing that name out every time I reference him). 1-0 lead for Dake going into the second. In the second Dake opens things up in a scramble, scoring two exposures and came close to sticking Greece. 4-0 with a little less then 2 minutes to go. Greece back in on a shot with a minute to go. Scramble, and Greece gets a point. 4-1 with 45 seconds to go. Blood time for Greece. Back to the center, great fight from Greece but Dake defends and wins 4-1. Dake in the finals and the weight is qualifying for the Olympics!
Oh and Dake will wrestle Zaurbek Sidakov in a super match between superstars. With the way that b bracket unfolded seeing those two in the finals was anything but a sure thing, but we're getting it!
Medal Matches
57kg - Bronze Medal Matches: Zhumashbek Uulu of Kyrgyzstan beats Ogawa of Japan in a very tactical 2-1 bout. Not a lot going on there. Nevertheless, bronze for Kyrgyzstan! Phartenadze of Georgia and Bliasetskyi of Ukraine were in a similarly paced match for the other bronze until Phartenadze broke things open with a feet to back late in the 2nd period. Phartenadze ultimately won 5-3 to earn the second medal of the tournament for Georgia!
Vito Arujau, USA vs Abasgadzhi Magomedov, AIN (Russia) - No chance of this match being a boring one. Vito scores the first step out. Then a shot by Magomedov and a wild scramble ensues. Magomedov tips Vito back, Vito rolls him through twice. It's 5-2 but Magomedov challenges. It's reviews and the officials ad a 2 and 2 so each wrestler gets an extra two and the result is no net gain. 7-4 but same situation as before. And that's how the period ends.
Second period, Magomedov gets in on a shot, similar scramble, Vito sits the corner, they both go over the backs at the edge of the mat. It's ruled 2 for Magomedov by Vito challenges. Challenge lost, 7-7, Magomedov leads via criteria. Shot by Magomedov, Vito counters and covers for two. Vito leads now 9-7. Less than a minute to go. Vito reattacks and drives Magomedov out of bounds to go up 10-7. Under 30. Magomedov drives Vito out of bounds. Vito was clearly trying to circle back in and they still hit him with a caution and one for fleeing. Rediculous call but Vito still leads by one. And Vito holds on to win 10-9!
Vito wasn't getting any help from the officials but it doesn't matter, he is a world champion! Gold medal for USA!
70kg - Bronze Medal Matches: Akmataliev, KGZ and Ramazanov, BUL are in a back and forth slugfest in the first bronze match. Ramazanov gets a single leg and trips Akmataliev to his back for four to go up 6-2. Akmataliev searching for a home run to catch up but can't land anything big and Ramazanov will take it 8-6 and bring a bronze medal back to Bulgaria.
In the other bronze medal match, Andreasyan of Armenia runs down Abhimanyou of India 12-1.
Zain Retherford, USA vs Amir Yazdani, IRI - Retherford gets a step out early, but Yazdani responds with a takedown and the 2-1 lead. Rethford responds with a takedown of his own before the period ends. The second period starts and it's Retherford turning up the heat. A step out sandwiched between two takedowns and just like that, Zain has an 8-2 lead. Retherford perhaps have gotten more but Retherford went into defense mode. He gave up a takedown and then a step out, technically a caution and one for fleeing, in the final 2 seconds and it's a 8-5 final score. Zain Retherford turns silver in to gold one year later. USA goes back-to-back gold medals! Zain also revenges a loss to Yazdani at the 2021 World Championships.
86kg - Myles Amine takes the mat representing San Marino and the state of Michigan. His opponent is Shapiev from Uzbekistan. Amine up 3-0 after one period. Things get hairy in the second. Shapiev goes up 4-3 after a takedown and then a crotch lift from a scramble off an Amine shot. Amine recovers and gets two exposures to make it 7-4 with just 11 seconds left, though Shapiev challenges, hoping to bring the score back down to 5-4 or better. Challenge lost. Amine gets dinged for fleeing but he'll take it. 8-5 final and Myles Amine wins a bronze and is going to the Olympics!
Sharipov of Bahrain by way of Dagestan takes on Dauletbekov of Kazakhstan. After 4 minutes its 1-1, both off activity clocks, Dauletbekov has criteria. Sharipov goes on the clock again and gives up a second point and Dauletbekov leads 2-1. But with 20 seconds left Sharipov gets a takedown and is in the lead 3-2 with 11 seconds left. Sharipov warned for fleeing but no points. But with just a second left Dualetbekov ankle picks for a takedown and he'll win 4-3! Plus a failed yolo challenge and its 5-3. Dualetbekov to the Olympics and Sharipov has to wrestle Shapiev for true 5th and the final Olympic spot.
David Taylor, USA vs Hasan Yazdani, IRI - Round six! We start with nice flurries but no scores. DT goes on the clock first. Activity clock runs out but then Taylor's in on a double. Taylor's move but Yazdani goes for a chest wrap. The tumble over, David ends up on top. They award four for Yazdani and one for Taylor but Taylor challenges. It's ruled David's move, then two for Yaz, then a reversal for Taylor, so 4 Taylor, 2 Yazdani, 1 Taylor, challenge one. Score is 5-3 in Taylor's favor. Iran fans not happy in the arena but that looked like the right call to me. Period ends.
Second period, not much after 90 seconds. Then a scramble, and David works his way through several positions to collect two. And now he's got a 7-3 lead with about a minute to go, plus a four-pointer for criteria purposes. Under 30. Another scramble, and Yazadani goes for a head pinch but doesn't have the leverage. Yazdani on his back. David has the pin. They won't call it! Now they call it! David Taylor pins Yazdani for the second time! America wins three gold medals on the day! Not bad!
125kg - Taha Akgul of Turkey has a chance to add to his expansive trophy case against Ligeti of Hungary. Akgul leads 5-0 after a step out, takedown and turn. No other scores for the rest of the match and Akgul earns his 10th world or Olympic medal!
Mason Parris, USA vs Abdualla Kurbanov, AIN (Russia) - This is a huge match for Parris, (obviously), as a win is not just a bronze but an Olympic spot qualified for USA and a bye to the Olympic Team Trials finals. Parris changes levels, has a tricep, keeps pulling and dumps Kurbanov for two. Kurbanov answers with a step out. They restart and get into a pummel position. Kurbanov foolishly thinking lat drop and Parris plants him for four! Another step out for Kurbanov. And Parris snags one last takedown before the period ends and leads 8-2. Great period for Parris.
Second period underway. Parris single leg attack, high trip finish and it's two more for Parris. Another shot by Parris and he finishes the match with another takedown. 12-2 tech fall and Mason Parris is a world bronze medalist! Plus the Olympic spot is qualified for America and Parris gets a bye to the Olympic Team Trials. Not bad!
The gold medal match is Zare of Iran vs Petriashvili of Gerogia, both former world champs. This one was not close though, as Petriashvili had no answer for Zare's hand-fighting. A half dozen or so step outs, a takedown, a caution and one when Petriashvili slapped Zare out of frustration and a failed challenge and Zare gets an 11-0 tech-fall to clinch a gold medal for Iran.