2023 Senior World Championships
2023 World Championship Live Blog: Day 1
2023 World Championship Live Blog: Day 1
It's the 2023 UWW Senior World Championships of wrestling and we're live blogging all the action from Belgrade... from Texas.
Sep 16, 2023
by Andrew Spey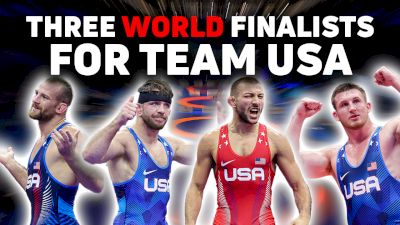 We're back for another World Championship live blog. No blogging perch in the arena this time, however, instead we're blogging from the great state of Texas and watching the action on TVs and monitors, as so many others are around the globe.
Other World Championship Live Blogs: Day 2 | Day 3 | Day 4 | Day 5
Day 1 in Belgrade will see four American men's freestylers begin their tournament as they begin their quest not just for medals but also to qualify the weights for Team USA at the 2024 Paris Summer Games. Those Americans are:
61 kg Vito Arujau
70 kg Zain Retherford
86 kg David Taylor
125 kg Mason Parris
The preliminary rounds begin at 4:30 am ET and the semifinals start at 1:00 pm ET.
Prelims
70kg - The first noteworthy bout of the day was at 70kg, where Oayagi of Japan defeated Zherbaev of Russia (wrestling as a neutral country. At last year's worlds at 70kg, Narikuni of Japan beat Zain Retherford in the finals. Narikuni decided to switch styles and compete in Greco-Roman this year, and Oayagi won the spot for Japan. Zherbaev hasn't been able to wrestle much outside of Russia, so both wrestlers were of interest to Retherford.
61kg - Vito Arujau kicks things off (not literally, kicking is not allowed in wrestling) with a dominant win over Dastanbek of Kazakhstan. Vito has Bulgaria next, and then the winner of Japan vs Iran, which will be a tough bout.
125kg - Mason Parris makes it 2 for 2 for the USA, as he tech-mauled his opponent, Batirmurzaev of Kazakhstan 11-0. Parris won with takedowns and turns. His opponent will be either Conyedo of Italy (a world medalist at 97) or Cudinovic of Germany. A win there and Parris will likely have Deng of China, a two-time world medalist who beat Munktur of Mongolia in one of the key prelim bouts of the weight class. And its Conyedo, by the way.
86kg - It took David Taylor all of 15 seconds to hit a suicide cradle and pin Padiou of Morocco to advance to the round of 16. On the other side of the bracket, Yazdani took a little bit longer to beat Australia. Taylor has Austria next, who he will beat, and then likely Makoev of Slovakia.
70kg - Zain Retherford wins 4-0 against Akhmedov of Tajikistan, who didn't appear all that interested in doing wrestling moves during that bout. The Zain Train's next stop is the quarterfinals is Abhimanyou of India, who is competing under the UWW flag as the Indian wrestling federation is currently in the penalty box.
61kg - Vito dispatched his next opponent Iliev of Bulgaria in one minute and 9 seconds, with a couple of slick takedowns and then a very technical leg lace to finish things off. His opponent in the round of 16 is Ogawa of Japan, who took out Atri of Iran. Vito can provide a huge lift for America's team race by defeating Ogawa and eliminating Iran from medal contention and likely ensuring Iran scores no points at 61kg.
125kg - Mason Parris shuts out Conyedo of Italy by way of Cuba, who is a 2018 world bronze at 97. Conyedo didn't take a shot until the final 20 seconds of the match and Parris used some nifty scrambling to keep the shutout in tact. America hasn't been scored on yet in 6 wins. If they get scored on next and it is because I jinxed them I will apologize. Parris' opponent in the quarters is Deng of China. Geno has Baran in the other quarter on Mason's half of the bracket. Zare and Akgul are in different quarterfinal bouts on the other side.
86kg - David Taylor knee picked his Austrian opponent for four and then gut wrenched him three times for a tech fall in under a minute. He'll have Sharipov of Barhain by way of Dagestan next. He'll have the winner of France and Kazakhstan, the latter of whom pinned Bagaev of Russia. Yazdani and Amine wrestle on the other side of the bracket.
Quarterfinals
70kg - Zain Retherford has Abhimanyou of India. The heaviest of hands from Zain snaps Abhimanyou into some points. Retherford does give up a takedown, the first points any American has given up in Serbia, apologies for the jinx. Retherford holds on to win 7-2 and advances to the semifinals.
Zain will have Andreasyan of Armenia, who beat Japan, which eliminated Russia from medal contention (they were already going to score no points because they are competing as neutral athletes). Baby Yaz of Iran has Ramazan Ramazanov of Bulgaria by way of Dagestan in the other semifinal.
61kg - Vito gets the first point vs Ogawa of Japan via step out. Arujau then counters a shot from Ogawa with a crotch lift for two. Or does he? Japan challenges. It's two for Japan, two for Vito, so challenge won, Vito leads 3-2. Another step out for Vito makes it 4-2 at the break. Another step out at the start of the 2nd makes it 5-2 Vito. A slick takedown with about a minute to go makes it 7-2, which should ice it. Add another step out and Vito wins 8-2!
That moves Vito to the semis and it eliminates Atri of Iran, which is big for the team race. Arujau has Zhumashbek Uulu of Kyrgyzstan. Georgia and the top ranked Russian on the other side.
125kg - Mason Parris lulled us into thinking he was going to have a low scoring bout with Deng of China. It's was 1-0 Parris after 3 minutes and 3-0 Parris with about 10 seconds to go. Then Deng snapped Parris into a head pinch and took him over for four and the lead and just 3 seconds left, but Parris kept wrestling, hit a high-c and brought Deng to his back just before time expired and a 7-4 lead. Deng challenged but lost, giving Parris a heart attack 8-4 victory and a spot in the semis.
Parris has Geno Petriashvili in his semi, whereas the other side has Taha Akgul vs Amir Zare, as many had predicted.
86kg - David Taylor did give up a takedown and was technically losing 2-2 on criteria early in his bout vs Magomed Sharipov of Bahrain by way of Dagestan, but other than that it was all Taylor, taking Sharipov down at will and winning 12-2 with about 2 minutes still left on the clock.
David has Dauletbekov of Kazakhstan. A win there and he'll likely get another match with Hassan Yazdani, who has to first beat Shapiev of Uzbekistan.
Semifinals start at 10:45AM ET. See you in a few hours!
Semifinals
61 Kilograms
Vito Arujau, USA vs Taiyrbek Zhumashbekov Uulu, KGZ: Vito on the attack early, gets a leg, steps over and converts. Zhumash tries to stand, Vito takes him over for four! Zhumash picked a leg there and comes on top for 1 on a reversal. Or not! Zhumash challenges, and it's rules just a two, not a four, and Zhumash gets a full exposure, so anyway, it's 4-2, Vito in the lead. Vito drops to a leg again, he's got a huge length advantage and uses it to bring the leg up and trips to convert for two more. Zhumash knows the leg lace is coming and can't stop it. Vito gets one turn, then two more and that's a wrap! 12-2 tech fall for Arujau and he's in the final with a guaranteed medal!
Abasgadzhi Magomedov, the neutral athlete from Russia, demolished Georgia in the other semifinals, so it'll be Magomedov vs Arujau for gold tomorrow!
70 Kilograms
Amir "Baby Yaz" Yazdani takes out Ramazan Ramazanov of Bulgaria by way of Dagestan in the first semifinal.
Zain Retherford, USA vs Arman Andreasyan, ARM: Zain beat Andreasyan in the quarterfinals of last year's World Championships. Retherford with a sweep single leg that he converts fairly cleaning for the first takedown. Retherford throws in a figure four and an arm bar, Andreasyan fights to his feet, but Zain brings him back down to the mat for four! Or does he? Andreasyan's corner challenges, potentially looking for a step out instead of a four. Challenge lost, and Zain goes up 7-0 with 1 minute still to go in the first.
Zain takes the 7 point lead into the break. And not a lot happening in the second period, Zain's defense holds up perfectly, and he'll go into the finals to face Baby Yaz with a gold medal on the line!
86 Kilograms
Hassan Yazdani "The Greatest" will wrestle Shapiev first. A takedown and a step out and Yazdani is on his way. And it's a clean 10-0 blanking by Yazdani. No surprise that he makes it to the finals from his side of the bracket. Now we'll see if Taylor will do his part to meet him for their sixth meeting. David has a 4-1 advantage lifetime over Yazdani.
David Taylor, USA vs Azamat Dauletbekov, KAZ: Taylor scores first via activity clock and leads 1-0 as Dauletbekov slows the pace. All the shots coming from DT but he's yet to convert with 30 seconds left in the period. Angle pick in the final 20 seconds and a nice flurry but Dauletbekov's defense holds up and it's 1-0 at the break. Second period Taylor drops down to a leg and this time finishes, has Dauletbekov on his back, though he fights off. 3-0 DT and they're back to their feet. Another takedown by David, timing was too precise on the shot. Bar and a half, and he takes Dauletbekov over and stick him for the fall! The Magic Man vs Hassan Yazdani in the finals!
It's what we wanted to see, and now we'll get it. Also Iran and the USA qualify 86kg for the Olympics.
125 Kilograms
The penultimate bout is Zare vs Akgul. It was Akgul that got the victory in the 2022 Worlds semifinals, 4-2. This meeting produces a very measured first period. Zare has a 1-0 lead via the activity clock. 2nd period underway. Akgul goes on the clock again, and now it's 2-0 Zare, though a two-point move will give Akgul the lead. Zare with the snap go behind and he likely ices it with a 4-0 lead, though there are 30 seconds left in the bout.
Mason Parris, USA vs Geno Petriashvili, GEO: Our last bout of the day! Geno strikes first, grabs a single leg, runs Parris out of bounds for a point. Parris answers with a level change double for a quick finish and a 2-1 lead. Not a lot happening for the rest of the period and it ends 2-1. Second period and Geno gets a nice low single, picks up the leg and walks Parris to the boundary but then relaxes thinking Parris stepped out but Parris kept half a foot in and turns the tables to pick up a step out of his own. Geno challenges and loses so 4-1 Parris. Geno comes right back with a cleanly finished takedown. 4-3 still Parris. A couple of flurries, first Parris gets a chest wrap exposure, then Geno gets a step out and a takedown and Geno catches up and now leads on criteria 6-6. Parris looking for an opening but Geno pancakes him to seal the deal. It's 8-6 officially though the referees could've called a fall at the end. Either way, result is the same. Mason Parris almost made it to the finals at his first worlds. It'll be Geno vs Zare for gold.
Parris has a bronze medal match next. He'll have either Kurbanov, the Russian, or Baran from Poland. But very tough competitors but definitely a winnable match. That's for bronze and an Olympic qualifying spot. If Parris loses the bronze match he'll have the loser of the other bronze medal match for 'true fifth' and the final Olympic bid at 125kg. That will likely be either Khramiankou of Belarus or Ligeti of Hungary, assuming one of them loses to Akgul. Again, very tough but not unbeatable for Parris.
Overall an incredible start of the tournament for Team USA. Parris came close to making it a perfect four for four but he's still in great shape to medal and qualify a second spot at the Olympics.
Americans go 14-1 with four more wrestling going tomorrow, see you then!