2023 Senior World Championships
Men's Freestyle Team Race - 2023 Senior World Championships
Men's Freestyle Team Race - 2023 Senior World Championships
The final team standings for men's freestyle at the 2023 Senior World Wrestling Championships.
Sep 19, 2023
by Jon Kozak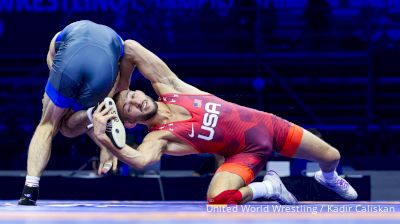 Unlock this video, live events, and more with a subscription!
Get Started
Already a subscriber? Log In
The 2023 Senior World Championships have concluded in Belgrade, Serbia with Team USA winning the team title in men's freestyle. Check out the below article for the final team standings and for a full breakdown of the team race.
Check out more World Championship Content
Team USA's Results | Women's Freestyle Team Standings | Full Schedule
Team USA Runs Away With Team Title Over Iran
The United States won the team title with a final total of 148 points - 38 points over second-place Iran. Overall, Team USA won 7 medals in men's freestyle at this year's world championships - 3 Golds, 1 silver, 3 bronze. Iran only finished with 4 medals - 1 gold, 2 silvers, and 1 bronze. It's also worth noting that athletes from Russia at this year's World Championships were classified as "Individual Neutral Athletes" and could not earn team points. However, even if they were allowed in the team race, they would have finished in second place with 117 points. In total, athletes from Russia won 4 medals - 2 golds, 1 silver, and 1 bronze. You can see a full breakdown of Team USA's performance at worlds at the bottom of this page.
Check out the current standings for the top 10 countries at Worlds:
Here's how the team scores break down by weight:
In the above table, you'll notice Russia is listed as "AIN" which means "Individual Neutral Athlete". These athletes cannot earn team points, however, it's still interesting to keep track of and helps in organizing points for every weight. Team points are calculated according to UWW's top 10 placement points for world championship team scoring: 25, 20, 15, 15, 10, 10, 8, 6, 4, 2.
Check out David Taylor's win in the finals over Yazdani: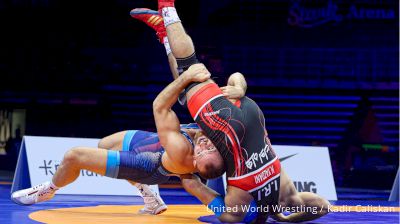 Unlock this video, live events, and more with a subscription!
Get Started
Already a subscriber? Log In
Breakdown of Team USA's Performance: