2023 NCAA Championships Watch Party
2023 NCAA Wrestling Championships First Round Recap
2023 NCAA Wrestling Championships First Round Recap
A live blog of the 2023 NCAA D1 Wrestling Championships updated in real time live from Tulsa, Oklahoma.
Mar 16, 2023
by Andrew Spey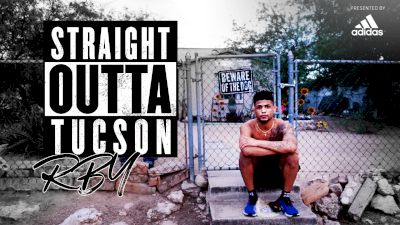 We're really doing it down. We gonna narrow the field down from 330 hammers to a mere ten champions, and it all happens here inside the BOK Center in lovely Tusla, Oklahoma.
We start, as always, with the ten "pigtail" bouts, the 33rd and 32nd seeds in each weight class face off to earn the opportunity to wrestle the number one seed in the next round. Then the second round, consolations, etc. And I am here to blog it all for you, the wise and circumspect wrestling fans, live from upper deck media row.
2023 NCAA Live Blogs: Second Round |.Quarterfinals | Semis & Bloodround | Medal Round | Finals
Okay here we go!
2023 NCAAs blogging perch secured 😤 pic.twitter.com/i5BgQyi4Ig

— Andrew Spey (@SpeyWrestle) March 16, 2023
And there's the call for wrestlers to clear the mats. The rabid fans in the rapidly filling BOK Center all know what that means! It's nearly that time!
Wait, you want JUST the results like JUST RESULTS? Okay here you go click here please! Come back here for more context if you so desire, I will be blogging regardless!
2023 NCAA Wrestling Championships Match Notes: Quarterfinals
2023 NCAA Wrestling Championships Match Notes: Second Round
2023 NCAA Wrestling Championships Live Updates: Semis & Bloodround
Pigtails
125: Tanner Jordan squeaks by Tucker Owns 2-1 to get a Jackrabbit into the next round.
133: Ethan Oakly of App State, an alternate who got in after Connor McGonigal scratched after an injury sustained at the EIWAs, wins to advance to the round of 32.
141: The Terps get a win from the young Kal Miller over Bloomsburg's sole qualifier Josh Mason.
149: Cal Poly's former All-American who was an alternate and got the NCAA bid when Jon Jon Millner pulled out put on an offensive display to beat Isaiah Delgado by tech fall.
157: Northern Colorado's Vinny Zerban wins a tough one over Army's Nathan Lukez.
165: Josh Kim gets the dub for Harvard, the Ivies and the EIWA over Wyoming's Moody rather handily.
174: Clarion's John Worthing beats App State's WIll Miller.
184: WVU's Anthony Carmen needed sudden victory to secure a winning takedown over Jha'Quan Anderson of GWU.
197: UNC's Max Shaw gets it done over UPenn's Cole Urbas.
285: Garrett Joles from Minnesota aka Heavyweight U defeats Princeton's Travis Stefanik.
Round of 32
125: Volk vs DeUagustino is a fire 1st round bout of an All-American (DeAugustino) and a U20 World Champ (Volk). This one goes to OT with a 1-1 score. And Volk with the upset! The first big one of the tourney. That's an Honorable Mention over the #4 ranked 125-pounder!
Rutgers freshman phenom in a battle with the first of NC State's 9 qualifiers, Jarrett Trombley. 4-3 lead for Trombley late in the third. Peterson awarded a takedown but it's waived off. Rutgers challenges. Call stands and Trombley ekes by.
WVU's Killian Cardinale battled through injuries in his final year of eligibility just to get to Tulsa. He guts out a 3-2 win over Caleb Smith of App State. That's an upset on paper, 28 seed over the 5 seed, but the rankings had these two much closer. That puts Caleb Smith in the consolation bracket with a match against Michael DeAugustino, the loser of which will be eliminated. Tough tournament!
Wisconsin's All-American Eric Barnett cruised to victory over Columbia's Nick Babin.
Lock Haven's Anthony Noto and his 29-2 got the win over OU's Joey Prata. Noto does it 5-2.
Two-time All-American Pat McKee gets out to an early lead over Harvard's Diego Sotelo. Minnesota's McKee wins by major.
NCAA finalist Brandon Courtney, rocking a two-piece uniform from Ariozna State, leads Jake Ferri of Kent State thanks to 2nd period nearfall.
Cornell's Ungar leads familiar foe Miller of Pennsylvania. Ungar takes it 6-1.
3rd seeded and ranked Liam Cronin beat Lorenzo of Cal Poly to advance, as he looks for his first All-American honor of his career. He'll have Maryland's Braxton Brown.
Another upset as VT's #27 seed Eddie Ventresca takes out #6 seed Stevo Poulin of Northern Colorado. These two were a little closer in the rankings, 19 and 12, but that's still a tough loss for Poulin in round one. The match also alerted everyone in the arena to where the Virginia Tech section is located.
Purdue's Matt Ramos trying to be the first All-American of the Coach Ersland era gets a 3-2 win over Stanford's Nico Provo.
TEAM SCORE UPDATE
Cal Poly in first with 2.5 points. West Virginia and Wisconsin tied for 2nd place with 2 points. We'll see if they can hold on to those leads as we still have a lot of tournaments left to go!
UPSET ALERT: Jack Wagner of North Carolina by way of Bettendorf, Iowa takes out All-American Brandon Kaylor of Oregon State.
PINFALL ALERT: Princeton Pat Glory pins Oklahoma State's Reece Witcraft.
Spencer Lee will have to wait until Tucker Ownes has time to rest after his pigtail bout. Spencer Lee finally taking the mat, and Spencer Lee quickly leaving the mat after a first period fall! And we've discovered where the Iowa fans are sitting (loudly around me).
133 Pounds
Ohio State true frosh phenom Jesse Mendez has an early lead over Navy's Brendan Ferretti. Mendez wins and he'll have Michael McGee of ASU next in a highly anticipated round 2 matchup.
Mickey Phillippi, a three-time round of 12 finisher for Putt, looking for a win over Oklahoma's Wyatt Henson. Phillipi wins and he'll have U23 world team member Aaron Nagao of Minnesota.
PINFALL ALERT: Kai Orine of NC State and the viral video of him celebrating an ACC title pins Gable Strickland of Lock Haven, sending precious bonus points to the Wolfpack. NC State now in first place with a whopping four team points.
UPSET ALERT: Cody Phippen of Air Force sticks Dylan Ragusin of Michigan. That's an honorable mention over #12. But there's a brick on the mat. What are they reviewing? No one knows at the moment. They are still in video review after many several minutes. They are reviewing to see if Ragusin did a technical violation. Not sure why anyone cares. Even if he did, doesn't Phippen still get the fall? I don't know the rules, who does? No one I don't think. Call on the mat stands. And the huge waste of time is over and Phippen can go celebrate finally. *extreme eye roll at that review*
Michael Colaiocco of Penn has a cradle locked up on Connor Brown of Missouri. And there's the falll!
UPSET ALERT: Chance RIch of CSUB over two-time All-American Chris Cannon of Northwestern, as the second Wildcat of the day goes down. Honorable Mention over #13. He'll get Orine next.
Daton Fix starts his quest to win his first title in his home town. And there's the fall! OSU fans go nuts. They love pins from Fix. They go wild for them. Fix will wrestle Kyle Biscoglia of UNI, who won via pinfall with a figure four to the head of Oregon State's Shaner.
All-American Sam Latona of Virginia Tech gets a win over All-American Taylor LaMont of Wisconsin in a rare first round battle of All-Americans.
Cornell's Vito Arujau gets a win in his first bout, as the results are now coming in faster than even my speedy bloggin fingers can keep up with. Arujau will wrestle Zach Redding of Iowa State.
Illinois Lucas Byrd survives a late charge by Brody Teske of Iowa to win 13-10. Byrd avoids the upset.
Chattanooga's Brayden Palmer wins a 17 vs 16 seed bout over Rutgers Joe Heilman to set up a match wth RBY (assuming a win in RBY's next bout).
RBY finally takes the mat against Ethan Oakley, to much applause. RBY gets a 12-3 major decision.
141 Pounds
Brock Hardy of Nebraska majors Jordan Titus of West Virginia.
NCAA finalist Cole Matthews of Pitt gets the win over PA rival Seth Koleno of Clarion.
UNC's Lachlan McNeil, who won a Canada National Championship last week (literally), takes on Cole Mattin of Michigan. McNeil wins and gets Cornell's young Vince Cornella (easy enough to remember what school he goes to) in the next round. Both wrestled at U20 world championships, Cornella for the USA in 2022, where he finished 5th, and McNeil in 2021 for Canada where he placed 8th.
Mosha Schwartz of Oklahoma cools off the red hot freshman Casey Swiderski with a 4-1 win. Schwartz will have Allan Hart of
Beau Bartlett takes the mat, the first Nittany Lion we've seen of the tournament. RBY is waiting for his pigtail opponent to get the required break and PSU didn't qualify anyone at 125. Beau gets the win as his teammates RBY and SVN continue their bouts.
Purdue's Parker Filius get another win for the Boilermakers over
#1 seed Real Woods piling up the points over UMD's Kal Miller. The Hawkeye leads 12-1 in the 2nd. Woods wins by major. He'll get D'Emilio next.
The #2 seed, Andrew Alirez of Northern Colorado, gets a fall over Joey Zargo of Wisconsin.
Ohio State Dylan D'Emilio handles Navy's Josh Koderhandt 10-1.
149 Pounds
#1 seed and three-time NCAA champ Yianni Diakomihalis of Cornell takes the mat to much fanfare. Yianni has former All-American Dom Demas. Yianni wins 6-1. He'll have Jackson Arrington of NC State in round 2, who won in sudden victory over Rider's Quinn Kinner.
Maryland's Ethan Miller has a 8-0 lead over Shayne Van Ness, which is great news for the Terps but terrible news for my fantasy NCAA team. SVN is ranked #12 while Miller is an HM. Miller still up in the third, SVN mounting a comeback. Less than a minute to go. SVN underneath in short offense, gets a suck drag (I think, tough from this vantage), dumps Miller to his back. Tightens his grip, and there's the fall! The arena erupts with joyous Penn State fans. The comeback of the tournament so far.
Stanford's All-American Jaden Abas pins Ryan Burgos of Edinboro.
Austin Gomez trying to shake off a less-than-ideal Big Tens against Johnny Lovett of CMU. Gomez goes big many times (as is his want) and wins by major, 18-10. He'll see ASU's All-American Kyle Parco in the next round.
VT's talented freshman Caleb Henson cruises to a victory over Dylan Chappell of Bucknell.
Iowa State has a talented freshman of their own at this weight, Paniro Johnson, who's in overtime vs Ohio's Alec Hagan. No scores so they go to rideouts. Paniro rides out Hagan so Hagan cuts Paniro to go down by a point and try to win on a takedown. Johnson has an untied shoe which is an automatic stall call which makes it 2-2! But Hagan still needs a takedown because Johnson has the riding time advantage. And Paniro wins by the narrowest of margins. A criteria victory using riding time advantage. Paniro vs SVN next round, let's go.
CRITERIA ALERT: See above. There is criteria in college wrestling by the way.
Max Murin of Iowa on his quest to break the curse and make the podium after three bloodround finishes gets the win over Caleb Tyus of SIUE.
Graham Rooks of Indiana squeaks by Kellyn March of NDSU.
Missouro's Brock Mauller takes our Jarod Verkleeren of UVA.
Yahya Thomas of Northwestern gets the 'Cats a win, as he looks good in a 12-3 major over GMU's Higley.
Ohio State's #2 seed and former NCAA runner-up Sammy Sasso wins his first-round bout and has Colin Realbuto of UNI next.
157 Pounds
Lehigh's Josh Humphreys stays perfect on the season. He beats Ohio State's Paddy Gallagher to advance.
UPenn's Anthony Artalona is stymied by Jarrett Jacques of Missouri in a battle of guys who've reached the round of 12 but have yet to All-American and are in their final year of eligibility. Jacques wins 5-4.
Michael Blockhus of MInnesota outlasts Oklahoma State's Victor Voinovich 3-2.
NC State picks up another dub as Ed Scott defeats Kraisser of Iowa State. Both teams have been generous with their time and allowed our vloggers to create All-Access vids of them yesterday. Check them out they are fun! And good!
Scott will wrestle Will Lewan of Michigan, next round, who won a high-scoring wild bout in round one. Just kidding he won 3-2.
#12 seed Kendall Coleman is, like his teammate Matt Ramos, trying to become Tonyn Ersland's first All-Amercian. The Boilermaker gets a win in his first bout.
#1 seed Austin O'Coonor is like, Coleman, from Chicago, and won his first round match.
Coeb Siebrecht tried to funk his way out of a cradle but Garrett Model of Wisconsin made him pay and defeated the Hawkeye 10-5. Model will get Peyton Robb, the #3 seed, from Nebraska.
Chumbley of Northwestern got a win over Swensen of South Dakota State, 5-3. He'll face #4 seed Jared Franek of NDSU .
UPSET ALERT: UNI's Derek Holschlag took out Chase Saldate 4-3. Saldate needed one more second of riding time to tie it up. That's an honorable mention over a #9. Holschlag will get #6 seed Daniel Cardenas of Stanford next
VT's #6 Bryce Andonian survives 7-6 Peyton Kellar of Ohio. Likewise, Oklahoma State's #10 Kaden Gefller escapes a match with Peter Pappas of George Mason in rideout tiebreakers.
PSU's #2 seed Levi Haines wins nearly by major, he'll have Jacob Wright of Wyoming in the 2nd round.
165 Pounds
Wisconsin's #3 seed DJ Hamiti makes short work of Drexel's Barczak getting a 1st period pin.
#1 seed David Carr cruises to a major. He'll see UNI's Austin Yant next.
UPSET ALERT: #16 Bubba Wilson of Nebraska (the #25 seed) defeats #10 Matthew Olguin (the #9 seed) in sudden victory with a takedown after a long crazy scramble. That means 2021 NCAA champ Shane Griffit, the #9 seed, won't have to wrestle Olguin, who beat him the last two times they met. Griffith defeated RJ Mosley of Gardner-Webb 1-0.
Penn State lost their first match of the tournament, as Alex Facundo goes down to Holden Heller of Pitt in a mild upset, not yet up to the standard of an official ALERT.
UPSET ALERT: What is worth of an UPSET ALERT is Michigan State's Caleb Fish beating Cornell's Julian Ramirez 8-4. That's an HM over the #3 ranked and #4 seeded wrestler. Ramirez will see Facundo in the first consolation round, as this bracket is officially BUSTED.
UPSET ALERT: In a slightly milder but still substantial upset, Danny Braunagel of Illinois defeated All-American Peyton Hall of West Virginia in an HM over #12 (though by seeds it was 19 over 14).
Big win for the Cavaliers as Justin McCoy defeats Maxx Mayfield of Northwestern.
#5 seed Quincy Monday took care of business against Sparks of Minnesota winning 12-4. He'll see NIU's Izzak Olejnik next round.
An absolute banger of a second round bout is set up as #6 Michael Caliendo of NDSU has #9 Carson Kharchla of Ohio State. Also a rematch between Michigan's two-time All-American Cam Amine and Iowa's Patrick Kennedy. Kennedy won their last bout at Big Tens.
174 Pounds
#1 seed and two-time defending champ Carter Strarocci wasting no time with a first period fall. He'll see DJ Washington of Indiana, who beat Starocci two season ago. DJ won by tech over Wolf of Air Force.
PINFALL ALERT: Cade DeVos also getting in on the mat slapping fun, pinning Alex Cramer of CMU. He'll get the surging Chris Foca of Cornell, who pinned his opponent in the first.
Ohio State's All-American Ethan Smith needed 1:02 of riding time to get the 6-5 win over Tyler Eischens of Stanford and avoid the upset.
UPSET ALERT: Drexel's Micky O'Malley build up a nice lead but then saw it chipped away by Rocky Jordan, who had riding time locked up but was trailing by 2 with 30 seconds to go. Jordan was in on a shot but couldn't convert to win and #23 O'Malley upsets #7 Jordan.
All-American Jackson Turley, a Virginian wrestling for Rutgers, the State University of New Jersey, gave Mekhi Lewis, a New Jerseyan national champ wrestling for Virginia Tech, quite a scare, pushing Lewis to the brink before falling 2-1.
Nelson Brands send the Iowa fans into a frenzy by gettign a takedown and nearfall in the closing seconds to complete the come from behind victory over Faison of NC State.
Peyton Mocco needed overtime to defeat Sal Perrine of Ohio.
Former Boise State Bronco (RIP and nuts to you Bob Kustra - google it on FloWrestling), Demetrius Romero of Utah Valley wins by major and will have Mikey Labriola of Nebraska, the #2 seed who beat Lock Haven's Stolzfus 9-6.
We'll get a dynamite second round match between #10 All-Amercian Dustin Plot of Oklahoma State and the ascendent #18 Mateo Olmos of Oregon State.
Another excellent bout for round two will be Bailee O'Reilly of Minnesota taking on Edmond Ruth of Illinois. Ruth has a wicked feet to back
184 Pounds
#1 ranked and #3 seeded Aaron Brooks of PSU majors his way to the next round with relative ease.
Penn's Neil Antrassian with a minor upset over the very dangerous Lenny Pinto of Nebraska in an 18 over 13 ranking upset.
Tate Samuelson of Lehigh by way of Wyoming gets a pin over Heller the larger (not sure if he's the elder or the younger of Pitt's Heller brothers). He'll see UNI's #1 seed and #2 ranked Parker Keckeisen in the next round.
UPSET ALERT: Brian 'Reckless Abandon" Soldano fights off his back to flip the script and pin Layne Malczewski in a bit of 184-pound bracket busting.
UPSET ALERT: Brian Bonino boasted his bracket-busting bona fides with a 3-2 win over Matt Finesilver of Michigan by way Duke. That's an honorable mention over the #7 ranked wrestler. Bonino has Minnesota's equally dangerous Isaiah Salazar of Minnesota.
#12 Abe Assad and #5 Marcus Coleman both won their bouts, setting up a classic Cy-Hawk rivalry match in the next round.
Ohio State's #5 Kaleb Romero gets a major decision over Caleb Hopkins of Campbell by way of Alaska.
Wolfpacker Trent Hidlay, the #3 seed and former NCAA runner-up gets a tech fall in his first bout.
Travis Wittlake of the hosts, Oklahoma State, has VA Tech's Hunter Bolen, in an excellent matchup between All-American wrestlers ranked #11 and #9, respectively.
197 Pounds
Max Dean, the defending national champ but current #9 seed defeated Levi Hopkins of Campbell, brother to Caleb, who you might remember from such hits as the 184-pound section of this blog. He'll have the red hot Allred of Nebraska in an 8 vs 9 bout. Allred just beat Dean at Big Tens, which set Dean up for one of the toughest paths any defending champ has ever had to negotiate.
Owen Pentz of NDSU gets a win via injury default over Wisconsin's Braxton Amos, who looks like he dislocated a shoulder in a flurry and was off the mat in a hurry after the whistle blew. There is nothing worse than seeing injuries at the NCAA Championships. It is the absolute worst. It stinks I tell you!
Lehigh's Michael Beard cruised to a major decision over familiar EIWA and Patriot League foe, Jacob Koser of Navy.
NCAA runnerup Nino Bonaccorsi of Pitt gets a major in his first bout of his final NCAA Tournament.
Iowa State Yonger Bastida and Rider's Ethan Laird both won, setting up a bout between wrestlers that have been all over the rankings this season. It's been a wild year for 197. If there is any brackets where you can 'throw out the record books' its 197.
Big Ten third-placer Jaxon Smith keeps the Terps moving in an upward trajectory with a win over Minnesota's Michial Foy.
Jacob Warner gets another victory for the Hawkeyes over the very tough Cam Caffey of Michigan State, who will have to earn his first All-American medal the hard way.
Bernie Truax gets some more points for the Mustangs of Cal Poly with a win. The #2 seed will have Oklahoma State's Luke Surber in round two.
A pair of 2022 U23 World silver medalists will face off in the second round, as SDSU's Tanner Sload (silver at 97kg) has Jacob Cardenas of Cornell (a silver medalist at 92 kilos).
285 Pounds
The top two seeds and Big Ten finalists Mason Parris of Michigan and Greg Kerkvliet of Penn State both register wins in the first round. They are on opposite sides of the bracket with the #1 and #2 seed. Parris beat Kerkvliet in the regular season and at Big Tens and many are predicting round three will be in the NCAA finals.
UPSET ALERT: Campbell gets a big win as #19 Taye Ghadiali beats All-American #10 Tate Orndorff of Ohio State in sudden victory, though by seeds it was only a 17 over a 16.
Three-time All-American Tony Cassioppi from Iowa glides to a 10-0 blanking of Maryland's Jaron Smith.
NCAA runnerup Cohlton Schultz of Arizona State dominated 13-0. He'll have Colton McKiernan of SIUE in the next round.
UNI picked up a hard fought win by dint of riding time when Tyrell Gordon beat Oklahoma State's Konner Doucet of Oklahoma State 2-1.
Wyatt Hendrickson did what Wyatt Hendrickson does, getting a first period pinfall and more bonus points for Air Force and all the smart fans who picked him in their fantasy drafts.
SDSU gets another dub from AJ Nevills, who knocks Niesenbuam, the lone representative from Duke, into the consi rounds.
Yaraslau Slavikouski (pronounced Yarasloff Slavikoffsi) of Harvard by way of Belarus beats familiar foe Ben Golden of Penn. Their EIWA rival Grady Greiss used a third period rideout to defeat Josh Heindselman of Oklahoma.
Trent Hillger of Wisconsin and Owen Trephan of NC State also won bouts.
Not sure who won the Doug Vollaro Memorial Last Heavyweight On The Mat award for that round, was typing with my head in my laptop when the last bouts ended, but overall a rather tidy round of wrestling.
I definitely wasn't able to keep up with all 8 mats (pobody's nerfect!) but if you want the results, once again, here is the link for JUST RESULTS.
TEAM SCORE UPDATES
PSU 16, NCSU 12.5, Iowa 12, UNI 10, tOSU 10.
Wow, very valuable update. We can tell so much about how this tournament is going by one round of action. Great stuff.
Thanks for reading friends, 5 more glorious sessions still to come. Sorry for the typos, see you tonight!