2023 NCAA Championships Watch Party
2023 NCAA Wrestling Championships Match Notes: Medal Round
2023 NCAA Wrestling Championships Match Notes: Medal Round
A live blog of the 2023 NCAA D1 Wrestling Championships updated in real time live from Tulsa, Oklahoma.
Mar 18, 2023
by Andrew Spey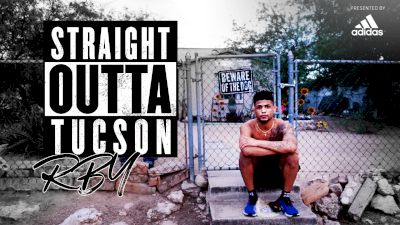 The penultimate session of the 2023 NCAA Wrestling Championships is here! Everyone competing today is already an All-American, so we'll see some guys go for broke and let it fly!
The arena is still buzzing about last night's history-making upset of Spencer Lee by Matt Ramos of Purdue in the semifinals, so we'd be remiss by not mentioning that Iowa has already released a statement saying that we will unfortunately not see Spencer in the medal round, as he will medically forfeit out of the tournament.
STATEMENT FROM UNIVERSITY OF IOWA WRESTLING

"It has been a long road of a recovery for Spencer Lee. He will medically forfeit out of the 2023 NCAA Wrestling Championships today in Tulsa."#Hawkeyes

— Iowa Hawkeye Wrestling (@Hawks_Wrestling) March 18, 2023
Which is of course a bummer but that is how ruthless and brutal the sport is. We wish Spencer a speedy recovery and hope to see him compete in freestyle soon!
And that doesn't mean we won't have heaps of excellent wrestling between other All-Americans today. Think about it: every match you see today will at worst be a #7 vs #8 matchup. Most will be better!
2023 NCAA Live Blogs: First Round | Second Round |.Quarterfinals | Semis & Bloodround | Finals
Very awesome. Party time let's go. Oh and if you want just the results, click here!
Consi Semis
125 Pounds
Brandon Courtney of ASU gets a medical forfeit (from the aforementioned Spencer Lee) and will wrestle for third. Technically that forfeit mathematically eliminates Iowa from title contention, and Penn State wraps up their 11th all-time and 10th team championship of the Sanderson Era.
Liam Cronin of Nebraska by way of Orange County, California and Lock Haven's Anthony Noto scoreless after one. Tied 1-1 in OT, Noto hits a wonderfully timed reattack for the winning takedown. Due to Lee's forfeit, Cronin will place fifth, his first and only All-American placement.
133 Pounds
Arizona State's Michael McGee gets a quick takedown on Jesse Mendez of Ohio State, one of three true freshman All-Americans this year (the other two being Levi Haines and Caleb Henson). A tremendous effort out of Mendez, but McGee prevails 3-2.
Daton Fix looks to shake off his semifinal loss to Vito vs Minnesota's Aaron Nagao, who is having a breakout season. In typical Nagao fashion, despite being down 4-3 late, the Gopher amassed several minutes of riding time. And at the last second Fix picks up a reversal to win 6-4!
141 Pounds
2023 Cananadian national Lachlan McNeil of UNC has the first takedown over Nebraska's Brock hardy. McNeil comes out of the gate hot and get out to a 5-0 lead. And the the Tar Heel by way of Wyoming Seminary (PA prep school) wins it 5-2.
Beau Bartlett storms out with a blast double to get the first takedown on now 2X All-American Clay Carlson. Bartlett doesn't let up and wins by major, 11-3.
149 Pounds
A fun battle of tough freshmen now on 4. Penn State's Shayne Van Ness vs Virginia Tech's Caleb Henson. Henson on the board first with the 2nd period escape. It's SVN SZN though, and the young Penn Stater by way of Blair Academy wins it 5-2.
Kyle Parco shoots and single leg and gets the first takedown on Iowa's Max Murin 2 minutes into the bout. Murin puts up a hellacious fight (as he always does) but Parco gives the Sun Devils will join teammate Brandon Courtney in the third-place bout.
157 Pounds
In a rematch from their very first match of the season, Nebraska's Peyton Robb and Jared Franek take the mat. It's knotted up 1-1 after 7 minutes so we'll go to OT. Franek gets the takedown and the win to advance to the third place bout, the first Bison to do so since Steven Monk in 2015.
Lehigh's lone All-American will try to score a few more points for the Mountain Hawks vs NC State's Ed Scott. Humphreys gets the first takedown in the first period. Humphreys takes it 6-3 and will wrestle Franek for bronze (even though they don't call them bronze medals in college I'm saying it anyway. Freestyle season starts tomorrow!)
165 Pounds
#3 ranked Quincy Monday of Princeton and Wisconsin's #5 DJ Hamiti square off in a battle of two-time All-Americans. Now nearfall from Monday and its 7-3 in the third. Hamiti battles back to narrow the gap but Monday takes it 9-7 and Princeton has a wrestler in the finals (Glory) and one in the third.
Shane Griffith of Stanford and Cam Amine from Michigan square off in another dynamite matchup at the best weight class of the tournament (in my correct opinion). Six All-American honors between them. A 1-1 tie goes to OT. No scores, to tiebreakers. Amine gets the rideout, then chooses down. Escapes, and wins 2-1.
174 Pounds
Mekhi Lewis of Virginia Tech by way of Bound Brook, NJ gets the first takedown over Oklahoma State's Dustin Plott. Lewis leads 5-2 late in the third with RT secured. Lewis wins and advances.
Nelson Brands of Iowa and Iowa City West High School gets the first takedown on Chris Foca of Cornell and Bergan Catholic High School in New Jersey. A reversal from Foca ties it up. Tilt and nearfall for Foca. It's 7-2 in the third. Foca makes it official, 7-2 win.
184 Pounds
Trent Hidlay of NC State and Marcus Coleman of Iowa State step on to the mat. They have five AA medals combined. Coleman breaks the goose eggs off the board when he reverses Hidlay in the second period. Quick escape and takedown from Hidlay gives him the lead 3-2. And Hidlay raises the roof with a 5-2 victory.
Trey Munoz of Oregon State, who was clearly hurting in his semifinal loss to Parker Keckeisen, medically forfeits to Kaleb Romero. As a result, Marcus Coleman will place fifth.
197 Pounds
Iowa's Jacob Warner and Mizzou's Rocky Elam, with seven AA medals combined, lock horns. Elam with a 2-0 leads in the second. Elam will scoot by with a 3-1 win. He'll try to improve on his career best 4th place finish which he achieved last season.
Ethan Laird vs Bernie Truax in a classic Rider vs Cal Poly. And it's the Mustang over the Bronc as Bernie takes it 5-3 over Laird.
285 Pounds
Fan favorite Wyatt Hendrickson of Air Force cradles Lucas Davison of Northwestern and advances to the third place bout via pinfall!
And with a 4-0 blanking of Zach Elam of Mizzou, Tony Cassioppi of Iowa moves on to the consolation finals for the second time in his career.
---
7th Place Bouts
125 Pounds
7th place: Killian Cardinale of WVY and Eddie Ventresca go back and forth, lead-changing multiple times already. It's 5-4 in favor of Cardinale in the second. Ventresca finds himself in the lead late in the match and holds on for the dub. From the 27 seed, Eddie Ventresca of Roxbury, NJ places 7th! And good job by Killian Cardinale, showing his former school, Old Dominion, how foolish their decision to drop their program awas.
133 Pounds
7th place: 0-0 first period for ACC rivlas Orine of NCSU and Latona of VT. 1-1 into the third. Latona in on a shot and the Alabaman gets a late match-winning takedown to win!
141 Pounds
7th place: Also scoreless after three minutes for Big Ten foes, Fillius of Purdue and D'Emilio of Ohio State. These two need sudden victory to solve the match, and Parker Filius of Havre, Montana gets the win! Purdue did not have a great regular season but no one is going to remember any of that now. Filius for 7th and Ramos going for a 'chip tonight!
149 Pounds
7th place: three-time AA Brock Mauller scores first on Minnesota's first time AA Michael Blockhus. Mauller toughs out a victory for 7th while Blockhus ends his career with his first and only AA medal.
157 Pounds
7th place: Immovable object Will Lewan of Michigan has unstoppable force Bryce Andonian of Virginia Tech. A close bout is broken wide open when Andoian locks up a cradle and has Lewan on his back. Lewan fights out of the pinning combo and reverses Andonian but that was enough for Bryce to get the win.
165 Pounds
7th place: Caliendo of NDSU leads Izzak Olejnik of NIU late in the third. Caliendo and Franek are the Bison's first pair of AAs since Kurtis Julson and Hayden Zillmer in 2015. Olejnik is the first Huskie since Brit Wilson in 2021 (people forget that it wasn't that long ago). Caliendo takes it by decision.
174 Pounds
7th place: State's Ethan Smith has a 5-1 lead over Mizzou's Peyton Mocco and is looking for a fall in the third. Mocco avoids the pin but Smith ends up with a major decision.
184 Pounds
7th place: Domination from Clarion's Will Feldkamp. The first Golden Eagle All-American since James Fleming 20 years ago ends the season with a pinfall over UNC's Gavin Gane!
197 Pounds
7th place: Cardenas of Cornell scores the first takedown on Max Dean of Penn State and formerly of Cornell. Dean gets the escape and a takedown of his own, plus a rideout to make it 3-2 going into the 2nd. Dean escapes in the second and then keeps Cardenas at bay in the third to win 4-2. He ends his outstanding career having earned a 1st, 2nd, 7th and 8th place finish.
285 Pounds
7th place: medical forfeit by Trent Hillger ends the Badger's incredible career as a three-time All-American and gives ASU's Cohlton Schultz the seventh-place trophy.
---
5th Place Bouts
125 Pounds
5th place: Liam Cronin picks up the forfeit and the Husker finishes in 5th.
133 Pounds
5th place: Nagao gets the first takedown on Mendez. Long rideout to end the first period, 2:15 of RT for Nagao. Mendez cuts Nagao in the second and its 3-0. A riding time point at the end gives Nago a fifth-place finish for the Gophers!
141 Pounds
5th place: It's a battle of the western plains as Hardy of Nebraska wrestles Carlson of South Dakota State. And Hardy can't continue unfortunately and Carlson will get the dub officially as an injury default.
149 Pounds
5th place: True freshman Caleb Henson of VT gets the first takedown on five-time qualifier first-time AA Max Murin of Iowa. An escape and TD in the second give Henson a 5-1 lead. Henson with another TD and now looking for nearfall. He'll extend his lead to 11-3. And Henson finishes fifth as a true freshman, while Murin concludes a gutsy career a a five-time qualifier, three-time bloodrounder and now a 6th placer.
157 Pounds
5th place: Ed Scott of NC State gets the medical forfeit victory over Peyton Robb of Nebraska.
165 Pounds
5th place: Shane Griffith vs DJ Hamiti in another fire bout from the best weight class in the NCAA this year. A suprerb scramble and Hamiti ends up with the score, altho it looks like Stanford will challenge. At least I think that's whats going on. And it was no takedown. At least it's 1-0 in the second and Hamiti has an escape point. Griffith escapes in the third and gets a takedown and now he's in command of the match with a 3-1 lead. A minute to go. Rideout for Griffith and a 4-1 win after the RT point is tacked on. Griffith's career includes a 1st, 2nd and 5th. Standing O for Griffith as he is recognized for helping save Stanford's wrestling program in 2021. Best moment of the round so far.
174 Pounds
5th place: Two blue blood programs wrestle for fifth as Iowa's Nelson Brands wrestles Dustin Plott of Oklahoma State. It's a tight bout that goes into sudden victory with the score 2-2. Brands muscles up the takedown and finishes fifth on the season.
184 Pounds
5th place: Marcus Coleman of ISU will also receive a medical forfeit nd he'll finish his career with a 7th and now 5th place finish at NCAAs.
197 Pounds
5th place: Jacob Warner trying to end his legendary Hawkeye career with a win. He leads Rider's Ethan Laird 6-3 late in the match. Warner wins 6-3 and gets a standing O from the sizable Hawkeye contingent in the BOK Center. 7th, 4th, 2nd and 5th are Warner's finishes.
285 Pounds
5th place: Lucas Davison of Northwestern and Zach Elam of Mizzou are locked in a tight bout. Scoreless after one period. Davison breaks it open in the third then holds on to win 4-3. He's a two-time AA while Elam is a first-timer. They're both four-time qualifiers with an extra year of eligibility due to covid.
---
3rd Place Bouts
125 Pounds

3rd place: A quiet first period ends with LHU's Anthony Noto and ASU's Brandon Courtney both with zero points. Noto escapes in the second but Courtney takes him down to gain the lead 2-1. Noto ties it up again with a quick escape. Courtney with a takedown late and he'll take third with a 4-2 victory. Courtney is a four-time qualifier and three-time AA, finishing 2nd, 6th and now 3rd.
133 Pounds

3rd place: Nice flurry but Daton Fix of OK State defends a shot by ASU's Michael McGee. Furious scramble in the second results in an escape for Mcgee and applause from the crowd. Fix on bottom in the second. Wild scramble, I mean wild. Fix may have had two. Mcgee has over a minute of riding time. Lengthy review and its confirmed, only one escape, so it's 1-1 but McGee has RT locked up and there's only a few seconds left in the match. And McGee does it! Like Cardinale, he was on Old Dominion's team and he is letting that administration know what dopes they are. McGee a five-time qualifier, three-time AA. Fix has now gone 2, 2, 2, 4 in his four tournaments, with one year of eligility remaining.
141 Pounds

3rd place: 0-0 after a very tactical first period between UNC's Lachlan McNeil and PSU's Beau Bartlett. McNeil on bottom in the second. Bartlett rides for 59 seconds, McNeil gets the escape to lead 1-0. In the third now, 1-1, RT not a factor. But there's a taekdown for Beau and he leads 3-1. Gets RT over a minute with 30 seconds to go. Right after SVN gets his win at 149 does Bartlett secure victory to give the Nittany Lion faithful a pair of third placers, both first-time AAs.
149 Pounds

3rd place: Scoreless after 2 minutes between PSU's Shayne Van Ness and ASU's Kyle Parco, though Parco gets in on a shot late in the period. SVN defends and counters for a 2-0 lead. Rideout the first, Parco escapes in the second to make it 2-1, SVN with 35 seconds of RT. SVN extends his lead with a 3rd period takedown, 5-1 lead now late in the match. 7-2 is the final for SVN and the freshman Penn Stater by way of Blair Academy in NJ takes third. Parco also represents one last AA honor for the dearly departed Fresno State program, which was resuscitated only to be cruelly canceled for the second time in history. Parco was an AA for the Bulldogs in 2021, and then two more times for the Sun Devils.
157 Pounds

3rd place: No scores after one period for Josh Humphreys of Lehigh and Jared Franek of NDSU. Franek chooses bottom in the second but that turned out to not be a good idea as Humphreys gets two and then four nearfall to take a 6-0 lead. Humphreys makes it official and the Mountain Hawks have a third placer. Humphreys also finished in the bloodround twice before in his illustrious career in Bethlehem, PA.
165 Pounds

3rd place: Cam Amine of Michigan vs Quincy Monday of Princeton, yep this is a great weight class. A takedown by Monday in the third looks like it may be the deciding factor. 3-2 Monday in the third. And that's how it ends. Monday gets third. Princeton will try and add a champ in the finals with Pat Glory at 125.
174 Pounds

3rd place: 1-1 in the third between two great New Jersey natives, Mekhi Lewis of Somerset and Chris Foca of Cliffside Park. Wild scramble at the end of regulation but no scores. To sudden victory we go. Now to tiebreakers. And the four seed defeats the three seed by a margin of 4 riding time seconds. Criteria win for Foca! Lewis finishes with a 1st, 2nd and now 4th place finish in his legendary Hokie career.
184 Pounds

3rd place: Kaleb Romero of Ohio State and Trent Hidlay of NC State in a battle of two absolute bruisers. It'll go to sudden victory. Takedown in sudden victory for Romero! Or is it? We'll review. It's upheld! Buckeyes with a third placer as Romero improves on last year's 6th place finish. Hidlay has now gone 2nd, 5th, 4th.
197 Pounds

3rd place: Rocky Elam of Missouri and Bernie Truax of Missouri are tight one. Takedown by Elam late in the first. Elam extends his lead, Truax narrows, but it won't be enough. Rocky Elam goes 5th, 4th and now 3rd in his career with two years of eligibility remaining. Truax has three fourth-place finishes with one more year to go.
285 Pounds
3rd place: Hendrickson gets on the board first with a takedown. Escape by Cass, scramble, two for Wyatt plus nearfall. Or is it? Challenge and no nearfall, but the takedown stands. 4-2 after one. Cass underneath in the 2nd. Reversal for Cass, but Hendrickson hip heists over and has Cassioppi in trouble. Hendrickson with the pinfall! Chants of U-S-A fill the arena!
That's all the medal matches. Except of course for the first-place medal matches. Those are wrestled tonight, on primetime on the mothership, ESPN! Apologies for the typos, enjoy your afternoon and see you tonight for the big show!