2023 NCAA Championships Watch Party
2023 NCAA Wrestling Championships Match Notes: Semis & Bloodround
2023 NCAA Wrestling Championships Match Notes: Semis & Bloodround
A live blog of the 2023 NCAA D1 Wrestling Championships updated in real time live from Tulsa, Oklahoma.
Mar 17, 2023
by Andrew Spey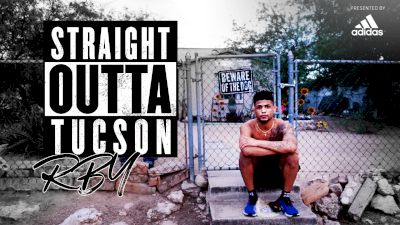 It's the fourth session of the 2023 NCAA Wrestling Championships and let me tell you how excited I am to live blog the action for you from inside the BOK Center in Tulsa, Oklahoma: very.
Let's go. I mean that's, let's go and enjoy the greatest night of college wrestling. The two best round, semifinals and the bloodround (the consolation round that determines whether you reach the top 8 and All-American status) on the greatest configuration of mats possible: the celebrated dog bone.
Ladies and gentlemen, we'll have it.

🦴🦴🦴🦴🦴🦴🦴🦴🦴

The celebrated dogbone configuration. pic.twitter.com/Ge8S5tPwoq

— Andrew Spey (@SpeyWrestle) March 17, 2023
Oh yeah, and it's St Patrick's Day on a Friday. I'm expecting the crowd to be in rare form.
Previous Live Blogs: First Round |.Second Round | Quarterfinals | Medal Round | Finals
Just the results link? Sure, that is right here.
All numbers below are seeds, by the way.
125 Pounds
#1 Spencer Lee, Iowa vs #4 Matt Ramos, Purdue: Lee two matches away from a fourth title and an even hundo wins. But Ramos has other plans and takes Spencer to his back from neutral. That's two and two for the Boilermaker. Spencer escapes to make it 4-1.
Spencer takes top in the fourth. Smart move. Two on one roll thru tilt for Lee and he's got four nearfall and the lead just like that, 5-4. He did pick up a stall in the first though, and nearly had another when Ramos stood and Lee walked him out of bounds.
Ramos takes neutral, down a point. Spencer close to a takedown, it's not called, much to the dismay of the Hawkeye fans. After a lengthy review it's two for Spencer, he leads 7-4. Escape for Ramos. They're on their feet with less than a minute to go. Two point lead for Spencer. Ramos takes Spencer to his back! The arena is going wild. Lee fighting, Ramos adjusts. Fall for Matt Ramos! The sophomoe from Lockport, Illinois does the unthinkable. Arena is still going crazy, except for the stunned Hawkeye fans. Incredible. Matt Ramos, NCAA finalist.
#2 Pat Glory, Princeton vs #3 Liam Cronin, Nebraska: Glory gets the first takedown, nearly gets headlocked as Cronin stands and reaches back but Glory rolled through and out of danger. Escape and takedown for Glory plus a ride out and its 4-1 going into the second.
Glory on bottom to start the second and he escapes, takes Cronin down and smothers him. 7-1 at the end of two. Cronin takes bottom in the third, escapes to make it 7-2, but he's running out of time. Time's up and Glory wins 8-2 with the riding time point. Glory in top form and back into the finals!
Glory's match ended well before Spencer's so the entire arena was focused on that history making move from Ramos.
Bloodround notes: WVU's Cardinale fought through injuries all season long and beat Ungar of Cornell barely to place after getting the 28 seed.
Lock Haven gets another All-American as Noto ends Rutgers' steak of consecutive NCAAs with an AA at eight. First AA for coach Scott Moore's Bald Eagles since Kyle Shoop in 2019.
ASU's Courtney is an AA for the third time. VT's Ventresca, with a 27 seed, beats two-time AA Barnett from Wisconsin to AA. A 27 and 28 seed medal at 125 this year.
---
133 Pounds
#1 Roman Bravo-Young, Penn State vs #4 Michael McGee, Arizona State: Scramble right off the whistle. Both wrestlers close to a score, but its stalemated. Not score after three minutes. McGee on bottom to start the second. Switch for a reversal and McGee leads 2-0. McGee called for locking hands. His corner will challenge. Point taken off after a very lenghty review. RBY escpaes, 2-1 McGee leads.
Third period picks up the pace, which, considering these are two of the fastest wrestlers in the NCAA, means a lot. Esscape from RBY in the to tie it up. Takedown by RBY but quick escape by McGee. He preserves riding time. Wild scramble at the end but no points. RT point at the end makes it 4-4 and into OT. And we don't have to wait long for the conclusion. RBY with the taekdown and a 6-4 win. Fantastic wrestling by both competitors. Penn State gets their first finalist and RBY will go for his third title!
#2 Daton Fix, Oklahoma State vs #3 Vito Arujau, Cornell: Scrambles on the other semifinal mat as well. Arujau with the first takedown, and he gets the ride out to take a 2-0 leads on Fix. Second period has Arujau on bottom, and he gets a nifty reversal on Fix, or does he? It was close, and Fix's corner challenges. Call confirmed, Arujau leads 4-0. On the restart, Fix almost gets Arujau on his back but they're ruled out of bounds. The Oklahoma State crowd boos lustily.
Third period, Fix escapes to make it 4-2. Then Arujau turns it on. Takedown, quick escape, then a big lift and return to the mat in danger. Vito picks up two and two more and then gets a riding time point. Huge 11-3 win. The Cornell crowd erupts into chants of VI-TO, VI-TO!
Bloodround notes: Ohio State true frosh Jesse Mendez medals. Minnesota's Nagao majors Redding of ISU to continue his impressive varsity debut. He'll face NC State's Kai Orine, a first time AA.VT's Sam Latona is a two-time AA, a rarity for his home state of Alabama, as he ends Mickey Phillippi's season. Phillippi ends his career as a four-time bloodrounder.
141 Pounds
#1 Real Woods, Iowa vs #4 Brock Hardy, Nebraska: Woods gets a quick takedown in the first 20 seconds. Woods with a tilt for four more and keeps riding. Hardy out to make it 6-1 but need injury time. Hardy takes neutral in the second.
Woods on the attack but Hardy scrambling. Still 6-1 af the end of the second. Woods also takes neutral, so nuts to mat wrestling says both guys. Woods playing it safe, Hardy gets a stall call. Hardy going for it but Woods counters. Make it an 11-1 final as Real Woods will wrestle tomorrow night on primetime national TV!
#2 Andrew Alirez, Northern Colorado vs #6 Beau Bartlett, Penn State: Greeley's own Boo Alirez gets the first takedown on Beau. Alirez grew up in the same town as Northern Colorado's campus. Barlett escapes after 34 seconds.
Alirez underneath in the second period. He's out in about 15 seconds to make it 3-1. Another takedown and then a rideout makes it 5-1 and Alirez in good shape going into the third. Bartlett takes down for the 3rd. Beau escpaes to make it 5-2 but Alirez has over a minute of RT. Less than a minute to go. That's how it will end. Northern Colorado has a finalist for the first time, well I didn't officially do all the research but I'm going to say ever. Alirez, born, raised and developed in Northern Colorado!
Bloodround notes: You don't see a lot of AAs from Montana, but Purdue's Parker Filius beats ISU's true freshman stud Casey Swiderski to give coach Ersland his second ever AA. Clay Carlson becomes a two-time AA for SDSU. UNC's Lachlan McNeil won the ACC tournament, the Canadian world team trials, and a bloodround match all in two weeks. Ohio State's Dylan D'Emilio is an AA for the first time, stopping Pitt's Matthews.
149 Pounds
#1 Yianni Diakomihalis, Cornell vs #12 Shayne Van Ness, Penn State: A good scramble off a shot by Yianni but it's stalemated. No scores after 90 seconds.Van Ness on a leg, trying to run Yianni down, close to a TD but the period expires. Van Ness on bottom to start the second.
Van Ness escapes after 15 seconds. No more scores. Yianni on bottom to start the 3rd. He's out nearly instantly to knot the score. SVN on a reattack and he collects two! Yianni escaped but trails, 3-2 for SVN. 60 seconds to go. Yianni on deep, SVN brought to his back, two and four nearfall with 30 seconds to go. The rideout makes it 8-3 and Yianni will go for his fourth NCAA title tomorrow night!
#2 Sammy Sasso, Ohio State vs #3 Kyle Parco, Arizona State: Sasso strikes first with an early takedown. Parco escapes to make it 2-1. Parco on a leg but Sasso likes to scramble here. And it's two more for Sammy, 4-1. To the second, same score.
Sasso escapes in the 2nd to make it 5-1, has 46 ticks of RT. A TD for Sasso in the final seconds makes it 7-1 as Sasso is in command of this match. More takedowns and nearfall for Sasso and it's a dominant 14-2 major for Sasso! Setting up a rematch with Yianni in the finals!
Bloodround notes: Iowa's Max Murin gets the monkey off his back and wins a bloodround match for the first time in four tries. Minnesota has another AA with Blockhus, his breaks through for the first time after qualifying for four tournaments.
VT's true freshman Caleb Henson beats Northwestern's veteran Yahya Thomas 7-2 to earn a podium step. Brock Mauller becomes a four-time AA for Mizzou when he stops NC State's freshman, Jackson Arrington.
157 Pounds
#1 Austin O'Connor, North Carolina vs #5 Josh Humphreys, Lehigh: No scores after three minutes, same finish matches' first period as the other semifinal. An escape from AOC is all the 2nd period yields as far as scoring.
Humphreys underneath in the third. He gets a reversal for the 2-1 lead. He throws in boots but O'Connor shakes him loose and gets a reversal of his own and it's 3-2 AOC back in the lead. Humphreys tries to roll and funk hs way free but O'Connor won't let him go. He does pick up two stall calls late in the third to make it 3-3 but time will run out and AOC will win with the RT point he built up. Or does he? Coach Santoro saying Humphreys got the escape before time ran out. The officials will look at it. No escape, O'Connor back in the finals with the hard fought 4-3 victory.
#2 Levi Haines, Penn State vs #3 Peyton Robb, Nebraska: No scores after three minutes to we go to the second 0-0. Robb escapes. Haines in on a shot, Robb fights hard but Haines finishes for the 2-1 lead. Robb escapes and we go to the third 2-2.
Haines on bottom, he'll escape quickly. And he's quickly in on a shot. He finishes to make it 5-2. Robb escapes to make it 5-3 but that's how it will end. True freshman Levi Haines makes the finals! Still don't want to jump to any conclusions but the comparisons to David Taylor are looking less silly with every match Haines wrestles.
Bloodround notes: A dynamite consolation semifinal bout is set up when Jared Franek of NDSU breaks through to the medal rounds after qualifying for his fourth tournament. His opponent will be last year's fifth placer, Will Lewan of Michigan.
Bryce Andonian goes HAM as he likes to do and the Hokies pins MSU's Saldate to make the medal round. Ed Scott of NCSU takes out Cardenas of Stanford and will wrestle Bryce later tonight.
165 Pounds
#1 David Carr, Iowa State vs #5 Quincy Monday, Princeton: Monday with a single leg, and he trips Carr to the mat with a big finish. Monday has Carr in a tilt, and he's getting swipes. Just two, but now Carr has a reversal. Or does he? I'm not really sure what exactly happened or who is challenging what but its 4-2 and Iowa State threw a brick. And its 4-2 and Carr is on top. Return to action, Monday escapes. It's 5-2, Monday in on a shot, comes close but stalemated, good defense by Carr.
Carr takes bottom in the second. He escapes, and converts on a takedown. Score knotted up 5-5 and Carr putting on a hellacious ride. Same score into the third. Monday takes bottom. More of the same from Carr on top. Riding time well over a minute. 60 seconds left in the period. RT now locked for Carr, effectively 6-5. 30 seconds to go. Carr picks up a stall call with 7 seconds left in the 3rd, his first warning. Carr will ride out the last seconds. Carr completes the comeback and he goes back to the finals for the second time!
#2 Keegan O'Toole, Missouri vs #11 Cameron Amine, Michigan: Keegan gets a quick takedown and then completely smothers Amine for 2:33 of riding time. No stall calls though. Second period KOT takes bottom. O'Toole is out in less than a minute. No more scores. Third period Amine takes neutral. O'Toole on a single, and he finishes for a 5-0 lead, riding time locked up, less than a. minute to go. O'Toole as dominant as a 6-0 decision can be. Keegan O'Toole is back in the NCAA finals for the second straight year.
Carr vs O'Toole round three coming up!
Bloodround notes: 2021 champ Shane Griffith wouldn't be denied and beat Cornell's Ramirez to give Stanford an AA. He'll take on Caliendo of NDSU, as the Bison get their second AA.
Izzak Olejnik of Northern Illinois beat Kharchla of Ohio State to give NIU just their second AA in 20 years. He'll wrestle Hamiti of Wisconsin, who is an NCAA medalist for the second times in two years of college.
174 Pounds
#1 Carter Starocci, Penn State vs #4 Chris Foca, Cornell: Starocci gets the first takedown. Starocci tough on top, trying to work a tilt. Can't get a turn but is amassing quite a bit of riding time. A win here and Starocci will be going for his third straight title.
Carter goes underneath to start the second and is out quickly to make it 3-0. Starocci is in on at least one shot that I saw but no more scores until the third. Foca will take nuetral. Cater moving Foca around the mat. First stall warning on Foca. Starocci pressuring in and he gets another takedown. RT long since locked up. And it's an extremely dominant 6-0 win for Starocci, who has yet to lose a match at the NCAA tournament. He's back in the finals.
#2 Mikey Labriola, Nebraska vs #3 Mekhi Lewis, Virginia Tech: Lewis a former champ and two-time AA, Labriola is a three-time AA. No scores after a cautious first period. Lewis takes bottom and is out in 4 seconds to snag the first point of the bout. Some half shots from both guys. Labriola had a leg once but Lewis' stone hips broke that grip quickly. No more scores and we go to the third.
Labriola's turn on bottom. Lewis trying to get the RT clock up to a minute. Does a decent job for about 30 seconds but then Labriola stands, turns and escapes. 1-1, riding time not a factor. No scores, we go to sudden victory!
No flurries in sudden victory until late. Labs on top to start the first tiebreaker. Mekhi to his feet a couple times, but Labriola does just enough to maintain control and gets the 30 second ride out, and, importantly, not get called for stalling. Labs chooses neutral for the second tiebreaker. Lewis advances. Labriola walks backwards out of bounds. No stall call. More advancing from Lewis on the restart, more retreating by Labs but he's doing just enough to not get called. 10 seconds, a stall won't matter now anyway. Lewis in and Labs counters for a takedown. Mikey Labriola is a four-time All-American and now, a first-time finalist!
Bloodround notes: Dustin Plott provides the beleaguered Cowboy fans something to cheer for as he beats UVU's Romero to make the medal round. And thus the Boise State Bronco light is finally extinguished. Plott will wrestle Ethan Smith, now a two-time All-American.
Mizzou's Peyton Mocco busts through the bloodround for the first time in his career. He'll face Iowa's Nelson Brands, who beat Edmond Ruth of Illinois.
184 Pounds
#1 Parker Keckeisen, Northern Iowa vs #4 Trey Munoz, Oregon State: Keckeisen very close to the first takedown but Munoz escapes to the safety of out-of-bounds and there is no score. A tactical 1st period ends 0-0. Munoz takes bottom in the second. Keck gets 1:13 of RT before Munoz escapes. 1-0 Munoz in the lead. Keckeisen in on a leg, they go out of bounds. That's two for Keeckeisen. Or is it? 2-1 is on the board but Coach Pendelton wants a review. Also Munoz is limping. Hope he's okay. They award the takedown and I gues Munoz took injury time so Keckeisen gets choice of position and goes back underneath. Keck escapes in short time and takes a 3-1 lead into the third.
Now Keckeisen gets to choose again and goes underneath. A quick escape makes it 4-1, plus riding time is at 1:06. And Munoz can't come close to a takedown and Keckeisen will cruise to the finals. UNI has a finalist what other weight class than 184, the weight Drew Foster won in 2019 the last time a Panther wrestled on Saturday night of the NCAAs. Taylor Lujan was also the #1 seed for the canceled 2020 tourney.
#2 Trent Hidlay, NC State vs #3 Aaron Brooks, Penn State: These two have been wrestling since at least 2018 in the Fargo finals (might have been 2017). Hidlay goes right at Brooks and drives him off the mat, as Brooks gets dinged for stalling, just a warning. Brooks responds with a takedown. Hidlay escapes but Brooks takes him down again to make it 4-1 after 3 minutes of wrestling.
Brooks escapes in the second to make it 5-1. No more scores, we go to the third, still 5-1, Hidlay takes bottom. Hidlay stands, Brooks runs him out of bounds and gets dinged for stalling again, giving Hidlay a point, 5-2. Now Hidlay is out ot make it 5-3 but RT is 1:49 with about 80 seconds to go. They finish on their feet and Brooks will win 6-3 with the RT points. Brooks trying to go three for three in NCAA tournaments like his teammate Carter Starocci!
Bloodround notes: For the first time since James Fleming did it in 2013, the Clarion Golden Eagles have an All-American in Will Feldkamp, the 14th seed and 20th ranked junior from Michigan. He'll wrestle Marcus Coleman of ISU, who beat Matt Finesilver of Michigan, meaning Mitch is the only one of four Finesilver brothers to All-American. All four qualified for the NCAAs at least once.
Kaleb Romero of Ohio State ended Bonino of Drexel's Cinderella's run. Romero is two-time AA. Joining him on the mat next round and later on the podium will be Gavin Kane of UNC, a sophomore who went 0-2 and BBQ last year.
197 Pounds
#1 Nino Bonaccorsi, Pitt vs #4 Ethan Laird, Rider: Laird trying to become an NCAA finalist like former Bronc teammate Jesse Dellavecchia in 2021. Nino trying to get back to the NCAA finals where he wrestled in 2021. Nino in on a shot quickly but Laird is tricky and defends. Laird gets the better fo the next exchange and converts for two. Quick escape and its' 2-1 Laird 90 seconds into an excellent bout. Nino on the attack. And he'll collect two to gain the lead, 3-2. Nino with the rideout.
Nino underneath to start the second and he's out quickly. Nino back on a shot, Laird just barely defends. Score still 4-2. Next attack and Nino converts to run the score up to 6-2 in favor of the Pitt Panther. Rideout the period. Laird takes bottom and escapes to make it 7-3 in the third. Nino will add a takedown and an RT point to make the final 10-4 and Nino is going back to the NCAA finals!
#3 Rocky Elam, Missouri vs #7 Tanner Sloan, South Dakota State: A 2021 U20 92kg world freestyle champ (Elam) vs a 2022 U23 world silver medalist at 97 kilograms (Sloan). Sloan gets in on a shot but Elam shows off some flexibility and scrambling to avoid a takedown. In fact he scrambles on top for a takedown, but Coach Hahn throws the challenge brick. Or perhaps he takes it back. Anyway, Sloan underneath, 2-0. Sloan stands on the restart and Han immediately throws the brick again. They let wrestling continue and Sloan eventually escapes. Now another review, or maybe the first one of the match. And call overturned, a locked hands penalty is discovered and Sloan gets a point to make it 2-1. Sloan then escapes to knot it up and now we go to the second.
Sloan defers and Elam elects to try bottom. Sloan runs the RT clock down to zero after 30 seconds. Sloan riding tough, a couple of mat returns, and now Sloan has Elam flat. Sneaky tilt and SLoan snags four nearfall. That makes it 6-2 and Sloan is taken command of this match. Sloan gets the rideout. Sloan on bottom, RT over a minute for the Jackrabbit. Elam riding tough but he needs a lot more than a tough ride at this point. Elam gets the escape with RT down to 20 seconds but he'll gladly trade time on that clock for time off the match clock. Just 43 seconds left as we get a blood stoppage, now 7-2 Sloan. That's how the match ends, and the Jackrabbits get their first finalist since 2018 when Seth Gross won. This is the first finalist of the Damian Hahn era for SDSU.
Bloodround notes: Jacob Warner of Iowa beat Silas Allred of Nebraska to cement his legacy in Iowa City by becoming a five-time qualifier and four-time All-American. He'll wrestle Jacob Cardenas of Cornell in the next round.
Bernie Truax will be a three-time AA for Cal Poly, ending Beard of Lehigh's podium run. Max Dean of PSU shook off a loss to Allred and beat Maryland's Smith, denying Terp head coach Alex Clemsen his first AA, and will face Truax next round.
285 Pounds
#1 Mason Parris, Michigan vs #4 Tony Cassioppi, Iowa: Parris right to work with a shot and a finish for two. Parris gets mean with an arm bar and steps over to get a turn, working on nearfall, has four, No fall though, as Cassioppi bellies out. Parris stays on top, runs another bar, collects four more and rides out the period. A 10-0 first period for the #1 seeded and ranked Michigan man by way of Lawrenceville, Indiana.
Parris takes bottom in the second. Stand and escapes. Cass trying to go big. Parris wants nothing of it and gets hit for stalling twice. He then counters with a takedown and its 13-1. Two stalls on Cass while he's underneath and its 14-1. Third period and started in neutral. Shot, scramble, takedown Parris, and a dominant 16-1 tech fall for Mason Parris! Michigan has a finalist!
#2 Wyatt Hendrickson, Air Force vs #3 Greg Kerkvliet, Penn State: Wyatt already getting the crowd behind him with some U-S-A chants. Kerkvliet in on a shot but Hendrickson counters fiercely and gets the takedown. He throws boots in and stretches Kerkvliet out but Kerk stands and escapes with RT at 59 seconds for Wyatt. 2-1, Air Force Falcon in the lead.
Second period Kerkvliet takes bottom. Wyatt rides for a bit but eventually Kerk escapes and we're in neutral. Takedown for Kerk to make it 3-2. Now Hendrickson having trouble getting out. Rideout for Kerk and its 3-2 Penn State leads. Rideout of the period and Kerk in good shape. Wyatt chooses down and the ride continues. Kerk dinged for stalling and the crowd's opinion on the call is mixed. Wyatt gets ridden out after choosing bottom and will be 4-2 with the riding time point!
Parris vs Kerk rematch on tap!
Bloodround notes: Cohlton Schultz of ASU gets back to the medal round with a win over previous AA Tate Orndorff. Northwestern's Lucas Davison goes back-to-back medals by denying Harvard's Slavikouski his first AA in his last year at Harvard, though he does have one more year of NCAA eligibility.
Zach Elam of Mizzou becomes a first time AA after two bloodround finished and one round of 16 finish. He'll wrestle Trent Hillger of Wisconsin next round, who is an AA for the third time.
And the second day of the 2023 NCAAs is in the books. I told you it would go fast! I need to get some food and sleep and prepare for tomorrow. Sleep well, medal matches and the finals are tomorrow!