2022 Cliff Keen Las Vegas Invitational
2022 Cliff Keen Las Vegas Upperweight Preview + Predictions
2022 Cliff Keen Las Vegas Upperweight Preview + Predictions
Everything you need to know about 184, 197, and 285 at the Cliff Keen Las Vegas Invitational, the toughest in-season tournament of the year.
Nov 30, 2022
by Andrew Spey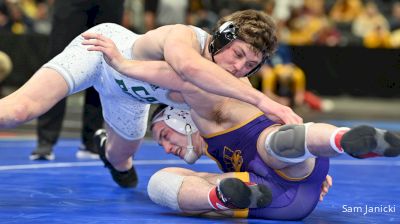 Unlock this video, live events, and more with a subscription!
Get Started
Already a subscriber? Log In
The 2022 edition of the Cliff Keen Las Vegas Invitational is shaping up to be one of the deepest in this storied tournament's history.
Official lineups haven't all been released came out while I was proofreading this article and I did not have time to double-check everyone, but assuming even some of the starters of the participating teams enter the brackets, we should see the highest concentration of NCAA national qualifiers and All-Americans than at any other time before the postseason.
Lightweight Preview | Middleweight Preview
184 Pounds
Favorites
With just three losses in two varsity seasons (plus an exhibition loss at the NWCA All-Star Classic), Parker Keckeisen is off to one of the most impressive starts of any UNI Panther in recent memory. He's the first underclassman to finish in the top 3 for Northern Iowa since at least 1999, and he's done so twice. He's also got three years of eligibility remaining, thanks to the covid-exemption for 2021 NCAA athletes.
Challenging Keckeisen for the lead in the hardware department is Wolfpacker Trent "Hoagie" Hidlay, who has two NCAA All-American honors plus an NWCA All-American honor from the 2020 season. Hidlay can also claim two age-level UWW World Championship medals, including a U23 silver medal at 86kg from just last October in Pontevedra, Spain.
Trent and Keck have only wrestled once in their collegiate careers, with Parker winning in tiebreakers at the 2022 NCAA Championship.
Watch highlights from that epic battle below:
Unlock this video, live events, and more with a subscription!
Get Started
Already a subscriber? Log In
Contenders
#4 Kaleb Romero, Ohio State
#6 Trey Munoz, Oregon State
#7 Jonathan Loew, Cornell
#8 Hunter Bolen, Virginia Tech
#10 Matt Finesilver, Duke
As in all rankings in the sport of wrestling, the delineation between tiers is often debatable. Kaleb Romero certainly has an argument to be included in the group of favorites, as evidenced by his one-point loss to Hidlay at the 2022 tournament, where he finished sixth.
Trey Munoz has less of a claim, as he finished just off the 2022 podium and lost to Hidlay 6-2 at that same event, although he did vanquish Jon Loew in the round of 16. The Cornellian would have better luck in the consolation bracket, however, advancing to the medal round and ultimately finishing eighth.
Hunter Bolen is trying to regain some of his 2021 season mojo, where he spent all but the final week of the season ranked either #1 or #2 before finishing seventh at NCAAs. Matt Finesilver, last of the famous collegiate wrestling Finesilvers of Duke by way of Colorado, is using his final year of eligibility at Michigan and looking for his first All-American honor of his career.
Landmines
David Key, Navy
Ben Vanadia, Purdue
DJ Parker, North Dakota State
Brawley Lamer, Cal Poly
Navy's David "Francis Scott" Key showed how dangerous he could be when he advanced to the round of 16 at the 2021 NCAAs. Vanadia had a quality year redshirting after being recruited by Purdue off the 2021 Big Board. The Boilermaker is looking to prove his bona fides in his first varsity season.
The Bison have a good one in DJ Parker, a tall (listed at 6'2''!) true sophomore from Moline, Illinois who just missed out on qualifying for the NCAA tournament in 2022. Brawley Lamer, of the famous wrestling Lamers of Oregon, is listed in the registration at 184 in lieu of Adam Kemp. Lamer spent the previous five seasons at Cal Poly at either 157 or 149.
Spey's Spredictions
1) Keckeisen; 2) Hidlay; 3) Romero; 4) Finesilver
197 Pounds
Favorites
Isaac Trumble in the Jungle is off to a fast start in the 2022-23 season, winning his first five matches including over #11 Zac Braunagel and #19 Silas Allread. Fun fact: T-Rums is also a member of the NC State ROTC programming, earning a commission in the Army after he defeated Jay Aiello of Virginia last February.
Congrats to Fr. Isaac Trumble for being commissioned into the Army after his win tonight!#PackMentality pic.twitter.com/9E7761tF27

— NC State Wrestling 🤼‍♂️ (@PackWrestle) February 5, 2022
Hoffman had his breakout season during his fourth year in Columbus, finally getting on the podium on the sixth-place step last March. He went on quite a run to earn the All-American honor, beating Nino Bonaccorsi, Jake Woodley, and Tanner Sloan in Detroit.
Contenders
#17 Kordell Norfleet, Arizona State
#18 Tanner Sloan, South Dakota State
#19 Silas Allread, Nebraska
#21 Owen Pentz, North Dakota State
Jacob Cardenas, Cornell
Not a lot separates the favorites from the contenders. Kordell Norfleet is still looking for his first All-American honor, though he spent most of the last two seasons ranked in the top 10. Tanner Sloan is a three-time NCAA qualifier and bloodrounder from 2021. He also finished with a silver medal at the 2022 U23 World Championships at 97kg (the same color medal as his 86kg Team USA compatriot, Trent Hidlay).
Redshirt sophomore and first-time starter Silas Allred is 7-1 on the season, including a win over #21 Owen Pentz. Meanwhile, Pentz is a two-time NCAA qualifier with wins over three different All-Americans on his resume.
Jacob Cardenas was also in Spain with the U23 World Team at 92 kilograms, also winning silver (Team USA has three silvers and two bronzes in men's freestyle at that tournament).
Landmines
Trey Rogers, Hofstra
Andy Smith, Virginia Tech
Andrew Davison, Northwestern
Rogers is an experienced fifth-year senior and five-time starter for Hofstra who qualified for the 2021 NCAA tournament. Andy Smith is looking to have a breakout season during his third year in Blacksburg and second time as a starter.
After several injury-plagued seasons at Michigan, Davison transferred to Northwestern and qualified for his first NCAA tournament in 2022.
Spey's Spredictions
1) Sloan; 2) Trumble; 3) Hoffman; 4) Norfleet
285 Pounds
Favorites
Heavyweight in Vegas will be one of the most stacked brackets in all of college wrestling this season. So many of the entries will be dangerous but any list of contenders has to include NCAA finalists Cohlton Schultz and Mason Parris.
2022 NCAA finalist Cohlton Schultz has a mere three losses in his last two seasons in the NCAA, where he finished fourth and second. His semifinal bout with Jordan Wood had, dare I say, the most exhilarating finish to any NCAA heavyweight semifinal bout in history.
Watch highlights of that insane match below: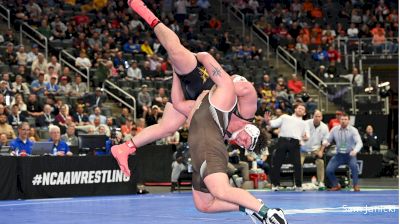 Unlock this video, live events, and more with a subscription!
Get Started
Already a subscriber? Log In
Parris finished in the bloodround in 2019 as a true freshman, then earned the number two seed at the canceled 2020 NCAAs. The Michigan man by way of Indiana followed that up with a runnerup finish in 2021 to the great Gable Steveson. Injuries slowed Parris down in the 2022 season (though you'll never hear him use them or anything else as an excuse), but he still managed a fifth-place finish. The big man has been firing on all cylinders in the fall of 2022, currently sporting a perfect 8-0 record including seven wins by bonus points.
Slavikouski is more of a wild card. The Harvard man was the #10 seed (and ranked #8) at the canceled 2020 NCAA tournament. The Ivy League then prohibited him from participating in the 2021 season. His 2022 season started and ended at the 2021 CKLV Tournament, where he defeated four wrestlers (including two All-Americans in Lucas Davison and Tate Orndorff) before suffering a season-ending injury in his finals match against Gas Tank Gary Traub.
Slavikouski appears healthy this season, as he racked up two wins against ranked opponents in the first event of the 2023 season, where he beat #21 Owen Trephan and #22 Josh Heindselman at the Journeymen Collegiate Classic.
Watch Big Slav defeat Davison at the 2021 CKLV: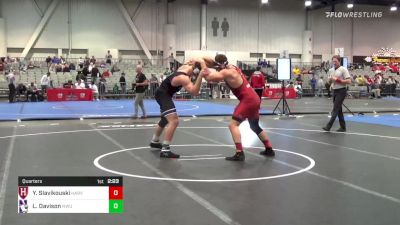 Unlock this video, live events, and more with a subscription!
Get Started
Already a subscriber? Log In
Contenders
Davison and Orndorff have all climbed podium steps before, giving this bracket four potential All-Americans. Throw in Slavikouski, who has beaten Davison and Orndorff, and Hendrickson, who was the #5 seed going into the 2022 tournament and you've got a recipe for some extra spicey quarterfinals in early December.
Fernandes qualified for his first NCAA Championship last season, finishing in the bloodround, one match shy of becoming Cornell's first ever heavyweight All-American.
AJ Nevills is a three-time NCAA qualifier from the famous wrestling Nevills of California, and a refugee from the sadly shuttered Fresno State wrestling program.
Grady Griess and Owen Trephan round out a loaded field of contenders that guarantee we will either see upsets, or all-ranked matchups in the quarterfinals.
Landmines
Zach Knighton-Ward, Hofstra
Cale Davidson, Nebraska
Trevor Tinker, Cal Poly
Knighton-Ward is starting for his fourth year in a row for Hofrsta, hoping to make it to his fourth NCAA tournament and first podium step. Davidson started for Wyoming back in the 2019 season but is now in his fourth season in Lincoln. Trevor Tinker Tailor Soldier Spy is not to be underestimated and also I wanted to make that movie reference in this preview when I saw his name in the list of registrants.
Spey's Spredictions
1) Parris; 2) Schultz; 3) Slavikouski; 4) Orndorff